Name

USS Chancellorsville




Laid down

24 June 1987




Maiden voyage

March 1991




Launched

15 July 1988




Beam

17 m




Ordered

26 November 1984




Commissioned

4 November 1989




Construction started

24 June 1987




Length

173 m




Builder

Ingalls Shipbuilding







Namesake

Battle of Chancellorsville
U s navy cruiser uss chancellorsville cg 62 fleet review
USS Chancellorsville (CG-62) is a Ticonderoga-class guided-missile cruiser in service in the United States Navy. She is named for the Battle of Chancellorsville of the Civil War. Until 30 December 2011, the ship was operationally part of Carrier Strike Group Seven. Her current operational assignment is unclear, but as of 2010 she was administratively under the command of Commander, Naval Surface Forces Pacific.
Contents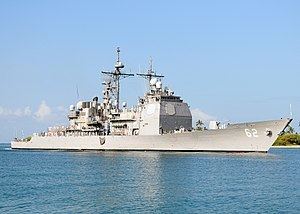 Chancellorsville carries guided missiles and rapid-fire cannons, with anti-air, anti-surface and anti-subsurface capabilities. She also carries two Seahawk Light airborne multi-purpose system (LAMPS) helicopters, focused on anti-submarine warfare.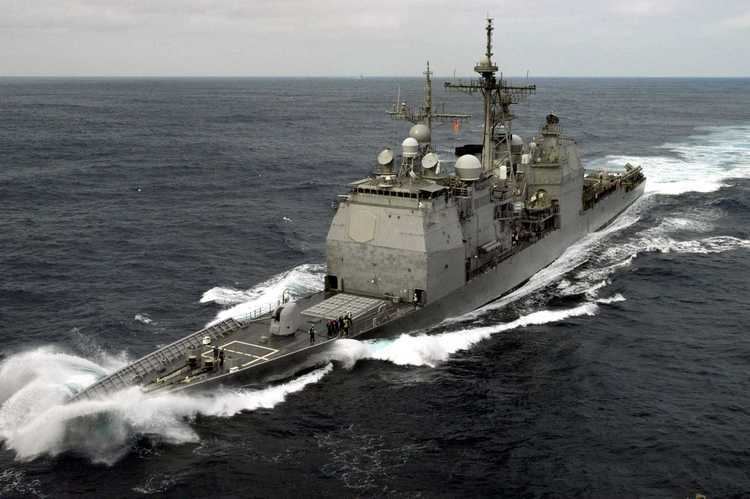 Uss chancellorsville cg 62 leaving pearl harbor hawaii
History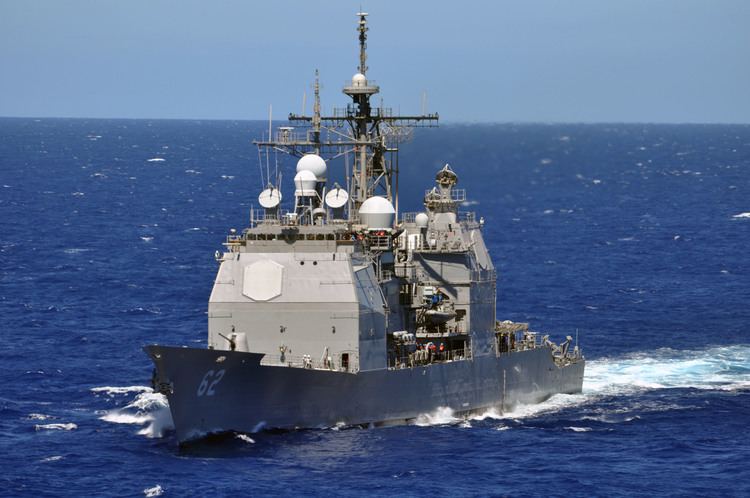 USS Chancellorsville (CG 62) was commissioned at Ingalls Shipbuilding in Pascagoula, Miss, on November 4, 1989. She first deployed in March 1991 to the Persian Gulf in support of Operation Desert Storm.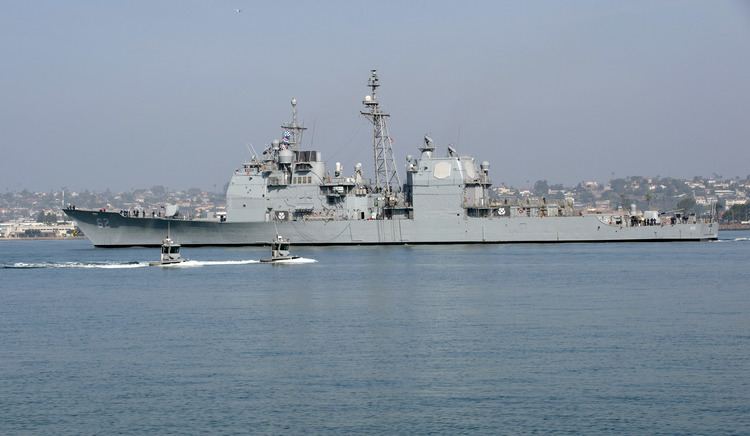 Chancellorsville was next deployed from February to August 1993 to the Persian Gulf as part of the Nimitz Battle Group. On June 26, 1993, Chancellorsville launched strikes on the Iraqi Intelligence Center in Baghdad with nine Tomahawk missiles in retaliation for the aborted assassination attempt on former President Bush. She deployed again to the Western Pacific and Persian Gulf from April to October 1995.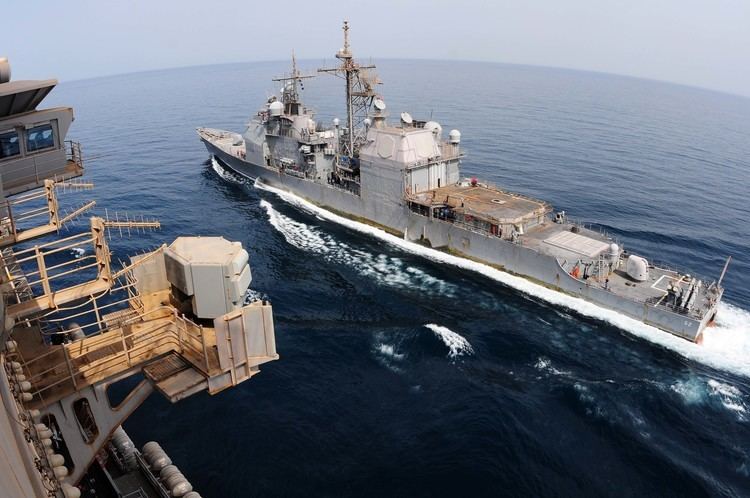 Following a Fifth Fleet deployment to the North Persian Gulf in 1995, the Chancellorsville was awarded the Spokane Trophy in 1996. The Spokane Trophy is awarded by Commander-in-Chief, United States Pacific Fleet to the surface combatant ship considered to be the most proficient in overall combat systems readiness and warfare operations.
Chancellorsville deployed to the Caribbean and Eastern Pacific in support of joint counter-narcotics operations in November 1996. During this deployment, she rescued the crew of an Ecuadorian fishing vessel which had been adrift for 10 days. Upon her return home, Chancellorsville underwent her first major nine-month overhaul in San Diego, CA.
On July 7, 1998, Chancellorsville changed homeport from San Diego, CA, to Yokosuka, Japan, joining Task Force 70/Battle Force Seventh Fleet, and probably, Carrier Group Five. After arriving in Yokosuka, Chancellorsville participated in multinational operations in the Sea of Japan, including the International Fleet Review. Chancellorsville took part in exercises with the Kitty Hawk Battle Group in the spring of 1999.
On April 6, 1999, the Chancellorsville deployed to the Persian Gulf in company with USS Kitty Hawk (CV-63) and USS Curtis Wilbur (DDG-54) in support of Operation Southern Watch, and returned to Yokosuka on January 5, 2000. In May 2000 Chancellorsville participated in exercises with the Thai and Singaporean navies.
2000's
Following a visit to Qingdao, China, in August 2000, Chancellorsville took part in ANNUALEX 12G, a joint U.S.-Japanese naval exercise. In November, Chancellorsville fired guns and SM-2 missiles as part of MISSILEX 01-1. In March through June 2001, she visited Singapore, Thailand, Saipan and Sydney, Australia, as part of an extended Spring Cruise. Chancellorsville then entered dry dock for an upkeep period in the fall.
In September 2001, Chancellorsville deployed with the Kitty Hawk Battle Group in support of Operation Enduring Freedom, operating in the theater for several months.
Chancellorsville paid her first visit to Vladivostok, Russia, in July 2002, celebrating Independence Day in Russia along with USS Fort McHenry.
In March 2003 the ship was assigned to Carrier Group Five. On October 22, 2003, Chancellorsville played host in Guam to two warships of the People's Republic of China, which made the first-ever visit of the Chinese navy to Guam. By May 2004, she was back in the Southwest Asian region, where she lent aid to a disabled Indonesian fishing boat.
On July 19, 2004, Chancellorsville departed Yokosuka to participate in the Summer Pulse 2004 and training Exercise Joint Air and Sea Exercises (JASEX) '04, with the USS Kitty Hawk Battle Group. Summer Pulse '04 was the Navy's first implementation of the new Fleet Response Plan (FRP). She returned to homeport September 7.
Chancellorsville entered a nine-week dry dock availability in February 2005. Following the maintenance period, she immediately returned to sea to participate in the exercises Talisman Saber 2005, the third annual Orange Crush and the Joint Air and Sea Exercise (JASEX) 2005. She returned to Yokosuka in August. ANNUALEX 2005 commenced in November with Chancellorsville participating, along with other U.S. and Japanese assets. The exercise saw a total of 61 naval vessels, including two U.S. submarines, 10 U.S. Navy ships and 49 Japanese ships. Chancellorsville visited Hong Kong at the end of November and returned to Yokosuka December 12.
In August 2006, Chancellorsville swapped with the USS Shiloh based in San Diego, California. Chancellorsville's homeport was changed to San Diego, with the Shiloh moving to Yokosuka. The crews remain in their respective locations.
In winter of 2006 Chancellorsville deployed again into the Western Pacific, visiting Singapore and Pattaya, Thailand, in February. In April, she joined forces of the Republic of Korea for Reception, Staging, Onward-movement, & Integration and Foal Eagle 2006 (RSOI/Foal Eagle 06), exercises utilizing more than 70 U.S. and Korean ships. Chancellorsville returned to Yokosuka in August in preparation for a hull swap with USS Shiloh (CG-67). Chancellorsville is scheduled to return to San Diego in October 2006, making it her homeport once again.
2010's
In March 2011, in company with the carrier Ronald Reagan, Chancellorsville was deployed off northeastern Honshu, Japan to assist with relief efforts after the 2011 Tōhoku earthquake and tsunami. During that time, helicopter crews from the Ronald Reagan were exposed to leaking radiation from the nuclear accidents and ships from the carrier strike group were moved to avoid being downwind from the facility.
During the latter half of 2012, Chancellorsville underwent equipment upgrades as part of the Aegis Modernization effort ACB-12. In January of 2013, the ship spent five days under way off the coast of California to perform a series of tests of the updated ACB-12 equipment and software.
In November 2013 while testing combat weapons system off the coast of Point Mugu, California, a BQM-74E unmanned drone being used in the exercise failed to respond to commands to turn away from the ship and collided with Chancellorsville. Since it was a tracking exercise and not a live fire exercise, the crew did not engage the drone with the Phalanx CIWS. Two sailors received treatment for minor burns and the ship suffered some damage and returned to San Diego for assessment. The damage later proved to be more severe than initially assessed. Citing Navy sources, the U.S. Naval Institute reported that repairs to the ship would cost $30 million and take six months to complete.
References
USS Chancellorsville Wikipedia
(Text) CC BY-SA