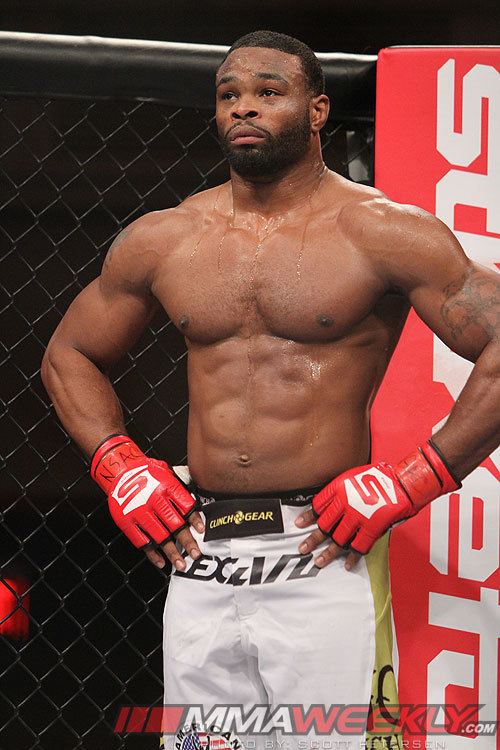 Tyron Woodley was born and raised in Ferguson, Missouri, an area a few miles from St. Louis, Missouri. He was born eleventh of thirteen children of Sylvester and Deborah Woodley. He was raised by his mother after his father left early in his life. In high school, he was on the honor roll every term, received All-Conference honors in football, was a two-time state finalist in wrestling finishing 48-0 and winning a state title.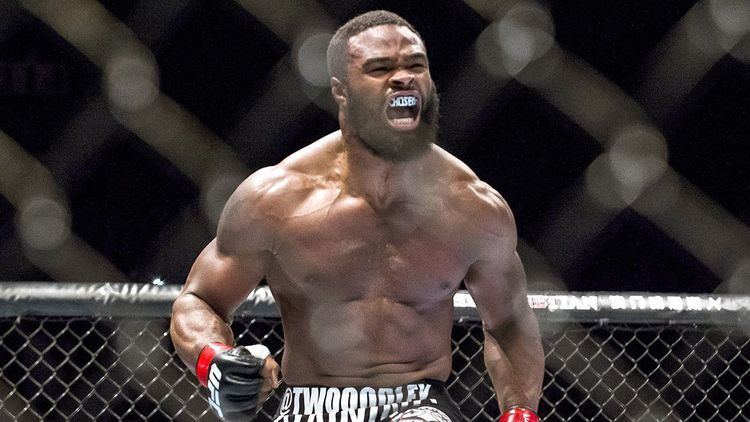 After graduating from McCluer High School in 2000, he had offers from Nebraska, Northern Iowa, and Missouri. After going on his recruiting visit to Nebraska, he had verbally committed but later discovered Nebraska's head wrestling coach had been forced to resign. He decided he would attend Mizzou and help rebuild the wrestling team. Tyron Woodley graduated from Mizzou in 2005 with a major in Agricultural Economics. He is a teammate of Current MMA fighter and 2008 Olympian Ben Askren.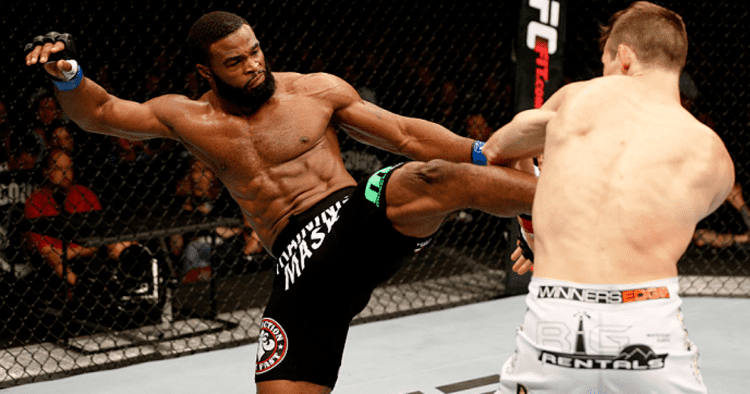 Tyron Woodley got his start after walking into a local MMA gym and asking the owner about participating on the gym's amateur fight card happening in the next month. The owner trained him a little, and put him on the card. The fight lasted 20 seconds with Woodley walking away victorious. He collected a perfect 7-0 record in amateur bouts with all bouts being finished by a KO or submission.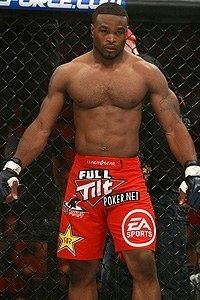 Still an amateur, Woodley attended the open tryouts for the ninth season of The Ultimate Fighter. He was one of the final cuts before the show started.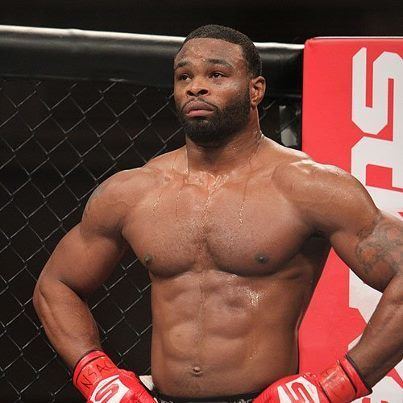 Woodley fought his first professional fight on February 7, 2009, it was held by Headhunter Productions at the Holiday Inn Select Executive Center in Columbia, Missouri. His opponent was Steve Schnider. The fight streamed live on Purefight.org. Woodley won his second fight by submitting Jeff Carstens.
Woodley made his Strikeforce debut against Sal Woods in his hometown of St. Louis, Missouri. He got the spot in the event after calling Robbie Lawler's manager Javier Mendez, whose number was given to Woodley by Lawler at an NCAA wrestling tournament. The fight was at the event Strikeforce: Lawler vs. Shields on June 6, 2009. Tyron won the fight by submission late into round one. After the win, Strikeforce signed Woodley to an exclusive six-fight deal and plan on using him on most of the Showtime cards.
Woodley made his second appearance for Strikeforce on the Strikeforce Challengers: Kennedy vs. Cummings card. He defeated Zach Light via submission in the second round.
On the Strikeforce Challengers: Woodley vs. Bears card, Woodley had his third fight for Strikeforce, defeating Rudy Bears via arm-triangle submission. The fight was the main event. After his win over Bears, Woodley signed on with EA Sports to take part in their upcoming MMA-based game, EA Sports MMA.
Tyron won a split decision against Nathan Coy at Strikeforce Challengers: Lindland vs. Casey in Portland, Oregon.
On October 9, 2010, at Strikeforce: San Jose, Woodley defeated André Galvão via knockout midway in the first round. This was Woodley's debut on the main card of a major Strikeforce event.
Woodley headlined his second Strikeforce Challengers event at Strikeforce Challengers: Woodley vs. Saffiedine, when he fought Tarec Saffiedine on January 7, 2011, in Nashville, Tennessee. Using effective clinch work and take downs, Woodley won the fight via unanimous decision (30-27, 29-28, 29-28). After the win, Woodley claimed to be the number one contender for the welterweight title. Strikeforce then signed an extension to Woodley's contract, giving him four more fights and better pay.
During the Strikeforce: Diaz vs. Daley event Woodley wore a shirt that had the words, "I Got Next", printed on the front implying he was the next to fight for the Strikeforce Welterweight Championship. At Strikeforce: Fedor vs. Henderson, Tyron replaced Evangelista Santos and fought Paul Daley. Woodley controlled the fight with effective takedowns, and according to Compustrike, out struck Daley en route to a unanimous decision win. With the win, Woodley will likely fight for the vacant Strikeforce Welterweight Championship. "I verged to the left and avoided the iceberg," Woodley told Showtime Sports shortly after the win. "I knew it was going to be a tough fight.... I knew I had to be slick and get inside of him, he's strong guy. I couldn't get frustrated when I didn't take him down and (I had) to keep going for him. So that's what I did."
Woodley fought Canadian prospect Jordan Mein at Strikeforce: Rockhold vs. Jardine. Woodley won via split decision.
Tyron faced Nate Marquardt on July 14, 2012, at Strikeforce: Rockhold vs. Kennedy for the vacant Strikeforce Welterweight Championship. He lost the fight via KO in the fourth round.
Woodley faced Jay Hieron on February 2, 2013, at UFC 156 in his promotional debut, replacing an injured Erick Silva. Woodley won the fight via KO at just 36 seconds of the opening round.
Woodley faced Jake Shields on June 15, 2013, at UFC 161. The bout was contested on the feet for nearly its entirety in a largely uneventful fight where neither fighter was able to deliver any significant offense. Woodley lost the fight via split decision.
Woodley next faced off against Josh Koscheck at UFC 167 on November 16, 2013. He won the fight via knockout in the first round. The win also earned him his first Knockout of the Night bonus award.
Woodley next faced former Interim Welterweight Champion Carlos Condit at UFC 171. In round two, Woodley landed on Condit's right knee on a takedown. The referee stood the fight up for inactivity, and when Condit tried to step away after Woodley kicked his left knee, his right buckled, causing him to collapse in agony and the referee to award Woodley a TKO.
On April 8, 2014, Woodley's new eight-fight contract with UFC was announced alongside with his match against Rory MacDonald at UFC 174. He lost the fight via unanimous decision.
Woodley next faced Dong Hyun Kim on August 23, 2014, at UFC Fight Night 48, replacing Hector Lombard. He won the fight via TKO early in the first round. The win also earned Woodley his first Performance of the Night bonus award.
Woodley faced welterweight prospect Kelvin Gastelum on January 31, 2015, at UFC 183 and declined 30% of Gastelum's fight purse for not making weight. He won the fight via split decision.
Woodley was expected to face Johny Hendricks on October 3, 2015, at UFC 192. It was announced on October 2, 2015, that Hendricks was forced out of the fight due to complications with weight cutting.
After a year-and-a-half out of the Octagon, Woodley faced welterweight champion Robbie Lawler on July 30, 2016, in the main event at UFC 201. He won the fight via knockout halfway through the first round to claim the UFC Welterweight Championship.
Woodley made his first title defense against Stephen Thompson on November 12, 2016, at UFC 205. The fight ended in a majority draw with two judges scoring the fight 47-47 and the third 48-47 in favor of Woodley. However, there was some confusion as the result was initially announced as a split decision victory for Woodley only to be corrected moments later when the decision of a majority draw was announced, albeit with the same result of Woodley retaining the championship. Subsequently, both fighters were awarded Fight of the Night bonus awards. UFC President Dana White stated that a rematch between the two would take place at a date to be determined.
The rematch with Thompson took place on March 4, 2017, in the main event at UFC 209. Woodley won the closely contested bout via a majority decision. In a sample of 19 media pundits scoring the fight, five scored it in favor of Woodley, six scored in favor of Thompson, and eight scored it a draw.
For his third title defense, Woodley faced Demian Maia on July 29, 2017, in the co-main event at UFC 214 He won the fight by unanimous decision. Woodley defended 21 takedown attempts against Maia, after tearing a labrum in his shoulder in the opening round. Post-fight, Joe Rogan announced the fight broke the record for the least number of punches landed in a championship fight (57). Based on Woodley's performance, Dana White cancelled a potential fight for Woodley against former Welterweight champion Georges St. Pierre.
He is married and has 3 sons and a daughter.
He has expressed interest in someday opening up a non-profit facility for troubled youth.He currently owns and operates his own gym in Brentwood, Missouri known as ATT Evolution, which is an affiliate to American Top Team.
Ultimate Fighting Championship
UFC Welterweight Championship (One time; current)
Two successful title defenses
One successful title retainment
Knockout of the Night (One time) vs.Josh Koscheck
Performance of the Night (Two times) vs.Dong Hyun Kim
Fight of the Night (One time) vs. Stephen Thompson
Strikeforce
2010 Rising Star of the Year
ULTMMA
2009 Prospect of the Year
USA Wrestling
United States University Freestyle National Championship Runner-up (2006)
National Collegiate Athletic Association
NCAA Division I All-American (2003, 2005)
Big 12 Conference Champion (2003)
University of Missouri Wrestling Team Captain (2003, 2004, 2005)
National High School Coaches Association
NHSCA Senior All-American (2000)
Missouri State High School Activities Association
MSHSAA All-State (1999, 2000)
Real Pro Wrestling
RPW Northern Regional Championship (2006)