Years active

2003–present

Website

tubabuyukustun.com.tr

Spouse

Onur Saylak (m. 2011)




Full Name

Hatice Tuba Buyukustun

Notable work

AsiSinav20 DakikaKara Para Ask

Children

Maya Saylak, Toprak Saylak

Parents

Handan Buyukustun, Serdar Buyukustun

Movies and TV shows





Similar

Engin Akyürek, Kıvanç Tatlıtuğ, Beren Saat




Profiles



Tuba Buyukustun Biography 2018 || Turkish Actress Lifestyle || Family || Income || Networth
Tuba Büyüküstün ([tuːˌbaː byjykysˈtyn]; born 5 July 1982) is a Turkish actress.
Contents
Ayeza Khan VS Tuba Büyüküstün Actresses 2018 || Who is more beautiful & Fashionable
Career
Following appearances in television commercials, Büyüküstün made her television series debut in 2003 on the last four episodes of Sultan Makamı, directed by Aydın Bulut and broadcast on Channel D. Her next series role was Zarife on Çemberimde Gül Oya, directed by Çağan Irmak, broadcast on Channel D in 2004. That same year, she portrayed the title character in the television movie Gülizar. In 2005, she appeared in the series Ihlamurlar Altında, directed by Aydın Bulut, and played Aysun in the film Babam ve Oğlum, directed by Çağan Irmak. Büyüküstün played a teacher in the 2006 movie Sınav (The Exam), where she had the opportunity to act alongside Jean-Claude Van Damme. Her next role was the title character in the 2007–2009 television drama Asi, alongside Murat Yıldırım and Çetin Tekindor, directed by Cevdet Mercan.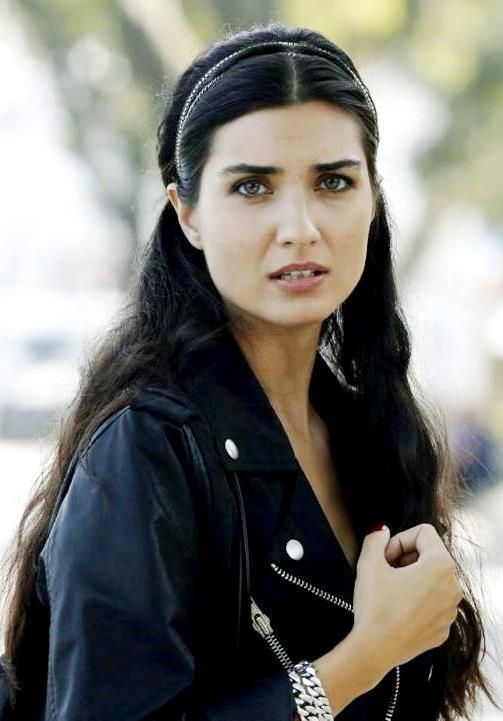 In 2010, her first leading role in cinema was Esma in Yüreğine Sor by Yusuf Kurçenli. Following this, she acted with Cansel Elçin in the series Gönülçelen. At the end of 2012, she starred alongside İlker Aksum in the dramatic series 20 Dakika (20 Minutes), a performance that earned her a nomination for the 42nd International Emmy Award for Best Actress.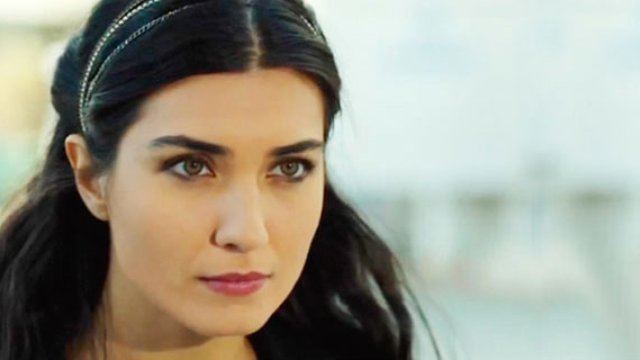 Büyüküstün, who was appointed as a goodwill ambassador of UNICEF Turkey in 2014, starred alongside Engin Akyürek in the 2014–15 series Kara Para Aşk (Black Money Love). Her next series, which according to schedules began broadcast on 10 November 2016, is titled Cesur ve Güzel (Brave and Beautiful). She stars as the female lead, opposite Kıvanç Tatlıtuğ.
Personal life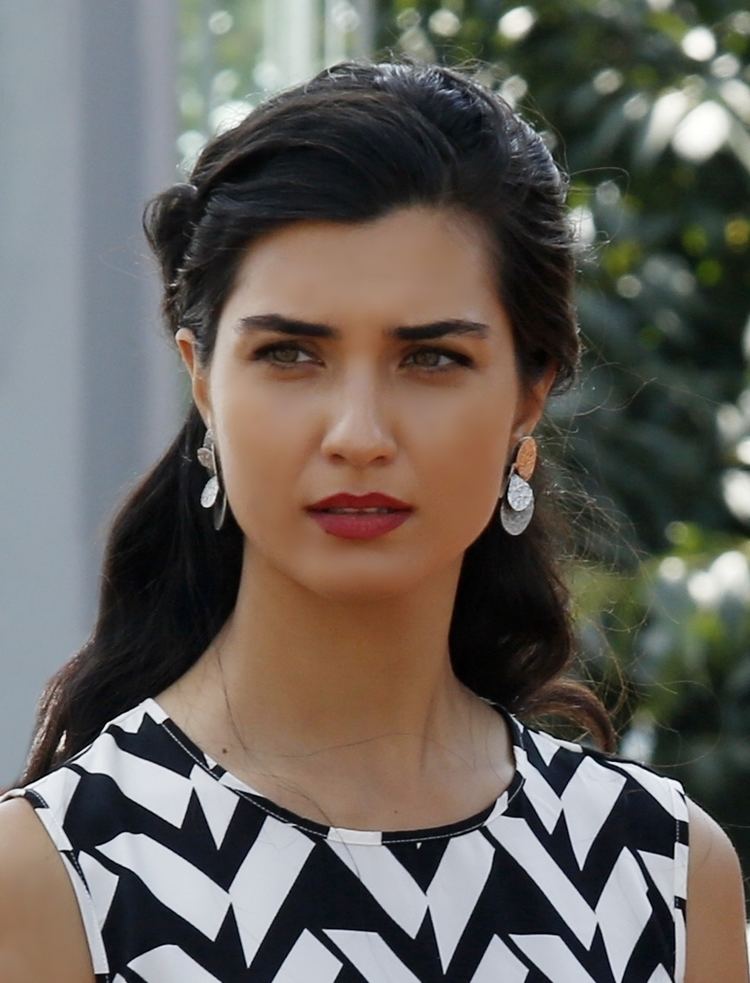 On 28 July 2011, Büyüküstün married the Turkish actor Onur Saylak in Paris, France. In January 2012, she gave birth to twin girls Maya and Toprak. The maternal side of her family are Turkish immigrants from Crimea and the paternal side are Turkish immigrants from Crete.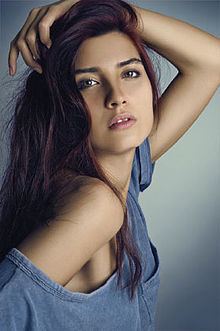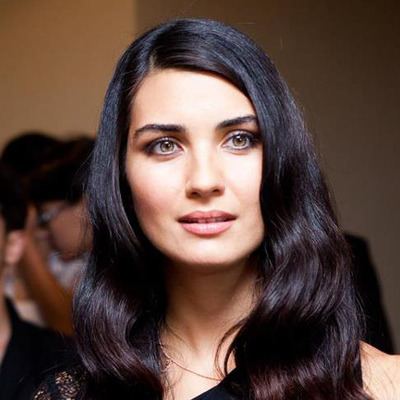 Filmography
Actress
2020
Rise of Empires: Ottoman (TV Series documentary)
as
Mara Brankovic
- Destiny (2022) - Mara Brankovic
- Night Attack (2022) - Mara Brankovic
- Brothers No More (2022) - Mara Brankovic
- Land Of Dracula (2022) - Mara Brankovic
- Troubled Waters (2022) - Mara Brankovic
- House Of War (2022) - Mara Brankovic
- Ashes to Ashes (2020) - Mara Brankovic
- Ancient Prophecies (2020) - Mara Brankovic
- Loose Lips Sink Ships (2020) - Mara Brankovic
- Into The Golden Horn (2020) - Mara Brankovic
- Through The Walls (2020) - Mara Brankovic
- The New Sultan (2020) - Mara Brankovic
2022
Another Self (TV Series)
as
Ada
- Episode #1.8 (2022) - Ada
- Episode #1.6 (2022) - Ada
- Episode #1.4 (2022) - Ada
- Episode #1.3 (2022) - Ada
- Episode #1.5 (2022) - Ada
- Episode #1.2 (2022) - Ada
- Episode #1.1 (2022) - Ada
- Episode #1.7 (2022) - Ada
2021
The Ambassador's Daughter (TV Series)
as
Mavi Efeoglu
- Zalim zaman- Insana hiç acimaz. Tutmaya çalissan da durmaz, geçer. Tatli aci her sey ani olur. Vakti gelen göçer gider. (2021) - Mavi Efeoglu
- Mutluluk kendiliginden gelmez, insa edilir- (2021) - Mavi Efeoglu
- Hayat birden bire baslar, birden bire biter- Ya ask? (2021) - Mavi Efeoglu
- Bazen sen ne kadar çabalasan da hayat izin vermez. (2021) - Mavi Efeoglu
- Yarim kalan her sey ardinda aci birakir (2021) - Mavi Efeoglu
- Ask sahip olmak midir ait olmak mi? (2021) - Mavi Efeoglu
- Gerçek sevgi her zorlugun üstesinden gelir. (2021) - Mavi Efeoglu
- Güven sevgiden bile önce gelir (2021) - Mavi Efeoglu
- Kosulsuz seversen, inanirsin- (2021) - Mavi Efeoglu
- Geçmisin günahlari bugünün katilidir. (2021) - Mavi Efeoglu
- Güven bana. Basaracagiz. (2021) - Mavi Efeoglu
- Ben hala anneyim. (2021) - Mavi Efeoglu
- Sana ihtiyacim var. (2021) - Mavi Efeoglu
- Sana ne oldu? (2021) - Mavi Efeoglu
- Mavi (2021) - Mavi Efeoglu
- Gitmek mi zor kalmak mi? (2021) - Mavi Efeoglu
2020
Call My Manager (TV Series)
as
Tuba Büyüküstün
- Episode #1.1 (2020) - Tuba Büyüküstün
2019
Tuba Büyüküstün: Sayenizde (Music Video)
as
Tuba Büyüküstün
2016
Brave and Beautiful (TV Series)
as
Sühan Korludag / Alemdaroglu
2017
Istanbul Kirmizisi
as
Neval
2015
The Jungle (Short)
as
Zeynep
2014
Black Money Love (TV Series)
as
Elif
2013
20 Dakika (TV Series)
as
Melek Halaskar
- Istanbul (2013) - Melek Halaskar
- Galata Köprüsü (2013) - Melek Halaskar
- Bursa (2013) - Melek Halaskar
- Eskihisar (2013) - Melek Halaskar
- Agora Meyhanesi (2013) - Melek Halaskar
- Kirmizi Yali (2013) - Melek Halaskar
- Vanikoy (2013) - Melek Halaskar
- Esma Sultan Yalisi (2013) - Melek Halaskar
- Sahrayicedid (2013) - Melek Halaskar
- Feriye Sarayi (2013) - Melek Halaskar
- Yildiz Sarayi (2013) - Melek Halaskar
- Canfeda (2013) - Melek Halaskar
- Kiz Kulesi (2013) - Melek Halaskar
- Kanli Cinar (2013) - Melek Halaskar
- Tophane (2013) - Melek Halaskar
- Sevda Tepesi (2013) - Melek Halaskar
- Mihrimah Sultan Camii (2013) - Melek Halaskar
- Kagithane (2013) - Melek Halaskar
- Nika (2013) - Melek Halaskar
- Vefa (2013) - Melek Halaskar
- Cihangir Camii (2013) - Melek Halaskar
- Kanli Kuyu (2013) - Melek Halaskar
- Cellat Cesmesi (2013) - Melek Halaskar
- Rumelihan (2013) - Melek Halaskar
- Demirbahce (2013) - Melek Halaskar
2010
Gönülçelen (TV Series)
as
Hasret
- 56. Bolum (2011) - Hasret
- 55. Bolum (2011) - Hasret
- 54. Bolum (2011) - Hasret
- 53. Bolum (2011) - Hasret
- 52. Bolum (2011) - Hasret
- 51. Bolum (2011) - Hasret
- 50. Bolum (2011) - Hasret
- 49. Bolum (2011) - Hasret
- 48. Bolum (2011) - Hasret
- 47. Bolum (2011) - Hasret
- 46. Bolum (2011) - Hasret
- 45. Bolum (2011) - Hasret
- 44. Bolum (2011) - Hasret
- 43. Bolum (2011) - Hasret
- 42. Bolum (2011) - Hasret
- 41. Bolum (2011) - Hasret
- 40. Bolum (2011) - Hasret
- 39. Bolum (2011) - Hasret
- 38. Bolum (2011) - Hasret
- 37. Bolum (2011) - Hasret
- 36. Bolum (2011) - Hasret
- 35. Bolum (2011) - Hasret
- 34. Bolum (2011) - Hasret
- 33. Bolum (2010) - Hasret
- 32. Bolum (2010) - Hasret
- 31. Bolum (2010) - Hasret
- 30. Bolum (2010) - Hasret
- 29. Bolum (2010) - Hasret
- 28. Bolum (2010) - Hasret
- 27. Bolum (2010) - Hasret
- 26. Bolum (2010) - Hasret
- 25. Bolum (2010) - Hasret
- 24. Bolum (2010) - Hasret
- 23. Bolum (2010) - Hasret
- 22. Bolum (2010) - Hasret
- 21. Bolum (2010) - Hasret
- 20. Bolum (2010) - Hasret
- 19. Bolum (2010) - Hasret
- 18. Bolum (2010) - Hasret
- 17. Bolum (2010) - Hasret
- 16. Bolum (2010) - Hasret
- 15. Bolum (2010) - Hasret
- 14. Bolum (2010) - Hasret
- 13. Bolum (2010) - Hasret
- 12. Bolum (2010) - Hasret
- 11. Bolum (2010) - Hasret
- 10. Bolum (2010) - Hasret
- 9. Bolum (2010) - Hasret
- 8. Bolum (2010) - Hasret
- 7. Bolum (2010) - Hasret
- 6. Bolum (2010) - Hasret
- 5. Bolum (2010) - Hasret
- 4. Bolum (2010) - Hasret
- 3. Bolum (2010) - Hasret
- 2. Bolum (2010) - Hasret
- 1. Bolum (2010) - Hasret
2007
Asi (TV Series)
as
Asiye 'Asi' Kozcuoglu
- Series Finale (71) (2009) - Asiye 'Asi' Kozcuoglu
2006
Ask Yolu (TV Movie)
as
Deniz
2006
Heist School
as
Zeynep Erez
2005
Under the Trees (TV Series)
as
Filiz Tekiner
2005
My Father and My Son
as
Aysun
2004
The Rose and the Thorn (TV Series)
as
Zarife
- Televizyonunuzu Kapatmayi Unutmayiniz (2005) - Zarife
- Darbe (2005) - Zarife
- Oyun Bitti (2005) - Zarife
- Merhaba Hayat (2005) - Zarife
- Bir Varmis Bir Yokmus (2005) - Zarife
- Bir Eflatun Olüm (2005) - Zarife
- Söz Biter Izi Kalir (2005) - Zarife
- Kan ve Gül (2005) - Zarife
- Kayip Araniyor, Zarife (2005) - Zarife
- Kardesini Sec (2005) - Zarife
- Safakta (2005) - Zarife
- Bir Gece Ansizin (2005) - Zarife
- Uzun Ince Bir Yol (2005) - Zarife
- Bulusma (2005) - Zarife
- Ve Gemi Gidiyor (2005) - Zarife
- Arkadaslar, Ayriliklar (2005) - Zarife
- Kirmizi Sapkali Kiz (2005) - Zarife
- Sefiller (2005) - Zarife
- Saklambac (2005) - Zarife
- Bana Bir Tek Beni Birak (2005) - Zarife
- Bana Mutlu Yillar (2005) - Zarife
- Kirmiziyi Sectim (2005) - Zarife
- Buyuk Umutlar (2005) - Zarife
- Mutlu Yillar Turkiye (2004) - Zarife
- Dile Benden Ne Dilersen (2004) - Zarife
- Kapilari Calan Benim (2004) - Zarife
- Cok Uzak Cok Yakin (2004) - Zarife
- Bu Dansi Bana Lütfeder Misiniz? (2004) - Zarife
- Kücük Kara Balik (2004) - Zarife
- Karanliktan Gelen (2004) - Zarife
- Herkes Icin Umut (2004) - Zarife
- Geride Kalanlar (2004) - Zarife
- Sekizinci Renk (2004) - Zarife
- Karanlikta Biri Var (2004) - Zarife
- Körebe (2004) - Zarife
- Savas Alani (2004) - Zarife
- Firar (2004) - Zarife
- Iskambilden Ev (2004) - Zarife
- Madamin Konagi (2004) - Zarife
- Pilot (2004) - Zarife
2004
Gülizar (TV Movie)
as
Gülizar
2003
Sultan Makami (TV Series)
as
Nesrin
Self
2022
Kaan Sekban'la Alt Tarafi Bi' Talk Show (TV Series)
as
Self - Guest
- Episode #2.17 (2022) - Self - Guest
2020
Rise of Empires: Ottoman (TV Series documentary)
as
Mara Hatun (2019)
1996
Beyaz Show (TV Series)
as
Self (2017)
Archive Footage
2015
Did You Know? (TV Series)
as
Self
- Tuba Buyukustun (2015) - Self
References
Tuba Büyüküstün Wikipedia
(Text) CC BY-SA