In subsequent years, the film gained a cult following and garnered a large fanbase. In 2009, Stephenson, the child star of the film, directed a critically acclaimed documentary about its production and subsequent popularity, humorously titled Best Worst Movie.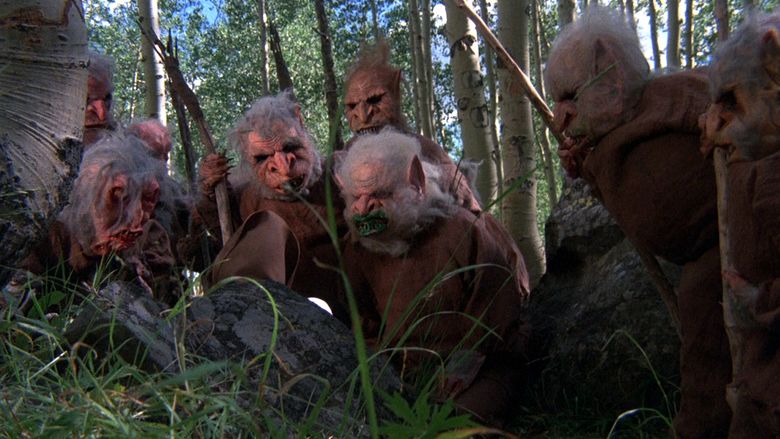 Michael has always dreamed of being a farmer, and arranges a home exchange vacation in which he and his family will move into a house in the rural farming community of Nilbog (which is "goblin" spelled backwards) for a month. The night before the family is scheduled to leave, Michael's son Joshua is contacted by the ghost of his dead grandfather, Seth, warning him that vegetarian goblins want to transform him and his family into plants so that they can eat them. Seth tells Joshua that goblins can turn people into plants by feeding them poisoned food or drink.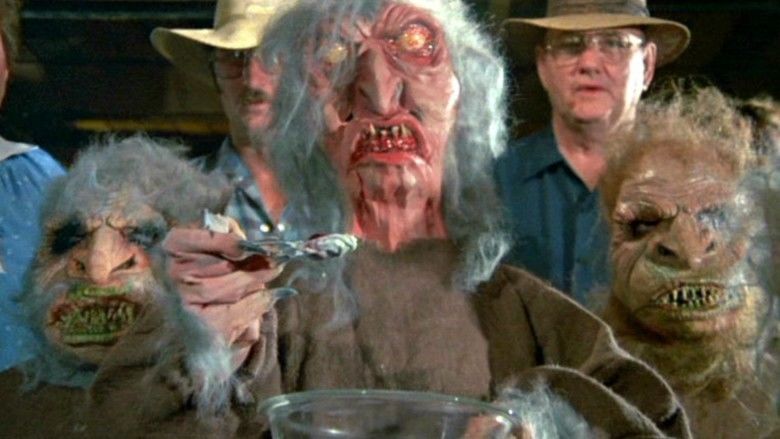 Meanwhile, Joshua's sister, Holly, receives a visit from her boyfriend Elliot. Holly accuses Elliot of being a homosexual since he seems to prefer spending time with his friends. Elliot promises to show his devotion by accompanying the family on vacation.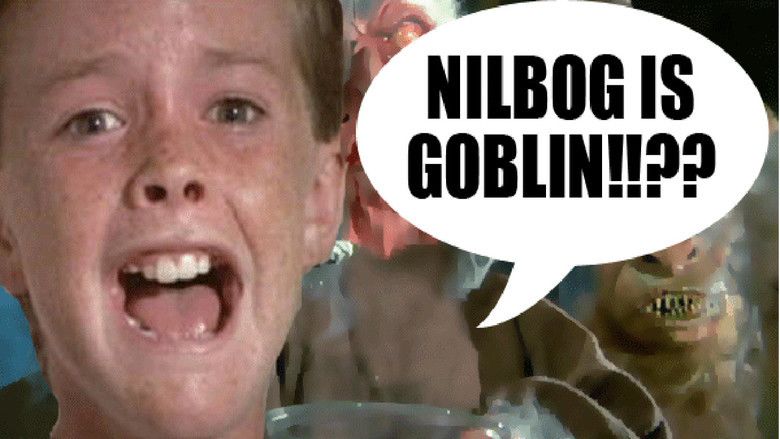 The next morning, Elliot fails to arrive and the family leaves without him; they encounter him en route to Nilbog, riding in an RV with his friends Arnold, Drew, and Brent. Outside of Nilbog, Seth appears as a hitchhiker, who warns Joshua that Nilbog is the kingdom of the goblins, and that if his family eats anything while they are there, they will be turned into plants. The family disbelieves Joshua's warnings and continue on to Nilbog. There, Joshua sets about destroying or contaminating all of the food the family finds or acquires.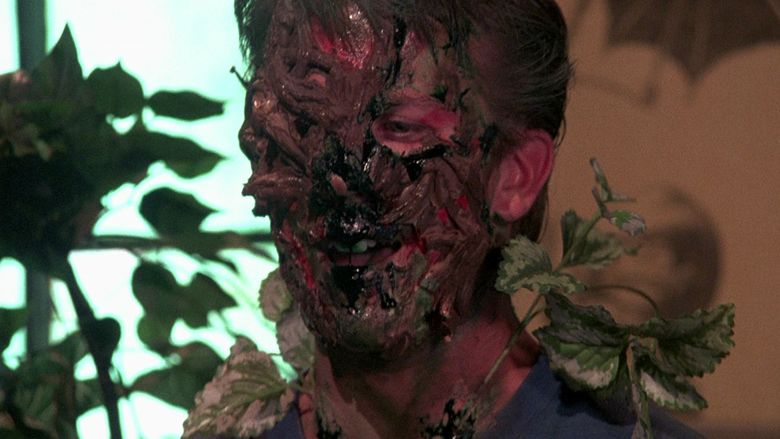 Arnold goes for a walk outside of Nilbog and encounters a girl being chased by goblins. They flee to a chapel in the woods, where they encounter the goblins' queen, Druid Creedence Leonore Gielgud, who uses the "Stonehenge Magic Stone" to give the goblins power. Creedence tricks them into drinking a magic potion that dissolves the girl into vegetable matter and turns Arnold into a plant.
Joshua sneaks away from home and eavesdrops on a goblin church sermon, which bewails the evils of eating meat. The parishioners capture him and attempt to force feed him poison ice cream; Michael walks in on the scene and becomes suspicious, taking Joshua home.
Later, Drew goes to the town because there are no food or drinks in the RV. The sheriff takes him in his car and gives him a green hamburger. When he arrives in the town, Drew goes to the store and the owner offers him poisonous Nilbog milk. Feeling dizzy, he goes to a chapel and finds Arnold, who has turned into a plant. Drew drags him out, but Creedence appears. She knocks him out and chainsaws Arnold into pieces. Drew is then killed offscreen.
At the house, the family discover that the townspeople have prepared them a surprise party to apologize for the events at the church. Joshua attempts to make contact with Seth, only for Creedence to appear in goblin form. Seth's ghost appears and chops her hand off. Creedence returns to her chapel, where she transforms herself into a beautiful woman in revealing clothes; she then travels to Elliot's RV, where she seduces Brent and drowns him in popcorn.
Joshua, Elliot, Holly, Michael and Diane hold a séance to communicate with Seth, who returns from the dead and tells them that he can retain a physical form for exactly 10 minutes before he has to return to the afterlife. Seth gives Joshua a paper bag containing a "secret weapon" to use against the goblins. The goblins break into the house and transport Joshua to Creedence's chapel, where Joshua opens the bag, revealing a "double-decker Bologna sandwich". He eats the sandwich, making his body poisonous to the goblins; he then touches the Stonehenge Stone, which destroys Creedence.
The family returns home, where Joshua's mother is seen eating food from the refrigerator. The food, unknown to the family, has been poisoned by the family of goblins who took over their home during their exchange in the country. The film ends with Joshua walking in on a group of goblins eating his mother's green, bloated torso off of the kitchen counter and offering him a bite. Joshua screams in horror.
Michael Stephenson as Joshua Waits
George Hardy as Michael Waits
Margo Prey as Diana Waits
Connie McFarland as Holly Waits
Robert Ormsby as Grandpa Seth
Deborah Reed as Creedence Leonore Gielgud
Jason Wright as Elliot Cooper
Darren Ewing as Arnold
Jason Steadman as Drew
David McConnell as Brent
Gary Carlson as Sheriff Gene Freak
Mike Hamill as Bells
Don Packard as Drugstore Owner
Christina Reynolds as Cindy
Glenn Gerner as Peter
Michelle Abrams as Wood Tales Girl
Lance C. Williams as Mr. Presents
Elli Case as Mrs. Presents
Gavin Reed as Presents Son
Melissa Bridge as Presents Daughter
Andi Foster as Troll #2 (uncredited)
Patrick Gibbs as Goblin (uncredited)
Paul Gibbs as Goblin (uncredited)
Hermann Weiskopf as Man (uncredited)
The script—originally titled Goblins—began as a way for director Claudio Fragasso's wife, Rosella Drudi, to express her frustration with several of her friends becoming vegetarians, which she claimed "pissed [me] off." The film was produced by Eduard Sarlui and Joe D'Amato, an Italian exploitation film director notorious for his stated view that the profitability of films was more important than their entertainment value. D'Amato worked under the pseudonym "David Hills". In keeping with D'Amato's production philosophy, many components of the film were created for little to no money: The score, composed by Carlo Maria Cordio, was played entirely on a Korg M1 synthesizer and consisted of a few brief themes repeated over and over, including a sped-up M1 demo track. The costumes were designed by D'Amato's longtime friend and frequent collaborator Laura Gemser, who had built a reputation in the '70s and '80s for her roles in various notorious Italian grindhouse movies and erotic films. Gemser's design for the costumes consisted of burlap sacks and rubber Halloween masks—some which were reused in D'Amato's Ator barbarian franchise—with only one goblin mask modified to have a moveable mouth. Sarlui also bought the rights to a goblin mask used in Troll.
The film was shot on location in Morgan and Porterville, Utah in the summer of 1989 on an estimated budget of $200,000; a large "M" erected in the mountains outlying Morgan is visible in some shots. The production crew was made up almost entirely of non-English-speaking Italians brought to America by Fragasso; the only fluent English speaker on set was Gemser. Fragasso and his crew largely relied on a broken pidgin English to communicate with the cast, who recalled not being able to understand much of what went on.
The cast had few experienced actors, and was primarily assembled from residents of nearby towns who responded to an open casting call, hoping to win roles as extras. George Hardy was a dentist with no acting experience who showed up for fun, only to be given one of the film's largest speaking roles. Don Packard, who played the store owner, was actually a patient at a nearby mental hospital, and was cast for—and filmed—his role while on a day trip. He later recalled that he had smoked an enormous amount of marijuana prior to filming, had no idea what was happening around him, and that his disturbed "performance" in the film was not acting.
As neither Fragasso nor Drudi spoke fluent English, the shooting script was written in the same broken dialect in which they both spoke; the cast would later recall that the script was only given to them scene-by-scene, and that they had difficulty understanding their dialogue as written. Some of the cast members offered to correct their lines to sound more grammatically and syntactically correct, but said that Fragasso demanded they deliver their lines verbatim. Despite the majority of the cast ascribing to the same story, Fragasso has vehemently denied their version of events, and once interrupted a panel discussion being conducted by the cast to call them "dogs" (Italian for "bad actors") and accuse them of lying about their experiences.
Troll 2 is widely considered to be of exceptionally poor quality, and has come to be regarded by the public as one of the worst films ever made. The film has a 6% on Rotten Tomatoes. The acting and dialogue have become notorious for their camp value. The scene in which Darren Ewing's character states that he will be eaten next has become an internet meme, often appearing in videos alongside the "Garbage Day" meme from Silent Night, Deadly Night Part 2. In terms of audience participation, Troll 2 has been compared to the film The Rocky Horror Picture Show, and the two films have been screened together.
Troll 2 was given RiffTrax treatment by Michael J. Nelson (of Mystery Science Theater 3000 fame) and special guest Richard Kyanka from Something Awful.
In 2007, a major Troll 2 event took place in Morgan called "Nilbog Invasion". The Alamo Drafthouse Cinema's Rolling Roadshow turned Morgan into "Nilbog" again for a weekend, and screened the film for an audience of fans from around the world. Much of the cast attended and appeared in a panel discussion, as well as the writers and director of the film. Director Claudio Fragasso was presented with the key to the city by the mayor of Morgan.
In December 2009, late-night host Conan O'Brien recommended Troll 2 on his list of DVDs and books in his "New Oprah" segment.
In 2003, the film was released on DVD by MGM in a Dual Layer version, packaged with the first 1986 Troll film, under the title Troll/Troll². MGM rereleased Troll 2 on DVD and Blu-ray in the United States on October 5, 2010 in honor of the 20th anniversary of the film's release. Scream Factory released a double feature Blu-ray of Troll and Troll 2 on November 17, 2015. The first 5,000 copies included a DVD of Best Worst Movie, the documentary about the production and legacy of Troll 2.
The child star of Troll 2, Michael Stephenson, directed Best Worst Movie, a documentary about the film and its cult status. The film debuted March 14, 2009, at the Alamo Drafthouse South Lamar in Austin, Texas, as part of the South By Southwest film festival. Several cast members from Troll 2 attended the premiere. The screening was followed by a showing of Troll 2. The documentary also screened at major film festivals across the world including the AFI Fest and Sheffield Doc/Fest. A screening at the Tower Theater in Salt Lake City included appearances from much of the cast.
The film won Best Feature Documentary (as voted by the official jury), as well as the Audience Choice for Best Documentary Feature at the 11th annual Sidewalk Moving Picture Festival in September 2009. It was released in spring 2010 and distributed by Area 23 A.
ABC's Nightline ran a segment on Troll 2 and Best Worst Movie in May 2010, including interviews with Hardy and Stephenson.
George Hardy as himself
Michael Stephenson as himself
Darren Ewing as himself
Jason Steadman as himself
Jason Wright as himself
Claudio Fragasso as himself
Roger Ebert awarded Best Worst Movie 3 out of 4 stars and said, "The lesson, I guess, is that you can only be the flavor of the month for about 30 days, sometimes 31. Troll 2 was February."
Best Worst Movie was released on DVD on November 16, 2010, distributed by New Video Group.
After Troll 2 was released on home video, some regional distributors continued to build on the success of the previous Troll, distributing two other films as sequels: The Crawlers (also known as Troll 3 or Contamination.7) and Quest for the Mighty Sword. The latter film, featuring a hobgoblin using the same goblin suit from Troll 2, was also known as Troll 3 (in Germany, it was released as Troll - Das Schwert der Macht and Troll - Teil 3).
At the Nilbog Invasion, Fragasso and writer Drudi announced plans for a sequel to Troll 2, and the audience was polled for their opinion on what the film should be called. The winning title was Troll 2: Part 2. Fragasso later asked Stephenson to appear in the sequel. However, in 2009, Fragasso said he was not longer interested in directing the film.
An upcoming German film, Goblin 2, will reprise Hardy's role as Michael Waits, establishing it as a crossover film.