6.4

/

10

1

Votes

Alchetron

Rate This




Richard Fleischer




Sol Kaplan




United States






Crime, Drama, Film-Noir





English






October 1, 1949 (1949-10-01TUnited States)




Earl Felton (story), George Zuckerman (story)




Film noir, Drama, Thriller, Mystery, Crime Fiction, Black-and-white, Crime Thriller




Lloyd Bridges

(Tris Stewart),

Barbara Payton

(Meg Dixon),

John Hoyt

(Agent John Downey),

James Todd

(Jack Sylvester),

Russ Conway

(Chief Agent Gunby),

Robert Karnes

(Agent Fred Foreman)


Spy

,

T-Men

,

Kounterfeit

,

Quantum of Solace

,

Batman Begins

,

Mission: Impossible




When a killer dreams of millions... and a girl to spend them on!
Trapped is a 1949 semidocumentary film noir directed by Richard Fleischer, written by George Zuckerman and Earl Felton. The drama features Lloyd Bridges, Barbara Payton, John Hoyt, and others.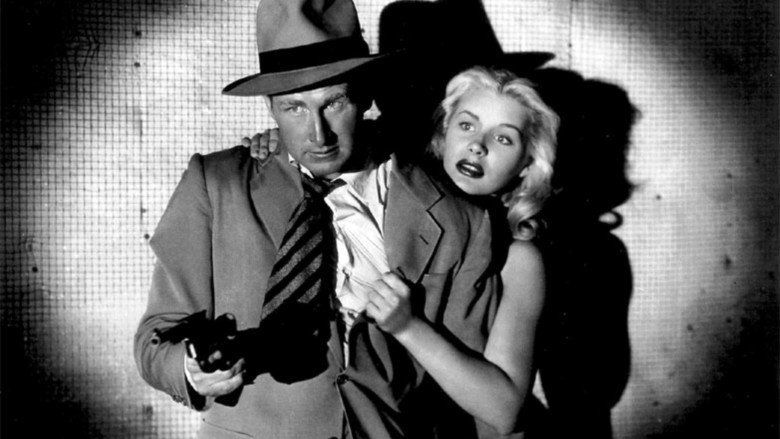 Like many semi-documentaries, the film begins with a voice over footage of the treasury department, telling the story of what the department does. Then it quickly begins the story once a woman tries to deposit a twenty-dollar bill at the bank that turns out to be phony.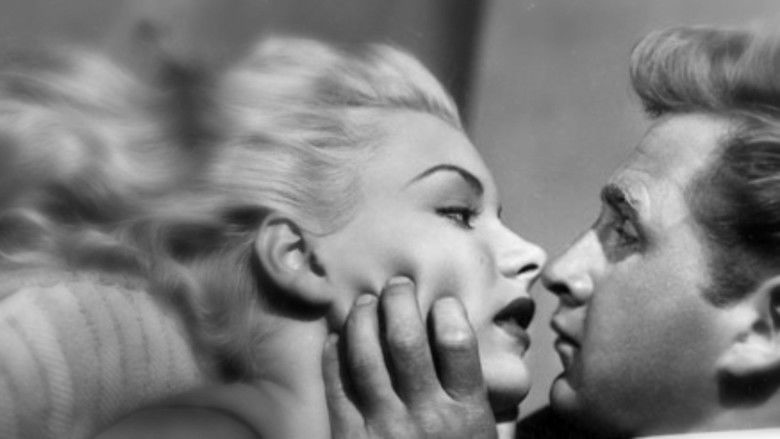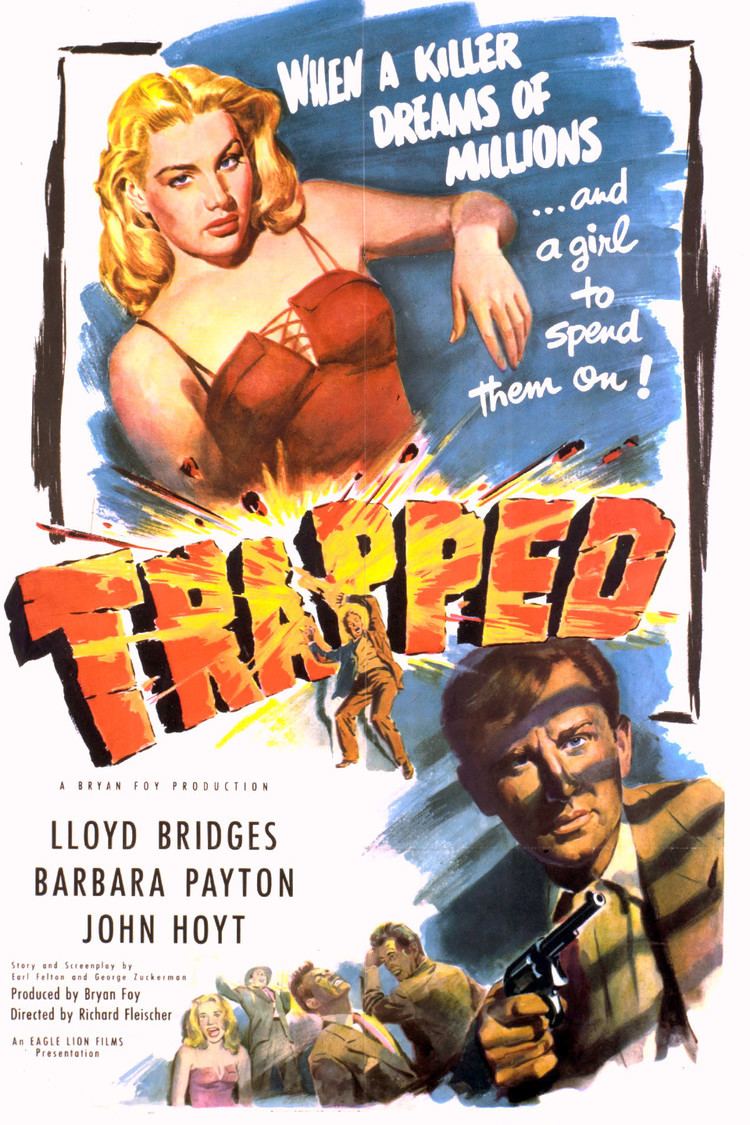 The film tells the story of the U.S. Treasury Department who, with the aid of a counterfeiter, try to track down and stop of counterfeiting ring. The counterfeiter, Tris Stewart (Bridges), serving time in prison, is released under the agreement that he will assist in the capture of the phoney money printers. Once out of jail Stewart quickly meets up with cigarette girl Meg Dixon (Barbara Payton).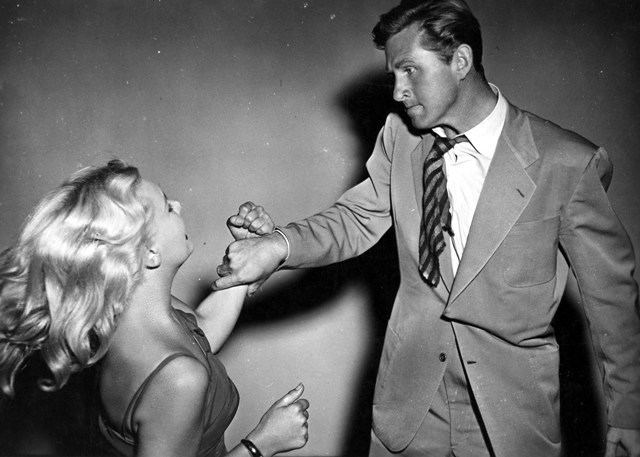 Detailed synopsis - After a customer hands him a suspicious-looking $20 bill, a bank teller has it checked and it proves to be counterfeit. The bill is then sent to the Secret Service laboratory in Washington, where it is discovered to be a fresh note bearing characteristics of a counterfeiter named Tris Stewart, who is serving a prison term in Atlanta. Two agents, Raymond and Charles, go to see Stewart in prison and suggest that he knows who has the engraving plates used to produce the phony bill, but Stewart offers them no assistance. Several weeks later, while he is being transferred by public bus to Kansas City, handcuffed to a Deputy Marshal, Stewart escapes when a sedan pulls in front of the bus and he grabs the marshal's gun and orders him to unlock the handcuffs. Stewart orders the driver to stop the bus, then flees in the sedan, which is being driven by federal agent Foreman as part of an elaborate ruse to provide a "cover" story for Stewart, who has agreed to help find the counterfeiters in exchange for an early parole. In Kansas City, Foreman asks Stewart about the whereabouts of his former girl friend, Meg Dixon, but Stewart claims not to know where she is. Stewart then attacks Foreman and, after a struggle, knocks him out and heads for Los Angeles. There, he finds Meg using the name Laurie Frederick and working as a cigarette girl at the Chanteclair nightclub. Stewart saves Laurie from the unwanted advances of customer Johnny Hackett and, later at her apartment, tells her that although the "feds" expected him to become a "stool pigeon," he never intended to help them. Unaware that their conversation is being recorded by agents in the basement, he then informs Laurie that they will be leaving for Mexico after he deals with his ex-partner. At the local Secret Service headquarters, meanwhile, Chief Gunby and Foreman receive a visit from Hackett, who is actually John Downey, another agent. The next day, Stewart locates his former partner, Sam Hooker, in a cheap hotel. After Stewart beats him up, Hooker, who was supposed to have saved Stewart's share of the money they made but lost it all gambling and drinking, confesses that he sold the counterfeiting plates to Jack Sylvester, one of their former competitors, who is now running a land investment company. Needing money with which to buy some counterfeit currency, Stewart decides to crack the safe at Laurie's club. The police are waiting, however, and arrest Laurie, but Stewart escapes. Still posing as Hackett, Downey bails out Laurie, then propositions her. Although jealous of his interest in Laurie, Stewart realizes that Downey might be able to finance his deal and, in Downey's hotel room, finds a large sum of cash in a suitcase. Stewart then tells him that, for $25,000, he can buy $250,000 in excellent phony bills. After meeting Sylvester and seeing a sample bill, Downey agrees. However, a subsequent rendezvous proves a failure because Sylvester, who is still unsure about Downey, brings only scraps of blank paper. Later, while dining at the club, Downey's cover is blown in front of Laurie by a young man who recognizes him from the Army. Back at the apartment, after Laurie takes Stewart outside to tell him that Downey is an agent, they both search for a microphone and find it in a lampshade. Deciding that they should still play along, Stewart tells Laurie to buy two tickets to Mexico City for the following evening and instructs her to meet him at the airport. Later, as Downey drives Stewart to meet Sylvester, Stewart draws a gun on him and reveals that he knows he is an agent. Downey is forced to drive to a remote spot overlooking the ocean and told to get out of the car, but manages to overpower Stewart and delivers him to the Venice police station. Downey then phones Gunby and suggests that he go ahead with entrapping Sylvester, as long as Laurie is arrested beforehand. However, the agents cannot find Laurie and when Downey meets Sylvester, he tells him that Stewart has been arrested. They then drive to Sylvester's printing plant, losing agents who are tailing Sylvester's car. Meanwhile, Laurie shows up at Sylvester's office looking for Stewart, which causes Mac Mantz, Sylvester's associate, to become suspicious and take her to the plant. After Downey checks the bills he is buying and Sylvester shows him the plates, Mantz and Laurie arrive, and she tells Sylvester that Downey is an agent. Meanwhile, a motorcycle patrolman calls in the license plate numbers on Sylvester's parked car. Downey tells Sylvester that Stewart is locked up and that he tried to double-cross them both. When more agents arrive, Sylvester shoots Laurie, whom he does not trust, then escapes from the building. After being chased through a trolley car barn, Sylvester is electrocuted atop a trolley car. Later, the federal agents recover the plates and the counterfeit bills, and the Stewart case is closed.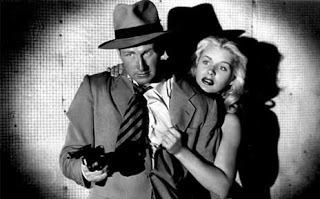 Lloyd Bridges as Tris Stewart
Barbara Payton as Meg Dixon, alias Laurie Fredericks
John Hoyt as Agent John Downey, alias Johnny Hackett
James Todd as Jack Sylvester
Russ Conway as Chief Agent Gunby
Robert Karnes as Agent Fred Foreman
Douglas Spencer as Sam Hooker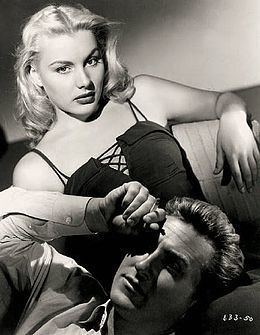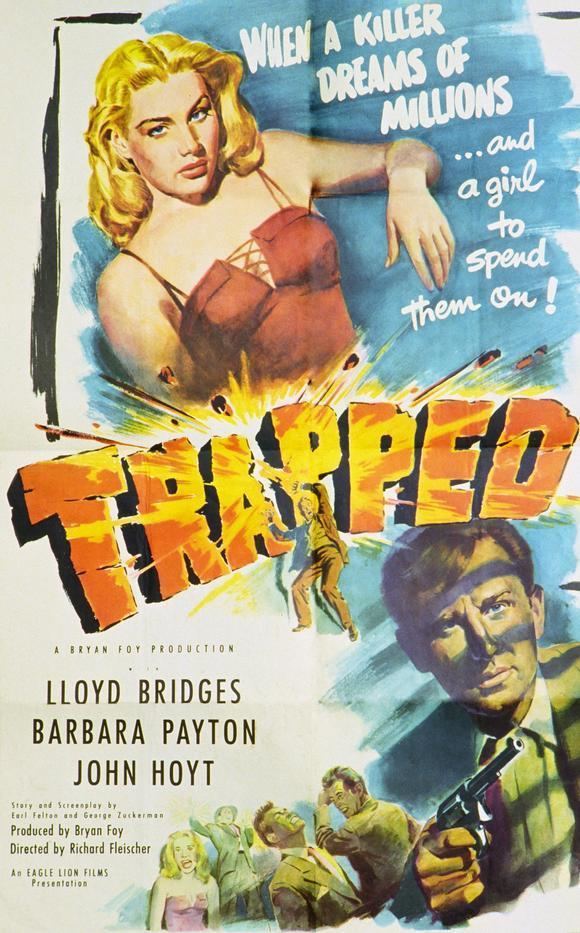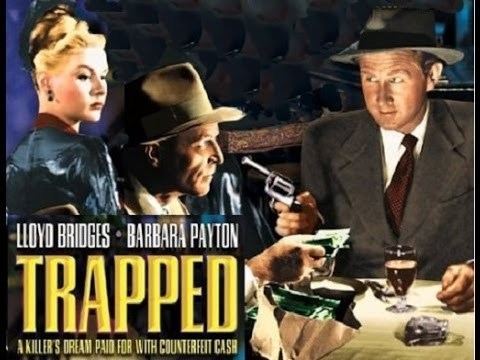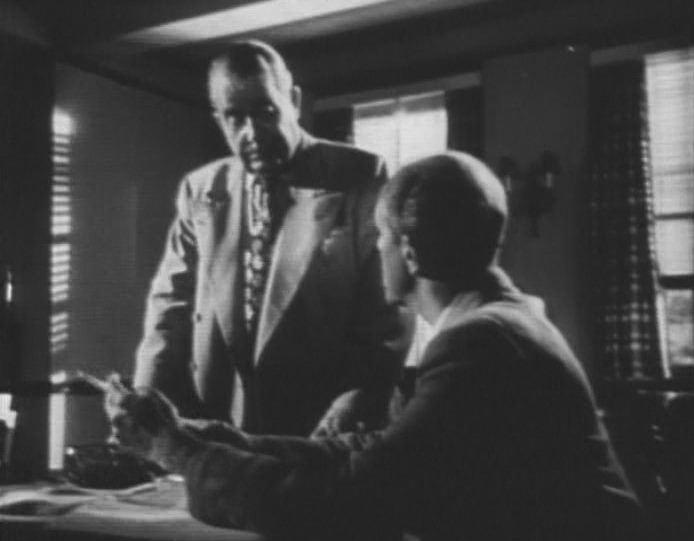 Trapped (1949 film) Wikipedia
Trapped (1949 film) IMDb
Trapped (1949 film) themoviedb.org