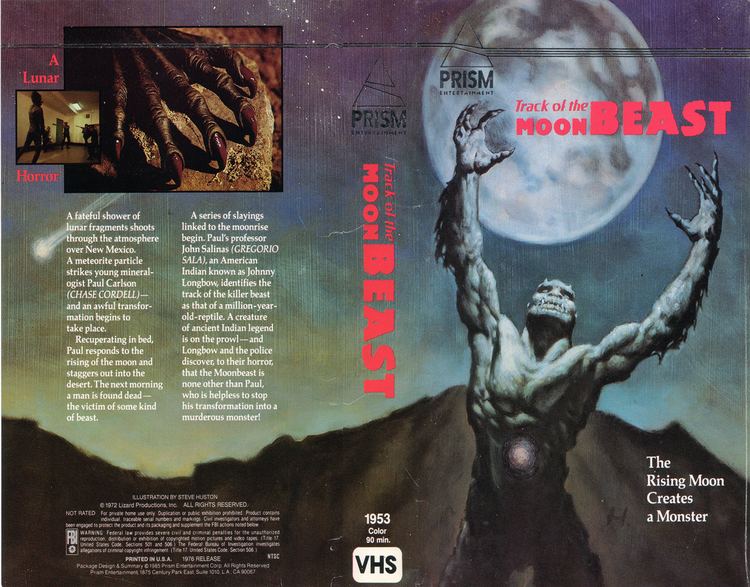 Mineralogist Paul Carlson (Chase Cordell) is struck by a lunar meteorite while observing a meteor shower. Lodged in his brain, the meteorite causes him to transform into a strong and vicious lizard (the titular "moon beast") whenever the moon comes out. In his lizard form, Paul loses all traces of his human self and goes about killing people at random. While human, Paul is subject to spells of dizziness and nausea, causing his girlfriend Kathy Nolan (Donna Leigh Drake) and friend and former teacher Johnny Longbow (Gregorio Sala) to become concerned.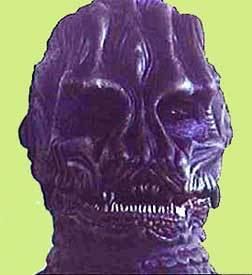 Eventually it is shown that Paul is the monster, and deduced that the meteorite fragment in his brain is the cause of his transformations. Plans are made to remove it from his skull, but the NASA brain surgeons realize, after another X-ray and Johnny remembering some Native American legends documenting similar phenomena, that the meteorite has disintegrated and will eventually cause Paul to self-combust. When Paul learns of this, he escapes into the desert, presumably to kill himself so he will not cause any more harm. Kathy, Johnny, and the local law enforcement follow him, and Johnny shoots him with an arrow made of the original meteorite, which causes him to explode.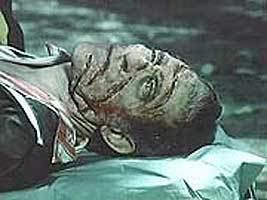 Chase Cordell as Paul G. Carlson
Leigh Drake as Kathy Nolan (as Donna Leigh Drake)
Gregorio Sala as Prof. John 'Johnny Longbow' Salinas
Patrick Wright as Police Captain McCabe
Francine Kessler as Janet Price
Timothy Wayne Brown as Dr. Sutton
Crawford MacCallum as Dr. Lawrence
Jeanne Swain as Caroline Harris
Alan Swain as Sid Harris
Fred McCaffrey as Dr. Rizzo
Tim Butler as Budd Keeler
Gary Kanin as The Newscaster
Frank Larrabee as Lead Singer
Joe Blasco as the Moon Beast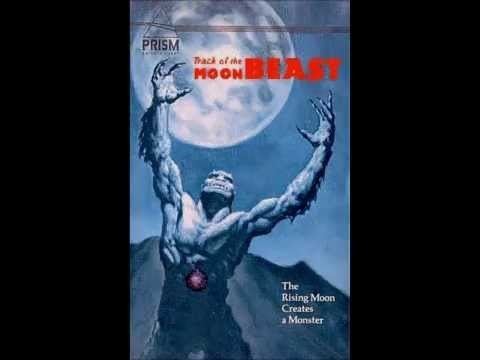 Track of the Moon Beast was produced by Ralph T. Desiderio and written by Bill Finger.
Track of the Moon Beast was released to theatres on June 1, 1976.
Track of the Moon Beast was first released to DVD in 2001 by American Home Treasures on the DVD compilation Classic Creature Movies II (Creature / Track Of The Moon Beast / Snowbeast). It has since been released as part of several DVD compilations of public domain movies, including; Chilling Classics 50 movie pack by Mill Creek Entertainment in 2005, 50 Fright Classics by Emson in 2006 and Drive-in Classics by St. Clair Entertainment Group in 2007.
Critical response has been predominantly negative.
TV Guide panned the film stating, "Although this premise is ripe with comedic opportunities, the production is hampered by classically inept film-making, and the story unfolds so slowly one begins to think the film is running in reverse. The acting is even worse. Still, horror fanatics might find some interest in Rick Baker's lizard makeup". Oh the Horror! gave the film a negative review calling it "embarrassing" and called the ending "ridiculous", panning the film's execution, dialogue, and script.
The film was featured in a Season 10 episode of Mystery Science Theater 3000. Fodder for mockery included, but was definitely not limited to, the "brain-dead" expression of the lead actress, the "horrible" dialogue, and the suggestive name and unctuous nature of the character "Johnny Longbow", whom they repeatedly refer to as "Johnny Longbone". The scene in which Johnny names ingredients in his stew quickly became a running gag and one of the writers' favorite moments from the series. Writer Kevin Murphy stated that his world-weary sigh of "onions..." made Johnny Longbow one of the "best" characters they've ever encountered. Another popular part from the episode was when Mike Nelson had an entire host segment about The Band that Played California Lady, performed in the voiceover style of VH1's Behind the Music, which was a made-up band that had a song called California Lady in the film.