Robbins is the founder of several companies that earn approximately $5 billion in annual sales. In 2015 and 2016 he was listed on the Worth Magazine Power 100 list. He is also an active philanthropist, partnering with organizations such as Feeding America.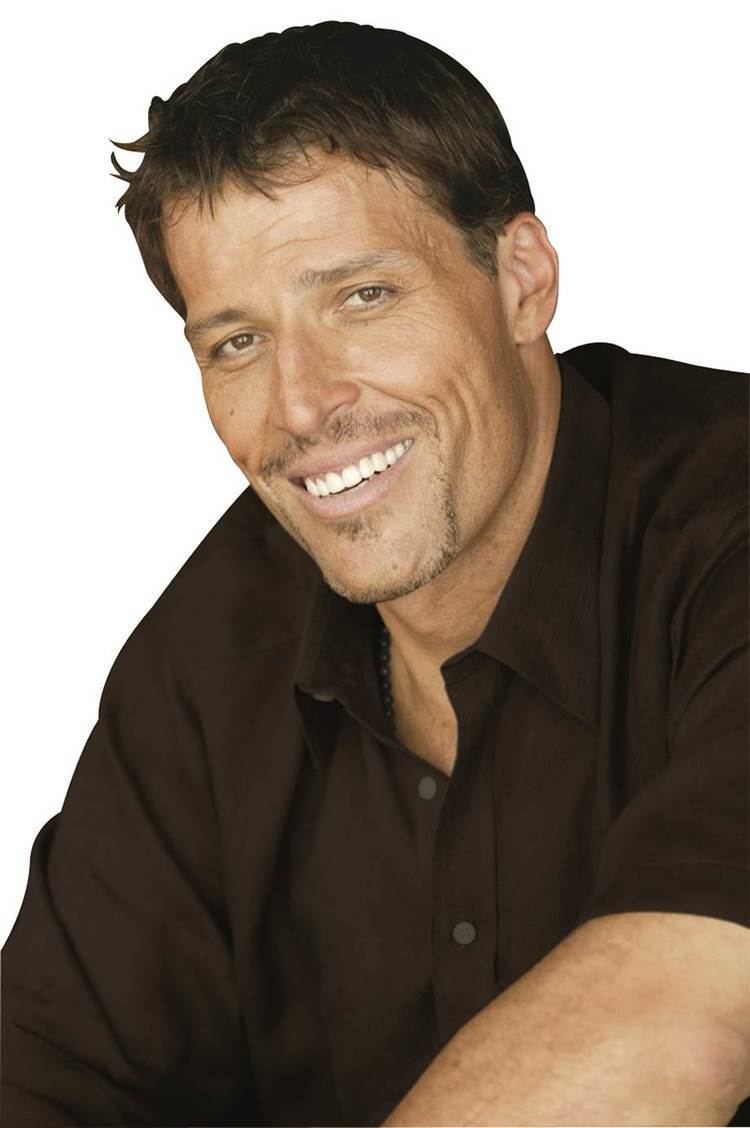 Robbins was born Anthony J. Mahavoric in North Hollywood, California, on February 29, 1960. His surname was originally spelled 'Mohorović' and is of Croatian origin. Robbins is the eldest of three children and his parents divorced when he was 7. His mother then had a series of husbands, including Jim Robbins, a former semiprofessional baseball player who legally adopted Anthony when he was 12.
Robbins was raised in Azusa and Glendora, California, and attended Glendora High School. He was elected student body president in his senior year. While growing up, Robbins worked as a handyman to help provide for his siblings.
During high school, Robbins grew ten inches, a growth spurt later attributed to a pituitary tumor. He has said his home life was "chaotic" and "abusive." When he was seventeen years old, his mother chased him out of the house with a knife and he never returned. Robbins later worked as a janitor, and did not attend college.
Robbins began his career promoting seminars for motivational speaker and author Jim Rohn when he was 17 years old.
In the early 1980s, soon after meeting Neurolinguistic Programming co-founder John Grinder, the two became partners. At this time Robbins taught NLP and Ericksonian Hypnosis. In 1983 Robbins learned to firewalk, and incorporated it into his seminars.
In 1988 Robbins released his first infomercial, Personal Power, produced by Guthy Renker, which helped to promote his services as a "peak performance coach." The infomercial helped Robbins gain wide exposure, selling his Personal Power self-help audiotapes. His early infomercials featured celebrities such as Pro Football Hall of Fame quarterback Fran Tarkenton and actor Martin Sheen. By 1991 an estimated 100 million Americans in 200 media markets had seen his infomercials.
In 1997, Robbins began the Leadership Academy seminar. He is a speaker on the seminar circuit sponsored by Learning Annex. Robbins was a featured speaker at the 2007 Technology, Entertainment and Design (TED) conference. As of August 2012, his talk was the sixth most popular in the history of the event.
Together with Cloé Madanes, Robbins founded the Robbins-Madanes Center for Intervention, an organization that trains life skills coaches to help families and individuals deal with addiction and other issues.
In 2014, Robbins, along with a group of investors including Magic Johnson, Mia Hamm, and Peter Guber, acquired rights to launch a Major League Soccer franchise in Los Angeles, California, currently referred to as the Los Angeles Football Club. The soccer team is scheduled to begin competition in 2018.
Robbins has worked on an individual basis with Bill Clinton, Donald Trump, Justin Tuck, Wayne Gretzky, Serena Williams, Hugh Jackman and Pitbull. He has also counseled American businessmen Peter Guber, Steve Wynn and Marc Benioff. He was named one of the "Top 50 Business Intellectuals" by Accenture and one of the "Top 200 Business Gurus" by the Harvard Business Press.
Throughout his writings, seminars, and speeches, Robbins espouses viewpoints, techniques, and other practices he asserts can help adherents improve their lives. Among these are methods he calls the "controlling state" and "neuro-associative conditioning." He speaks a great deal about various "human needs, influences that affect people, the power of making decisions" and the need to achieve "emotional mastery." He has said that, to live an extraordinary life, you must master two things: "the science of achievement" and "the art of fulfillment."
Robbins holds multiple seminars annually. These seminars include Unleash the Power Within, Date with Destiny, Life and Wealth Mastery, Business Mastery and Leadership Academy. He has identified seven "keys to business mastery": create loyal, satisfied customers and culture; be honest about where the business is, and create an effective business map; strategic innovation; world-class marketing; sales mastery systems; financial and legal analysis; and optimization and maximization of people and processes.
'Energy: The Fuel of Excellence,' a chapter in Unlimited Power, is dedicated to a discussion of health and energy. It endorses the Fit For Life program of Harvey and Marilyn Diamond, food combining and deep breathing. Robbins refers to Harvey and Marilyn Diamond as his "former partners."
Later in his career, in his audio product Living Health, Robbins changed his teachings on health slightly. He attributes this change to the influence of Robert O. Young. In Living Health, he endorses natural hygiene, the alkaline diet, live blood analysis and the works of Antoine Béchamp.
In 1991, Jay Robbins founded the Anthony Robbins Foundation. The charity helps individuals and organizations to make a difference in the quality of life for youth, homeless, hungry, prisoners, elderly and disabled. The Basket Brigade, one of the programs of the Foundation, brings groups of volunteers across the world together to assemble and deliver baskets of food and household items to needy families. Independent charity watchdog Charity Navigator gives the Anthony Robbins Foundation a rating of four out of four stars.
In 2014, he donated the profits of his book, Money: Master the Game, along with an additional personal donation, through Feeding America to provide meals to people in need. The combined donation fed 100 million needy people in 2014-15, according to the charity. Robbins partnered with the charity again in 2016 to provide 100 million more meals. On February 2, 2017, Feeding America announced that the 100 Million More Meals Challenge, conducted in partnership with Robbins, helped provide more than 101.6 million meals to children, families and seniors through Feeding America's network of 200-member food banks in 2016. Robbins is also donating profits from Unshakeable: Your Financial Freedom Playbook to Feeding America.
Robbins works with a water company called Spring Health, which provides fresh water to small villages in rural eastern India to prevent waterborne diseases. He is also a benefactor of the X-Prize Foundation.
In May 1995, Robbins Research International (R.R.I.) settled with the Federal Trade Commission over alleged violations of the agency's Franchise Rule. Under the settlement, R.R.I. was not found to have violated any law and agreed to pay $221,260 in consumer redress.
Wade Cook sued Robbins for allegedly using copyrighted terms from Cook's book Wall Street Money Machine in Robbins' seminars. In 2000, a jury awarded Cook $655,900 judgement, which was appealed.
In 2001, the British Columbia Supreme Court ruled that The Vancouver Sun had defamed Robbins when it called him an "adulterous, wife-stealing hypocrite. "The court awarded Robbins $20,000 in damages and his legal costs.
In July 2012, the San Jose Mercury News published a story reporting that multiple people had been burned and hospitalized during one of Robbins' fire-walking events on July 19, 2012. This story was picked up by other media outlets, including Fox News. These reports were later retracted as inaccurate. A similar corrective article was published by The Huffington Post.
On June 24, 2016, "dozens were burned and required medical attention after attempting to walk on hot coals during a fire-walking event at a Tony Robbins seminar in Dallas, Texas." Several attendees were transported to medical facilities to treat burns, and a bus was used as a staging-area for between 30 and 40 people who were less seriously hurt.
The way this 2016 event was reported in the media was similar to what happened in 2012, in which several media outlets reported the same story. Bill Carmody for Inc. quoted a spokeswoman for the Robbins organization who stated, "Someone unfamiliar with the process of the fire-walk called 911 reporting the need for emergency services vehicles […] there was no need for emergency personnel […] only 5 of 7,000 participants requested an examination beyond what was readily available on site."
Robbins has played cameo roles in the films Reality Bites, The Cable Guy and the 2001 film Shallow Hal. He also appeared in The Roseanne Show and an episode of The Sopranos. He plays himself in the 2010 documentary film The Singularity Is Near: A True Story about The Future.
He was lampooned in the Family Guy episode "When You Wish Upon a Weinstein" and the Beavis and Butt-head episode "The Miracle That is Beavis."
In July 2010, NBC debuted "Breakthrough with Tony Robbins," a reality show that followed Robbins as he helped the show's participants face their personal challenges. NBC canceled the show after airing two of the planned six episodes due to low viewership of 2.8 million. In March 2012, the OWN Network picked up the show for another season beginning with the original first season set to re-run and thereafter leading directly into the new 2012 season. In April 2012, Robbins began cohosting Oprah's Lifeclass on the OWN Network.
In 2015, film maker Joe Berlinger directed and produced the documentary "Tony Robbins: I Am Not Your Guru," about the Tony Robbins event "Date with Destiny" after filming it in Boca Raton, Florida, in December 2014. It premiered at the South by Southwest film festival in March 2016 and opened the American Documentary Film Festival (AmDocs) in Palm Springs in February 2016. The documentary was translated into languages for 190 countries and released by Netflix on July 15, 2016.
In 1982, he married Rebecca "Becky" Jenkins, after meeting her at a seminar. Jenkins had three children from two former marriages whom Robbins adopted. Robbins and Jenkins filed for divorce 14 years later.
In 1984, Robbins and former girlfriend Liz Acosta had a son Jairek Robbins, who is also a personal empowerment trainer.
Robbins married Bonnie "Sage" Humphrey, now known as Sage Robbins in October 2001. Robbins resides in Palm Beach, Florida.
Cloé Madanes