LA Tech offensive coordinator Tony Petersen at Tech's media day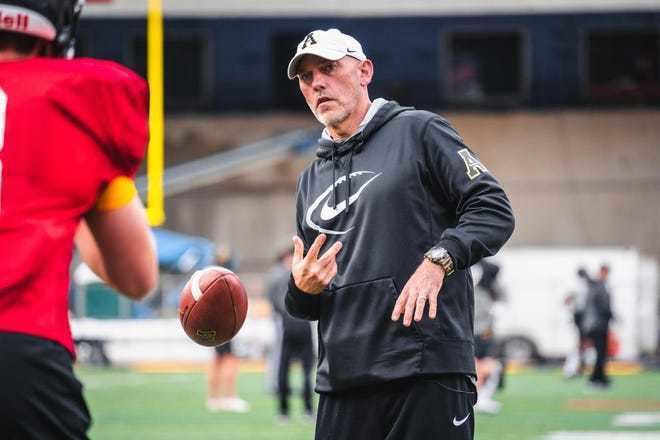 Tony Petersen (born October 9, 1966 in Lodi, California) is the Offensive coordinator for the East Carolina Pirates football team. Petersen played football at Marshall University where he set 16 Southern Conference single-season and career records in passing and total offense, to go along with six Marshall single-season school marks.
Contents
LA Tech offensive coordinator and QB coach Tony Petersen at Tech's media day
Playing career
Petersen went to Marshall University after a stellar career at Delta Community College in Stockton, California. He was drafted by the Kansas City Royals after his first season at Delta C.C.
As a football player at Marshall, Petersen was named the 1988 Southern Conference Athlete of the Year and the Southern Conference Offensive Player of the Year in 1987. Petersen set 16 Southern Conference single-season and career records in passing and total offense, to go along with six Marshall single-season school marks. He threw a record 35 touchdown passes in 1987. Petersen also set NCAA records for most passes in a game without an interception (68) and for most regular season games (11) with more than 200 yards passing. Peterson also played on the Herd's baseball team.
First stint at Marshall
After being a free agent signee to the Minnesota Vikings in 1989, Petersen started his coaching career as a graduate assistant for the Kentucky Wildcats football team in 1990. A year later Petersen's eight seasons at Marshall got started (1991–1998), the Thundering Herd qualified for the postseason eight straight times, winning national championships in 1992 and 1996 and Mid-American Conference titles in both 1997 and 1998. Peterson served as wide receivers coach in 1992 and helped in the development of future three-time Super Bowl Champion Troy Brown. Peterson served as quarterbacks coach for five of his previous eight years at MU and worked as the offensive coordinator in 1998. In that capacity, he coached future NFL quarterbacks Chad Pennington and Byron Leftwich.
Minnesota
During Petersen's eight seasons at the University of Minnesota (1999–2006), Petersen served as co-offensive coordinator, quarterbacks coach and eventually the passing coordinator for the Golden Gophers. Quarterback Bryan Cupito set the new all-time leading passing mark under Petersen. In 2006, the Gophers had a 2,000-yard passer for a fifth straight year, a school record. Petersen also played a crucial role in the progress of Asad Abdul-Khaliq at Minnesota as the quarterback rewrote the Gophers' record books.
Iowa State
Petersen spent the 2007 and 2008 seasons as the Quarterbacks coach for the Iowa State Cyclones football team. Under Petersen, Iowa State quarterback Bret Meyer finished his Cyclone career in 2007 with school record totals for passing yards and total offense.
Second stint at Marshall
After spending the 2009 season as the associate head coach for the University of South Dakota, Petersen was hired as assistant head coach, co-offensive coordinator and quarterbacks coach by Marshall head coach Doc Holliday in January 2010.
Personal life
Petersen earned his bachelor's degree in 1988 and master's degree in 1995, both from Marshall. He and his wife Beth have three children: Andy, Nikki Nelson, and Taylor.
References
Tony Petersen Wikipedia
(Text) CC BY-SA