Role

Mixed martial artist







Division

Light Heavyweight (205 lb) Heavyweight (265 lb) Middleweight (185 lb)

Team

The Gun Fight Club Ralph Gracie Jiu-Jitsu

Rank

Third degree black belt in Brazilian jiu-jitsu

Movies

King of the Cage: Pinnacle, Elite XC: Return of the King: Noons vs. Edwards

Similar People

Murilo Rua, Gustavo Falciroli, Michael Westbrook, Jason Miller, Thomas Denny
Tony bonello dressing room interview
Tony Bonello is an Australian professional mixed martial artist and grappler who is currently signed to ONE FC. A professional competitor since 2000, he has formerly competed for EliteXC, King of the Cage and Pancrase. Bonello is the former, King of the Cage Middleweight Superfight Champion, the former King of the Cage Light Heavyweight Champion, and the former King of the Cage Cruiserweight Champion. 14 of his 16 career wins have come by way of submission.
Contents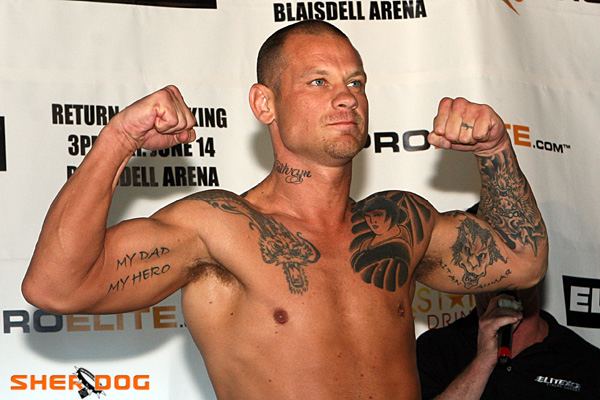 Murilo ninja vs tony bonello
Background
Bonello has had martial arts history in many different countries around the world. He lived in Asia for over 10 years studying traditional martial arts in Japan and then studied Muay Thai in Thailand. He lived in Brazil and studied with Carlson Gracie, Ralph Gracie and the Brazilian Top Team. He eventually met Paulo Guimaraes, a second generation black belt under Rickson Gracie and helped Paulo move to Australia permanently to teach Bonello Brazilian jiu-jitsu. After 10 years of Tony training in Brazilian jiu-jitsu in different countries around the world, he received his black belt in 2002 from Paulo Guimaraes.
Bonello received his first and second degrees and title of Professor of Brazilian jiu-jitsu from Ralph Gracie. Bonello also owned and operated the Ralph Gracie Jiu-Jitsu Academy in Texas for 3 years and then sold it to one of his students in December 2011.
Some of the people and places he has trained are; Sitpholek Gym in Thailand, k-1 Gym in Japan, Carlson Gracie gym in Brazil, Renato Laranja in Brazil, Vos Gym in Amsterdam, Master Toddy's in Las Vegas, Chuck Fai and Jeff Fenech in Australia, Tommy Morrison in Las Vegas, Roberto Duran in Panama, roots jiu-jitsu in Australia, Ralph Gracie in America.
In January 2012 he departed Texas and went back to Thailand to study & fight Muay Thai.
Mixed martial arts career
Tony Bonello is a Professional mixed martial arts World Champion Fighter with a record of 16 wins, 1 lose and 1 draw. Owner & founder of "King of the Cage" Terry Trebilcock said he is the highest paid professional MMA fighter to have ever fought in the "King of the Cage" organization.
He was the first Australian Fighter to ever win a professional MMA World Championship belt on American soil. He accomplished this on 2 November 2003 when he won the KOTC Middleweight Superfight Championship by defeating Olympic freestyle wrestler stylist Mansour Heidari via Triangle Choke at KOTC 30 "The Pinnacle" in Pala, CA.
He then won his 2nd World Championship belt in a second weight class when he won the KOTC Light Heavyweight Championship by defeating Edwin Aguilar on 14 February 2005 via Heel Hook.
7 February 2007, Bonello defeated 7 time World Champion and Muay Thai "King's Cup" Champion, Wayne Parr, via Rear Naked Choke in Sydney, Australia at KOTC "Lords of War".
13 October 2007, Bonello fought against KOTC Heavyweight Champion Tony Lopez, Bonello won a unanimous decision. in Albuquerque, New Mexico at KOTC Hierarchy. This made Tony the 1st ever Middleweight World Champion to defeat a Heavyweight World Champion in "King of the Cage" History.
On 17 November 2007 Bonello fought against Ryan Sturdy it ended in a draw.
He then signed with ProElite and 14 June 2008, he fought former EliteXC Middleweight Champion Murilo Rua at EliteXC: Return of the King. He was defeated via TKO in round one, giving him his first loss of his career.
Bonello then fought at KOTC: Vengeance, defeating Mike Bourke in the first round by submission to win the KOTC Cruiserweight Championship.
In October, 2008, Tony won two gold medals at the American national Brazilian jiu-jitsu Championships in the adult Black Belt divisions for gi and no-gi.
In November 2008, 2009, and 2011, Tony competed in the IBJJF No-Gi Brazilian jiu-jitsu World Championships run by Carlos Gracie Jr. and won 3 silver medals in his age and weight division as a Black Belt.
Bonello faced Rolles Gracie Jr. at ONE Fighting Championship: Pride of a Nation on 31 August 2012. Bonello received his second career loss to Rolles Gracie Jr.
Media
In 2009, Tony starred in two episodes of the MTV TV Show, "Bully Beatdown".
Jiu-Jitsu & MMA accomplishments
King of the Cage
KOTC Cruiserweight Championship (One time)
KOTC Middleweight Superfight Championship (One time)
KOTC Light Heavyweight Championship (One time)
Gracie Jiu-Jitsu Championships
Carlos Gracie's 2008 American National Gracie Jiu-Jitsu Black Belt Championships Gold Medalist (Two times)
Carlos Gracie's 2008 No-Gi Gracie Jiu-Jitsu Senior Black Belt World Championships Silver Medalist
Carlos Gracie's 2009 No-Gi Gracie Jiu-Jitsu Senior Black Belt World Championships Silver Medalist
References
Tony Bonello Wikipedia
(Text) CC BY-SA