City of Toledo, formerly known as Pueblo Hinulawan is a third income class city in the province of Cebu, Philippines. According to the 2010 census, it has a population of 157,078.
Toledo became a chartered city on 18 June 1960 under Republic Act No. 2688.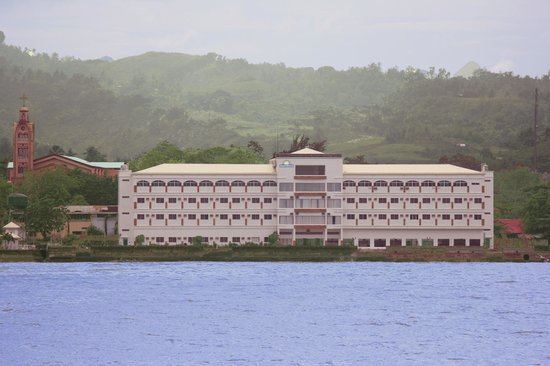 Toledo City came from Old Hinulawan (now called Daanglungsod) and New Hinulawan.
On June 3, 1863 a series of earthquakes shook Hinulawan. The first tremor toppled the newly built school, leveled several houses to the ground, and caused the church facade to collapse. It caused injuries and fatalities. The quake that followed brought greater damage: complete destruction of the church and the convent; cracking of the lowlands in all directions; crumbling of the stone walls along the Hinulawan river bank; and sagging of the ground, causing water from the sea and the river to flood the settlement to waist level.
A third tremor totally destroyed pueblo Hinulawan. The survivors were rescued by residents of neighboring highland localities.
Those who survived the Hinulawan earthquakes slowly rebuilt their lives in the days that followed. With the help of the people of brgy Tubod, some of the survivors cleared portions of the virgin forest and plateau in the vicinity and constructed houses with roofs made of cogon grass. Those who did not want to live in the new clearings built their homes at the foot of the Tubod highlands. They buried their dead in a cemetery in a certain part of the plateau not far from where they lived. The area occupied by this particular group, a majority of the survivors, subsequently evolved into the New Hinulawan.
A minority of the refugees decided to migrate to other places: the hinterlands of Da-o, Bulok-bulok, Landahan, and Sam-ang as well as the pioneering settlements in the seafronts of Cabito-onan and Batohanon.
In those days pirate attacks against pueblos situated near the shores of Tanon Strait were rampant. To protect themselves against such attacks, the residents of New Hinulawan built a baluarte, or bulwark, made of chopped stone blocks piled along the shoreline. With the passage of time, however, the bulwark became dilapidated and fell apart, its remnants forever buried in the sand during the construction of the first municipio, or Municipal Hall building. The municipio itself was destroyed by Philippine Commonwealth troops and Cebuano guerrillas in World War II.
Many years later, a few among those who resettled in New Hinulawan decided to return to their former homes in Old Hinulawan when the depressed lowlands gradually became habitable. Old Hinulawan is the present-day Daanglungsod.
The majority who opted to remain in New Hinulawan worked hard to regain the prosperity they had achieved before Old Hinulawan was wiped out by catastrophe.
(,)http://media-cdn.tripadvisor.com/media/photo-s/03/95/b4/09/days-hotel-cebu-toledo.jpg(,)http://bradfordchurchcebu.org/wp-content/uploads/2014/02/bradford_history.jpg(,)http://4.bp.blogspot.com/-xEiPs7zL8YY/UKZx5s1PztI/AAAAAAAAbu8/j8oQRZp9ALU/s640/Orley%2BYpon%2B(8).PNG(,)http://static.panoramio.com/photos/large/43870503.jpg(,)http://upload.wikimedia.org/wikipedia/commons/7/76/Danao_Cebu.jpg
(,)http://3.bp.blogspot.com/-pfZ6Y1ggXi0/UW5-Mgi4J4I/AAAAAAAABXI/_lrqis7D-VE/s1600/The%2Bport%2Bin%2Btoledo%2Bcity%2Bcebu.JPG(,)http://newsinfo.inquirer.net/files/2012/05/toledo-city-cebu.jpg(,)http://www.livingincebuforums.com/ipb/uploads/gallery/album_739/gallery_1_739_32702.jpg(,)http://media-cdn.tripadvisor.com/media/photo-s/03/95/be/ec/days-hotel-cebu-toledo.jpg(,)http://www.everythingcebu.com/wp-content/uploads/2014/05/malubog_3.jpg(,)http://farm9.staticflickr.com/8199/8206481767_f3b2cd763f_b.jpg(,)http://i.ytimg.com/vi/mu0EqZ1jsK0/hqdefault.jpg(,)http://mw2.google.com/mw-panoramio/photos/medium/46273689.jpg(,)https://tnvsthehammer.files.wordpress.com/2011/06/image003a2.jpg(,)http://mw2.google.com/mw-panoramio/photos/medium/46271382.jpg