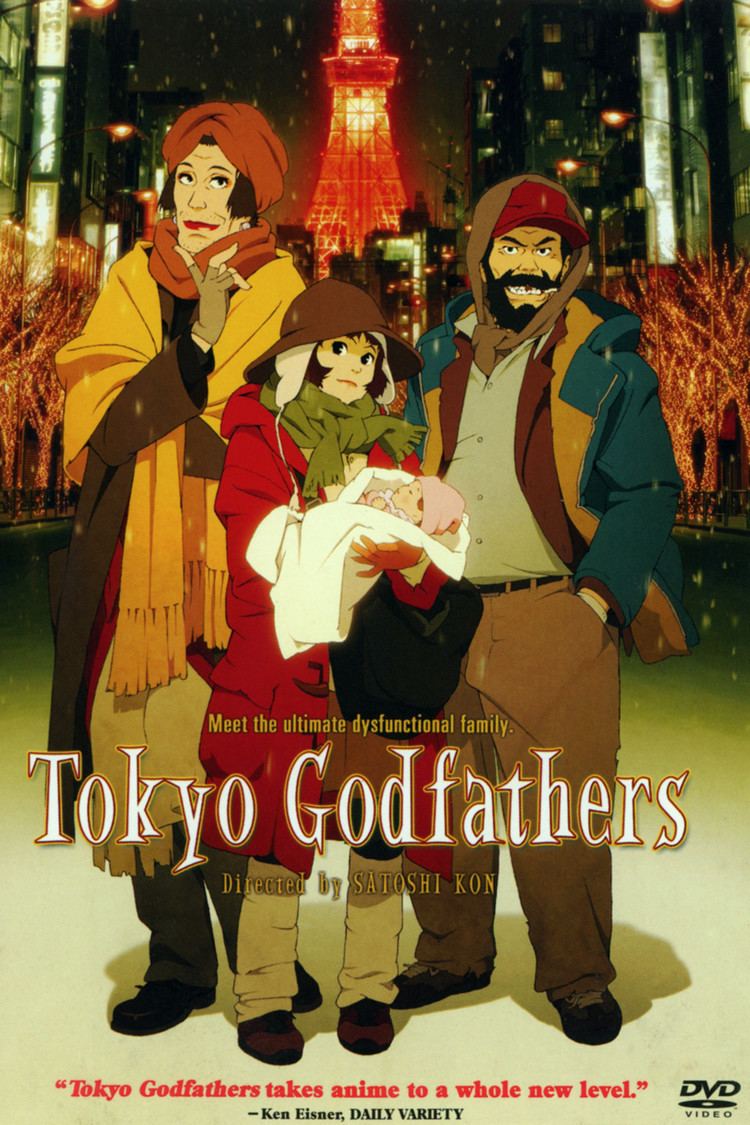 One Christmas Eve three people, a middle-aged alcoholic named Gin, a former drag queen Hana, and a dependent runaway girl Miyuki, discover an abandoned newborn while looking through the garbage. Deposited with the unnamed baby is a note asking the finder to take good care of her and a bag containing clues to the parents' identity. The trio sets out to find the baby's parents. The baby is named Kiyoko (清子), literally meaning "pure child" as she is found on Christmas Eve.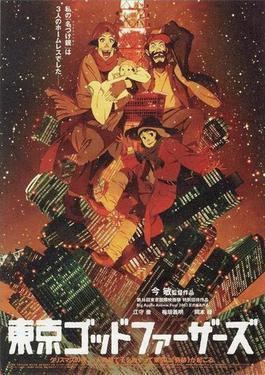 Outside a cemetery, the group encounters a high-ranking yakuza trapped under his car. The man happens to know the owner of the club Kiyoko's mother used to work in; his daughter is getting married to the club owner that day. At the wedding, the groom tells them that the baby's mother is a former bar girl named Sachiko. He gives them Sachiko's address, but the party is interrupted when a maid, revealed to be a Latin American hit man in disguise, attempts to shoot the bride's father with a Tokarev TT-33. The hit man kidnaps Miyuki and the baby and takes them back to his home. There, Miyuki befriends the hit man's wife and shows her some pictures of her family.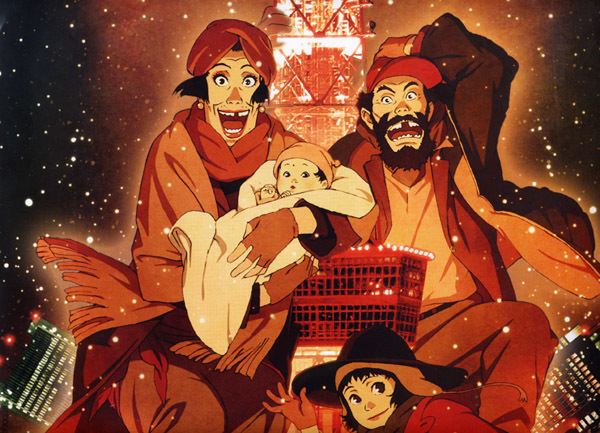 Hana searches for Miyuki and Kiyoko while Gin takes care of an old homeless man who is dying in the street. After giving Gin a little red bag, the old man peacefully passes away. Some teenagers show up and beat Gin and the dead old man. Meanwhile, Hana finds the girls and they go off to find a place to stay.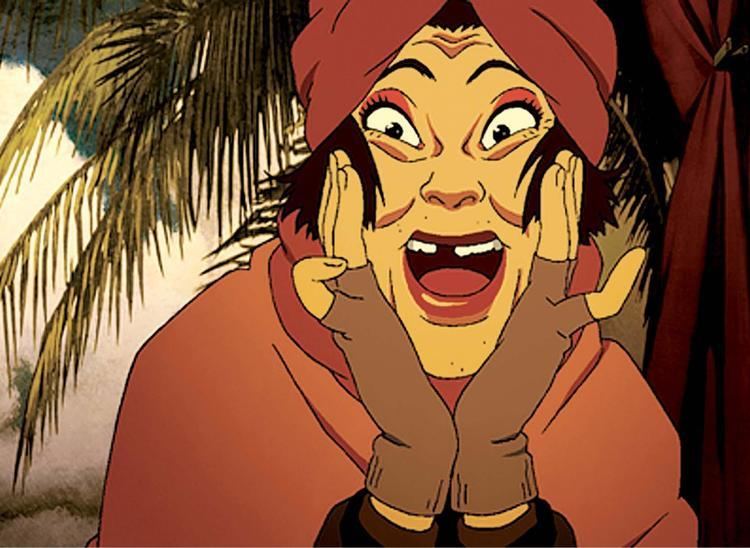 They go to Hana's former club. Gin, who was rescued by another member of the club, is also there. The trio sets out to find Sachiko's house. They're informed of the unhappy relationship between Sachiko and her husband. The group rests at a store until they are told to leave by the clerk. Hana collapses, and Gin and Miyuki take their friend to the hospital. At the hospital, Gin finds his daughter, working as a nurse. Hana berates Gin in front of his daughter and storms out of the hospital. Miyuki follows with Kiyoko.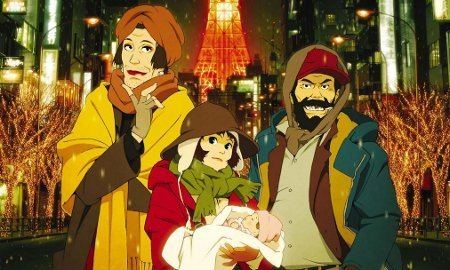 Hana and Miyuki find Sachiko about to jump off a bridge. Sachiko insists that her husband got rid of the baby without her knowledge, and they return it to her. Meanwhile, Gin finds Sachiko's husband, who reveals that Kiyoko is actually a baby that Sachiko stole from the hospital. They chase after Sachiko and the baby. After an intense car chase, Miyuki follows Sachiko to the top of a building. Sachiko reveals she became pregnant in hopes it would bring her closer to her husband. When the baby was stillborn, she decided to kidnap Kiyoko from the hospital, thinking, in her grief, the baby was hers. Sachiko tries to jump off the building, but her husband comes out of his apartment (just across the street) and begs her to start over with him. Sachiko jumps off nevertheless and Miyuki catches her but Sachiko accidentally drops the baby off of the building. Hana jumps after Kiyoko, catches the baby and lands safely due to a miraculous gust of wind.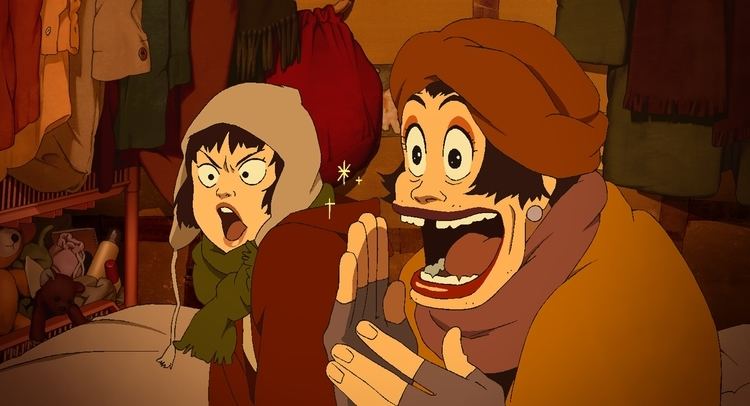 Hana, Miyuki, and Gin are taken to the hospital. Miyuki hands Gin his cigarettes and drops the old man's small red bag on the floor, revealing a winning lottery ticket. Kiyoko's real parents want to ask the trio to become her godparents. When a police inspector introduces them to the trio, the inspector is revealed to be Miyuki's father.
Tōru Emori (Japanese) and Darren Pleavin (English) as Gin, a gambling addict and former bicycle shop owner who claims to have been a bicycle racer. He ran away from his family when his debts became too great. His daughter, a nurse, shares the name of the newfound baby Kiyoko.
Yoshiaki Umegaki (Japanese) and Russel Wait (English) as Hana, a former drag queen who became homeless following the death of a boyfriend. Hana was also a foundling, and is the most sympathetic to Kiyoko's plight and gives the baby her name.
Aya Okamoto (Japanese) and Candice Moore (English) as Miyuki, a runaway high school student who fled home following a violent argument with her father.
Satomi Kōrogi as Kiyoko, a newborn baby who was abandoned in a garbage dump. Because she was found on Christmas, she is named "Kiyoko" based on the Japanese translation of Silent Night.
Shōzō Iizuka as Ōta, a yakuza boss who the main characters save from being crushed by his car. In gratitude, he invites them to his daughter's wedding reception.
Seizō Katō as Mother, the proprietor of the gay bar Hana was formerly employed in.
Hiroya Ishimaru as Yasuo, Sachiko's husband and the one who left Kiyoko at the garbage dump.
Ryūji Saikachi as an old homeless man who is discovered by Gin. He entrusts Gin with the disposal of a small red bag before passing away.
Yūsaku Yara as Miyuki's father, a policeman in charge of searching for the missing baby Kiyoko, who was separated from her family.
Kyōko Terase as Sachiko, a woman who claims to be Kiyoko's mother.
Mamiko Noto as Gin's daughter, a nurse who is also named Kiyoko.
Akio Ōtsuka as a doctor engaged to Gin's daughter Kiyoko.
Rikiya Koyama as Ōta's son-in-law, who was collecting debt from Gin.
Inuko Inuyama as Kurumizawa, a resident of Sachiko's former neighborhood.
Kanako Yahara as Yamanōchi
Rie Shibata as Nekobaba
Kōichi Yamadera as a taxi driver
Additional voices by Hidenari Umezu, Mitsuru Ogata, Eriko Kawasaki, Chiyako Shibahara, Akiko Takeguchi, Kazuaki Itō, Nobuyuki Furuta, Atsuko Yuya, Toshitaka Shimizu, Bin Horikawa, Yūto Kazama, Masao Harada, Tsuguo Mogami, Yoshinori Sonobe, and Akiko Kawase
The film puts an emphasis on the theme of "coincidences". Movie critic George Peluranee notes that "Tokyo Godfathers is a film that shows the small yet significant ties that each of us have with supposed strangers, and tells well the story of miracles, family, love, and forgiveness."
Susan Napier points out that Tokyo Godfathers is part of a trend in anime and manga as depicting families in an increasingly dark fashion, showcasing the problems with traditional families, and attempts by people to construct a "pseudo-family" out of an increasingly fragmented and isolating modern Japanese society. It is put forth that despite the seemingly criticisms of traditional families throughout the film, it ends with a more conservative feeling as everyone returns to their traditional/original families. Despite its seemingly traditional ending, the film offers a more radical version of family. Throughout the story these three homeless vagabonds unknowingly form a "pseudo-family" to protect themselves from the outside world and to overcome their personal demons.