Covid-19



India




Vinayak Chaskar




Marathi






1962



To Mee Navhech (Translated as: That's not me, (Marathi: तो मी नव्हेच)) is a classic Marathi play written by Acharya Atre based on the court case of Madhav Kazi, who was an active criminal in the year 1955-1960. Though the protagonist role has been played by many actors since its inception in 1962, the role of Lakhoba Lokhande played by Prabhakar Panshikar is the most memorable. To Mee Navech is probably the first play in the world where the same actor has to do five completely different roles, not to merely add to novelty value or as a stunt, but because the story demands it. To Mee Navhech was also among the first Marathi plays to make use of the Revolving Stage (फिरता रंगमंच) between two scenes. This is also translated in many regional languages. The play has crossed over 3000 shows in total over a span of 52 years which itself is a record.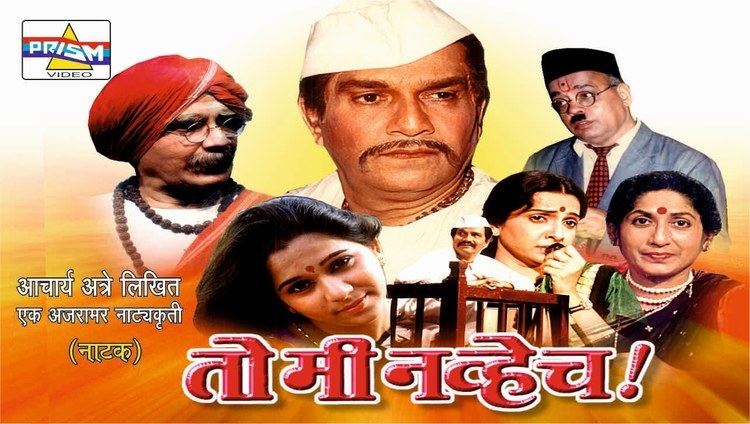 A conman Lakhoba Lokhande is being prosecuted in the court of law for allegedly duping people, marrying women for money and essentially living multiple lives. He tries to defend his own self by asking uncomfortable questions to each witness during the cross-questioning. The entire play is set in a courtroom scene with a revolving set used for cut scenes and flashbacks.
The storyline focuses on a con Lakhoba Lokhande, who claims he is a tobacco merchant from Nipani. The drama starts with a courtroom scene in which Lakhoba Lokhande is sitting in the defendant box. He has been accused by the prosecution of swindling different persons through disguise and fraud. The prosecution lawyer presents many witnesses, most of whom are the victims of Lakhoba's embezzlement (and in some cases torture). The witnesses narrate their experiences with the defendant through flashbacks. Lakhoba runs his own case after firing his lawyer. He cross questions the witnesses and during the process pleads his innocence by saying "To Mee Navhech".
Prabhakar Panshikar
Sumeet Raghavan
Girish Oak
Pushkar Shrotri
Dattopant Angre
Nanda Patkar
Chadrachud Vasudev
Bipin Talpade
Vasudev Date
Eran Joseph
Purushottam Bal
Kusum Kulkarni
Saroj Naik
Mandakini Bhadbhade
Bholaram Athavale
Shripad Joshi
The general tone of the narrative of "To Mee Navhech" means is rather sarcastic. Playwright Atre wanted the name "Mee To Navhech" but then Director Mo Ga Ranganekar went ahead with "To Mee Navhech" leaving Atre furious. The book is also published by same name. In that book, Atre wrote that Ranganekar did not suggest the name. Atre had already decided the name because the protagonist in the play used it many times "To Mi Navhech". The 1st show of this play was done on 8th Oct. 1962 in Delhi
Naan Avanillai (1974) [Tamil] with Gemini Ganesan
Woh Main Nahin (1974) [Hindi] with Navin Nischol
Naan Avanillai (2007) [Tamil] with Jeevan
Budhivanta (2008) [Kannada] with Upendra
To Mee Navhech Wikipedia
(Text) CC BY-SA