Algeria




University of Abou Bekr Belkaïd


9,061 km2


Tlemcen District




156,258 (1998)



Tlemcen (Arabic: ? Tilims?n) is a city in northwestern Algeria, and the capital of the province of the same name. The city has developed leather, carpet, and textile industries, which it ships to the port of Rashgun for export. It had a population of 140,158 at the 2008 census, while the province had 949,135 inhabitants. Its centuries of rich history and culture have made the city a center of a unique blend of music and art. Its textiles and handcrafts, its elegant blend of Arabic, Islamic, Berber, and Andalucian cultures, and its cool climate in the mountains have made it an important center of tourism in Algeria. It is home to a beautiful tomb - that of Sidi Boumédiène, whose tomb adjoins to a mosque. The Great Mosque at Tlemcen was completed in 1136 and is said to be the most remarkable remaining example of Almoravid architecture.

Tlemcen was founded by the Romans in the 2nd century CE under the name of Pomaria as a military outpost. It was an important city in North Africa see of the Roman Catholic Church in the century in which it was built, where it was the center of a diocese. Its bishop, Victor, was a prominent representative at the Council of Carthage in 411, and its bishop Honoratus was exiled in 484 by the Vandal king Huneric for denying Arianism. It was a center of a large Christian population for many centuries after the citys Arab conquest in 708 AD.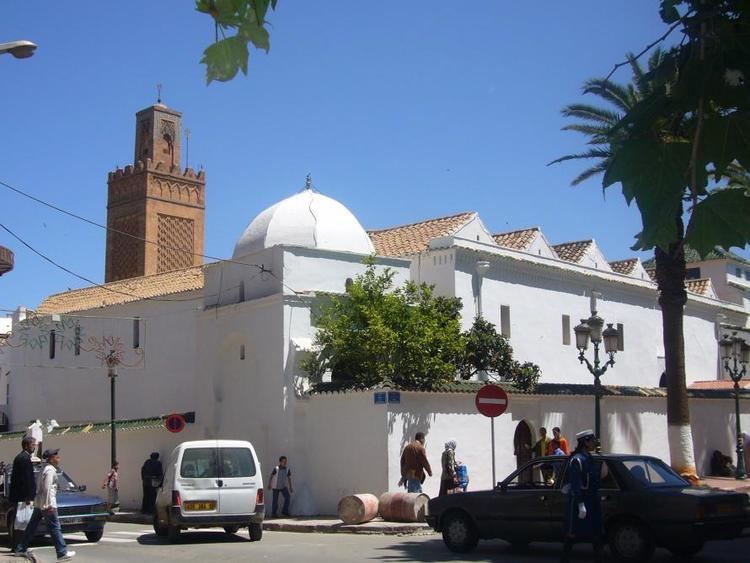 In the later eighth century and the ninth century, the city became a Kingdom of Banu Ifran of the Kharijite sufri. These same Berber Kharijis also began to develop various small Saharan oases and to link them into regular trans-Saharan caravan routes terminating at Tlemcen—beginning a process that would determine Tlemcens historical role for almost all of the next millennium.
In 1082 the Almoravid leader Yusuf ibn Tashfin founded the city of Tagrart ("Encampment" in the Berber language), which merged with the existing settlement, now called Agadir and since then became known as Tlemcen (Tilimsan). Tlemcen probably passed from Almoravid to Almohad control in the mid-twelfth century. However, in the early thirteenth century, Ibn Ghaniya attempted to restore Almoravid control of the Maghreb. In about 1209, the region around Tlemcen was devastated by retreating Almoravid forces, not long before their final defeat by the Almohads at the Battle of Jebel Nafusa in 1210. Despite the destruction of Tlemcens already-feeble agricultural base, Tlemcen rose to prominence as a major trading and administrative center in the region under the succeeding reign of the Almohads.
Tlemcen Wikipedia
(,)http://www.zum.de/whkmla/histatlas/northafrica/nafrica1825large.gif(,)http://looklex.com/e.o/slides/tlemcen01.jpg(,)http://i240.photobucket.com/albums/ff79/warbossed/ScreenSave1.jpg(,)http://www.gounesco.com/wp-content/uploads/2014/11/ab1.jpg(,)http://digital.library.upenn.edu/women/workman/algerian/17.jpg
(,)http://cache3.asset-cache.net/gc/504691197-desert-landscape-between-tlemcen-and-maghnia-gettyimages.jpg%3Fv%3D1%26c%3DIWSAsset%26k%3D2%26d%3DX7WJLa88Cweo9HktRLaNXkEQ2QKj5qYkpzFm%252FC9oRaTa9nprcR8DinIgTSaiHuhKu2hSjESctoiKB%252BRzJq3cMw%253D%253D(,)http://cache1.asset-cache.net/gc/504691201-desert-landscape-between-tlemcen-and-maghnia-gettyimages.jpg%3Fv%3D1%26c%3DIWSAsset%26k%3D2%26d%3DX7WJLa88Cweo9HktRLaNXgmk2cPcsj9s9glKHSwVvcCmHQf65TfPtApiTU8cYdJvPCjSDTs9e7O15ZUWeLZKJQ%253D%253D(,)http://static.panoramio.com/photos/large/42214477.jpg(,)http://farm8.static.flickr.com/7512/16213028295_9c50609468_m.jpg(,)http://ecx.images-amazon.com/images/I/81kZVY1Vn%252BL._SX466_.jpg(,)http://cache4.asset-cache.net/gc/126978536-algeria-landscape-near-tlemcen-gettyimages.jpg%3Fv%3D1%26c%3DIWSAsset%26k%3D2%26d%3DBRFlJqa4ZoH7vNXqAh15Jdx22rcJ%252B6WKI06XDmoa23h%252Fvf3LhZIyFX0lPbn%252BHYwXc7mnh6K%252FpW4uxRZZ%252BI50Vw%253D%253D(,)http://cache2.asset-cache.net/gc/507020629-the-minaret-ruins-of-el-mansourah-mosque-gettyimages.jpg%3Fv%3D1%26c%3DIWSAsset%26k%3D2%26d%3D%252FcDWegJz%252FW1wFJB6xdKcghOyR2P%252BK9jsGbgPaiC9TykJ8dVRvh3w5QMbN1VZZuGzMeOOZliHP%252FAxMsKsSpuGeQ%253D%253D(,)http://cache4.asset-cache.net/gc/507037179-the-minaret-ruins-of-el-mansourah-mosque-gettyimages.jpg%3Fv%3D1%26c%3DIWSAsset%26k%3D2%26d%3Dg4JKmZcrwIdfqgQFIi4V64r%252FNgRkYdlhvxnic9dcCEIXO1PfzGvpKfGm59z%252FnWkYSG8pthBP8axtsF2K8frAjA%253D%253D
(,)http://tlemcen-cuisine.com/wp-content/uploads/2015/03/cuisines-hassaine-001-770x386.png(,)http://tlemcen-cuisine.com/wp-content/uploads/2015/03/042_1-770x386.jpg(,)http://franchise.cuisines-aviva.com/upload/magasin/lb_1404459910magasin-cuisine.jpg(,)http://imagesus.homelidays.com/mda01/2bae8da9-2a4b-4191-bbda-4ba6bd16ec64.1.10(,)http://www.dziriya.net/saveurs/gastronomie-algerienne/patisseries/makrout/28.jpg(,)http://www.dziriya.net/saveurs/saveurs/cuisine-tlemcen.jpg
(,)http://1.bp.blogspot.com/-tzcqUMgHFXc/U-4fUkY75jI/AAAAAAAAAUk/rWCPSTcwXXQ/s1600/wwwwwwwwww.jpg(,)http://www.sephardicstudies.org/images/alg2.jpg(,)https://ensereimage.files.wordpress.com/2011/04/199832_194933933872289_100000670522611_560432_3345023_n.jpg(,)http://english.al-akhbar.com/sites/default/files/imagecache/5cols/leading_images/Culture_Recap_Algeria.jpg(,)https://ensereimage.files.wordpress.com/2011/04/200160_194934000538949_100000670522611_560433_734688_n.jpg(,)http://www.sephardicstudies.org/images/alg1.jpg(,)https://ensereimage.files.wordpress.com/2011/04/190497_194934787205537_100000670522611_560454_5189235_n.jpg(,)http://i87.servimg.com/u/f87/13/17/65/25/dsc00116.jpg(,)http://www.iexplore.com/sites/default/files/destination_hero/7872220_660x250.jpg(,)https://ensereimage.files.wordpress.com/2011/04/197923_194942617204754_100000670522611_560518_6346887_n.jpg(,)http://i.ytimg.com/vi/NZ1BT47Vsp0/0.jpg(,)http://i.ytimg.com/vi/RVxhdHRGMI0/0.jpg(,)http://i.ytimg.com/vi/Uti2j1G9cT4/0.jpg
(,)http://farm7.staticflickr.com/6178/6132771800_1c1324e454_b.jpg(,)http://www.tlemcen-dz.com/festivals/festival-culturel-tlemcen.jpg(,)http://www.setif.info/IMG/jpg/tlemcen_setif2008.jpg(,)http://img198.imageshack.us/img198/6910/61322030536233bf168db62.jpg(,)http://www.vitaminedz.com/photos/30/30077-palais-de-la-culture-de-tlemcen.jpg(,)http://www.vinyculture.com/wp-content/uploads/2012/06/Centre-des-Etudes-Andalouses-%25C3%25A0-Tlemcen.jpg(,)http://img845.imageshack.us/img845/8862/61327880189c95cd4f12b68.jpg(,)http://www.vitaminedz.com/photos/21/21144-le-logo-officiel-de-tlemcen-capitale-de-la-culture-islamique.jpg(,)http://photos.wikimapia.org/p/00/00/73/73/53_big.jpg(,)http://www.tlemcen-dz.com/festivals/festival-musique-hawzi-1.jpg(,)http://www.elwatan.com/images/2012/04/22/parade2_965242_465x348.jpg(,)http://images0.djazairess.com/fr/elwatan/368436(,)http://www.algeriesite.com/Algerie/image/ville/tlemcen/Tlemcen-capitale-de-la-culture-islamique-tient-aujourd-hui-son-9e-colloque.jpg(,)http://www.unesco.org/culture/ich/img/photo/thumb/06571-BIG.jpg(,)http://www.algerieconfluences.com/wp-content/uploads/2014/12/3025473650_1_7_EfcEakQo.jpg
(,)http://www.onat.dz/IMG/jpg/mosquee_sidi_boumediene_de_tlemcen-2.jpg(,)http://www.tlemcen-dz.com/endroits-visiter/bab-el-qarmadine-tlemcen.jpg(,)http://4.bp.blogspot.com/-WmmuhlxJGsA/U-4fUMpFlOI/AAAAAAAAAUY/EucDVd4tj38/s1600/yyyyyyyyyyyy.jpg(,)http://www.tlemcen-dz.com/endroits-visiter/mechouar-tlemcen-1.jpg(,)http://www.gurkangenc.com/uploads/Cezayir/20140628_103139.jpg(,)http://1.bp.blogspot.com/-UuQ36Ui4vfw/U-4e-4sWzhI/AAAAAAAAAUQ/fnLkxxopGG4/s1600/tlemcen_625901417.jpg(,)http://i.ytimg.com/vi/sCLWENTmmBI/0.jpg