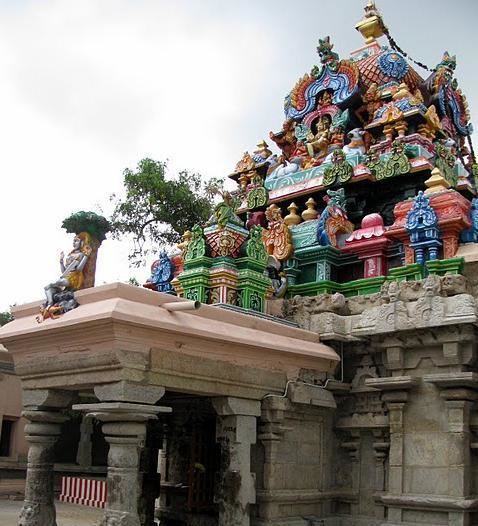 Tirupathur is one of the main towns in Sivaganga district on the Madurai - Tanjore Highway. Earlier it was a small town in Ramanathapuram District and was one of the important administrative towns in British Period due to its geographical location. It was changed from Panchayat to town panchayat. The city is connected only by Roadways. The Virusuliyar River flows through Kumangudi. It is 290 km from Coimbatore, 100 km from Trichy, 60 km from Madurai, and 400 km from Chennai, 50 km from Pudukkottai. Tirupathur it is capital town of Thirupathur taluk. It is located near Karaikudi, at 10.13°N 78.62°E / 10.13; 78.62. It has an average elevation of 88 m (289 ft).
It also houses several ancient historic temples.
Sri Thiruthalinathar Swamy Temple.(Vairavar/Sivan Temple)
Sri Ninra Narayanaperumal Temple.(Perumal Temple)
Sri Angaala Parameshwari Temple.(Angaalamman Temple)
Sri Kondrai Siddar(கொன்றை சித்தர்)Samaadhu.(Inside Angaalamman Temple)
Sri VeeramaaKaliamman Temple.
Sri Pokkisamaakaali Amman Temple.
Sri RaajakaaliAmman Temple.(Kaali Amman Temple)
Sri Poomayee amman Temple.
Sri Aathi ThiruththaliNaathar Temple.(Nethanaar Temple)
Sri Koottai Karuppar Temple.
Sri Karaimel Amarntha Ayyanaar Temple.
Sri Vaal Hanumaar Temple.
Sri Muthumariamman Temple(Idayar Street)
Sri Muthumariamman Temple(Middle Street)
Sri yogi Murugiah pillai jeeva samathi
Sri Valai Siddhar Jeeva Samathi (Near Thirukostiur).
Sri Annamalai Siddhar Jeeva Samathi,Thenmappattu.
Sri Muthu Mariyamman Temple keeranipatti.(Keelasivalpatti)
Sri Nithya kalyaniamman Temple.(ILLAYATHTHAKKUDI)
Sri Parainachiamman Temple.(P.Karungulam)
sri gowri vinayagar temple. Thambippatti
sri manickanachiamman temple (kandramanickam)
According to the legend, the prominent snakes Vasuki and Kaarkotakan worshipped Lord Shiva here and hence the separate shrine for Tirunageswarar in the outer 3rd Piraharam. The concept of Pranavam is said to have realized that Shiva & Pranavam were one and the same here, & is said to have manifested itself as the Konrai Maram. The legend has it that, Goddess Mahalakshmi once wished to have a darshan of Lord Shiva's dance. Lord Shiva conceded to her request and told her that she can have a vision of his dance at this sthalam. Accordingly, Shiva is said to have revealed a vision of his Cosmic Dance known as Gowri Thandavam to Goddess Mahalakshmi here. Agasthyar, Valmiki, Jayanthan the son of Devendran are said to have worshipped here. This temple has got the royal patronage from the early Chola, Pandiya and Chera kings, and by the later period Pallavas, Sethupathy Raja, Maruthu Pandiyar etc.
Sri Ninra Narayanaperumal Temple:
It has served as a place promoting Vaishnavism. During the rule of King Varaguna Pandiyan II (862-885) a Perumal temple had been existence in this place. Lord Perumal installed in this temple is referred to as Jalasayanathupadarar in the inscriptions of King Varaguna Pandiyan II. In addition to this temple, for the sake of Lord Perumal in the standing posture, another Perumal temple was constructed in the south of Sri Thiruthalinathar temple during the Pandiya period. It contains inscriptions of later Pandiyas dating back to the 13th century. The inscription of King Maravarman Sundara Pandiyan (1216-1239 A.D) refers to this other temple as Kola Varaga Vinnagara Emperumal temple and donation of lands in 1237 A.D to meet daily expenses of the performance of pojas.
Tiruppattur is situated at Sivaganga district, 27 km from Sivaganga 22 km away from Karaikudi. It is popular among the domestic temples dedicated to Thiruthallinathar and Sivakami Sundariamman. The temple attracts a lot of pilgrims as well as tourists visit this temple daily.
Swedish Mission Hospital, Anna Salai.
Govt Hospital,Madurai Road.
Lakshmi Nursing Home,Madurai Road.
sskottai govt higher Sec school
mathavarayanpatti high school
A.R.herbal care
Tirupathur hosts many schools and colleges. They are:
R C Fatima Middle School
APSA Matriculation Higher Secondary School] Top school in tirupathur
Arumugam Pillai Government Boys Higher Secondary School
Baba Amir Badusha Matriculation Higher Secondary School
Christhuraja Matriculation School
Indira gandhi Nursery & Primary School
LIMRA Nursery & Primary School
Mount Zion Silver Jubilee Matriculation School
Nagappa Maruthappa Girls Government Higher Secondary School
T.E.L.C middle School, SMH Compound, Thirupputhur.
T.E.L.C. Transitional School (polio Handicapped Children), Prabakar Colony, Thirupputhur. Ph : 04577-268500.
T.E.L.C. Middle School for Blind, SMH Compound, Thirupputhur.
Achrampatti Government School
Government High School, Thenmapattu
Government Primary School, Thenmapattu
Arumugam Pillai Seethai Ammal College
Arumugam Pillai Seethai Ammal college of Education
Arumugam Pillai Seethai Ammal Teacher Training Institute
Thavathiru Kundrakudi Adigalar College of Education for Women
Vivekananda Polytechnic College
Vivekananda College of Education
As of 2011 India census, Tiruppattur had a population of 25,980. Males constitute 50% of the population and females 50%. Tiruppattur has an average literacy rate of 82%, higher than the national average of 69.5%: male literacy is 83%, and female literacy is 79%. In Tirupathur, 11% of the population is under 6 years of age.
Tiruppattur assembly constituency is part of Sivaganga (Lok Sabha constituency).
Member of Parliament(LOK SABHA): P.R Senthilnathan
Member of Legislative Assembly: Thiru.K.R.Periakaruppan( formar state minister),
Chairman of Panchayat:Vacant
Vice Chairman of Panchayat:Vacant
President of Special Village Panchayat:Vacant
Vice President of Special Village Panchayat: Vacant
Deputy Superintendent of Police(DSP):Thiru.K.V.RAMAMOORTHY
Tahsildar:Thiru.Venu
BDO:Tr.Pukazhinthi
Thenmappattu
kandramanickam
pattamangalam
Ranasingapuram
Min Nagar
Thambipatti
Mangudi
Thirukkalappati
T.Puduppatti
Kurumbaloor
N.Pudur
Avanipatti
T.Vairavanpatti
Thirukalapatti
A. Thekkur
S. Ilayathankudi
Muthur
Kallapettai
Nagappanpatti
Senpagampettai
Iraniyur
Nagalingampatti
Aripuram
Sirukoodalpatti
Sunnambiruppu
Vaiyakalathoor
Thirukolakudi
Sevinipatti
Olugamangalam
Iraniyur .Ammapatti
Kattambur
P. Karungulam
Keelasevalpatti
Nedumaram
Athirampatti
Konnathanpatti
N. Ilayathangudi
Mahibalanpatti
Manamelpatti
Kumarapettai
Brahamanapatti
Vadamavali
Alampatti
Kottaiyiruppur
Thiruvudaiyarpatti
Ranasingaburam
Sevur
Mathavarayanpatti
Karuppur
Thirukositur
K. Vairavanpatti
Vanjinipatti
Karaiyur
Viramathi
A. Velankudi
Poolankurichi
Pillaiyarpatti
Vaniankadu
Kandavarayanpatti
Thuvar
Oorkulathanpatti
Nattarmangalam
Acharampatti (School Street)
Tevarambur
Kannamangalapatti
Kummangudi
K.Athangudi
Chandranpatti
Pillaiyarpatti: Located near Tirupathur. There is the famous Karpaka Vinayakar Temple which can be seen here. The presiding deity of the Temple is Karpaga Pillaiyar and from there comes the name of the village Pillaiyar Village.
Vettangudi Bird Sanctuary: This .384 km2 (0.1 sq mi) Protected area, declared in June 1977, near Thirupattur in Sivaganga district includes the Periya Kollukudi Patti, Chinna Kollukudi Patti and Vettangudi Patti Irrigation tanks. The sanctuary is the natural habitat of winter migratory and residential birds and provides a safe place for roosting, breeding and feeding. There is considerable diversity in their nesting and feeding behaviour.
Vairavapatti: Temple for Lord Bhairava, it is around 2 km from the Pillaiyarpatti Ganapathy temple.
'Kundragudi Five Cave Temples' : Below the Hills there are 5 cave tempeles maintained by Archaeological Department with ancient coloured sculptures
Siravayal Manjuvirattu
Piranmalai hills and Temple
Tirumayam fort
Marudhu brothers Govt memorial place
Kunrakudi Murugan Temple
Thirukostiur Sowmiyanarayana Perumal Temple
*Thirukolagudi Sivan Temple
Pattamangalam Thatchinamoorthy Temple
kandramanickam (Perichikoil) Saneeswarar Temple
T.Vairavanpatti Balakala Bairavar Temple
N.Vairavanpatti Bairavar Temple
kandramanickam Manjuvirattu