Algeria




2,166 km²




List of World Heritage Sites in the Amazigh(Berber) State




Tipaza




Tipasa, Kolea, Cherchell, Bou Ismail, Hadjout



Tipaza (formerly Tefessedt, Chenoua: Bazar, Arabic: ?) is a Berber-speaking town on the coast of Algeria, capital of the Tipaza Province. When it was part of the Roman Empire, it was called Tipasa. The modern town, founded in 1857, is remarkable chiefly for its sandy beach, and ancient ruins.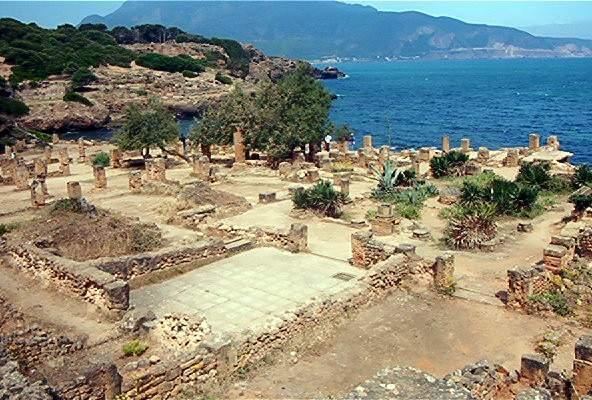 Tipasa, as it was then called, was an ancient Punic trading-post conquered by Ancient Rome and turned into a military colony by the emperor Claudius for the conquest of the kingdoms of Mauretania.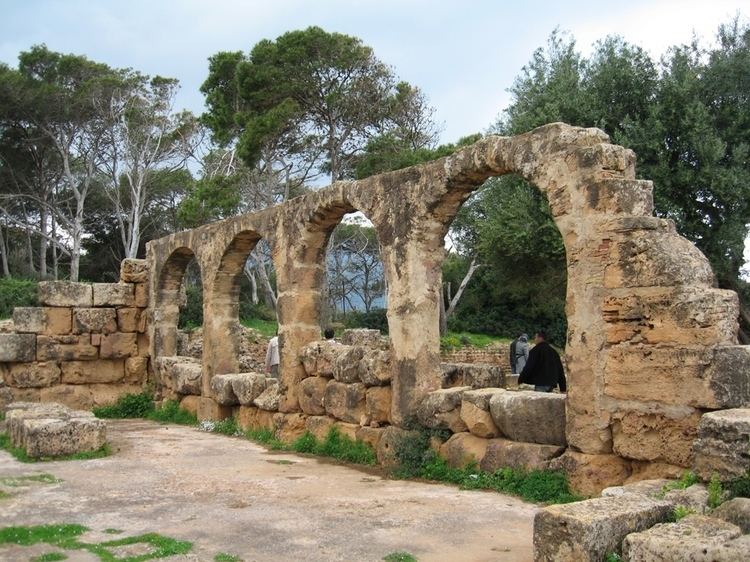 Afterwards it became a municipium called Colonia Aelia Tipasensis, that reached the population of 20,000 inhabitants in the fourth century according to historian Gsell.
The city was an important Christian center during the last centuries of Roman domination, with 3 basilicas.
Tipasa was destroyed by the Vandals in 430 AD, but was rebuilt by the Byzantines one century later. At the end of the seventh century the city was destroyed by the Arabs and reduced to ruins.
In the nineteenth century the place was settled again. Now it is a town of nearly 30,000 inhabitants. The city is an important tourist place in modern Algeria, mainly because of the Tipasa ruins.
Tipaza Wikipedia
(,)http://upload.wikimedia.org/wikipedia/commons/e/ed/Ruines_romaines_de_Tipaza.jpg(,)http://upload.wikimedia.org/wikipedia/commons/0/0d/Tipasa_remain_2.JPG(,)http://www.our-africa.org/algeria/country-data/%40%40images/05e63824-c690-460d-8394-622347183f7e.jpeg(,)http://whc.unesco.org/uploads/thumbs/site_0193_0001-594-0-20110920200132.jpg(,)http://1.bp.blogspot.com/-Wk2OVrBjTD8/U-43QwfSteI/AAAAAAAAAOQ/vL-0-oZXV8w/s1600/amphitheatre-romain-tipaza-1.jpg(,)http://1.bp.blogspot.com/-RBjb8_wAOpk/U-4274fY9jI/AAAAAAAAANs/OPJvIXSi7xM/s1600/Tipaza_048.jpg(,)http://1.bp.blogspot.com/-wFeMVY1tzns/Ucwq1qlPGRI/AAAAAAAAARA/_FEEF9vB6lw/s960/1009750_473992219361420_1458520888_n.jpg(,)https://c1.staticflickr.com/5/4027/4296849669_52a9833a8b_b.jpg(,)http://www.ventures-africa.com/wp-content/uploads/2013/09/TIPAZAALG.jpg(,)http://4.bp.blogspot.com/-4P9PoB-Wnc4/U-43XRQxC0I/AAAAAAAAAOc/7lEL128fjFo/s1600/hotel-chenoua-tipaza-2.jpg(,)http://farm8.static.flickr.com/7302/12990392814_80d8241fc2.jpg(,)https://41.media.tumblr.com/9c728126c5bd8646af3a508d338afbe9/tumblr_n7zc49cvLb1rhpvfho1_500.jpg(,)http://cache4.asset-cache.net/gc/140359001-algeria-tipaza-roman-ruins-gettyimages.jpg%3Fv%3D1%26c%3DIWSAsset%26k%3D2%26d%3DHq%252FyYHNiBpDg6qbl6A%252Fc1XL%252Bpsgpt2TXkHPaqZj3Sqb6Dj5r3rEIxbpm7LbaJw9qUeibPTaqEIoNKp0AvzwoOQ%253D%253D
(,)http://static.seety.pagesjaunes.fr/asset_site_e1bdf1b1-a5b9-4b26-894d-e8fa6360a753/86fced86-e1a0-4772-b108-126b0db7df75(,)http://jean.mesquida.perso.neuf.fr/Balade%2520avec%2520Nadir/Tipaza%2520restaurant%2520Romana%2520pres%2520des%2520ruines.JPG(,)http://media-cdn.tripadvisor.com/media/photo-s/01/35/d7/4e/restaurant-romana-tipasa.jpg(,)http://www.justacote.com/photos_entreprises/tipaza-malakoff-1351193980.jpg(,)http://www.justacote.com/photos_entreprises/tipaza-malakoff-1351194059.jpg(,)http://www.vitaminedz.com/photos/57/57211-restaurant-du-mausolee-wilaya-de-tipaza.jpg(,)http://static.seety.pagesjaunes.fr/asset_site_e1bdf1b1-a5b9-4b26-894d-e8fa6360a753/69bf1c47-b7ab-4982-8d9a-b0dcb8c8fb86(,)http://uploads.lafourchette.com/restaurant_photos/566/31566/169/612/tipaza-vue-salle-26d08.jpg(,)http://media-cdn.tripadvisor.com/media/photo-s/06/e4/a3/ef/tipaza.jpg(,)http://uploads.lafourchette.com/restaurant_photos/566/31566/169/612/tipaza-vue-salle-05017.jpg(,)http://www.vitaminedz.com/photos/58/58022-restaurant-empli-de-touristes-a-tipaza.jpg(,)http://media-cdn.tripadvisor.com/media/photo-s/03/0e/35/5d/fontaine-d-or.jpg(,)http://media-cdn.tripadvisor.com/media/photo-s/04/32/fe/a4/facade-tipaza.jpg(,)http://wlad-el-jej.com/wp-content/uploads/Ali_bab_guide-12.jpg