Aunts

Shirley Chua, Tan Hui Bin

People also search for

Lucio Tan

, Vivien Tan, Lucio Tan, Jr.,

Michael Tan
Timmy G. Tan awarded Professor Degree
Timmy G. Tan (born December 29, 1973) the youngest charismatic member of the Tan dynasty of the Philippines is a successful entrepreneur, son of Lucio Tan (one of Asia's richest and most influential industrialist) who exhibits a hardworking spirit and unprecedented business flair.
Contents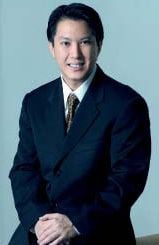 Much of what is imbued in the young Tan today is reflective of his father's legacy. Independent and self made, he led the way for his father to make it to legendary business greatness—impeccable entrepreneurship honed in honest service to society.
Currently he is the founder and chairman of several corporations, including La Isla Publishing Corporation (the publisher of La Isla Magazine) and top ranking company SK Techno-lube Corporation, licensed holder of SK Korea, (Global Fortune 500 Company Rank 65).(Philippine Business Profiles and Perspective Inc, PBPPI).
His anti conservative perspectives had some observers to think of him as a business radical and yet to many — a visionary risk taker willing to embrace change and convergence as the new safe, a characteristic perhaps that help catapult him to a distinctly unique pedestal far more engaging than the rest of his clan's more traditional ways. Most recently Timmy Tan is spearheading Re.volt 2016 the country's much needed sports development campaign with the vision of revitalizing the country's undeveloped sporting program. Re.Volt 2016 aims to place into action a program that will encourage the private sector to sponsor and support the Filipino athletes for its vie for a top slot in the upcoming 2016 South East Asian Games in Singapore. "It is disappointing to see such talented sportsmen miss their mark (Philippines ranking 7th and the worst performance of the country in 37 years) only because of not enough governmental and public support. I hope to instigate a powerful awareness through a strong media campaign Re.volt 2016 starting this year 2014 — this is my contribution to flag and country".— Timmy Tan (XPS Television interview).
Timmy is the Tan family's most outspoken, forthright and accessibly lucid member — as best expressed through his thoughts on the Next Gen Philippines, in an exclusive TIME interview-
"I have dedicated most of my young years in Canada and I have evaluated the cultural and social scenarios prevalent in that country to my country today. What I find most disconsolate are the values of the young generation. However, with an earnest political guidance supplemented by a pioneering educational system based on a strong social and moral platform, the country can surge ahead to a true, genuine economic reconstruction. History does repeat itself - if we cannot enrich the youth today the ills of the previous generations will be prevalently reflected again in our social and economic future."
Facts
Life and Education
He moved to Canada to pursue his secondary education in Magee High School in 1988 and moved to Europe in 1992 to further his studies and graduated in 1998 from the American University in London with a degree in Business Administration. His continuing education included spells in Canada (L'institut Canadien Du Marketing—7th Chapter), US (American Hotel & Motel Association) & China (Beijing Foreign Language University).
At present Timmy Tan is also the most popularly known figure in the Tan Family — second to his father Lucio Tan. Although he has no plans of political life, Timmy is a self made statesman and a vibrant socialite. Over the course of his young business career, he has earned the respect of some of the world's greatest personalities — former US president Bill Clinton, Deng Pufang, global ignitaries, political figures and sport personalities, and a vast array of trade executives from all corners of the globe. And most recently he afforded an outstanding business and investor development ties with Hyuk Lee of South Korea, former US ambassador Harry Thomas and Roberto Mayorga of Chile where whom the latter awarded him a Chilean honor for his exemplary contribution to the Chilean tourism industry through La Isla Magazine.
Often regarded as the only independent member of the Tan family to successfully gain the respect of the international community in both business trade and global politics, the young Tan is set to prove himself worthy of the clan's succession and to dedicatedly follow in his father's entrepreneurial imprint and remarkable business legacy.
Fortune Magazine: How are you building on the legacy of your father in the Philippines? "For more than 30 years I have watched my father carry out trade incessantly focused on bringing about improved products and better services to the Filipino people. I took this aspiration for my part as a continuing enterprise—a duty to contribute to as the country stands up to the inevitable challenge of global business competition."
Notwithstanding his natural prominence and the years spent living outside of his country he pursued an obliging support to socio-economic development in the Philippines thus earning him prestigious distinctions like the SKAL award from France in 2013.
"The new era juxtapose technology with conservation—we cannot subsist in the global arena without these prerogatives, in simple terms good and improve products has to have its corresponding universal benefit. The race is all about making the world a better place that lasts and this is where I intend to play the biggest part today and in the future." Timmy Tan Excerpt from Fortune Magazine interview.
Awards
Recently this year 2014, the honorary title of professor, the highest standard academic rank in any university, was awarded to Timmy Tan by the International University of Cooperative Education (iUCE) Niedersachsen, Germany. The scion of business magnate Lucio Tan became one of the youngest persons to hold the highest European academic rank in the country's history. The conferment brings another honor to the Tan clan, following his father Lucio Tan who was a recipient of a doctorate degree. On hand to witness the awarding were ambassadors Roberto Vallarino of Panama, Julio Camarena Villasenor of Mexico, and Josef Rychtar of Czech Republic, iUCE Philippines deputy director Anna Maria Heidorn, outgoing Chilean ambassador Roberto Mayorga, and former ambassador of the Netherlands Theo Arnold.
Last year, Timmy together with his father has been awarded the distinctive SKAL award for his exemplary contribution to the country's tourism industry. And in the same perspective he was hailed too by the president of Chile for the advancement of Chile's tourism program awarding Timmy Tan the highest honor of appreciation in the field of the Chilean international tourism development.
The Philippine Military Academy Class of 1985 has adopted (the highest distinguish honor given to civilians) the Tan for his outstanding contribution to society.
China Olympic Foundation Chairman Philip Ming Xu cited Tan for his contribution to the 2008 Beijing Olympics. He was honored as chairman for the Philippine chapter of the foundation and for his distinguish role in the Chinese welcoming committee thus earning him the authority to use the Olympic foundation logo to promote the Beijing Olympic brand to Philippine companies.
"The well celebrated Beijing Olympics is the most disappointing performance by Filipino athletes in the history of the games and to reiterate its faulty roots are lack of national support and a need for a world rank management. National support that is altruistic and spontaneous genuinely contributed by the private sector—through the countries leading companies. Also equally vital is a need for a world class program management—a professional training team to assure that the best scientific approach to physical development and highest technological advancement in today's modern sport standards are rigorously set. What strikes me most however is the success of the Beijing Olympics itself—an astonishing feat that establishes China and its people's dedication to progress and humanity.
One World, a unifying spirit that transcends to all peoples and all nations of the new world—It is a big THANK YOU and WELCOME put together in a lavish and well coordinated extravaganza if you are to ask me simply amazing! " -Time Magazine interview
The International Institute for Film & Broadcast Arts, IIFBA have granted Tan the honorary board membership for his commitment to the advancement of the country's film broadcast & the new media industries.
"The entire Asian region will continue to grow closer industrially thus inducing a one region one Asia economic infrastructure—most prevalently affecting communications & the entire service related industries. I believe the only remaining obstacle un-bridged would be the barrier of language wherein the IIFA in its focus on active multilinguistic programs is in a bull's eye path." *Letter to IIFA board of directors
Timmy Tan sings & plays the piano, an avid collector of books and a wine connoisseur. He speaks fluent English, Mandarin, Filipino & Foo-kien and is fascinated with the onslaught of information technology— "This global hi-tech movement will pursue on to the next decade surpassing today's advancement to another mind-boggling level. La Isla Magazine as with all our businesses is in the forefront of this growth." *Timmy Tan/Publisher's Note
Tan Caught Mistreating Househelp
After a video of him mistreating a house helper surfaced online, Tan was featured in Filipino TV show Raffy Tulfo in Action, a public service show that helps those with legal issues.
In the video, Tan angrily reprimanded the helper for serving scrambled eggs and hotdogs to a guest of his, stating that the helper was supposed to serve leftovers to the guest instead cooking a new meal. After reprimanding her, Tan was also caught ordering his bodyguards to shoot the helper for not following his orders.
After the video made its rounds on Tulfo and social media, it was revealed that Tan was planning to file a cyber libel case against the helper.
References
Timmy Tan Wikipedia
(Text) CC BY-SA