Covid-19
6

/

10

1

Votes

Alchetron

Rate This




Science Fiction




March 19, 1976




Jackson Gillis





English






Alexander Singer




English




United States






Sam Groom

(Dr. Clint Earnshaw),

Tom Hallick

(Jeff Adams),

Francine York

(Dr. Helen Sanders),

Booth Colman

(Dr. Amos Cummings),

Richard Basehart

(Dr. Joshua Henderson (1871)),

Trish Stewart

(Jane Henderson (1871))


March 19, 1976




Jackson Gillis (teleplay), Rod Serling (story)




Science Fiction, Thriller, Adventure Film




Dawn of the Planet of the Apes

,

Project Almanac

,

Hot Tub Time Machine

,

Men in Black 3

,

Primer

,

The Time Machine



A pernicious disease thought to be extinct crops up in the modern day and threatens catastrophe. So Dr. Clint Earnshaw (Sam Groom) teams up with researcher Jeff Adams (Tom Hallick) to find a cure. Evidence shows that the only record of a successful treatment for the disease was destroyed in the Great Chicago Fire of 1871, so the men travel back in time in order to speak with Joshua Henderson (Richard Basehart), the only doctor known to have healed victims of the disease.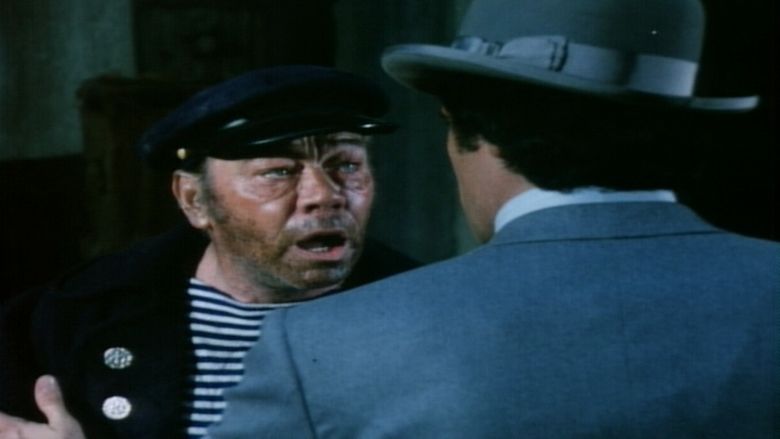 Time Travelers is a 1976 Science Fiction movie starring Sam Groom, Tom Hallick, and Richard Basehart. The film was written by Jackson Gillis and Rod Serling. The film was originally produced by Irwin Allen to be a remake of the 1960s series The Time Tunnel which ran only one season. The pilot did not sell and was repackaged as an ABC Movie of the Week.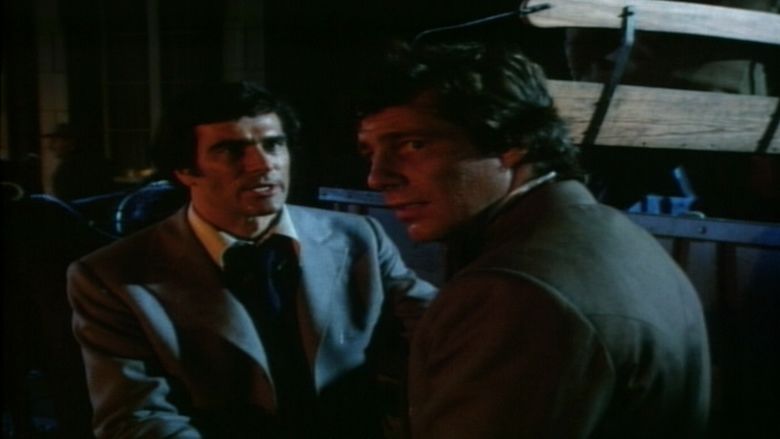 In 1976, there's an outbreak of a disease that no one has seen before. All what they know is that rsembles a disease that existed at around 1871, and that a Dr. Henderson was able to save most of his patients but the Chicago Fire destroyed his records. Dr. Earnshaw the doctor looking for a cure was approached by a man, Jeffrey Adams, who believes that he could help him. It seems that a Dr. Amos Cummings has prefected the art of time travel, and the plan is for Earnshaw and Adams to go back to 1871 and learn how Henderson cured his patients. But a glitch in the machines computers sends them the day before the fire not four days as intended.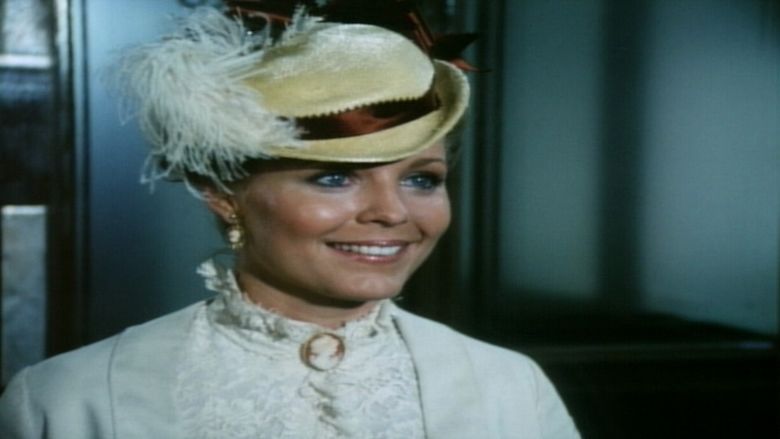 During a Mardi Gras parade in New Orleans, a young girl in a marching band is the latest victim to fall sick to a mysterious new virus - so sudden - it could only be named "XB". Dr. Clinton Earnshaw (Sam Groom) has been following the outbreak but has thus far only been able to diagnose it, when he is interrupted - and seemingly waylaid - by an apparent misfit, Jeff Adams (Tom Hallick). Adams credentials say hes been sent by Washington to help, but with no medical background, Adams has little to recommend himself as being anything other than a drag on Earnshaws limited time. (He sums himself up by describing his M.A. being in sociology from a "Cow College", and having dropped out of the space program.)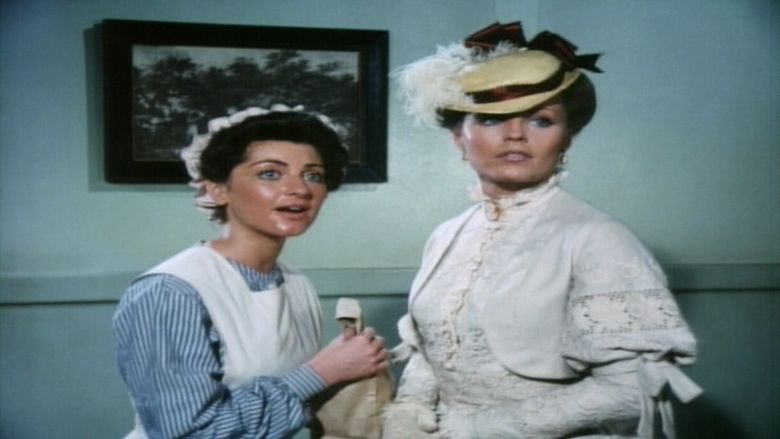 Just as Dr. Earnshaws patience is at an end, Adams reminds him of the discovery over a century earlier of a virus with similar characteristics to XB, but then referred to as Woods Fever. Its discoverer was a kindly physician by the name of Dr. Joshua P. Henderson (Basehart). The problem, as Earnshaw and Adams both know, is that all of the notes and any results from Hendersons research and treatment would have been burned up in the Great Chicago Fire of 1871. So, if a cure ever did exist, it might have been lost in that fire. After a brief plane ride (in which Adams explains that the only artifact of Henderson thats left is a gold pocket watch), Adams introduces Earnshaw to Nobel prize physicist, and former head of NASA, Dr. Amos Cummings, and his colleague Dr. Helen Sanders, who have been experimenting with time travel. It becomes clear that they have a shared purpose in the two men, Earnshaw and Adams, traveling back in time to find the cure. The two don period clothing, Earnshaw is provided with a period doctors bag (but with two modern-technology devices), and, after a briefing on the "rules" of time travel, step through a vault-like door into a room with a view of endless cloud-filled sky. The time-travel process engages, and they are sent on their way.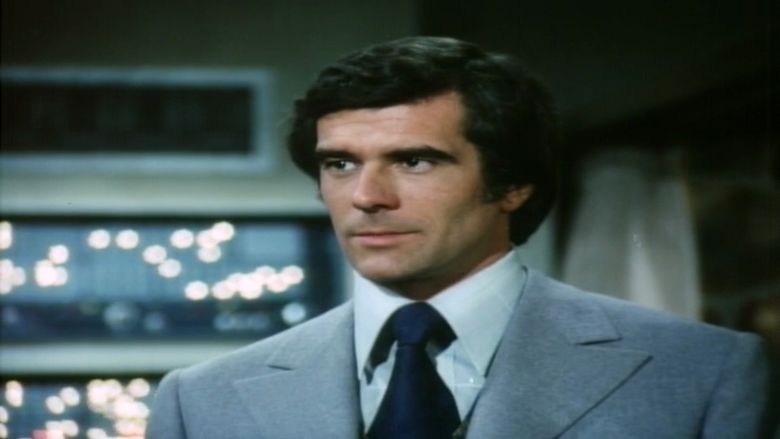 Arriving in 1871, they discover that the machines calculations were off not only by location, but by time. Instead of arriving with three days to spare, and in the countryside a few miles north of Chicago near Hendersons rural home, theyve arrived with less than two days and in the heart of the city. They quickly make their way to the hospital and introduce themselves to Henderson as being doctors who have come from Washington to help with his clinic. They express interest in knowing how Dr. Henderson keeps his patients alive. Henderson surprises them by saying that he does not know why his patients are surviving. Using the modern equipment - a microscope and a centrifuge, they perform their own tests on the patients, but remain baffled as to how Henderson cured the patients. Adams tries to obtain a blood sample from an apparently cured patient, but realizes he may have killed the man... until they discover he hadnt been cured and would have died anyway. In a complication, Hendersons niece, who volunteers as a nurse, has developed an affection for Earnshaw, and it is returned.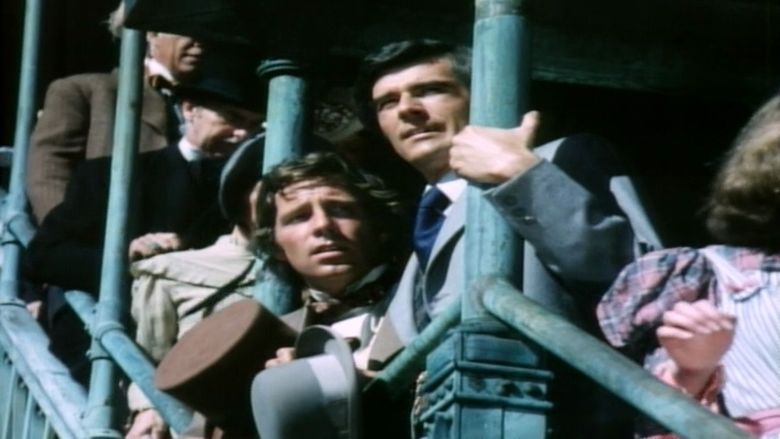 With time running out (the fire has broken out), Earnshaw and Adams decide to "confiscate" all of Hendersons paperwork and return to the future, but their "raid" is interrupted when a suspicious doctor enters the room, holding a telegram that indicates Washington - to whom Henderson cabled appreciation for the help - does not know who Adams and Earnshaw are. Adams shows Henderson the microscope so he can see infectious samples.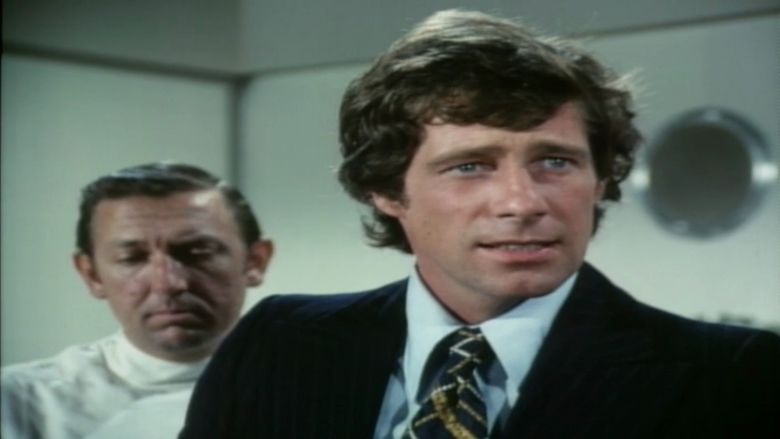 Earnshaw and Adams finally stumble upon the solution after the fire has broken out (the movie assumes the story about Mrs. OLearys cow is accurate). A substance in the homemade wine is curing Hendersons patients and the time travellers must race to find the holder of the last bottle of the wine. Earnshaw himself has contracted the disease. They make it to the departure point just in time. Once they are back in 1976, Hendersons cure saves both Earnshaw and his patient. The physicist head of the project wryly observes that hes the first patient to have the disease for over 105 years and survive it! In the films touching final scene, the time travelers, who have traveled to modern day Chicago find Hendersons and his nieces (who died in the fire) graves and place a letter of thanks (from the President) for curing the disease.
Sam Groom as Dr. Clint Earnshaw
Tom Hallick as Jaff Adams
Francine York as Dr. Helen Sanders
Richard Basehart as Dr. Joshua Henderson
Trish Stewart as Jane Henderson
Time Travelers (1976 film) Wikipedia
Time Travelers (1976 film) IMDb
Time Travelers (1976 film) themoviedb.org