Name

Tim Neville





Education

Regis University





Father and son legislators senator tim neville and rep patrick neville
Tim Neville is a Republican member of the Colorado State Senate from state senate District 16.
Contents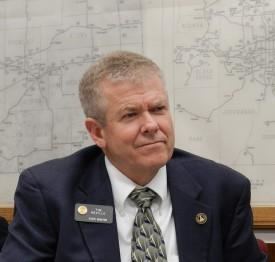 Neville was born and raised in Florida. He has a degree in business administration from Regis University and has lived in Jefferson County, Colorado since 1988.
Neville was appointed to the state senate in 2011 from District 22 and after redistricting he was elected from District 16 in November, 2014, when he defeated incumbent Democrat Sen. Jeanne Nicholson. Neville won 34,758 votes to 32,615 for Nicholson.
U.S. Senate Candidacy
Neville was a candidate in the Republican primary for nomination for the U.S. Senate seat currently held by Michael Bennet.
2017 Legislative Session
In the 2017 Legislative Session, Senator Neville stood up for the taxpayers, the small business owners and families by seeking to advance Constitutional rights and cut red tape.
He championed legislation to increase individual liberty and guarantee our freedom including House bill 1313 (signed by the Governor) which brings transparency to law enforcement by reforming civil asset forfeiture procedures, requiring increased public disclosure in seizing assets allegedly involved in a crime. Senate Bill 62 (also signed by the Governor) guarantees free speech for all students on college campuses by prohibiting institutions from restricting speech to designated areas. Senate Bill 116 would have restored Coloradans Constitutionally guaranteed second amendment rights by allowing Coloradans to carry a firearm freely in Colorado. The bill was opposed by Democrats and killed in the House. Senator Neville opened the Legislative Session with Senate Bill 1, which would have cut red tape for small business owners, and sponsored Senate Bill 55, to prohibit discrimination against an employee who chooses to not belong to a trade association. Both of these pro-small business bills were opposed in the Democrat controlled House and defeated. He also worked to address Colorado's broken transportation system, sponsoring Senate Joint Resolution 6 urging the Federal government to give back the $661 million it receives through motor taxes to Colorado to use to repair the roadway infrastructure.
Senator Neville serves as chairman of the Senate Finance Committee, vice-chair of the Senate Business, Labor and Technology Committee and the Legislative Audit Committee as well as a member of the Senate Education Committee.
Family
Neville's son, Patrick, is currently serving as the Minority Leader of the Colorado House of Representatives.
References
Tim Neville Wikipedia
(Text) CC BY-SA