Part-time model Valentine (Irene Jacob) meets a retired judge (Jean-Louis Trintignant) who lives in her neighborhood after she runs over his dog. At first the judge gifts Valentine with the dog, but her possessive boyfriend wont allow her to keep it. When she returns with the dog to the judges house, she discovers him listening in on his neighbors phone conversations. At first Valentine is outraged, but her debates with the judge over his behavior soon leads them to form a strange bond.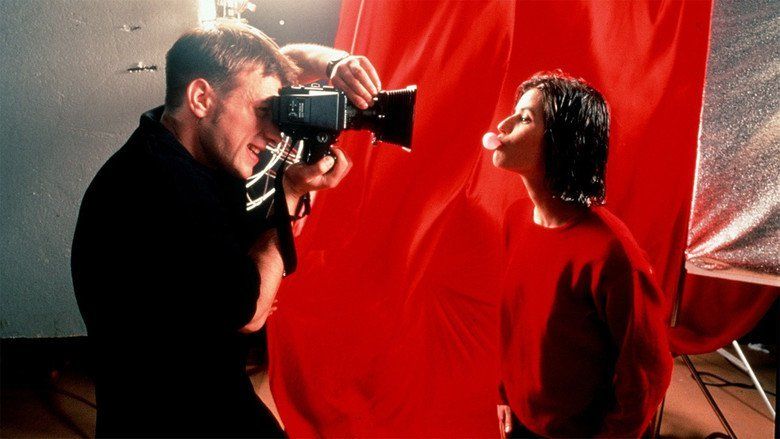 Three Colors: Red (French: ) is a 1994 film co-written, produced, and directed by Polish filmmaker Krzysztof Kieslowski. It is the final film of The Three Colors Trilogy, which examines the French Revolutionary ideals; it is preceded by Blue and White. Kieslowski had announced that this would be his final film, which proved true with the directors sudden death in 1996. Red is about fraternity, which it examines by showing characters whose lives gradually become closely interconnected, with bonds forming between two characters who appear to have little in common.
Red was highly acclaimed, and was nominated for three Academy Awards, including Best Director for Kieslowski.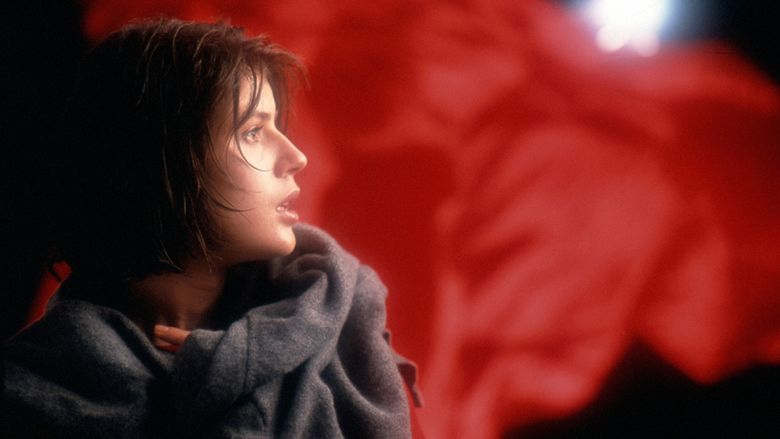 Red This is the third film from the trilogy by Kie?lowski. "Red" meaning brotherliness. Here Kie?lowski masterly tells strange coincidentally linked stories in the most packed work.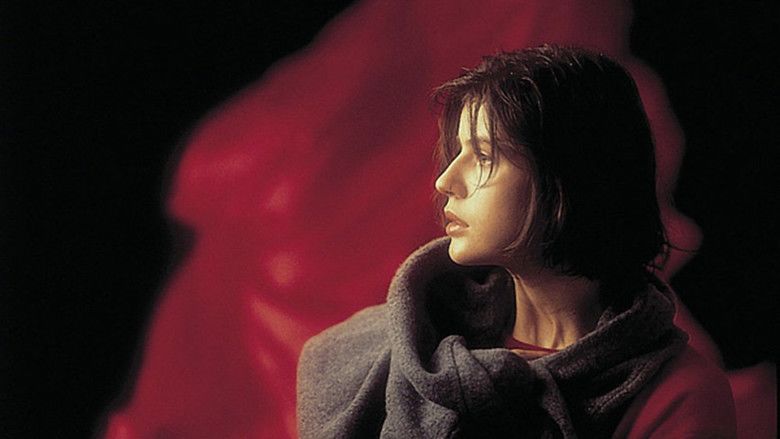 The film begins with clips that track a telephone call between London and Geneva, where a university student and part-time model, Valentine Dussaut (Irene Jacob), is talking to her emotionally infantile and possessive boyfriend. During her work as a model she poses for a chewing-gum campaign and during the photo shoot the photographer asks her to look very sad. While walking back home Auguste, a neighbour of Valentines, drops a set of books, notices that a particular chapter of the Criminal Code was open at random, and concentrates on that passage. While driving back to her apartment Valentine is distracted while adjusting the radio and accidentally runs over a dog. She tracks down the owner, a reclusive retired judge, Joseph Kern (Jean-Louis Trintignant). He seems unconcerned by the accident or the injuries sustained by Rita, his dog. Valentine takes Rita to a veterinarian, where she learns that Rita is pregnant. Valentine takes the dog home.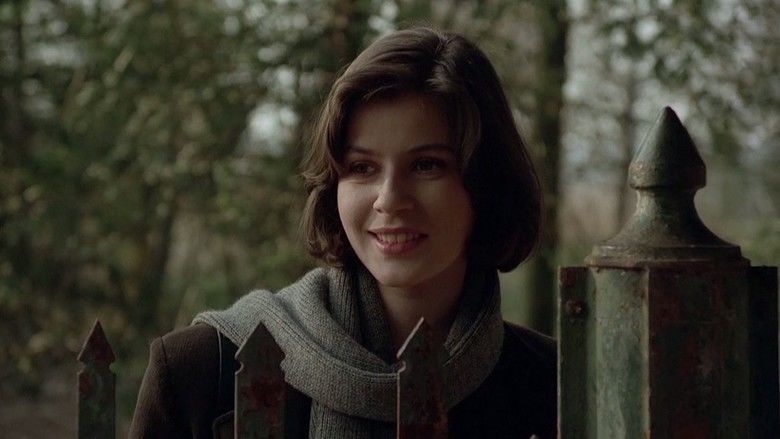 Whilst walking Rita the next day the dog runs away and Valentine eventually finds her back at Kerns house. He gives the dog to Valentine. A short time later Valentine finds Kern eavesdropping on his neighbours private telephone conversations. Valentine threatens to denounce Kern to his neighbours and initially goes to do so. she visits the neighbours house, which appears, on the surface, to be a contented nuclear family,ponders then changes her mind. Kern tells Valentine that it shall make no difference that she denounces him for his spying, the peoples lives he listens to shall eventually turn into hell. She leaves saying that she feels nothing but pity for him.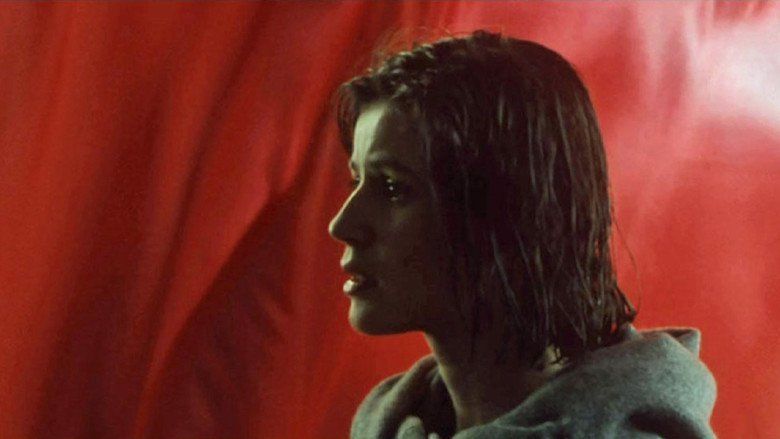 Whilst visiting Kern, Valentine hears a phone conversation between her neighbour, Auguste, and his girlfriend, Karin (Frederique Feder). They discuss if they should go bowling. Valentine covers her ears but from the very little she hears she concludes that they love each other. Kern disagrees. That evening Valentine is alone at home and hopes that her boyfriend will call but it is the photographer who calls, saying that her poster was set up that evening and asks her bowling to celebrate. Later Auguste takes his exam and passes it and becomes a judge. Karin asks him if he was asked any questions regarding the article that was open when he dropped his books. Auguste says yes. Karin gives him a fountain pen as a gift and he wonders what the first judgment he signs with it will be. That evening, Kern writes a series of letters to his neighbours and denounces himself, and the community files a class action. At the law courts, he sees Karin meeting another man. Earlier Auguste had missed a call from Karin and tried to call her back but never hears from her again.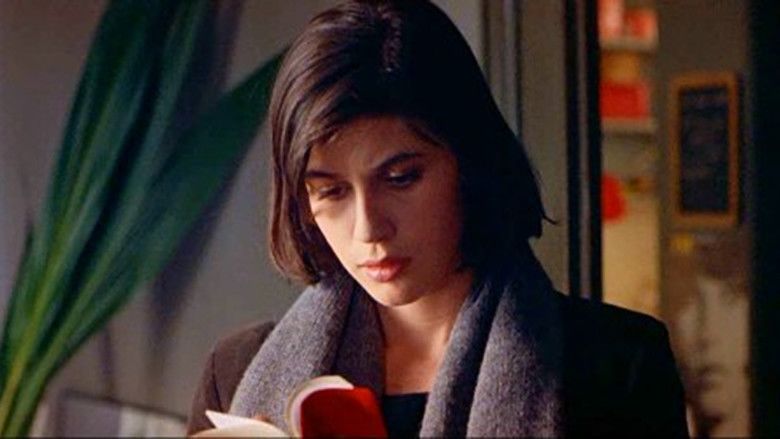 Valentine reads the news about a retired judge who spied on his neighbours, and rushes to Kern to tell him that she did not give him in. He confesses that he turned himself in just to see what she would do. He asks her in and shows her that Rita has had seven puppies. They discuss that on their last conversation she spoke about pity but he later realized that it was actually disgust. He wonders about the reasons why people obey laws and concludes that often it is more on selfish grounds and from fear than about obeying the law or being decent. It is his birthday and they have a couple of drinks. During their conversation he reminisces about a sailor he acquitted a long time ago, only later realizing he had made a mistake, and that the man was guilty. However the man later married, had children, grandchildren and lives peacefully and happy. Valentine says that he did what he had to do, but Kern wonders how many other people that he acquitted or condemned might have seen a different life had he decided otherwise. Valentine tells Kern about her intended trip to England to visit her boyfriend. Kern suggests that she take the ferry.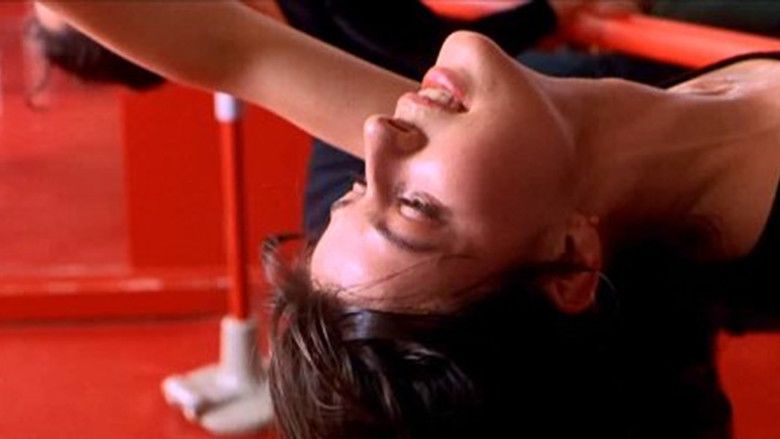 Auguste has been unable to reach Karin since graduation so he goes to her place and sees her having sex with another man. Distraught, he leaves. On another occasion, Auguste sees Karin and her new boyfriend in a restaurant, he gets her attention but when she rushes outside he hides from her. In a temper, he ties his dog by a quayside and abandons him.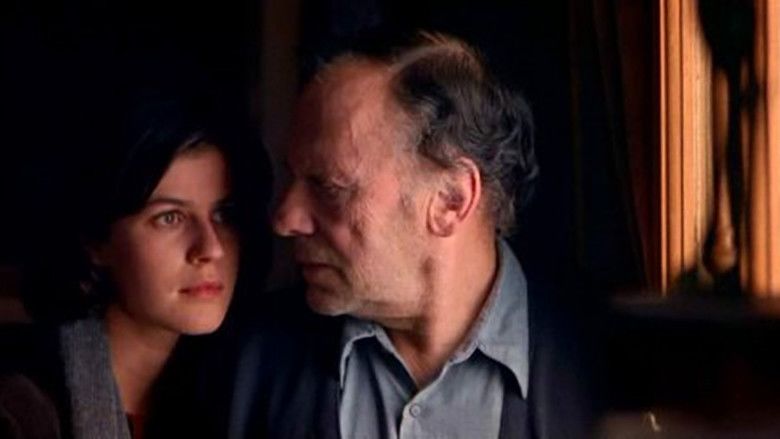 Karin is employed to provide a personalised weather service by telephone. Kern calls and enquires about the weather in the English Channel for when Valentine travels to England. Karin states that she expects the weather to be perfect and reveals that she is about to take a trip there (with her new boyfriend who owns a yacht).
The day before Valentine leaves, she invites Kern to a fashion show where she is modeling. After the show they speak about the dream Kern had about her, where he saw her at the age of 50 and happy with an unidentified man. The conversation then turns to Kern and the reasons why he disliked Karin. Kern reveals that before becoming a judge, he was in love with a woman very much like Karin, who betrayed him for another man. While preparing for his exam, he once went to the same theatre where the fashion show took place and he accidentally dropped one of his books. When he picked it up, Kern studied the chapter where the book accidentally opened, which turned out to be the crucial question at his examination. When he broke up with his girlfriend he followed her across the English Channel but never saw her again, because she died in an accident. Later, he was assigned to judge a case where the defendant was the same man who took his girlfriend from him. Regardless of this connection, Kern did not recuse himself from the case, since the connection was only known to him, and condemned the man. The judgment was legal but he subsequently resigned his post.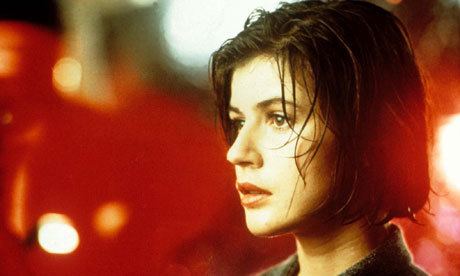 Valentine takes her ferry to England, and Auguste is also on the ferry, clutching the dog he had abandoned, although the two never quite meet each other. Suddenly a storm rises and sinks both the ferry and the boat with Karin and her boyfriend. Only seven survivors are pulled from the ferry: the main characters from the first two films of the trilogy, Julie and Olivier from Blue, Karol and Dominique from White, and Valentine and Auguste, who meet for the first time, as well as an English bartender named Stephen Killian. As in the previous films, the films final sequence shows a character crying - in this case, the judge - but the final image replicates the iconic chewing-gum poster of Valentine.
Irene Jacob as Valentine Dusseau
Jean-Louis Trintignant as Joseph Kern
Jean-Pierre Lorit as Auguste Bruner
Frederique Feder as Karin
Samuel Le Bihan as Le photographe (Photographer)
Marion Stalens as Le veterinaire (Veterinary surgeon)
Teco Celio as Le barman (barman)
Bernard Escalon as Le disquaire (Record dealer)
Jean Schlegel as Le voisin (Neighbour)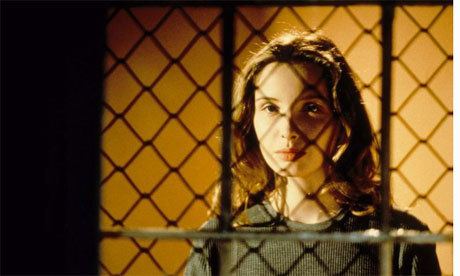 As in the previous two films, a single color dominates: numerous objects in the film are bright red, including the huge advertising banner featuring Valentines facial profile. Several images recur throughout the film. Characters are often juxtaposed on different physical levels. The scenes between Valentine and Kern at his house never show the characters on the same level: Valentine either stands above him or sits below him. When Karin searches for Auguste, he hides on a walkway below her. During the climactic scene in the theater, Valentine stands on the stage, towering over Kern who is in the pit below. Telephone communication is important throughout, and so is broken glass (when Kern reveals his eavesdropping, his neighbors throw rocks through his windows, and the end of the film Kern watches Valentine and Auguste on the news while watching the outside world through broken glass). Also, when Valentine is bowling, the camera moves down the line to where there sits a broken glass next to a packet of Marlboro cigarettes, which is the brand that Auguste smokes.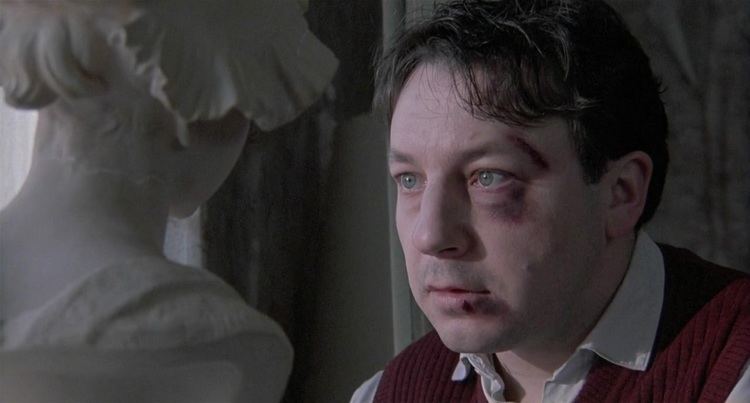 A symbol common to the three films is that of an underlying link or thing that keeps the protagonist linked to his/her past, in the case of Red the judge never closes his doors or gates, despite the fact that he wants to be cut off from everything; also relevant are fountain pens, in a seemingly unconnected scene Auguste gets a fountain pen as a gift and he wonders how many destinies he will change with the pen, later in the film Judge Kern is about to write letters to his neighbours denouncing himself as a spy and his pen stops working and he is forced to write his letters with a pencil. In the case of White the items that link Karol to his past are a 2 Fr. coin and a plaster bust of Marianne that he steals from an antique store in Paris. In the case of Blue it is a lamp of blue beads and a recurring image of people falling.
Another recurring image related to the spirit of the film is that of elderly people recycling bottles; in the case of Red an old woman cannot reach the hole of the container and Valentine helps her (in the spirit of solidarity underlying the film). In Blue, an old woman in Paris is recycling bottles and Julie does not notice her (in the spirit of freedom); in White, an old man also in Paris is trying to recycle a bottle but cannot reach the container and Karol looks at him with a sinister grin on his face (in the spirit of equality). Each films ending shot is of a character crying. In Blue, Julie de Courcy cries looking into space. In White, Karol cries as he looks at his wife. In Red, the judge Kern cries as he looks through his broken window out at the camera.
Biblical references relating to the Gospel of Matthew are also evident. The old man can be pictured as an Old Testament archetype, a God-like figure. Exploring biblical ideas in Red the questions of the judge being a 'God' figure is probably the one that has been explored most often. That he is as an Old Testament God, control over the wind and seas and predicts about people future. This film also depicts topics of the Philosophy of Law and the manner in which man acts in society, the relationship between the law, ethics and socially acceptable behavior and how not all of them coincide, particularly in the reflections by Judge Kern and some symbols related to Auguste.
The film has been interpreted as an anti-romance, in parallel with Blue being an anti-tragedy and White being an anti-comedy.
Three Colors: Red received overwhelmingly positive reviews and currently holds a 100% "Certified Fresh" rating on Rotten Tomatoes, based on 47 reviews. Film critic Geoff Andrew responded positively in Time Out: "While Kieslowski dips into various interconnecting lives, the central drama is the electrifying encounter between Valentine—caring, troubled—and the judge, whose tendency to play God fails to match, initially, the girls compassion. Its a film about destiny and chance, solitude and communication, cynicism and faith, doubt and desire; about lives affected by forces beyond rationalization. The assured direction avoids woolly mysticism by using material resources—actors, color, movement, composition, sound—to illuminate abstract concepts. Stunningly beautiful, powerfully scored and immaculately performed, the film is virtually flawless, and one of the very greatest cinematic achievements of the last few decades. A masterpiece."
Awards and recognition
Nominated for three Academy Awards:
Best Director - Krzysztof Kieslowski
Best Cinematography - Yvon Crenn
Best Original Screenplay - Krzysztof Kieslowski and Krzysztof Piesiewicz
Cannes Film Festival, Palme dOr (nominated)
National Board of Review, Best Foreign Language Film
New York Film Critics Circle Awards, Best Foreign Language Film
National Society of Film Critics Awards, Best Foreign Language Film
Los Angeles Film Critics Association Awards, Best Foreign Film
Zbigniew Preisner won the Cesar Award for Best Music.
Cesar Award nominations:
Best Film
Best Actor - Jean-Louis Trintignant
Best Actress - Irene Jacob
Best Director - Krzysztof Kieslowski
Best Writing - Krzysztof Kieslowski and Krzysztof Piesiewicz
Red was selected by the New York Times as one of "The Best 1,000 Movies Ever Made."