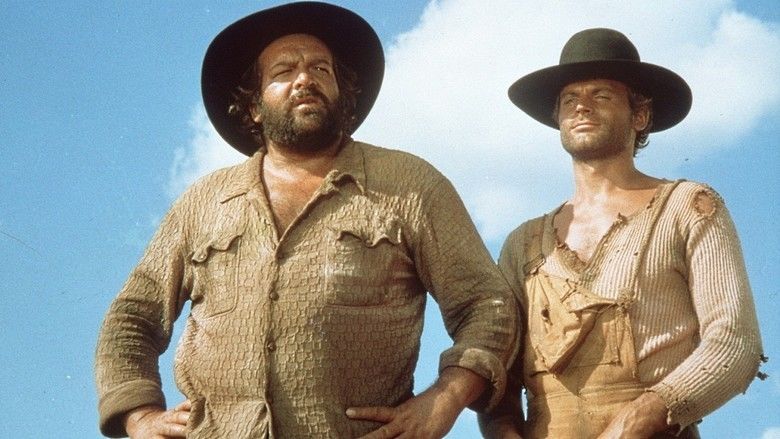 Trinity, a lazy, ne'er-do-well gunfighter with an unnaturally fast drawing ability and marksmanship, is dragged on a travois by his horse to a way station and restaurant. There, he encounters a pair of bounty hunters with an injured Mexican prisoner. Trinity calmly takes the Mexican away from the two men, killing them before they can shoot him in the back. The pair reach a small town, where they witness the local sheriff, a large, burly man with a similarly fast drawing ability to Trinity, gunning down three men after they harass him for not allowing one of their criminal friends to be released.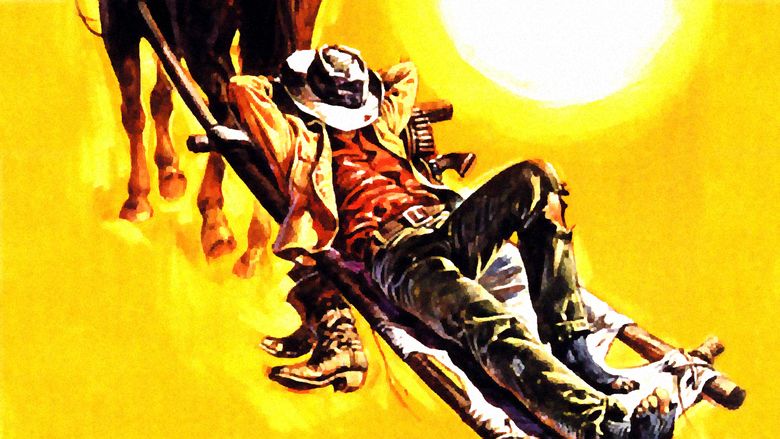 It quickly becomes apparent that Trinity and the man, Bambino, are half-brothers. Bambino is merely posing as the new sheriff of the small town while he awaits the arrival of his gang from the penitentiary from which he escaped, following a run-in with the actual sheriff who incidentally took the same way as Bambino on his way to his new post. Bambino is not happy to see his trouble-making brother. However, the two form a temporary partnership to deal with Major Harriman, who is attempting to run a group of pacifist Mormon farmers off their land with the intention of using their property to graze his own horses. The fact that these horses are valuable and unbranded explains Bambino's grudging willingness to work with his little brother, even though he considers Trinity to be a shiftless bum without ambition.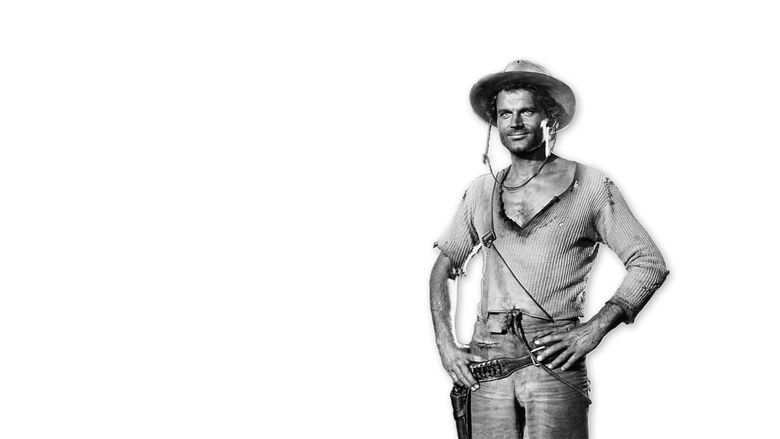 However, Trinity has fallen in love with two Mormon sisters and is genuinely concerned with the Mormon settlers' welfare. He persuades Bambino and Bambino's henchmen to help train the pacifistic Mormons to fight, and in the final battle, the Mormon leader finds in the Book of Ecclesiastes in the Bible that "there is a time for fighting," and the Mormons are unleashed against Major Harriman's goons, using the dirty fighting tricks they have just learned.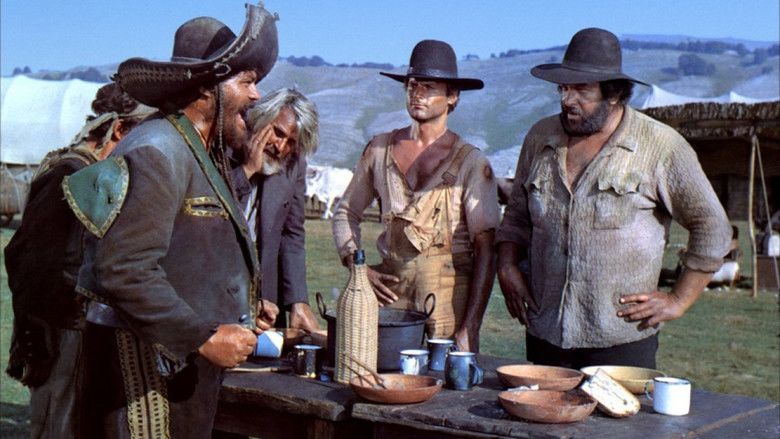 Bambino is flabbergasted and infuriated to learn that Trinity has given the Major's horses to the Mormons. Trinity is about to be happily married to the two Mormon sisters when he learns to his horror that being a married Mormon means actually having to work, so he skips out and goes after Bambino. But his brother has had enough of him and sends him off in the opposite direction. Trinity gets the last laugh: He directs the real sheriff, who has come looking for Bambino, in Bambino's direction, then brings up the rear by following them all.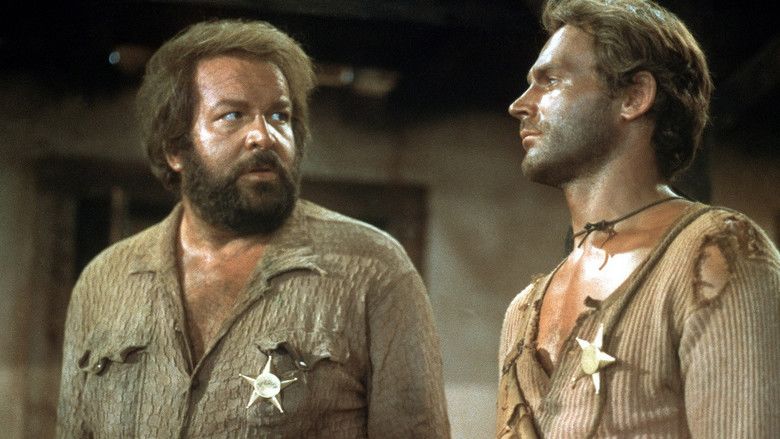 A sequel, Trinity Is Still My Name (1971), was soon produced and proved to be an even bigger success. Terence Hill and Bud Spencer would pair up in over a dozen other films, using the formula of brawls and jokes established here. Several of Hill's and Spencer's Westerns made prior to Trinity were rereleased in the United States to take advantage of their popularity, with Boot Hill (1969) renamed as Trinity Rides Again.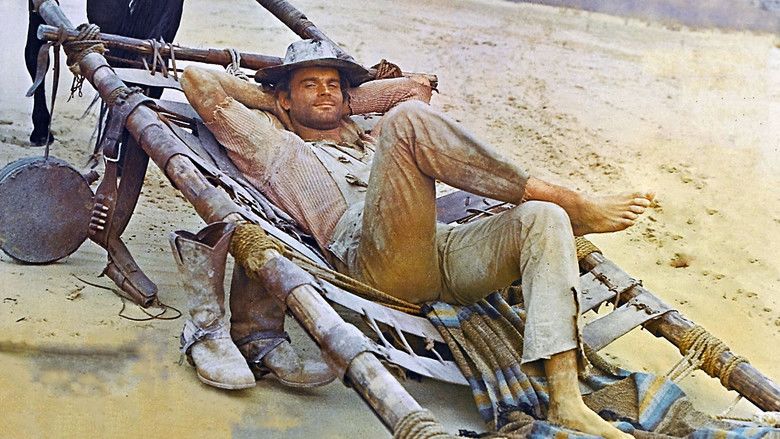 In the English version, the scenes where a man on a horse rides past Bud Spencer have the exchange "good evening sheriff" with Spencer grumbling "shut up" whilst the Italian version is silent. The Italian version has the two Mormon women quote suggestive Biblical dialogue to seduce Hill that is not in the English version. The English version adds a loud clap of thunder when the head Mormon remarks about God helping them through sending them the two brothers to protect them whilst the thunder is not on the Italian soundtrack.
They Call Me Trinity was in the public domain until 1996 (due to the Uruguay Round Agreements Act), and hence most video releases were of a poor quality. Hen's Tooth Video officially released this film and its sequel on DVD in the US on September 4, 2007. Both are new digital transfers from the original negatives, but there are complaints that some scenes are missing from the sequel. The Hen's Tooth Video release also features interlacing due to using pulldown to take the PAL digibeta transfer and put in an NTSC format. The PAL digibeta should have only been given to DVD companies who use said format. The film was released on Blu-Ray in late 2013 in Germany.