Country

India




Director

Atlee


Language

Tamil



Theri official trailer 2k vijay samantha amy jackson atlee g v prakash kumar
Theri (English: Spark) is a 2016 Indian Tamil-language action film written and directed by Atlee and produced by Kalaipuli S. Thanu. The film features Vijay, Samantha Ruth Prabhu and Amy Jackson in the lead roles, while Mahendran, Prabhu and Raadhika Sarathkumar amongst others form an ensemble cast. Featuring music composed by G. V. Prakash Kumar and cinematography handled by George C. Williams.
Contents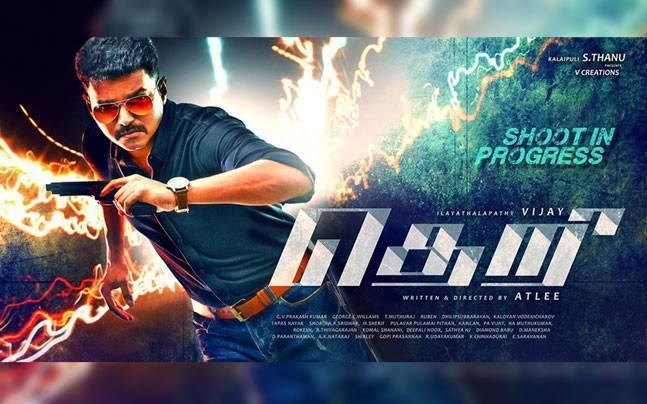 The film had a worldwide release on 14 April 2016. It has been dubbed into Telugu and was released as Policeodu (English: Police Man) on 15 April 2016, however, the title was later on altered to Police.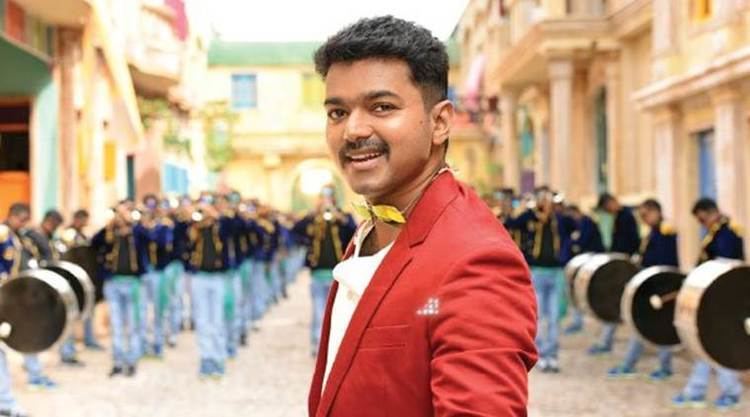 Theri official teaser vijay samantha amy jackson g v prakash kumar atlee
Plot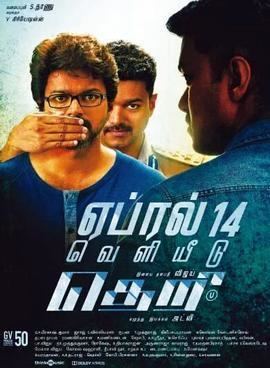 Vijay Kumar (Vijay) is the honest and sincere DCP of Chennai. He takes up a case involving the rape and subsequent death of an IT employee Raji. He finds out that the rapist is Ashwin, the son of a minister Vanamaamalai (J. Mahendran). Vijay kills Ashwin and reveals himself as the murderer to Vanamaamalai, who swears to take revenge on him for killing his son. Meanwhile, Vijay falls in love with a medical student Mithra (Samantha Ruth Prabhu) and both eventually get married and lead a happy life. Vijay's happiness is short-lived though as Vanamaamalai, his younger brother Ratnam (Azhagam Perumal) and their henchmen barge into his house one night and kill Mithra and Vijay's mother (Raadhika Sarathkumar). They even brutally assault Vijay and attempt to drown Vijay's baby daughter Niveditha aka Nivi in the bathtub. The dying Mithra manages to rescue Nivi and asks Vijay to take care of her, but not before making him promise that he will quit the police and be a peaceful and loving father to Nivi, following which she dies in Vijay's arms. Vijay fakes his death, changes his name to Joseph Kuruvilla and moves to Kerala with Nivi and his constable friend Rajendran (Rajendran) to protect Nivi from Vanamaamalai and his gang.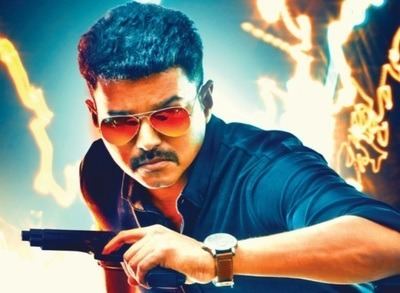 Five years later, Vijay is leading a happy life in Kerala with Nivi (Baby Nainika), who is now in kindergarten, and is running a bakery with Rajendran. As per Mithra's dying wish, he gave up violence and raises Nivi to be non-violent. He meets Annie (Amy Jackson), Nivi's class teacher, and both become good friends. Annie soon finds out about that Joseph is none other than the "late" Vijay Kumar, but Vijay warns her not to tell Nivi about it. One day, while Nivi is going on an excursion, the brakes of the school bus in which Nivi is travelling fails and the bus plunges into the backwater. Vijay, with the help of Annie, Rajendran and the local people, manages to rescue Nivi and the other children. He finds out that Vanamaamalai, who has found out that he and Nivi are still alive, is responsible for the bus plunging into the backwater in order to kill Nivi. Enraged, he decides to abandon his non-violent principles and destroy Vanamaamalai and his gang once and for all.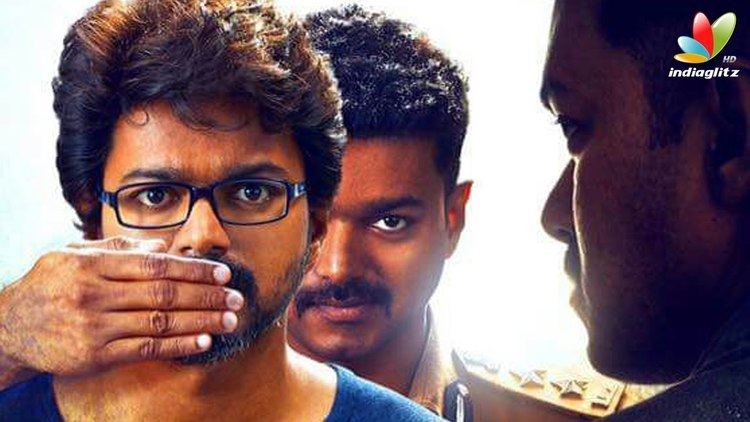 Vijay, posing himself as the "ghost" of Vijay Kumar, starts eliminating Vanamaamalai's henchmen one-by-one. He first kills an inspector Karikalan (Stun Siva), who is one of Vanamaamalai's henchmen and was present at the night when Mithra was killed. The police are baffled at the murder as it was done within the police station, and refuse to believe that Vijay committed the murder, since they think that he is dead. The "mysterious deaths" continue, with Vijay pushing Ratnam to his death from a high-storey building being constructed by him. Vanamaamalai is accused of killing Ratnam since both had fallen out, forcing him to go into hiding. Finally, Vijay allows himself to be captured by Vanamaamalai's henchmen in order to enter his hideout. After eliminating Vanamaamalai's henchmen, Vijay kills him. The police soon arrive at Vanamaamalai's hideout, only to see his dead body hanging from the ceiling, and with nobody else around, his murder also gets sensationalised in the media as a mysterious murder. It is soon revealed that the Chennai commissioner of police Sibi Chakravarthi (Prabhu Ganesan) is aware that Vijay is alive and secretly re-employs him in the police to reduce crime in Chennai in his "ghost" form, taking advantage of the fear the negative elements of the society have for Vijay, while publicly denying that he is still alive.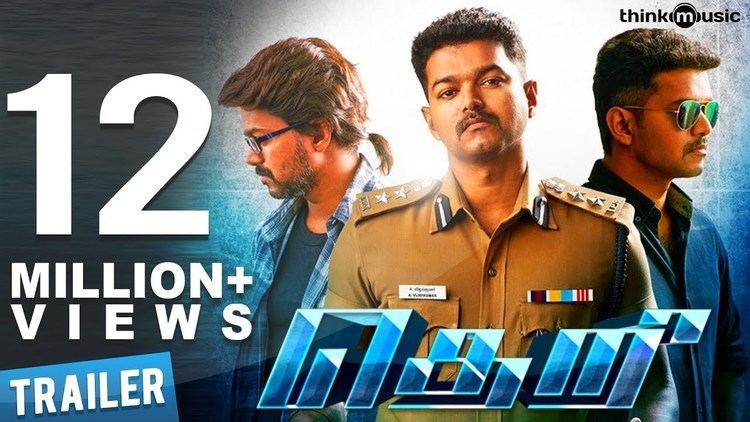 A few years later, Vijay, Nivi, Annie and Rajendran have moved to Ladakh, with Vijay having changed his name to Dharmeshwar and Nivi grown up (Divya Saasha). But he continues to work secretly for the Chennai police, eliminating crime in his "ghost" form.
Development
In September 2014, Kalaipuli S. Thanu signed on to finance a project directed by Atlee, which would feature Vijay in the lead role. Atlee continued to script the film through late 2014, while it was announced that Vijay would join the team to start filming after the completion of his other venture, Puli (2015). Actresses Samantha Ruth Prabhu and Amy Jackson were reported to have signed the film in January 2015, after a few Hindi actresses turned down the opportunity to work on a Tamil film. Several of the technical crew involved in Atlee's previous film, Raja Rani (2013), were also added to the team including music composer G. V. Prakash Kumar, cinematographer George C. Williams, editor Ruben and art director T. Muthuraj. An official launch event was held at the Kerala Club House on the East Coast Road in Chennai, with several members of the cast and crew in attendance. Alongside the lead actor, it was revealed that Prabhu, Raadhika Sarathkumar, director Mahendran, and actress Meena's daughter Nainika would be a part of the film. Several titles for the film including Moondru Mugam, Vetri, Thuppaki 2, Khakee and Thaarumaaru were considered, before the makers finalised Theri in late November 2015.
Filming
The film began production in Chennai during early July 2015 and an introductory song for Vijay was shot in the city, followed by scenes featuring the actor and Samantha Prabhu on the East Coast Road. Further scenes in Chennai were shot at Adityaram Studios and at Binny Mills, where art director T. Muthuraj had erected a huge set. Raadhika Sarathkumar was also a part of the shoot, while actress Sunaina shot for one day in the schedule which ended in mid July 2015. The second schedule for the film restarted in Chennai during August 2015 and went on for twenty five days. Vijay and Samantha Prabhu participated in shooting of the month, while production was briefly delayed owing to a strike held by the Tamil Film Producers council against FEFSI employees. MGM Dizzee World on the East Coast Road was also used as a location to film sequences during August 2015. A further schedule began again for a month long shoot in September 2015 in Chennai.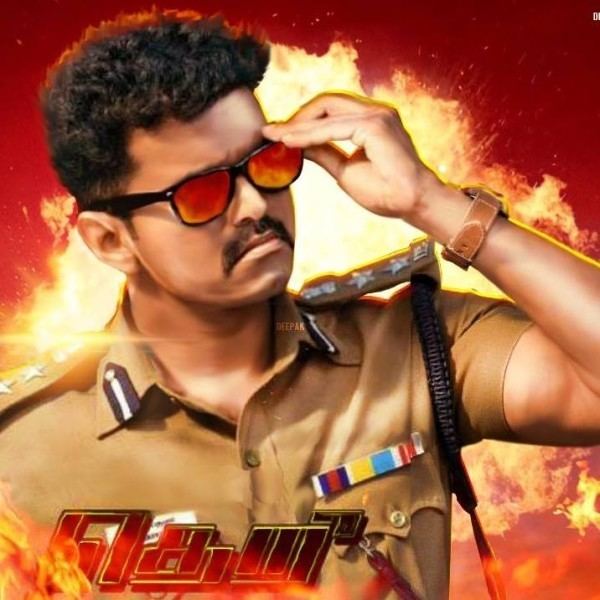 In November 2015, it was revealed that the film was "seventy percent complete" and portions involving Samantha Prabhu had finished being shot. Thereafter, Amy Jackson subsequently joined the team in Chennai to shoot for her part during a new schedule. Action scenes, choreographed by Dhilip Subbarayan were filmed throughout the month, with the shoot disrupted by the heavy flooding in Chennai. Hollywood action choreographer Kaloyan Vodenicharov worked with the team in early December 2015 to help shoot the climax portions for the film. Poor climatic conditions in China meant that the team had to abandon their idea of filming sequences there and instead opted to shoot in Bangkok. Sets were erected in a factory in Chennai to shoot the climax scenes, with stunt choreographer Kaloyan Vodenicharov recruited to help train artistes and film the sequences during December 2015.
Release
The film had a worldwide release on 14 April 2016, while the Telugu dubbed version, which was titled "Policeodu", was released on 15 April 2016.
Critical reception
IndiaGlitz.com rated the film 3 out of 5 and called it "An entertaining revenge drama from Atlee and Vijay". Gautaman Bhaskaran of Hindustan Times rated the film 2.5 out of 5, saying, "When I walk into a Vijay film, I know exactly what I would be pounded with--cyclonic action, humongous heroism, nobility and syrupy romance. Vijay's latest Robin Hood adventure, Theri, has all of these ingredients to make the movie into a masala that Indian cinema terms entertainment". Sify also rated the film 3 out of 5 stars saying that "Vijay's scorching screen presenceand his infectious energy is the highlight." Behindwoods also rated the film 2.75 stars out of 5, stating that "The Theri man has given his best. Overall performance that will satisfy all center audiences and it is the most convincing cop avatar that Vijay has portrayed." The Indian Express rated the movie 2 out of 5 and said that "Vijay's limitations as an actor exposed in a predictable storyline." Bardwaj Rangan of The Hindu stated that Atlee's screenplay checks all boxes and we're checking these boxes 10 min. ahead of him." Times of India rated the movie 3 out of 5 stars and said that "With the right material Vijay can elevate even an ordinary scene with his amazing screen presence and he can effortlessly play to the gallery. This is a formulaic film and can be best described only with another cliche- Old wine in a fancy extra-large bottle."
Box office
By the end of its first 6 days in theaters, the film had grossed ₹1 billion (US$15 million). The film grossed ₹853.6 million (US$13 million) worldwide in first weekend; USA gross was US$ 632,000 and North America (US & Canada) grossed over US$ 900,000 as of Sunday (17 April) night. In the United Kingdom, Theri broke Enthiran's box office collection for the first weekend. Enthiran had collected GB£ 277,918 in its first weekend and the Atlee directorial has achieved a benchmark figure of GB£ 280,696.
Soundtrack
G. V. Prakash Kumar was signed to compose the film's music and collaborated with Atlee for second time after the success of their previous album, Raja Rani (2013) and also with Vijay after Thalaivaa (2013). Theri is the 50th film that Prakash had signed, and with Atlee, he went to Goa in March 2015 for a music composing session. Uthara Unnikrishnan and Deva recorded songs for the film, while Vijay and Neeti Mohan also recorded a song for the film. The music album of Theri was launched on 20 March in Chennai. Vijay and T. Rajendhar have sung one song each in the film. Behindwoods gave the album a rating of 3.25 out of 5. Sify gave the album a rating of 4 out of 5. Indiaglitz gave the album a rating of 3.75 out of 5.
Songs
1Jithu JilladiDeva - Balachandran4:50
2En JeevanHariharan - Vaikom Vijayalakshmi - Saindhavi5:20
3Eena Meena TeekaG V Prakash Kumar4:07

References
Theri (film) Wikipedia
(Text) CC BY-SA