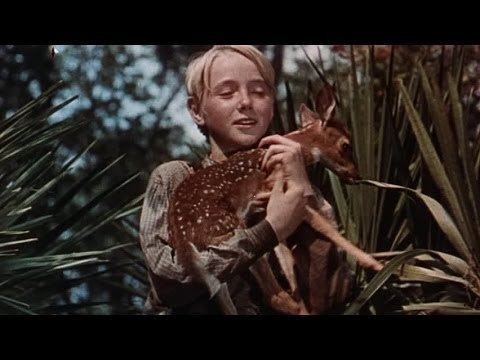 Ezra "Penny" Baxter (Gregory Peck), once a Confederate soldier, and his wife Ora (Jane Wyman), are pioneer farmers near Lake George, Florida in 1878. Their son, Jody (Claude Jarman Jr.), a boy in his pre-teen years, is their only surviving child. Jody has a wonderful relationship with his warm and loving father. Ora, however, is still haunted by the deaths of the three other children of the family. She is very somber, and is afraid that Jody will end up dying if she shows her parental love to him. Jody finds her somewhat unloving and unreasonable.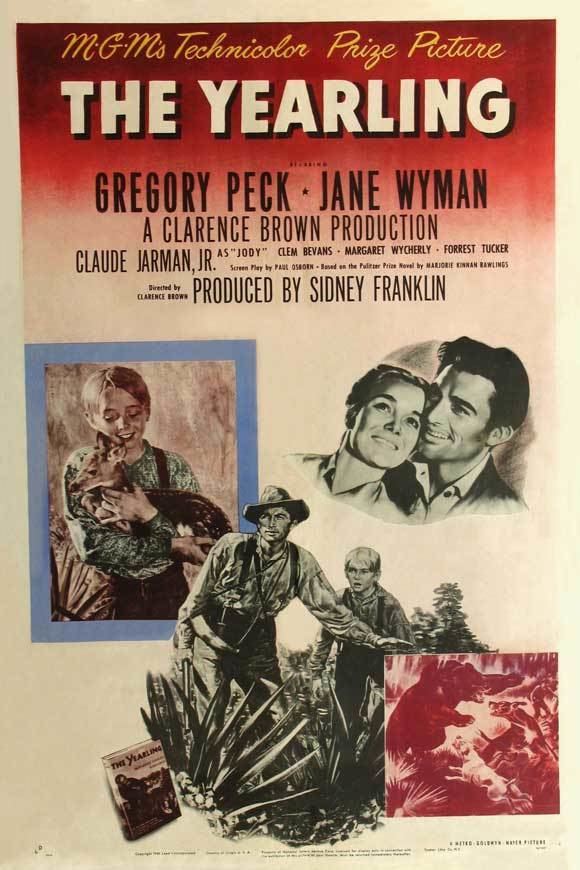 With all of his siblings dead and buried, Jody longs for a pet to play with and care for. Penny is sympathetic and understanding, but Ora is disgusted. One day, when a rattlesnake bites Penny, they kill a doe and use its organs to draw out the poison. Jody asks to adopt the doe's orphaned fawn. Penny permits it, but warns Jody that the fawn will have to be set free when it grows up.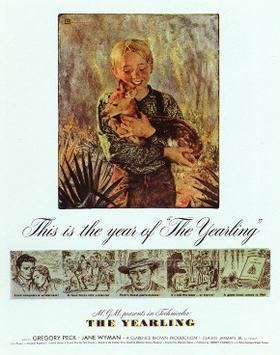 When Jody goes to ask his only young friend, Fodderwing (Donn Gift), to name the fawn, Jody finds out he has just died. However, Ma Forrester tells Jody that Fodderwing had said that if he had a fawn he would name him Flag—for the critter's waving white tail.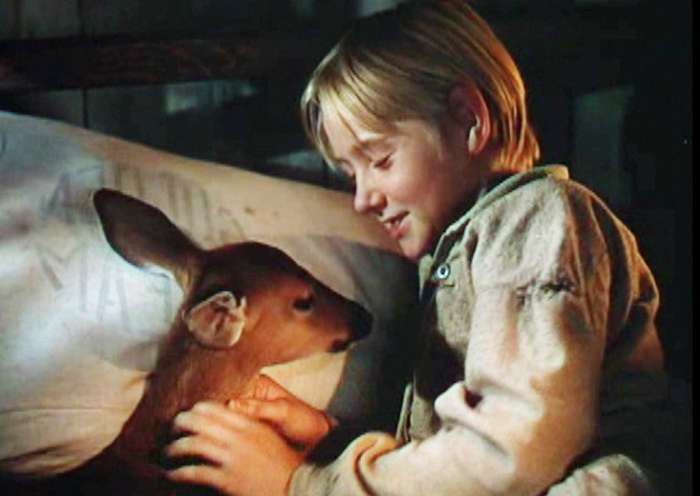 Soon, Jody and Flag are inseparable. One year later, Flag has grown up and becomes a total nuisance to the household and farm; he eats newly-grown corn, destroys fences, and tramples on tobacco crops. After Penny is injured while trying to clear another field to make up for lost crops, Penny informs Jody that he and his mother have agreed that for Jody to keep Flag he must replant corn and build the fence around the field higher. Jody works hard and even receives help from Ora with the fence. During the night, Flag manages to jump the high fence and destroys the new corn crop. Penny orders Jody to take the deer out into the woods and shoot it. Jody takes the deer out, but does not have the courage to kill it. Instead, he orders the deer to go away and never return. But Flag comes back to their property and devours crops again. Ora (whom Jody believes had always hated his pet) shoots Flag but only wounds the deer. Penny orders Jody to put the deer out of its misery. Rather than let his pet deer be in agonizing pain, he follows his father's orders.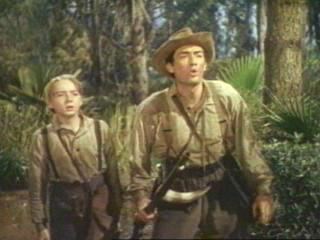 The loss of Jody's beloved pet deer proves too much for him to handle: overwhelmed with anger and despair, he runs away from home. Three days later, he is rescued by a friendly boat captain and returns home. He and Penny quickly make up, but Ora is still out searching for him. Just before Jody goes to bed, Ora returns and sees that he is back. She becomes filled with happiness and emotion, knowing that her huge fear of losing her last child is now over. She happily runs into Jody's room and showers him with more affection than she ever gave him. She is no longer afraid to show her parental love to him.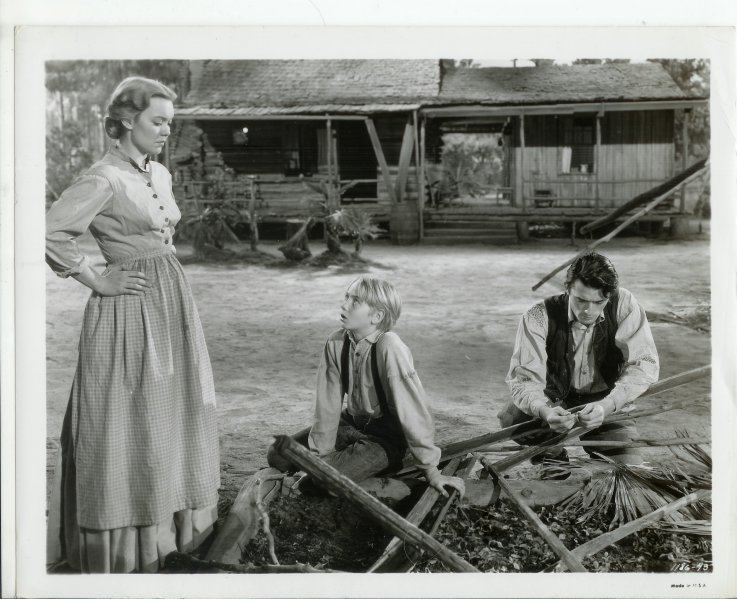 Gregory Peck as Ezra "Penny" Baxter
Jane Wyman as Ora Baxter
Claude Jarman Jr. as Jody
Chill Wills as Buck Forrester
Clem Bevans as Pa Forrester
Margaret Wycherly as Ma Forrester
Henry Travers as Mr. Boyles
Forrest Tucker as Lem Forrester
Donn Gift as Fodderwing
Jeff York as Oliver Hutto (uncredited)
The movie was filmed on location in the Juniper Prairie Wilderness in the Ocala National Forest in Florida. A hiking trail in the area, "The Yearling Trail", is named after the story, and gives access to sites where the family lived whose stories inspired the novel. The cast changed several times during early production. Spencer Tracy was slated to play the role of patriarch Baxter before Gregory Peck was finally cast in the lead role. Peck received the second of his five Academy Award nominations in this, his fifth film.
Herbert Stothart made arrangements of Frederick Delius's music, particularly Appalachia: Variations on an Old Slave Song, for the film.
The film earned $4,768,000, in the US and Canada and $2,831,000 elsewhere, making it MGM's most successful movie of the year. However because of its high production cost, profits were only $451,000.
Wins
Best Art Direction (Color): Art Direction: Cedric Gibbons, Paul Groesse; Interior Decoration: Edwin B. Willis
Best Cinematography (Color): Charles Rosher, Leonard Smith, Arthur Arling
Nominations
Best Motion Picture: Metro-Goldwyn-Mayer
Best Actor: Gregory Peck
Best Actress: Jane Wyman
Best Directing: Clarence Brown
Best Film Editing: Harold F. Kress
The Yearling was presented on Stars in the Air February 7, 1952. The 30-minute adaptation starred Gregory Peck and Jean Hagen.