Name

The Brothers








2015 cracker night the umbilical brothers
Shane Dundas and David Collins known as The Umbilical Brothers are an Australian comic duo.
Contents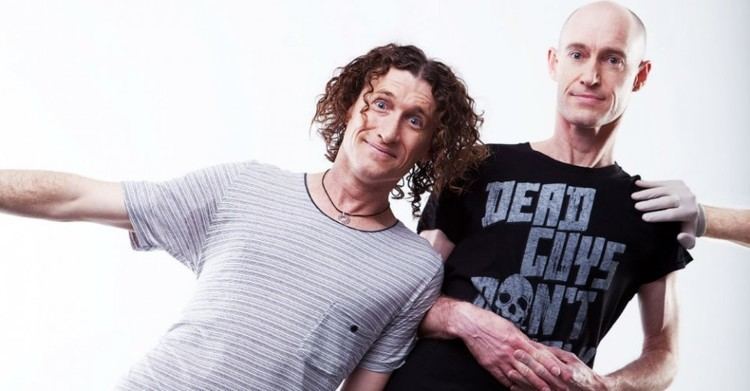 The umbilical brothers feeling good
History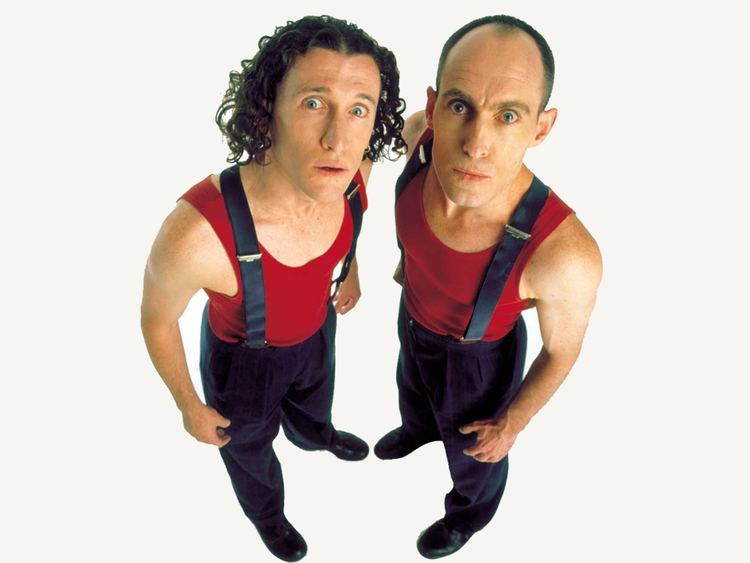 Dundas and Collins met in 1988 at the University of Western Sydney in a salsa club on a hot summer's western Sydney evening, where Collins swung around and broke Dundas' nose. Although their instructors tried to keep them apart after the incident, they got together on their own, made amends and began writing routines.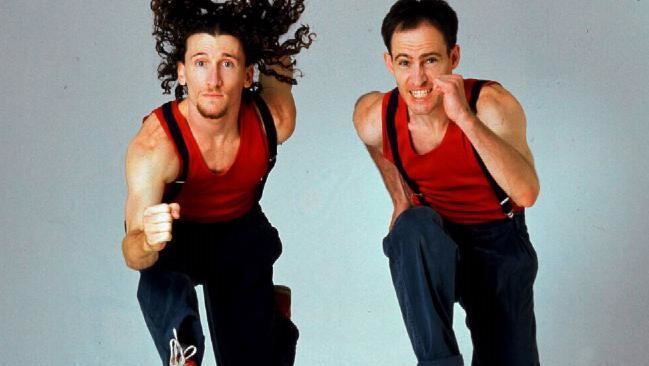 Their performances combine mime with ordinary dialogue and vocal sound effects. They use puppetry, slapstick, mimicry and audience participation, and make scant use of props and lighting. After having performed for seven years, their routines are highly scripted.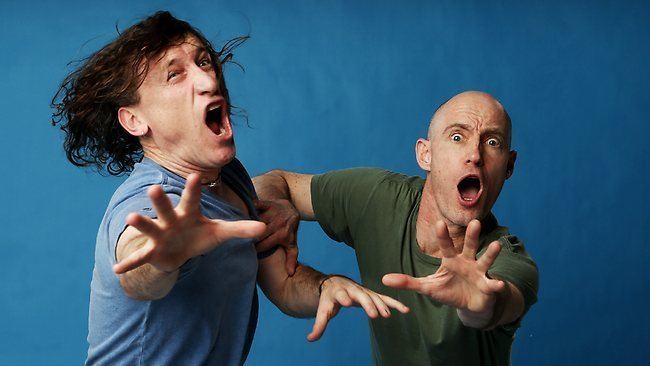 They have performed on the Late Show with David Letterman, The Tonight Show with Jay Leno, The Late Show with Stephen Colbert, Broadway, Rove, Sarvo, Good News Week (expressly for the 'So You Think You Can Mime' segment) and The Sideshow. They have also performed at the Cat Laughs, Melbourne International Comedy Festival, Just for Laughs, Sydney Opera House, Adelaide Fringe Festival, Tampere Theatre Festival and Edinburgh Festival Fringe, and also at Woodstock 1999. They are also credited with the vocalizations on the animated children's show Maisy (with the exception of the show's narrator). Shane has also appeared on Double the Fist in the episode "Ultimate Weapon", playing a pair of mystical guards to the TimeSaw, one who lies and one who tells the truth. Both characters explode when The Womp tricks them (accidentally) into doing the opposite of their role (how many fingers am I holding up?)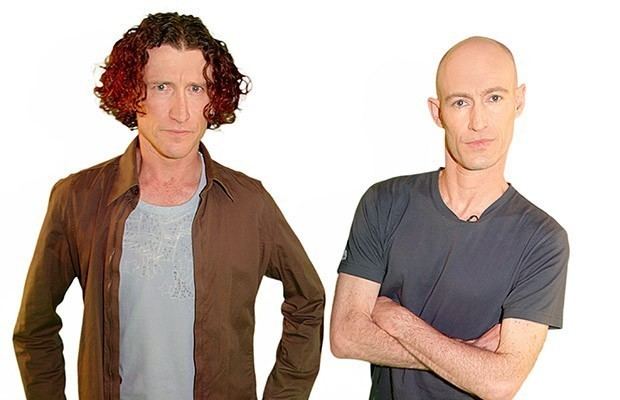 In August 2006, the Brothers (as Shane and David) began appearing as the main characters, on a Logie Award winning children's television program called The Upside Down Show, that airs in the United States on Nick Jr., and in Australia on Nick Jr and the ABC. The show, developed by Sesame Workshop, makes extensive use of their particular style of mime and humour. In December 2006, in a New York Post interview, Shane Dundas expressed doubts about the return of the show for a second season. In June 2007, Nickelodeon announced that they would not renew it for a second season.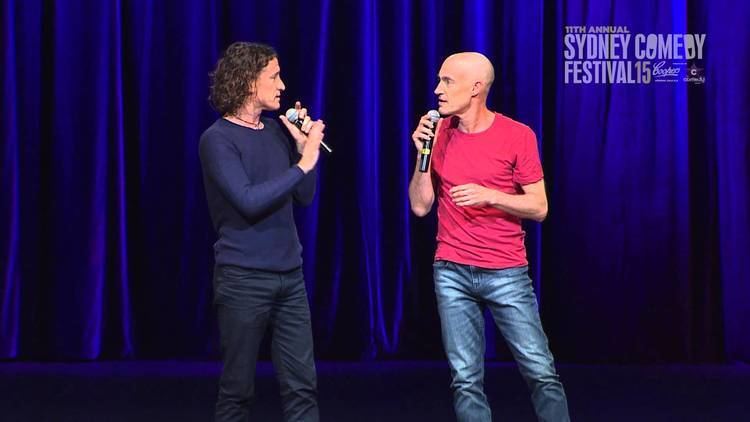 The two had voice roles in Maya the Bee as ant soldiers, with Collins voicing Arnie and Dundas voicing Barney.
Shows
The Umbilical Brothers have performed six shows, four of which appear as DVDs:
SpeedMouse: Taking advantage of the latest advances in performance technology, the boys have upgraded their acting to digital. Using this technology they are able to immediately jump to any routine or fast-forward through the boring bits. Unfortunately, the remote control has gone missing. Tensions arise when their newly hired roadie clashes with David — he points out that there is no need for a roadie as there are no props or scenery to move. The situation gets worse when their show controller, Tina, starts playing mind games with Shane. The conflict continues throughout the show.
The Upside Down Show: A series of comedic episodes first appearing on Noggin, starring Shane and David as two brothers living in an apartment with many doors. The show was released through five DVD volumes in Australia, each including two-three episodes each.
Don't Explain: Don't Explain is a selection of tangent skits that contain no overall plot; the title is a reference to this. There are, however, continuing themes throughout the show, one of which is Dave's attempt to get the hand-held microphone off Shane; this leads to a climax in which they both have microphones and have a Face, Race and Chase Off. There is also a dog, which is first seen in their first skit of their show, and is the main focus of the second. Another is the performance of European Visual comedy by Hans and Klaus. Conflict again is one of the main factors keeping the show entertaining.
Thwak!: a modified version of Don't Explain currently being performed (not available on DVD)
Heaven by Storm: Heaven by Storm is a more plot based show by the Umbilical Brothers. After dying (pre-show), Shane and David meet with God, who tells them that only one of them can enter Heaven. Due to their being unable to agree (and other issues), God sends them back to perform the show and resolve their difference. This culminates in Dave having a slight mental breakdown, shortly after which Shane tells Dave that there is a new character in the show, which Dave then finds out is a cricket which he had accidentally killed beforehand. Shane then chases Dave throughout the show trying to get money, or just 20c as Shane says, off Dave to help pay for the cricket's funeral.
The Rehearsal: A new show with video effects including "shadow".
DVD releases
SpeedMouse - Live from the Sydney Opera House (2004)
Don't Explain - Live from the Athenaeum theatre in Melbourne (2007)
Heaven By Storm - Live from Regal Theatre, Subiaco (18 September 2010)
The Rehearsal (3 November 2014)
Not Suitable For Children (16 August 2017)
References
The Umbilical Brothers Wikipedia
(Text) CC BY-SA