The film has generated three film sequels, a stage musical production and a children's TV cartoon. Two less successful sequels, The Toxic Avenger Part II and The Toxic Avenger Part III: The Last Temptation of Toxie, were filmed as one. Director Lloyd Kaufman realized that he had shot far too much footage for one film and re-edited it into two. A third independent sequel was also released, titled Citizen Toxie: The Toxic Avenger IV. A fourth sequel entitled The Toxic Avenger 5: Toxic Twins was planned for a future release but was canceled in 2017. An animated children's TV series spin-off, Toxic Crusaders, featured Toxie as the leader of a team of mutated superheroes who fought against evil alien polluters. The cartoon series was short-lived and quickly cancelled. New Line Cinema had planned a live-action film based on the cartoon, but the deal fell through.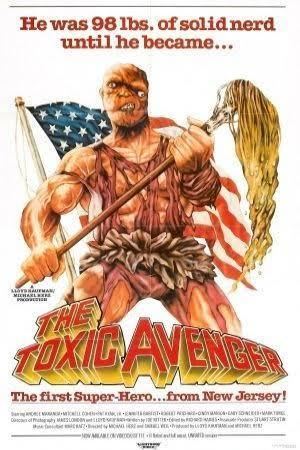 Melvin Ferd (Mark Torgl) is a stereotypical 98-pound weakling who works as a janitor at a health club in the fictional town of Tromaville, New Jersey where the customers—particularly Bozo (Gary Schneider), Slug (Robert Prichard), Wanda (Jennifer Babtist) and Julie (Cindy Manion)—harass him constantly. His tormentors get more and more violent, even deliberately killing a young boy on a bike with their car and taking photos of the carnage afterward. One day, they trick Melvin into wearing a pink tutu and kissing a sheep. He is chased around the health club and out a second story window. He lands in a drum of toxic waste, which sets him on fire. After running down the street in a ball of flames, Melvin douses the flames in his bathtub. The chemicals cause him to transform into a hideously deformed creature of superhuman size and strength.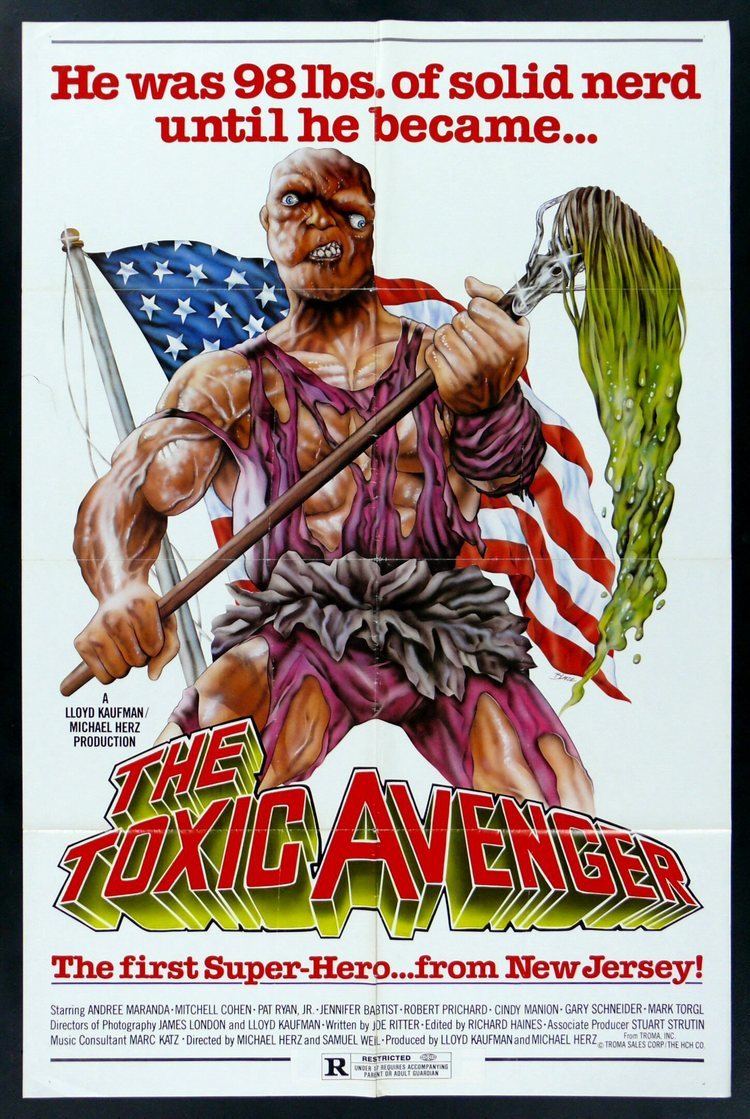 A group of drug dealers, led by the criminal Cigar Face (Dan Snow), are harassing a police officer by the name of O'Clancy (Dick Martinsen), trying to buy him off. When he refuses to accept the money, Cigar Face and his gang prepare to castrate him. Melvin appears out of nowhere and violently kills the criminals, then leaves a mop on their faces as a call sign. Melvin then tries to return home, but his mother is terrified of him and will not let him in the house; so Melvin - publicly dubbed "The Monster Hero" (also known as "The Toxic Avenger" or "Toxie") and hailed as a hero - builds a makeshift home in the junkyard.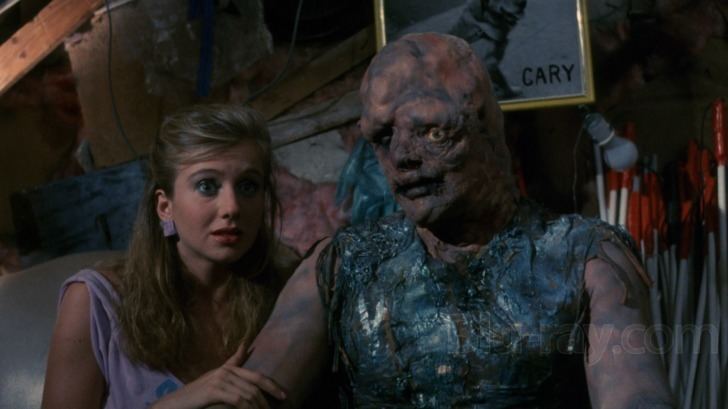 Elsewhere in Tromaville, a gang of three men are holding up a Mexican food restaurant and attack a blind woman named Sarah (Andree Maranda). They kill her guide dog and attempt to rape her, but are stopped by Melvin, who wreaks bloody vengeance on them. Toxie takes Sarah back to her home, where they begin to get to know one another and subsequently become romantically involved. Melvin continues to fight crime, including drug dealers and pimps for underage prostitutes, and also takes revenge on the four tormentors who caused his transformation. First, he attacks Wanda in the health club's sauna and burns her rear side on the heater. He later returns to the club, pursues Julie into the basement, and cuts off her hair. He then confronts Bozo and Slug after they brutally stole a car, ending in Slug getting thrown out of the moving car and Bozo driving off the side of a cliff.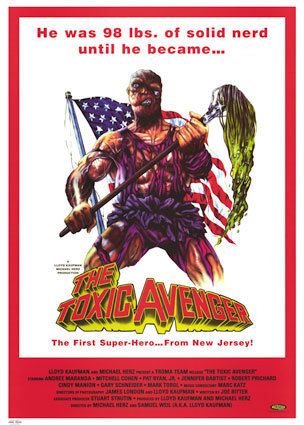 As Melvin gives aid to the people in the city, Mayor Belgoody (Pat Ryan Jr.), the leader of Tromaville's extensive crime ring, is horrified of what is happening to his goons. He is worried that it will lead back to him and wants Melvin to be taken care of. A group of men, led by Cigar Face, surround Melvin with guns. Just before they fire on him, he leaps up to a fire escape, so that they end up shooting each other.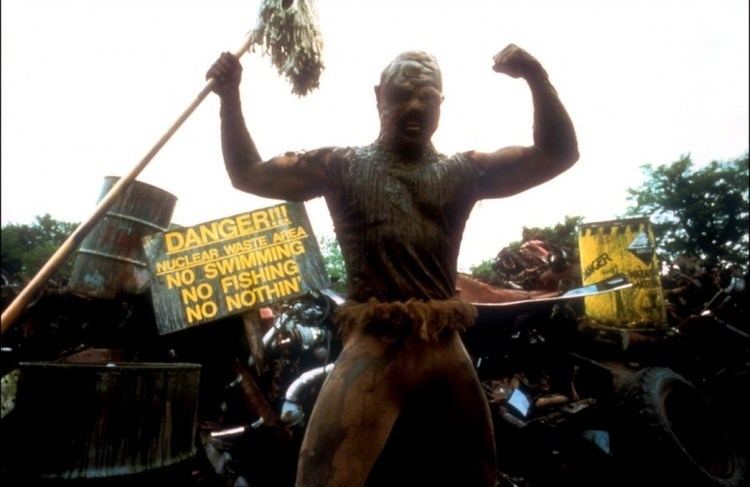 When Melvin kills a seemingly innocent old woman in a dry cleaning store (she is in fact a leader of an underground white slave trade), Belgoody uses this opportunity to call in the National Guard. Back in his junkyard home, Melvin is terrified of what he has become, and he and Sarah decide to move away from the city and take a tent into nearby woods. They are eventually discovered, and the Mayor and the National Guard come to kill him, but the people of Tromaville will have none of it. The Mayor's evil ways are revealed, and Melvin proceeds to rip out Belgoody's organs to see if he has "any guts". The movie ends with a reassurance that the Toxic Avenger will continue to combat crime in Tromaville.
The Toxic Avenger was the film that "built the house of Troma", and was Troma's first horror film. Previously the production company focused on sex comedies such as Cry Uncle! and Squeeze Play!. Subsequently, Troma focused almost exclusively on horror films.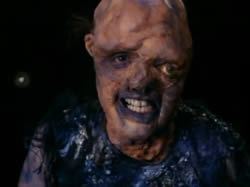 In 1975, Lloyd Kaufman had the idea to shoot a horror film involving a health club while serving as the pre-production supervisor on the set of Rocky. At the Cannes Film Festival, Kaufman had read an article that said horror films were no longer popular, so Kaufman claims that he decided to produce his own version of the horror film. The film's final outcome was less a bona fide horror film and more of a campy superhero-spoof with extreme violence embedded throughout. The setting of the movie in a health club and the movie was given a working title of Health Club Horror. Kaufman wrote the script with the help of writer Joe Ritter.
Originally, Melvin is known as "The Monster Hero", but it was during post-production that the name "The Toxic Avenger" was used.
Several cut scenes are available on the film's Director's Cut DVD. Some of these scenes involve Bozo and his gang at the Health Club, Melvin (as the Monster) and his growing relationship with Sara, conversations between Belgoody and his henchmen, and Wanda and Julie having a fight in the police station after they try to complain about Melvin's assaults and end up laughing about their respective maladies. These scenes are reintegrated into the movie in the Extended/Japanese Cut version which has been eventually released in other countries.
In one of the scenes between Melvin and Sara, Sara makes Melvin a peanut butter and jelly sandwich, which Melvin throws out the window and hits a man square in the face. The man who gets the sandwich to the face is the actor who plays The Toxic Avenger himself, Mitch Cohen, without the makeup.
Scenes for the film were shot at various locations in New Jersey, including Jersey City, Boonton, Harrison, and Rutherford during the summer of 1983.
The Toxic Avenger received mixed to positive reviews from critics. Film critic Leonard Maltin awarded the film 2 1/2 out of a possible 4 stars, calling the film, "A funny spoof... Not without violence and gore but still entertaining." Film review aggregator Rotten Tomatoes reported a 68% "fresh" rating based on 18 reviews, with an average rating of 5.5/10.
The Toxic Avenger has been adapted to other media:
From April 1991-February 1992, Marvel Comics published The Toxic Avenger comic. The comic was written by Doug Moench, drawn by Rodney Ramos, and Val Mayerik, and lasted for 11 issues. The series focused on Toxie battling against the evil Apocalypse, Inc. and its demonic Chairman. The title was a mix of traditional superhero storytelling and satire, including the phrase "hideously deformed creature of superhuman size and strength" being repeated many times, and Toxie's "Tromatons" erupting when he was in danger similar to Spider-Man's spider-sense. Marvel's series also contained much in the way of "over-the-top", cartoonish violence. No other Marvel characters ever appeared in the series, and Toxie never made his way into any other Marvel comic, although a crossover with Marvel's RoboCop title was planned before that series was cancelled.
In July 2000, Troma published an extremely rare comic book entitled The New Adventures of the Toxic Avenger. This comic was offered to people who donate $75 or more to TromaDance 2007.
Kaufman and Adam Jahnke wrote a novelization entitled The Toxic Avenger: The Novel. It was released on May 10, 2006, and was published by Thunder's Mouth Press.
In October 2008, the world premiere of Kaufman's The Toxic Avenger debuted at the George Street Playhouse in New Brunswick, New Jersey becoming the highest-grossing musical in its 34-year history. The show was written by Tony Award winners Joe DiPietro and Bon Jovi's David Bryan and directed by Tony Award winner John Rando. The show had its New York premiere at the New World Stages in April 2009 and won the 2009 Outer Critics Circle Award for Best Off-Broadway Musical and an additional 18 nominations from the Drama League, Drama Desk, Lucille Lortel Awards (including Best Musical) and five Dora Award Nominations (the Canadian equivalent of the Tony Award) including Best Musical and a win for Best Actress in a Musical. The show was presented by Dancap Productions in Toronto in October 2009 and by Shownote and CJ Entertainment in Seoul, Korea in August 2010.
Earlier stage productions of the film include Toxic Avenger: The Musikill, with lyrics by Ira Kortum, who also directed and starred in the production, which premiered in Portland, Oregon. The music was composed by Martin J. Gallagher, with the assistance of Marc Rose. Kaufman reportedly had nothing to do with the production, although he did verbally support Kortum's adaptation and attended the production on Opening Night. Excerpts from Toxic Avenger: The Musikill are featured on the 21st Anniversary edition of the original film. Toxic Avenger: The Musical was presented at Omaha's Blue Barn Theatre in 2004. This production was written and directed by Rob Urbinati, with music by Kevin Saunders Hayes.
According to Kaufman, due to the remake of Mother's Day, major motion picture companies are interested in doing remakes of other Troma films. Among the titles currently in negotiations is The Toxic Avenger. On April 6, 2010, a remake of The Toxic Avenger was announced.
The remake, said to be aiming for a family-friendly PG-13 release similar to the Toxic Crusaders television series, is to be co-written and directed by Steve Pink. In May 2013, Arnold Schwarzenegger entered talks for a role in the film. Sometime in late 2013, Schwarzenegger dropped out to work on Terminator Genisys, but, as of February 2015, plans for the remake continued to circulate. On September 12, 2016, Variety reports that Conrad Vernon will direct the film, while Guillermo del Toro will executive produce along with Bob Cooper and Alex Schwartz of Storyscape Entertainment and Greg Lessans of Weed Road. Mike Arnold and Chris Poole are on board to rewrite the screenplay by Pink and Daniel C. Mitchell.