The Tale of Tsar Saltan (Russian: Ска́зка о царе́ Салта́не; tr.:Skazka o tsare Saltanye) is a 1984 Soviet traditionally animated feature film directed by Lev Milchin and Ivan Ivanov-Vano and produced at the Soyuzmultfilm studio. It is an adaptation of the poem of the same name by Aleksandr Pushkin. There are few words in the film besides those of the poem itself, which is read from beginning to end by the narrator and the voice actors. Some portions of the poem are skipped.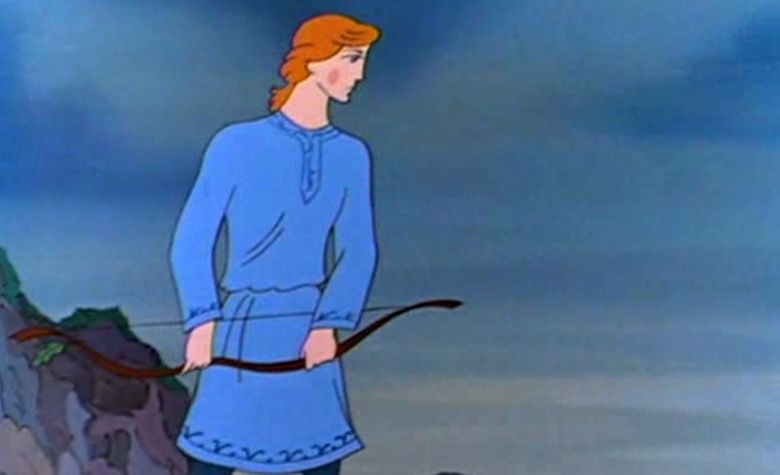 Here is how the director Yuriy Norsteyn spoke of Ivan Ivanov-Vano, mentioning this animated film:" Ivan Ivanov-Vano the first used motives and methods of folk art in animation. Study in Vkhutemas, education in traditions of the Russian vanguard, excellent knowledge of world art culture — all this affected in his creativity. From the point of view of art criticism mechanics, it would be possible to call him the formalist, he wasn't afraid to experiment. "The Humpbacked Horse" which became classics was such director's experiment. In it Ivanov-Vano connected everything: love to the Russian culture, poetry, knowledge of a profession, good possession of all arsenal of animation of that time. It turned Disney's technology into powerful action — the Russian movie. Here I was, of course, and a merit of the artist, Lev Milchin whom he didn't leave all life. "The Tale Tsar Saltan" became their latest work. It was the ideal tandem — irrepressible nature, the person soldier, the fanatic, the tyrant Vano and the intellectual to the core who wasn't affording anything superfluous, but everything Milchin, understanding, sharp to grotesque. For several decades its elements, its native habitat was the Russian fairy tale."
Nearly identical to that of the original poem.
Three maidens under a window spun late in the evening … And then much that was: both love, and slander, both treachery, and miracles, and set of magic adventures, and thirty three athletes, and, of course, happy end …
Adventures of the brave tsarevitch Gvidon, the great tsarevna-Swan and the tsar Saltan will remind that love, fidelity and strength of mind always win!
In the early nineties the film was released on videotapes by the film association Krupny Plan. In the mid-nineties it was issued on VHS Studio PRO Video in the collection of animated films fairy tales of Pushkin and "The Twelve Months", and separately Soyuz studio. In the 2000s it was released on DVD by the Krupny Plan and Soyuz studio, and the same in 2003 — in one of releases of "A gold collection of favourite animated films".