The Pregnancy Pact is a 2010 television film directed by Rosemary Rodriguez and starring Thora Birch, Madisen Beaty, and Camryn Manheim, based on the allegedly true story of a 2008 media circus surrounding teenagers in Gloucester, Massachusetts, who allegedly agreed to concurrently give birth and raise their children communally.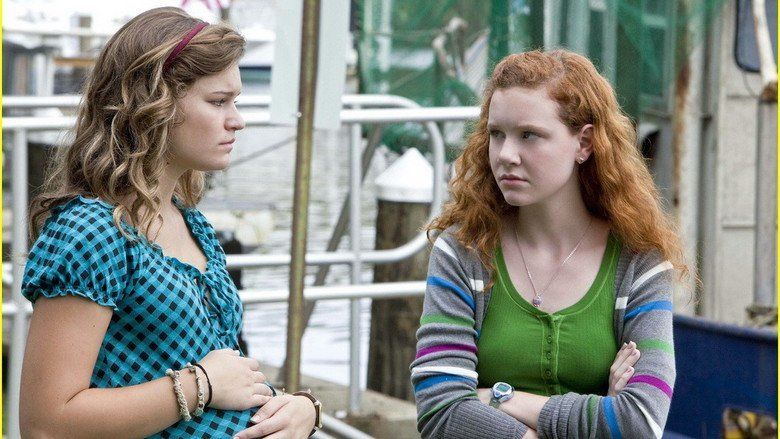 The 2011 French film 17 Girls is based on the same events.
28-year-old Sidney Bloom, an alumna of Gloucester High, publishes a video blog about teen issues. Learning that her old high school has reported ten to eighteen teen pregnancies in the last eight weeks, Sidney investigates the situation. Gloucester High nurse Kim tells Sidney that students have requested 150 pregnancy test kits in recent weeks. Nurse Kim requests birth control provided in the school, but her request is declined. When Sidney interviews local students, she encounters Sara, Karissa, Iris and Rose, who imagine an ideal life as mothers. Three of the four are already pregnant and urging the fourth, Sara, to imitate them.
Having permission from her mother Lorraine, Sara goes to her boyfriend Jesse's house, against the wishes of her father Michael, and becomes pregnant in fear of 'losing' Jesse's affection. Her friends are pleased; but Karissa's family is struggling financially, and her boyfriend leaves her upon learning of the pregnancy. When Sara's father learns the same of Sara, he accuses Jesse, and later quarrels with Lorraine. Sara and Lorraine's relationship deteriorates; whereafter Sidney consoles Sara. It is revealed that Sidney and a school faculty member, Brady, had a baby at the age of 16, which Sidney gave for adoption. Jesse tells Sara that his father is willing to pay for an abortion, while Sara asks him to cancel his plans for college and a career in baseball, in her favor.
Lorraine proposes a meeting of the school council to raise funds for the school's daycare; but Sidney, in attendance, asks instead for birth-control and reveals Sara's pregnancy, resulting in Lorraine resigning from the council. A news story in Time Magazine, quotes the school's principal, that the girls informed him of their hopes, and attracts other reporters. Sara and Rose confirm the story to Sidney. When Rose gives birth, her friends perceive the difficulties of labour when Rose requires 37 stitches to amend vaginal tearing.
Jesse and Lorraine having overheard Sidney asking Sara to publish her revelation, Jesse rejects Sara, who incapacitates herself by alcoholism but later reconciles with her parents. Lorraine convinces the school council to keep her on the board, and argues for the school to offer birth control and encourage abstinence. An epilogue, in Sidney's voice, reveals that the principal resigned as a scapegoat by the media, and that the school's daycare center is full and most girls will leave school for want of daycare; argues that parents must be particular when advising their children about reproduction, and wishes the new mothers 'the very best of luck'. The film ends with Sara happily raising her baby girl, with the support of her parents.
Thora Birch as Sidney Bloom
Madisen Beaty as Sara Dougan
David Clayton Rogers as Brady Leary
Max Ehrich as Jesse Moretti
James McCaffrey as Michael Dougan
Camryn Manheim a Nurse Kim Daly
Nancy Travis as Lorraine Dougan
Michelle DeFraites as Karissa
Jenna Leigh Hall as Iris
Erin Frederic as Kathleen Kingsbury; the Reporter
Kelly Heyer as Rose
Tim Powell as Principal Bachman
Ben Winchell as Troy
Of the two hundred and fourteen Lifetime Original Movies released up to 2011, The Pregnancy Pact was ranked as the fourth highest rated movie on Lifetime television.
The film uses actual news footage from the time of the story, including footage of Gloucester's then-mayor Carolyn Kirk accusing school principal Bachman of giving unverified information to Time magazine.