7.4

/

10

1

Votes

Alchetron

Rate This





Theme music composer

Monty Seward




First episode date

18 January 1995






Genre

Family sitcom




Country of origin

United States




Final episode date

25 July 1999






Created by

Robert Townsend Andrew Nicholls Darrell Vickers




Starring

Robert Townsend Suzzanne Douglas Reagan Gomez-Preston Curtis Williams Ashli Amari Adams Carol Woods (Season 1) Kenny Blank (Seasons 1-3) Bobby McGee (Season 1) Faizon Love (seasons 1–4) Tyrone Dorzell Burton (seasons 4–5) Kelly Perine (season 5)




Composer(s)

Christopher Tyng (seasons 1–2) Kenny Blank (seasons 3–5)




Networks

The WB, The WB 100+ Station Group




Cast

Robert Townsend, Reagan Gomez‑Preston, Curtis Williams, Suzzanne Douglas, Ashli Amari Adams
4x04 the parent hood beauty call
The Parent 'Hood is an American sitcom that aired on The WB airing from January 18, 1995 to July 25, 1999. The series starred Robert Townsend and Suzzanne Douglas. Originally to have been titled Father Knows Nothing (a parody of the title of the 1950s sitcom Father Knows Best), the series was one of the four sitcoms that aired as part of the original Wednesday night two-hour lineup that helped launch The WB network (along with The Wayans Bros., Unhappily Ever After and the short-lived Muscle).
Contents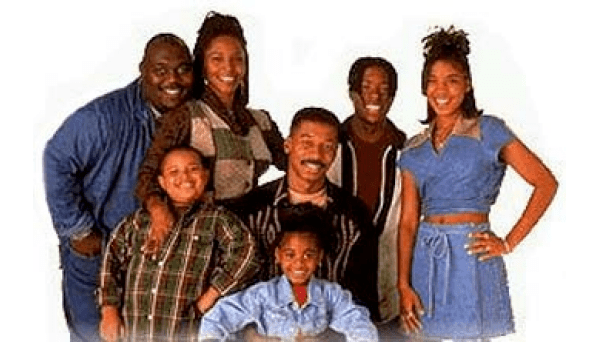 The parent hood wedding bell blues
Summary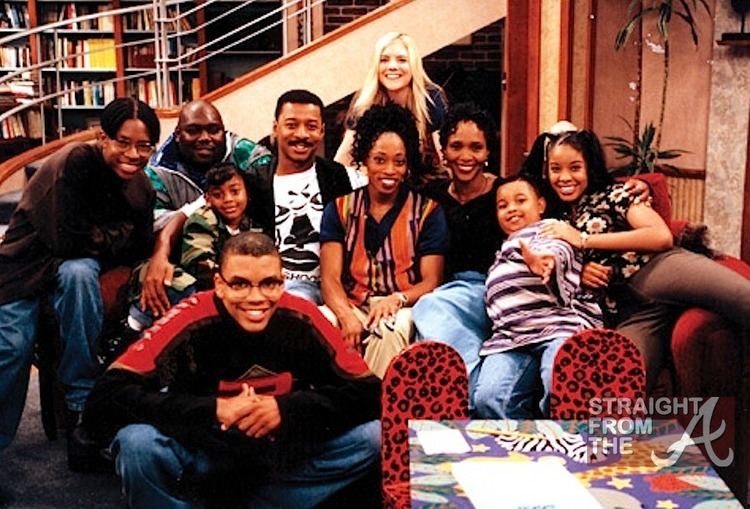 The series is about an upper middle-class black family in Harlem, New York City named the Petersons. Robert Peterson (Robert Townsend) is a college professor at New York University, and his wife Jerri (Suzzanne Douglas) is a law student. They try to balance their lives, their work, and their four children at the same time. The four kids span the ages from teens to toddlers. The oldest two, 16-year-old Michael (Kenny Blank) and 15-year-old Zaria (Reagan Gomez-Preston), are reaching that age where they're eager to spread their wings and are ready to experiment and avoid being seen with their not quite cool parents. Nicholas (Curtis Williams) is a bright eyed 8-year-old who is quickly discovering the joys of mischief. 4-year-old Cece (Ashli Adams) is the darling of the family. Offering his own offbeat point of view is Robert's childhood buddy, Wendell (Faizon Love). Robert's love for his kids - combined with his vivid imagination (prompting frequent fantasy sequences) and impulsive energy - propels him to do extraordinary things on their behalf as he continually dreams up nontraditional solutions to traditional family problems. Many critics from news organizations such as the Associated Press and The Atlanta Journal-Constitution often referred to the show as The Cosby Show of the 1990s.
Cast changes
Throughout its five season run, each season brought about cast changes, not all of which were explained. Carol Woods, who played Mrs. Wilcox, the housekeeper and Wendell's mother, left the series after the first season. Bobby McGee, who played one of Robert's childhood friends, also left the series at that time. Faizon Love, who was a recurring character in season one, became a regular in season two. In the fourth season, Kenny Blank, who played Michael Peterson, left the series; his character was explained to be off to college. Blank's departure also saw the exits of Nigel Thatch and Tasha Scott. Thatch played Shakeim, Zaria's militant but lovable boyfriend, and Scott played Theresa, who was Zaria's friend and the lead singer in Michael's band. Season three ended with a cliffhanger that was never explained, with Shakeim leaving to start Morehouse College early and Skye played by Shyheim, another member of Michael's band, confessing his feelings for Zaria. Shakeim decides to stay and attend NYU in the fall instead. As Zaria and Skye began to discuss the situation, Shakeim walks into the room, with Zaria running upstairs. Tyrone Burton was introduced as a street wise kid named T.K. in the season four premiere. The episode focused around him and his situation. Hollywood Insider reported that the series was slated to be cancelled by WB in May 1998, leaving another cliffhanger, but the network gave the series a last-minute 13 episode renewal for midseason. Faizon Love left the series at that time; he was replaced by Kelly Perine, who played Robert's brother, Kelly.
The later seasons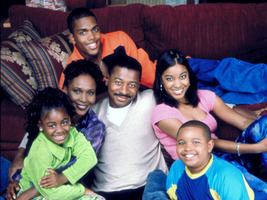 The show took a different turn at the beginning of the 1997–1998 season. Michael (Blank) was written out of the series with his absence was explained as him going off to college. With his oldest son at college, Robert allows a troubled teenager from juvenile hall to live with him and his family. T.K.'s father was an ex-convict, and his mother (Bern Nadette Stanis) was a drug addict who literally left him on the street. Jerri was the only person who didn't give up on T.K., and welcomed him into her home, even though Robert did not think it was a good idea. During this season, more teenage storylines were employed including domestic abuse, peer pressure and Robert reaching out to many of T.K.'s street friends trying to help them change their lives. One character, Boo played by the Rapper Da Brat, gets her high school diploma thanks to Robert and T.K.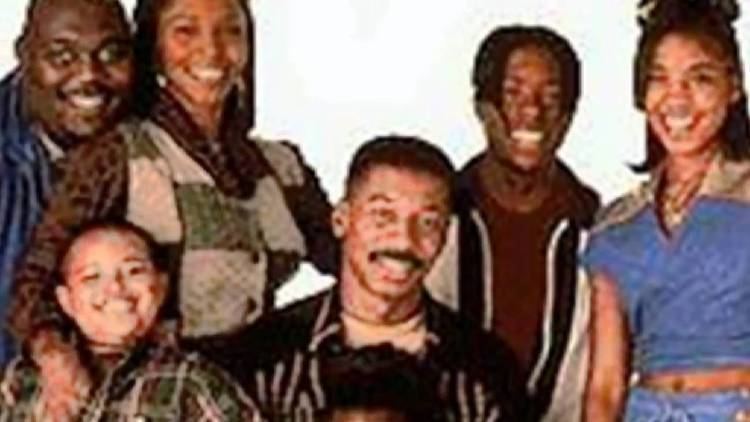 In the 1997–98 fourth season finale, T.K. gets into a fight with several thugs (Tyrese Gibson appears), and Robert tries to talk him out the situation. Robert and T.K. leave and the thugs fire the gun, ending the episode on a cliffhanger. The show's final season was placed on hiatus after the cliffhanger episode, and did not return until May 23, 1999, a year after the season finale aired. In the last couple of episodes in the fifth season, Jerri has finally had enough of T.K.'s mischief and has him removed from the house, but before he moves out of the house, T.K. and the family checks up on Robert, who has fallen into a coma. While in a coma, Robert meets a guardian angel named Max (Barry Sobel) and convinces Robert to change his mind about the shooting and T.K. Robert finally awakes from the coma and all is forgiven. In later episodes, T.K. is seen trying to get his act together. T.K. also sees his mom again one more time where he decides he wants to move back in with her but she relapses back into substance abuse. The Petersons tell T.K. their home is always open to him. In the last episode, which was not produced nor written as the last episode, Jerri and Robert renew their wedding vows and the cast is seen dancing in a Soul Train line before the final commercial break.
Cast
Robert Townsend – Robert Peterson
Suzzanne Douglas – Geraldine (Jerri) Peterson
Reagan Gomez-Preston – Zaria Peterson
Curtis Williams – Nicholas Peterson
Ashli Amari Adams – Cecilia "CeCe" Peterson
Kenny Blank – Michael Peterson (season 1–3)
Bobby McGee – Derek Sawyer (seasons 1)
Carol Woods – Mrs. Wilcox (season 1)
Faizon Love – Wendell Wilcox (season 1–4)
Tyrone Dorzell Burton – T.K. Anderson (season 4–5)
Kelly Perine – Kelly Peterson (season 5)
Syndication
In September 1999, The Parent 'Hood began in off-network syndication, with Warner Bros. Domestic Television Distribution handling syndication of the series. At that same time, Chicago-based national cable superstation WGN also began airing reruns of the sitcom, with the series airing until 2002 (when its broadcast syndication run also ended), FOR EXAMPLE, WPIX aired reruns of the show weekdays 2:30pm until August 31, 2001 when it was replaced with City Guys reruns on September 3, 2001; both the local Chicago feed and the national superstation feed of WGN aired The Wayans Bros. in first-run form from 1995 to 1999, when WGN aired WB programming nationally to make The WB available to markets where a local affiliate did not exist (The Parent 'Hood is one of four WB series to air on WGN in first-run and syndication form; The Wayans Bros., 7th Heaven and Sister, Sister are the others). Episodes aired on TBS from 2002 to 2007 as well as TV One. In January 2015, Bounce TV began airing reruns of the series.
References
The Parent 'Hood Wikipedia
(Text) CC BY-SA