The Monitors is a 1969 U.S. satirical science fiction film. Shot in Chicago, it was the first film production of the city's Second City comedy troupe and was coproduced and financed by the Bell and Howell film-equipment manufacturing company (then based in nearby Skokie) in an effort to establish Chicago as a film production center. It is based on the novel of the same name by Keith Laumer.
Contents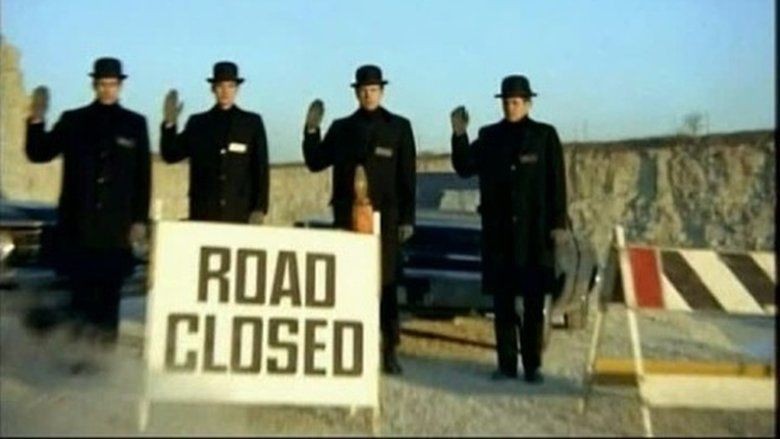 Synopsis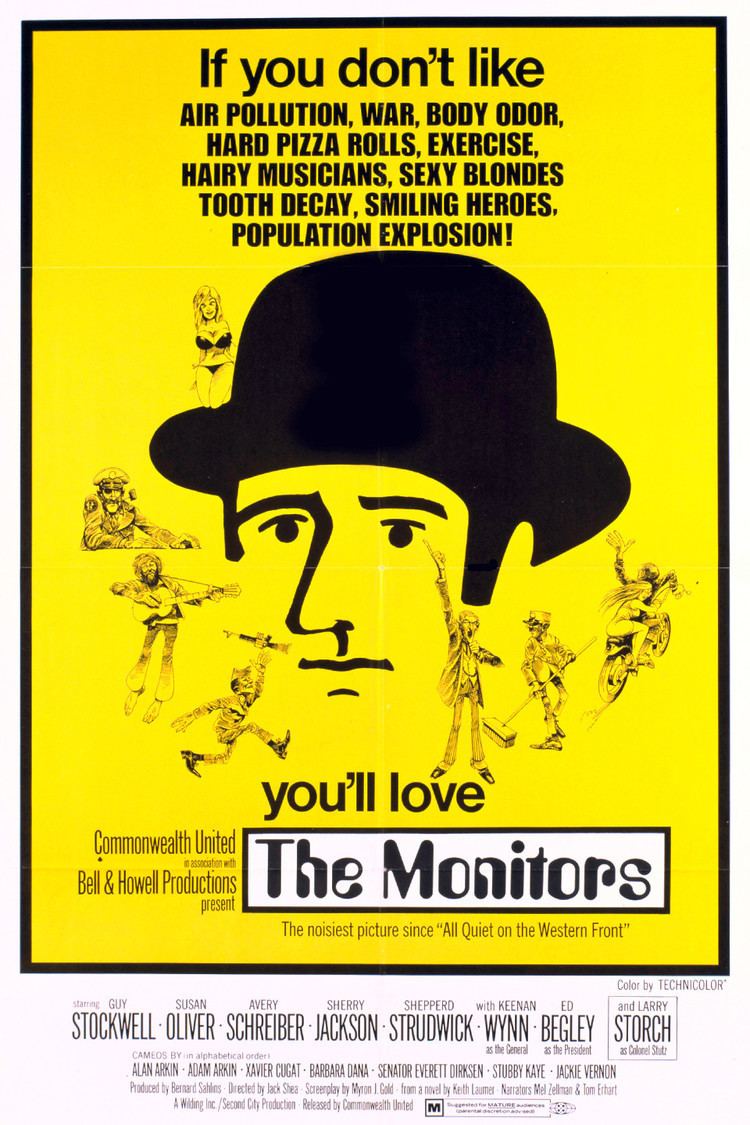 Earth has been taken over by a benign group of aliens known as the Monitors, gentlemanly figures clad in black overcoats and bowler hats. They are dedicated to suppressing humanity's propensities for violence, sex, war, and trouble, enforcing their ethos with spray cans of a pacifying gas and with television ads praising the Monitors' rule—the latter featuring cameos by a variety of comedic actors, as well as bandleader Xavier Cugat and Illinois senator Everett Dirksen (who died before the film's release).
A conflict with the Monitors, inspired by the outrageous antics of a street preacher (Larry Storch), leads to the flight of movie actress Barbara (Susan Oliver), who is a somewhat reluctant collaborator with the Monitors, along with free-lance pilot Harry (Guy Stockwell) and Harry's brother Max (Avery Schreiber), and their spiriting away by the "preacher", who turns out to be a leader of S.C.R.A.G., or "Secret Counter Retalitorial Group", an anti-Monitor resistance group. After a series of vicissitudes, with Harry among the Monitors and Barbara and Max among the S.C.R.A.G. forces, the principals are reunited and, minus Barbara, fly off to Washington, D.C., in an attempt to foil a S.C.R.A.G. plot to bomb Monitor headquarters.
The Monitors, who have been aware of all these events, have decided that human beings are not worthy of their leadership, and they depart. Humanity is free to return to its violent and corrupt ways.
Cast
Guy Stockwell as Harry
Susan Oliver as Barbara
Avery Schreiber as Max
Sherry Jackson as Mona
Shepperd Strudwick as Tersh Jeterax (Monitor leader)
Keenan Wynn as The General
Ed Begley as The President
Larry Storch as Colonel Stutz
Adam Arkin – cameo
Alan Arkin – cameo
Xavier Cugat – cameo
Barbara Dana – cameo
Everett Dirksen – cameo
Stubby Kaye – cameo
Jackie Vernon – cameo
Reception
In his review of The Monitors, the New York Times reviewer Howard Thompson remarked that the film "clips along with considerable verve" but that the "endless wisecracks seem none too wise or witty, or, for that matter, new". The entry on the film in The Encyclopedia of Science Fiction, on the other hand, calls it "an oddity, which flopped badly".
The film scholar Vivian Sobchack has noted that the "short and simple jingle dealing with the Monitors and their ability to bring happiness" used recurrently in the film serves to spoof "the incantations and sacred songs attendent [sic] to the selling of material goods and politicians".
References
The Monitors (film) Wikipedia
(Text) CC BY-SA
The Monitors (film) IMDb
The Monitors (film) themoviedb.org