7.4

/

10

Alchetron

Rate This




Initial DVD release

September 12, 2000




Duration




Country

United Kingdom Russia United States






Genre

Animation, Biography, Drama




Music director

Anne Dudley




Writer

Murray Watts




Language

English







Director

Derek W. Hayes Stanislav Sokolov




Release date

31 March 2000 (2000-03-31)




Initial release

March 31, 2000 (United Kingdom)




Directors

Stanislav Sokolov, Derek W. Hayes




Cast

Ralph Fiennes

(Jesus),

Michael Bryant

(God/ The Doctor),

Julie Christie

(Rachel),

Rebecca Callard

(Tamar),

James Frain

(Thomas),

Richard E. Grant

(John The Baptist)


Similar movies

The Apocalypse

,

Marching to Zion

,

Revelation - The Bride, The Beast & Babylon

,

The Passion of the Christ

,

Monty Python's Life of Brian

,

Jesus of Nazareth



The miracle maker trailer mp4
The Miracle Maker is a stop motion-animated film about the life of Jesus Christ, through the eyes of Tamar; the terminally ill daughter of a priest in Capernaum. Hand-drawn animated cartoons are used to distinguish flashbacks, parables, stories, spiritual encounters and visions from the main plot, which is all in stop motion. (The daughter of Jairus is not named in the New Testament.)
Contents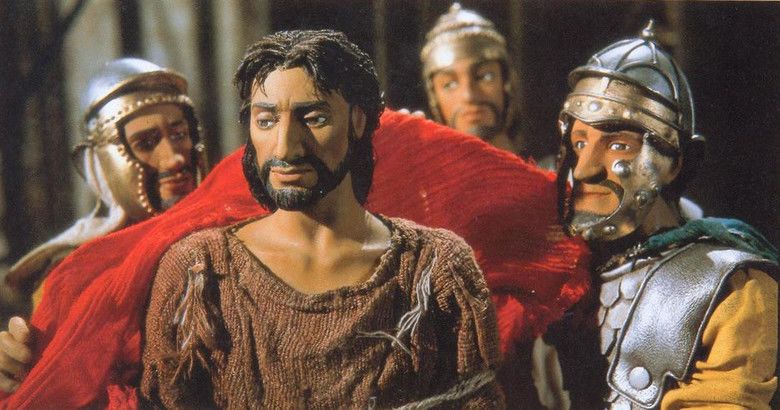 The film was directed by Derek Hayes and Stanislav Sokolov. It stars the voice of Ralph Fiennes as Jesus, and numerous other well-known actors.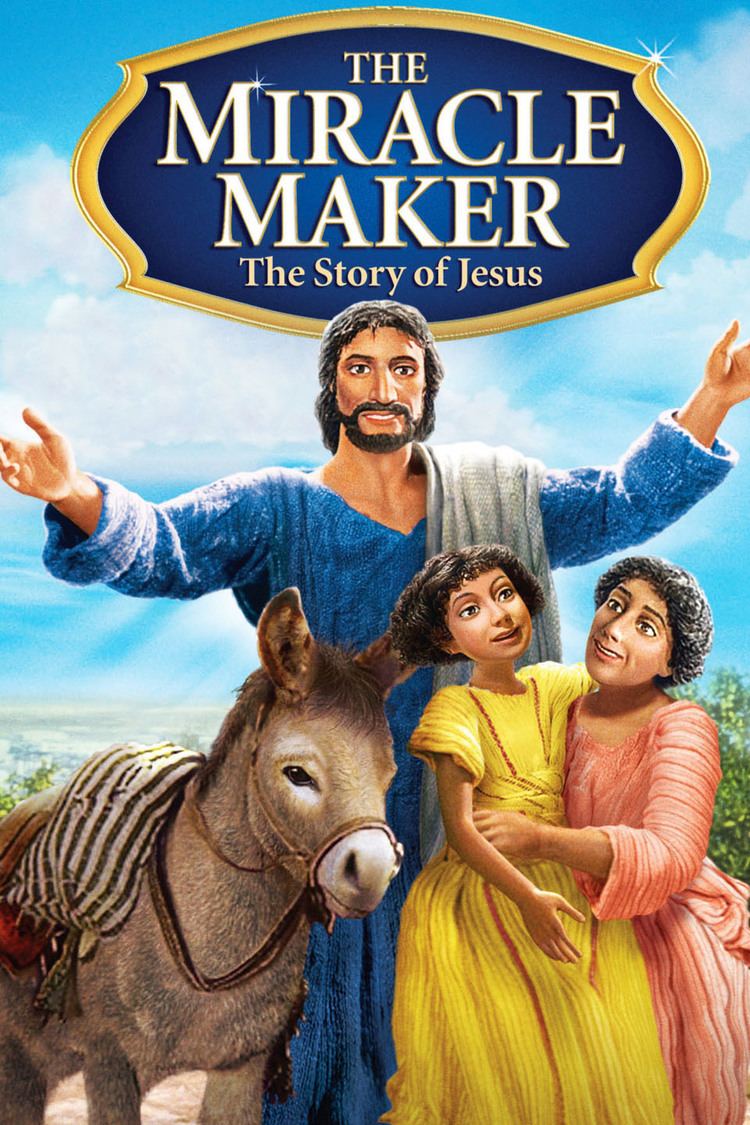 The film ends with Anne Dudley's "Pie Jesu" for solo boy soprano and orchestra.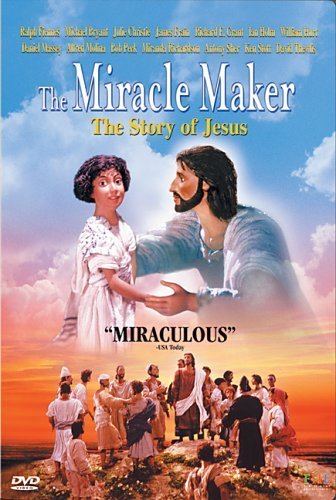 The miracle maker official trailer 1999
Jesus leaves home and prepares to start 'His Father's Work'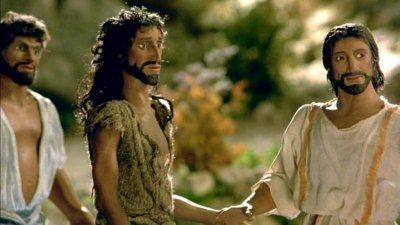 The film opens in 'Sepphoris, Upper Galilee, Year 90 of the Roman Occupation.' Jairus and his sick daughter Tamar are travelling to meet their friend Cleopas, who knows a doctor that may be able to help Tamar. However, the doctor is only able to offer painkillers, confiding to Jairus that there is nothing else which can be done. While Jairus is with the doctor, Tamar witnesses Jesus, one of the carpenters building a new synagogue, protect a deranged woman, Mary Magdalene, from being attacked by the townspeople. Jesus leaves his job, and goes to visit his mother, Mary. While he is there, Mary recalls his birth, the visit of the Wise Men, and how a young Jesus went missing during Passover and was found conferring with the elders at the Temple, who were amazed at his understanding of the scriptures. After leaving his mother's house, Jesus travels to the Jordan River to be baptised by John the Baptist. When Jesus rises out of the water, a voice from Heaven declares, "This is my beloved son," and the Holy Spirit descends on him as a dove. After his baptism, Jesus wanders out into the wilderness, where he is repeatedly tempted by Satan. After Jesus rebukes Satan temptations and leaves the wilderness, he is met by his friend Lazarus. Jesus returns to Lazarus' home, where he is hosted by Lazarus' sisters, Martha and Mary.
Jesus begins his Ministry in Galilee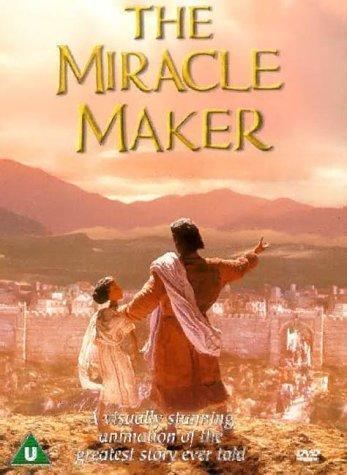 Jesus begins preaching the Sermon on the Mount in the fields near Capernaum. Tamar and her mother Rachel happen to be nearby, and Tamar wishes to stay and listen to Jesus, remembering him from her visit to Sepphoris. Jesus tells the Parable of the Wise and the Foolish Builders, while many priests listen on and debate the legitimacy of Jesus and his teachings. Tamar's illness worsens, and her mother takes her home despite Tamar's protests. Meanwhile, Judas and other zealots, including Barabbas, are plotting an uprising against the Romans in a cave nearby. Judas thinks Jesus is the Messiah come to deliver them from the Romans, and that the people will follow him to a glorious victory. He leaves the other zealots to follow Jesus, who mock him and believe he's chasing after foolish dreams.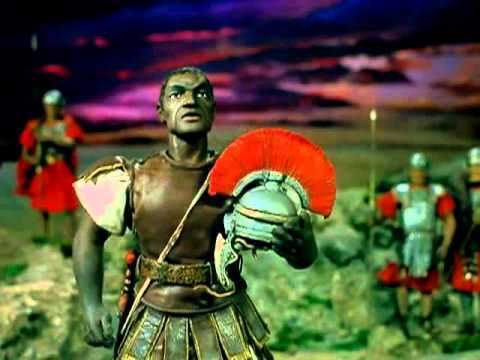 Shortly afterward, Mary Magdalene is being harassed by the tax collector, Matthew, for not paying the tax to cross the border from Judea into Herod's Kingdom. Four fishermen, Simon, Andrew, James and John also confront Matthew, angry at having to pay taxes despite not having caught any fish. Jesus arrives, which excites Andrew but evokes scepticism from Simon. Jesus commandeers Simon and Andrew's boat to preach to the crowd from the water, and tells the Parable of the Mustard Seed. After the crowds have gone, Jesus tells the fishermen to row out into the deep and cast their nets. Simon protests, explaining that no one catches fish in the middle of the day as they hide from the sunlight, but eventually complies to appease Jesus. Much to the fishermen's surprise, they haul in an extremely large catch. Simon tearfully recognises Jesus as the Messiah, and Jesus says he will make him a fisher of men.
Jesus teaches, performs miracles and upsets the authorities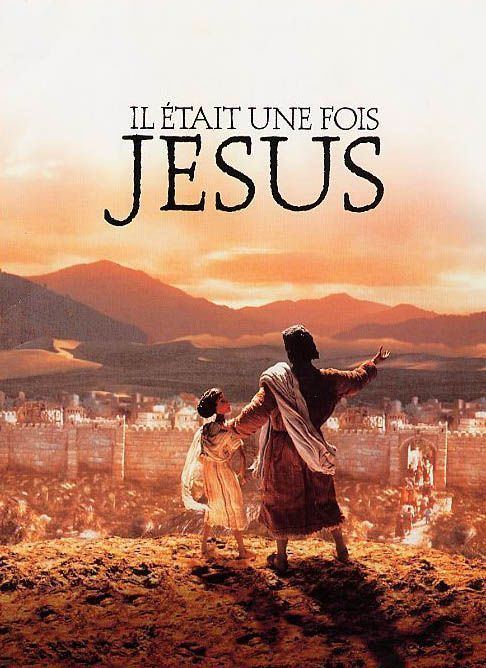 Simon the Pharisee, an elder of the Capernaum Synagogue, is visited by Ben Azra, one of the Temple priests, worried about the possibility of Jesus causing a revolt. He says Jesus is more dangerous than John the Baptist and hints that John has already been 'dealt with'. Nearby, Tamar is resting on a balcony, watching a crowd of people swarming a house where Jesus is teaching. Simon the Pharisee and Ben Azra join the crowds to listen to Jesus. A group of men carrying their paralytic friend on a stretcher try to fight their way through the crowd so that Jesus may heal their friend, but find it impossible to make their way to the door. As Jesus teaches using the example of a man with a plank in his eye trying to remove a speck from another's eye, the men with the paralytic friend dig their way through the roof and lower their friend in front of Jesus. Jesus forgives the sins of the paralytic man, and heals him. Tamar and her family watch as the healed man dances through the streets. That night, Jesus encounters Mary Magdalene outside the town and casts several demons out of her. The next day, Jesus chooses his twelve apostles and changes Simon's name to Peter. Shortly afterward, the leaders of the synagogue have invited Jesus and his disciples to their house to question him. Mary Magdalene enters and washes Jesus' feet with her tears, drying them with her hair. Jesus tells her her sins are forgiven, causing Ben Azra and Simon the Pharisee condemn Jesus as being in league with the Devil.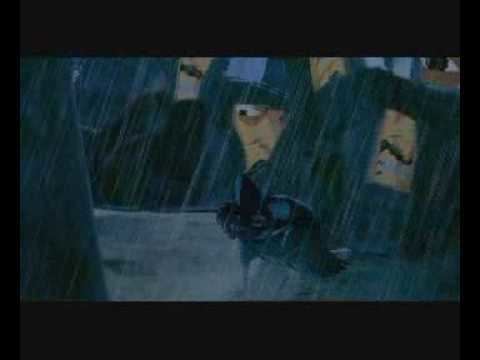 Tamar's illness worsens, but Jairus is hesitant to take her to Jesus as the leaders of his synagogue claim that anyone who follows Jesus is an enemy of God. Rachel pleads with Jairus to find Jesus and ask him save their daughter. Jairus agrees to go to Jesus, and pleads with him to heal Tamar. On the way to Jairus' house, a woman with internal bleeding reaches out to touch Jesus's robe and is cured. Just before they arrive at Jairus' house, servants come to tell Jairus that Tamar is dead. Jesus encourages Jairus to remain faithful, enters the house, and raises Tamar, who awakens fully healed. Jairus, Rachel, Cleopas, and Tamar begin to follow Jesus' as well. Jesus learns that King Herod has killed John the Baptist and mourns for him, while Ben Azra meets with Herod about Jesus.
Jesus goes to Jerusalem
Jesus and all his followers begin to make the journey from Capernaum to Jerusalem for the Passover festival. Meanwhile, Pilate and his Centurion prepare for an influx of pilgrims in Jerusalem, and discuss the suppression of an uprising and the capture of Judas' friend Barabbas. Jesus teaches his followers on the road and tells the Parable of the Good Samaritan. A rider comes to Jesus and tells him his friend Lazarus is dying, begging him to come. Jesus does not go immediately, which confuses and upsets Tamar. A short time later, Ben Azra rushes to Caiaphas and explains that he witnessed Jesus raise Lazarus from the dead. Despite Ben Azra's apprehensions about the Jews possibly following a man as powerful as Jesus in an uprising against Rome, Caiaphas reasons that Jesus can be disposed of, placating Caesar's anger against the Jews.
Jesus enters Jerusalem, followed and greeted by adoring crowds. Judas begins to become disillusioned with Jesus, as the sight of Jesus on a donkey and people singing and waving palm branches does not fit his idea of a conquering army. Jesus and his disciples go to the Temple, where Jesus becomes enraged at the sight of the merchants who have set up shop inside. Jesus proclaims the Temple to be a house of prayer and turns the tables of the traders. The temple priests begin to plot to subdue Jesus, while the elders try to trick Jesus by asking him whether or not it is right to pay taxes. Jesus points out that Caesar's portrait and title are on the denarius, and proclaims that people should "give to Caesar what belongs to Caesar, but give to God what belongs to God!" When Judas hears Jesus validate the payment of taxes to the Roman Empire, encounters Barabbas in prison, and hears Jesus say predict his death, he despairs and resolves to betray Jesus to save himself. He goes and offers his services to Ben Azra, who is looking for a way to arrest Jesus away from the crowds.
Jesus is condemned and crucified
Jesus and his followers eat the Last Supper in secret, where Jesus tells his disciples they will abandon him. Jesus instructs Judas to do what he has to do, and Judas slips out to lead the authorities to Jesus. When they have finished supper, Jesus and his followers gather around fires outside. Cleopas and Jairus ask Jesus to explain all that they don't understand, to which Jesus replies that they will understand soon. He takes Peter, James and John to pray with him in the Garden of Gethsemane. Jesus goes off a bit further by himself, where he prays earnestly and is tempted by Satan to flee while he still can. Jesus refuses, and prays for God's will to be done. Judas returns and leads the authorities to Jesus, who is arrested by the Temple Guard while the disciples flee. Jesus is tried by Caiaphas and the Sanhedrin, who send him to Pilate. Despite having an intense dislike for the Jews, Pilate finds no case against Jesus and sends him to Herod. Herod mocks Jesus and sends him back to Pilate. Judas is overwhelmed with guilt and tries to appeal to Ben Azra, who dismisses him and asserts that what Judas has done is his own problem. Ben Azra gathers a crowd and instructs them to call for the crucifixion of Jesus and the release of Barabbas, despite Pilate's reluctance to do so. Caiaphas blackmails Pilate into condemning Jesus to death. Jairus learns what has happened and Jesus's followers run into Jerusalem, but are unable to interfere. Jesus is led up to Golgotha and crucified, while his followers look on. As Jesus dies, the sky goes dark and he proclaims 'It is finished'. The curtain in the temple that separates the Holy of Holies from the rest of the temple is torn in two.
Jesus rises from the dead
The disciples bury Jesus and mourn for him. Mary Magdalene returns to the tomb on Sunday morning and finds the body is gone. She encounters Jesus in the garden and goes to tell the other disciples, who believe she is mad. Peter goes to the tomb and also encounters Jesus. He tells the other disciples that he, too, has seen Jesus, but Thomas is sceptical. Cleopas and Jairus arrive, and tell the disciples that they encountered Jesus on the road to Emmaus. Thomas declares that they have all gone mad, and that he will not believe unless he sees Jesus and touches his wounds. Just then, Jesus appears, and Thomas also believes. Some time later, Jesus appears among all his followers on a mount, gives the Great Commission, and then ascends into heaven. A child asks where Jesus has gone, and Tamar explains that the Kingdom of God has come, and that Jesus will be with them forever.
Broadcast UK history
S4C (November 28, 2001 Repeated until June 14, 2006) (S4C's Welsh Also known as S4C's Wales: Welsh television network S4C as Gwr y Gwyrthiau.)
BBC1 (April 30, 2002 – Repeated until June 14, 2006)
S4C And BBC1 (November 28, 2001 Repeated until June 14, 2006)
Reception
On Rotten Tomatoes, it has 86 % indicating generally "favorable reviews". Renee Schonfeld wrote it was "Birth of Christianity artfully animated; biblical violence."
References
The Miracle Maker (2000 film) Wikipedia
(Text) CC BY-SA
The Miracle Maker (2000 film) IMDb
The Miracle Maker (2000 film) themoviedb.org