7.8

/

10

Alchetron

7.8

Rate This





First episode date

5 June 2014




Network

Nickelodeon




Created by

Chris Savino


Program creator

Chris Savino




Genre

Animated television series




Directed by

Chris SavinoKyle Marshall




Voices of

Grant Palmer (2016)Collin Dean (2016–present)Catherine TaberLiliana MumyNika FuttermanCristina PucelliJessica DiCiccoGrey GriffinLara Jill MillerCaleel Harris


Theme music composer

Michelle LewisDoug RockwellChris Savino




Ending theme

Credits Theme by Freddy Horvath and Chris Savino




Opening theme

"In the Loud House" by Michelle Lewis, Doug Rockwell, and Chris Savino


Voices

Catherine Taber, Liliana Mumy, Nika Futterman





Similar

SpongeBob SquarePants, The Fairly OddParents, Gravity Falls




Profiles




Facebook

Instagram
The Loud House is an American animated television series created by Chris Savino for Nickelodeon. The series revolves around the chaotic everyday life of a boy named Lincoln Loud, who survives as the middle child and only son in a large family of eleven children. The series premiered on May 2, 2016.
Contents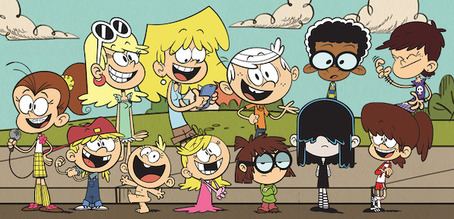 The series originated from a two-minute short film created by Savino in 2013 for the annual Animated Shorts Program as a pitch to the network, and was greenlighted for production the following year. The series is based on Savino's childhood growing up in a large family and its animation is largely influenced by newspaper comic strips.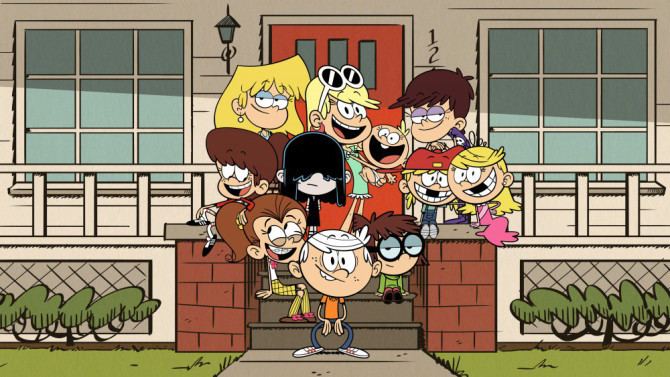 Premise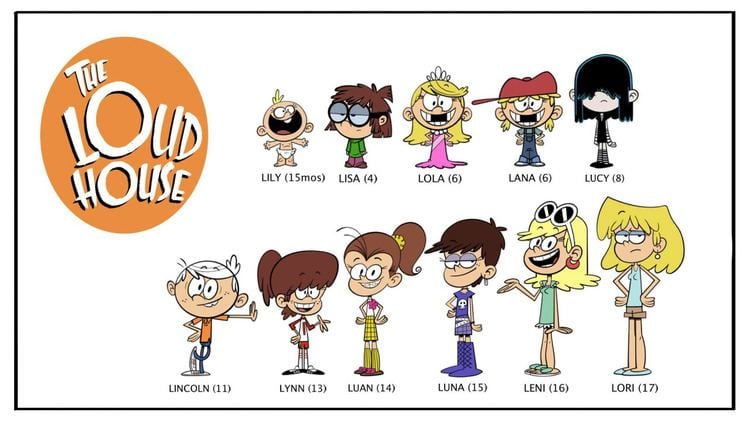 The series revolves around the children of the large Loud family. At the center is middle child and only son Lincoln, an average boy who must contend with the antics of his ten dysfunctional sisters—eldest child Lori; fashionista Leni; guitarist Luna; comedienne and practical joker Luan; athlete Lynn; goth Lucy; polar-opposite twins girly Lola and tomboy Lana; genius Lisa, and baby Lily.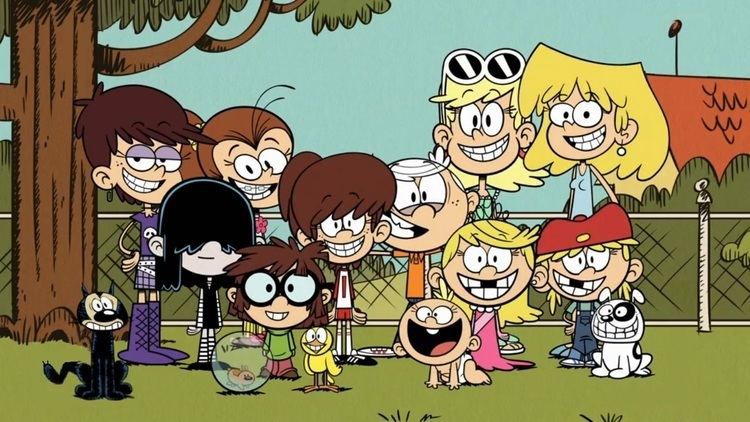 Lincoln occasionally breaks the fourth wall to explain to viewers of the chaotic conditions and sibling relationships of the households, and continually devises plans to make his life in the house better.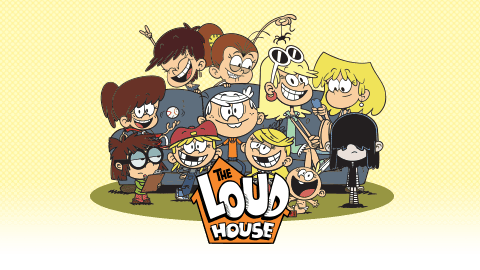 The series is set in the fictional town of Royal Woods, Michigan (a spoof on creator Chris Savino's hometown of Royal Oak).
Main characters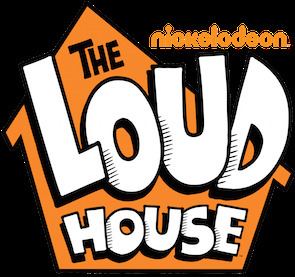 Lincoln Loud (voiced by Sean Ryan Fox in the pilot, Grant Palmer in episodes 1–22, Collin Dean in episodes 23–present) — The 11-year-old middle child and only son of the Loud family, who has white hair and a chipped front tooth. Lincoln has a passion for comic books and is often shown reading them in his underwear. He breaks the fourth wall on a regular basis by speaking to the audience about the chaotic conditions of his household.
Lori Loud (voiced by Catherine Taber) — The 17-year-old eldest child of the Loud family and the only Loud child with a driver's license. Lori is depicted as a bossy, short-tempered, sarcastic, and cynical teenager who is condescending towards her younger siblings. Despite this, she cares deeply about her family. Lori is usually seen holding her smartphone and has a boyfriend named Bobby.
Leni Loud (voiced by Liliana Mumy) — The 16-year-old second-eldest child of the Loud family. Leni is depicted as a beautiful, ditzy and air-headed dumb blonde who shows talents in fashion designing, wood-carving, and lock-picking. Leni has a fear of spiders that is referenced in multiple episodes, most notably "Along Came a Sister."
Luna Loud (voiced by Nika Futterman) — The 15-year-old third-eldest child of the Loud family. Luna has a habit of speaking in a British accent. She is a wild and upbeat musician and owns various instruments, with her signature instrument being the rock guitar. She very closely follows the words of her idol Mick Swagger and always encourages her family to "stay cool." In the episode "For Bros About to Rock," it is revealed that Luna has ruined all of her siblings' first concerts. She also appears to hold the youngest child Lily the most out of her other siblings.
Luan Loud (voiced by Cristina Pucelli) — The 14-year-old fourth-oldest of the Loud family and the comedian of the bunch. Most of her dialogue consists of bad puns much to the disdain of her siblings. She has braces, wears squirt-flowers on her shirt and shoes, owns a ventriloquist dummy named Mr. Coconuts, and at some times will be seen with a camera. Every April Fools Day, Luan becomes a prank-obsessed maniac, leaving her family and Clyde in complete fear of the holiday.
Lynn Loud Jr. (voiced by Jessica DiCicco) — The 13-year-old fifth-oldest child of the Loud family, who is the athletic one and the youngest teenager. She tends to start competitions among her siblings and plays a Variety of sports. Lynn is named after her father who addresses her as "Lynn Jr." in the episode "Overnight Success".
Lucy Loud (voiced by DiCicco) — The 8-year-old fifth-youngest child of the Loud family. Lucy is a gothic girl with interests in poetry, séances, and gothic fiction. She has pale skin and long black hair that conceals her eyes. Lucy also has an uncanny ability to suddenly appear in places, which often frightens her siblings. In the episode "Sleuth or Consequences," it is revealed that she reads "Princess Pony" books because, as she puts it, she "needs a break" from her gothic lifestyle once in a while.
Lana Loud (voiced by Grey Griffin) — The 6-year-old fourth-youngest child of the Loud family and the identical twin sister of Lola. Lana was born two minutes before Lola and has a gap in her upper teeth. She is a fun-loving tomboy who loves to get her hands dirty, which often annoys Lola. She is also a skilled handyworker and takes care of many exotic reptiles that she keeps in her room. In "Baby Steps," it is revealed that Lana is afraid of heights.
Lola Loud (voiced by Griffin) — The 6-year-old third-youngest child of the Loud family and the identical twin sister of Lana where she has a gap in her upper teeth. Lola is a bratty girly girl who is skilled at plotting and scheming to get her way. She assumes the role of an antagonist if her siblings, particularly Lincoln, anger her in any way. Lola is mostly seen wearing a dress that conceals her legs. She is constantly entered in child beauty pageants and is the tattletale of the group.
Lisa Loud (voiced by Lara Jill Miller) — The 4-year-old second-youngest child of the Loud family and a child prodigy who graduated from college early. She enjoys solving complex equations and math problems and performing elaborate experiments, often using her siblings and Clyde as test subjects. She wears round glasses, speaks with a lateral lisp, and laughs maniacally when performing experiments. As seen in "Heavy Meddle" and "11 Louds a Leapin'," Lisa is almost always devoid of emotions. In "April Fools Rules," it is revealed that Lisa's middle name is Marie. In "Snow Bored," it is revealed that Lisa has connections to NASA.
Lily Loud (voiced by Griffin) — The 1-year-old baby who is the youngest child of the Loud family. Lincoln shares a special connection with Lily and babysits her on several occasions. Lily can walk independently and always be occasionally carried by any of her older siblings or her parents for longer distances. She has a habit of losing her diaper and the only phrase she utters aside from gibberish is "poo-poo," generally coupled with her diaper flying across the screen. Lily is always depicted barefoot.
Clyde McBride (voiced by Caleel Harris) — A nerdy 11-year-old boy who is the best friend of Lincoln and the adoptive son of Howard and Harold. He is an African-American only child and spends almost all of his Time with Lincoln. He owns a walkie-talkie that he uses on missions. Clyde shares many interests with Lincoln such as video games and science fiction movies. He harbors an unrequited crush on Lori and tends to faint when she talks to him. Early in the show's development, when the Loud family was composed of anthropomorphic rabbits, Clyde was going to be a beaver.
Major recurring characters
Lynn Loud, Sr. (voiced by Brian Stepanek) — The father of the Loud children. His whole face is unseen until the second season. Lynn Sr. often breaks up fights between his children before it goes too far. In "Along Came a Sister", it is revealed that he has a fear of spiders like Leni. At the end of "Ties That Bind," it is revealed that Lynn Loud Sr. can only eat gluten-free foods. In "A Novel Idea", Lynn Sr. is shown to work at an office building. In "Cover Girls", it is revealed that Luan inherited her bad sense of humor from him. In "Study Muffin", it is implied that Luna gets her British accent from him.
Rita Loud (voiced by Jill Talley) — The mother of the Loud children. Her whole face is also unseen until the second season. She is the only Loud whose name does not begin with "L". Rita is caring towards her children, but is not afraid to punish them if their fighting goes too far. Rita is shown to be more level-headed than Lynn Sr. In "A Novel Idea", Rita works as a dental assistant and is writing a novel that could lead to a different career path. In "Cover Girls", it is revealed that Rita met Lynn Sr. when she was working as a crossing guard.
Howard and Harold McBride (voiced by Michael McDonald and Wayne Brady) — Clyde's overprotective fathers who care deeply about their son's well-being. Howard has red hair and buck teeth while Harold has thinning black hair and wears a sweater vest with a bow tie. They shower Clyde with attention and rarely let him do anything unsupervised. Howard tends to get overemotional while watching his son grow up and is rather neurotic. Harold is a skilled chef who acts more calm and collected.
Roberto "Bobby" Alejandro Martinez-Millan Luis Santiago Jr. (voiced by Carlos PenaVega) — A 17-year-old who is Lori's boyfriend and older brother of Ronnie Anne. He does various odd jobs like grocery store stockboy, lifeguard, mall security guard, pizza delivery man, department store worker, and tour guide. In "Save the Date", it is revealed that Bobby will retaliate if Ronnie Anne is offended in some way.
Ronnie Anne Santiago (voiced by Breanna Yde) — The younger sister of Bobby who is Lincoln's schoolmate. She is very tough and enjoys skating, video games, and pranks. Ronnie becomes Lincoln's girlfriend in "Save the Date."
Pets
Charles — The Loud family's pit bull terrier, who is named after Charles M. Schulz. He is often shown sleeping in Lincoln's room.
Cliff — The Loud family's pet short-haired cat, who is named after Cliff Sterrett.
Geo — The Loud family's pet hamster, who is named after George McManus. He normally travels in a hamster ball.
Walt — The Loud family's pet canary, who is named after Walt Kelly. He always has an angry expression on his face.
Minor recurring characters
Mrs. Agnes Johnson (voiced by Susanne Blakeslee) — The fifth-grade classroom teacher of Lincoln and Clyde.
Mr. Grouse (voiced by John DiMaggio) — The elderly neighbor of the Loud family. In "11 Louds a Leapin'", it is revealed that Mr. Grouse tends to confiscate any items of the Loud siblings that end up on his property. Also, it is revealed that Mr. Grouse has an extended family that he can barely pay a visit to due to financial difficulties. In "Lock 'N' Loud", it is revealed that Mr. Grouse is allergic to walnuts as he warns Lynn Loud Sr. not to bribe him with food that has walnuts in them the next time he wants him to fake being robbed.
Chunk (voiced by John DiMaggio) — A large, burly man with a British accent and a nose ring who is Luna's roadie.
Cristina — One of Lincoln and Clyde's classmates whom Lincoln initially has a crush on and has not had any lines in the series yet.
Dr. Lopez — Clyde's therapist who is never shown on screen. Clyde frequently calls Dr. Lopez and describes her teachings to Lincoln. Clyde dresses up as her in "Brawl in the Family".
Flip (voiced by John DiMaggio) — The enthusiastic and somewhat stingy owner of a downtown gas station and convenience store called "Flip's Food & Fuel".
Mick Swagger (voiced by Jeff Bennett) — A rock star that Luna idolizes. His name is a parody of Mick Jagger.
Albert "Pop-Pop" (voiced by Fred Willard) — The father of Rita Loud and the maternal grandfather of the Loud siblings. He is near-sighted and tends to forget to put on his glasses which he wears around his neck. Although he lives at Sunset Canyon Retirement Home, Pop-Pop is still energetic.
Aunt Ruth (voiced by Grey Griffin) — The ugly-looking overweight aunt of Rita Loud and the great-aunt of the Loud siblings who has a sixth toe on her left foot and is a cat lady. Whenever the Loud family goes to visit her, she has the children watch over her cats, eat old pudding, and massage her feet (done by Lincoln, much to his disgust).
Concept and production
The Loud House was created by Chris Savino for Nickelodeon. Savino based the series on his own experiences growing up in a large family. In development, the Loud family were composed of rabbits, until Savino understood the show would become human. He pitched the idea to Nickelodeon in 2013 as a 2½-minute short for their annual Animated Shorts Program. In June 2014, Nickelodeon announced that The Loud House had been picked up for a season of 13 episodes. The episode order was later increased to 26. On May 25, 2016, Nickelodeon announced that the series had been picked up for a second season of 14 episodes later increased to 26. On October 19, 2016, the show had been picked up for a third season of 26 episodes.
Broadcast
The series debuted on Nickelodeon on Monday, May 2, 2016 at 5:00PM (ET/PT), with new episodes premiering every weekday that month. The first trailer for the series premiered on March 13, 2016. The show is also aired on AFN Family.
Internationally, the series premiered in Israel and Italy on May 15. It premiered in Latin America, Brazil, Poland, Germany, France and Africa the following day. It began airing in Southeast Asia on May 20. Australia, New Zealand, the United Kingdom and Ireland's Nickelodeon channels premiered the show on May 30. In Canada, YTV aired a sneak peek of the series on September 5, 2016, which was followed by an official premiere on September 6, 2016.
Ratings
The Loud House became the number-one children's animated series on television within its first month on the air. Throughout May 2016, it received an average of 68% more viewers in its target audience of children aged 6–11 than broadcasts on Nickelodeon in May of the previous year. It became the network's highest-rated program (as of June 2016) after SpongeBob SquarePants, holding an average Nielsen rating of 4.9 among the 2–11 demographic at the time.
The Los Angeles Times cited The Loud House as a major factor in maintaining Nickelodeon's position as the highest-rated children's network in summer 2016. During the show's fourth week of premieres, Cyma Zarghami announced that it was continuing to draw more viewers than any other program on the channel.
The show's highest-rated episode, with 2.28 million viewers upon its premiere, is "Two Boys and a Baby." This was the first episode to air after it was announced that Howard and Harold McBride would be debuting on the program. The first episode of The Loud House shown at prime time, "11 Louds a Leapin'," was the seventh most-viewed telecast across all U.S. households on Friday, November 25, 2016.
Critical reception
The Loud House has been critically acclaimed, specifically for its animation, voice acting, characterization, and the heartwarming themes of each episode. Emily Ashby of Common Sense Media praised the show's voice cast and thematic messages, writing that "kids will come to The Loud House for the laughs, but they'll return for the ensemble cast and the surprisingly heartwarming themes that dominate every story." Kevin Johnson of The A.V. Club gave the show a B+, noting that "the female characters are defined by their traits, but never judged for them."
The characters of Howard and Harold McBride have received praise for being a positive representation of a married same-sex couple. They are the first married same-sex couple to be featured in a Nicktoon. Laura Bradley of Vanity Fair stated that The Loud House "handles the topic [of same-sex marriage] in exactly the right way...this kind of casual representation in children's programming is a milestone." De Elizabeth of Teen Vogue wrote, "The best part is that the show doesn't treat these characters any differently, or even introduce them with a heavy asterisk about their marital status." The Frisky's Tai Gooden mentioned that "kids who have two dads (or moms) will be more than thrilled to see a family they can identify with on TV." Time reported that "people are thrilled about Nickelodeon's decision" to include a gay couple. However, the characters have been met with criticism from conservative media groups. The American Family Association attempted to prevent Nickelodeon from airing scenes featuring the McBride parents, saying that "Nickelodeon should stick to entertaining instead of pushing an agenda."
Film adaptation
On March 28, 2017, Paramount's motion picture president Marc Evans announced a movie based on the series set for release on February 7, 2020.
Awards and nominations
In January 2017, The Loud House's portrayal of Howard and Harold in the episode "Attention Deficit" was nominated for Outstanding Individual Episode at the 28th GLAAD Media Awards. At the 2017 Nickelodeon Kids' Choice Awards, the show was nominated for Favorite Cartoon. However, it lost to SpongeBob SquarePants.
References
The Loud House Wikipedia
(Text) CC BY-SA