The Long and the Short and the Tall (released as Jungle Fighters in the USA and Canada) is a 1961 British war film directed by Leslie Norman, which stars Richard Todd, Richard Harris, Laurence Harvey, David McCallum and Ronald Fraser. The film, which is based on a 1959 play with the same name, by Willis Hall, takes place in a Burmese jungle in 1942 during the Malayan Campaign.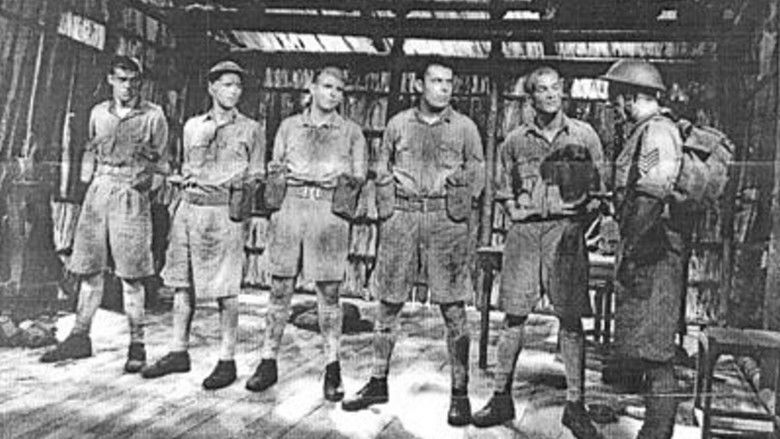 The title comes from the second line of the First World War song "Bless 'Em All", which became very popular during the Second World War.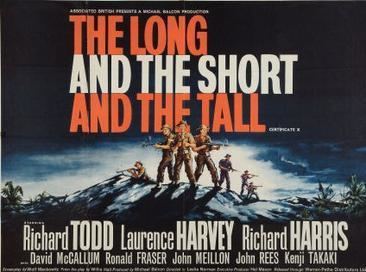 During the Japanese invasion of Burma in 1942, a seven-strong British sonic warfare (sonic deception) patrol takes refuge in a dilapidated hut at an abandoned tin mine in the Burmese jungle. Tension rises as they lose radio contact with their command force but learn the Japanese are nearby. The plot thickens when a lone Japanese scout stumbles across the hut, and his fate becomes the squad's second dilemma. Sergeant Mitchem, the man in command of the patrol, wants to take the prisoner back to headquarters for interrogation. But as the men argue the prisoner's destiny, tempers flare. Sergeant Mitchem clashes with his contemptuous second-in-command Corporal Johnstone and struggles to maintain discipline among his mutinous charges. The chief culprit is the gruff Private Bamforth, a man who dislikes both authority and the army but gradually becomes the conscience of the detachment.
The film was shot at Elstree Studios in 1960, where Richard Todd had starred in The Dam Busters a few years earlier. Todd loathed making this film, however, as he didn't get along with Laurence Harvey, In an interview many years later, he said, "I didn't enjoy working with Laurence Harvey... I took it for granted that they would cast Peter O'Toole, who was marvellous on stage, but they said they wanted a 'name'."
Richard Harris later claimed Todd would stand on top of mounds of dirt to seem as tall as his co-stars.
Leslie Norman was also unhappy he had to cast Laurence Harvey instead of Peter O'Toole. He felt Laurence Harvey and Richard Harris "let the film down... Harris because he resented Laurence Harvey, despised him - and they didn't get on with Richard Todd." However Norman says "I was very pleased with my side of the film in the end. It was all made in a studio, we never set foot outside for a month. I asked to go on location, but a jungle's pretty claustrophobic, for sure."