Genres

Pop




Labels

Capitol




Years active

1959-present




Genre

Pop music






Origin

Las Vegas, Nevada, U.S.




Members

Tony Butala, Donovan Tea, Bobby Poynton




Nominations

Grammy Award for Best New Artist




Albums

The Best of The Lettermen, Spin Away, Once Upon a Time, I Have Dreamed, Warm
Morning girl the lettermen long s cover
The Lettermen is an American male pop vocal trio. The Lettermen's trademark is close-harmony pop songs with light arrangements. The group started in 1959. They have had two Top 10 singles (both #7), 16 Top 10 singles on the Adult Contemporary chart (including one #1), 32 consecutive Billboard Magazine chart albums, 11 gold records, and five Grammy nominations.
Contents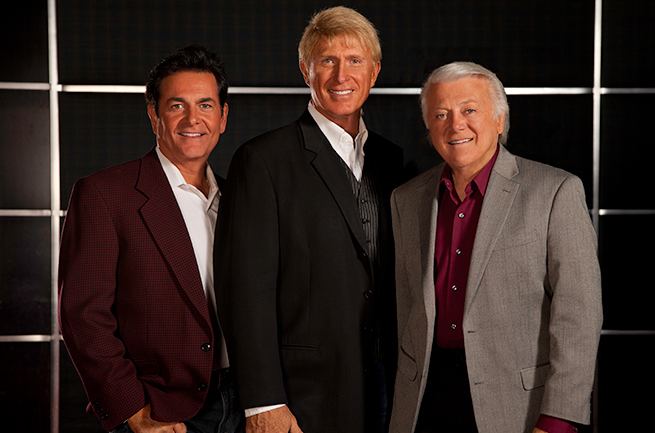 History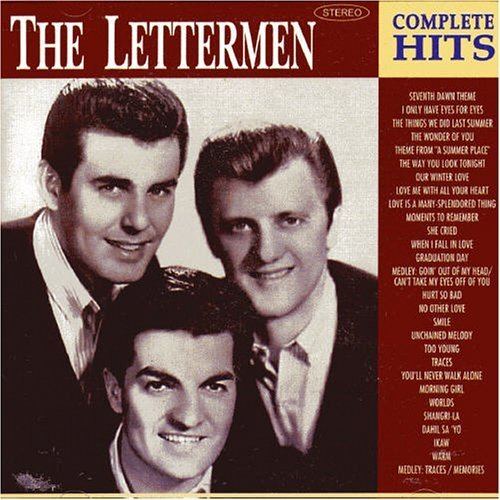 A Lettermen group was formed in the late 1950s by Mike Barnett, Dick Stewart and Tony Butala. They auditioned for Jackie Barnett (who was chief comedy writer for the Jimmy Durante TV show) for the "Newcomers of 1928" revue. It was Barnett who gave the group their name. Now as "The Lettermen", they landed the part to impersonate The Rhythm Boys, the vocal group that traveled with Paul Whiteman and his orchestra in the late 1920s, and gave Bing Crosby his initial fame. The "Newcomers of 1928" revue opened on 28 February 1958 at the Desert Inn in Las Vegas, Nevada and also starred Paul Whiteman, Buster Keaton, Rudy Vallée, Harry Richman, and Fifi D'Orsay. They played to sell-out audiences and were held over for many weeks. Continuing with a six-week tryout at the Deauville Hotel in Miami Beach, Florida, the idea continued to be a smash, with Butala being the lone consistent Letterman. Barnett and Russell were replaced by Gary Clarke and Jerry Paul. When the tryout ended, Butala landed a job as singer/bass player in a lounge group, "Bill Norvis and the Upstarts", with Gary Clarke. After a few months, Clarke left the group and was replaced by Jim Pike. Pike and Butala decided to leave the Upstarts and form a new group although they had not yet decided to use the Lettermen name. Pike envisioned a group where each member was an excellent soloist as well as a great group singer. Pike and Butala joined with the third Letterman, Bob Engemann, a singer that Pike had met when he attended Brigham Young University a few years earlier. (Pike and Engemann had come to Los Angeles, California, and had sung together until Engemann had to go into the California National Guard for 6 months. That's why Pike joined Bill Norvis and there met Butala.) The combination of Pike, Engemann and Butala first recorded in 1960.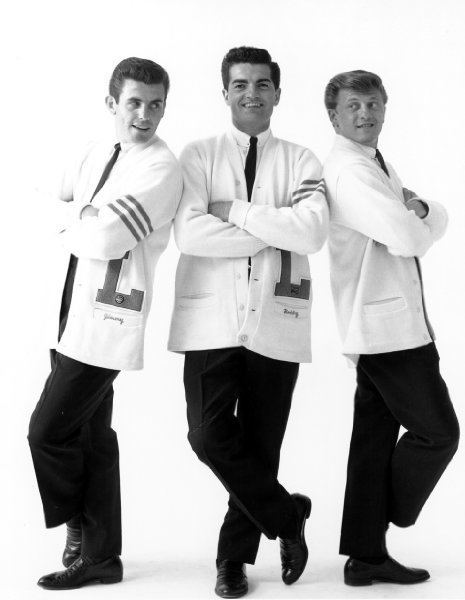 They secured a recording contract with Warner Bros. Records through Bob Engemann's older brother, Karl Engemann, who was a record producer there, and for whom Pike had earlier released a record called "Lucy D", which was not successful. Karl Engemann years later became Marie Osmond's personal manager for many years. Pike, Butala, and Engemann as "The Lettermen" released two singles in 1960 for Warner Bros. The A-sides were "Two Hearts" and "Their Hearts Were Full of Spring". They were not successful. After Warner Bros. Karl Engemann moved on to Capitol Records as President of A&R. He got them out of their contract at Warner Bros. and made an appointment for them to see Nick Venet, a producer at Capitol, and they signed there.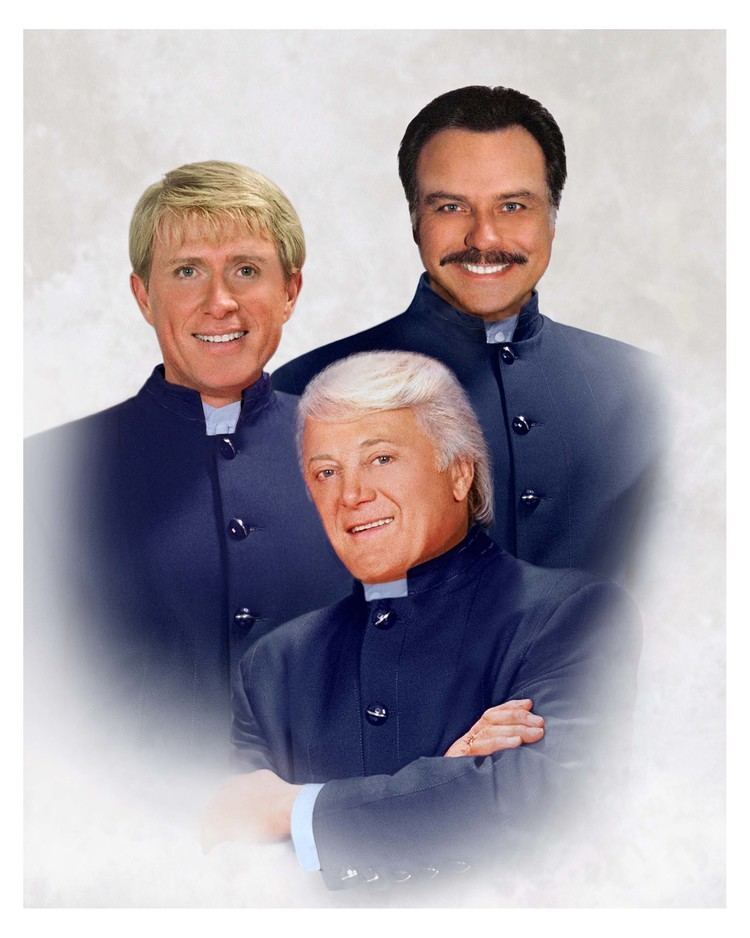 There was another "Lettermen" group in the late 1950s and early 1960s that recorded for Liberty Records (which was a major record label at the time), an R&B group with five members, and their not-so-successful single was called "Hey Big Brain". About that same time there was a third group called the Lettermen Trio, headed up by Sammy Vandenburg, who also had no record success. But the "Lettermen" of Pike, Engemann, and Butala had the first hit record, so by law they were entitled to exclusively use the "Lettermen" name.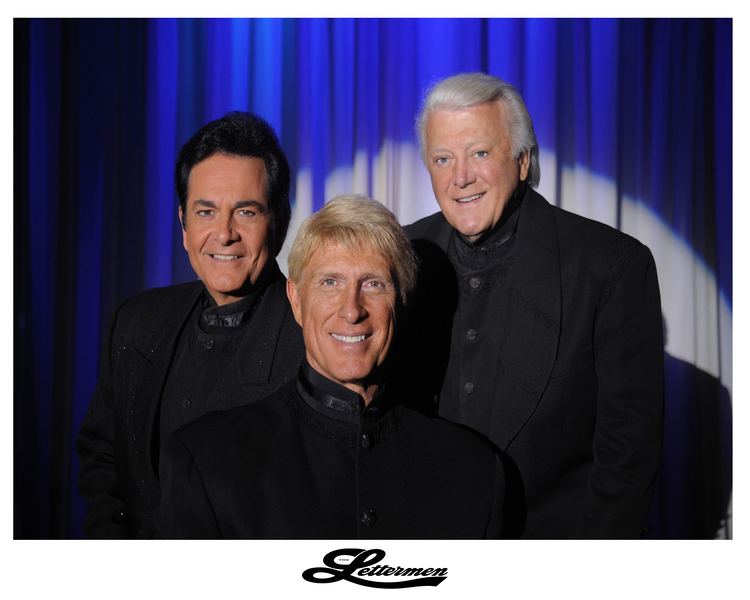 The Lettermen were unknown until they signed with Capitol Records in 1961. Their first single for Capitol, "The Way You Look Tonight," succeeded on the Billboard Hot 100 pop chart and climbed to No. 13. Their next, "When I Fall in Love," reached the Top 10 in late 1962 and hit No. 1 on AC. They had several other Top 10 AC hits, such as 1965's "Theme From A Summer Place". In late 1967 Bob Engemann resigned and was replaced by Jim Pike's younger brother, Gary Pike. The hits continued with the 1967 medley "Goin' Out of My Head"/"Can't Take My Eyes Off You" and in 1968 with "Put Your Head on My Shoulder", plus 1969's "Hurt So Bad", which reached No. 12 and lasted 21 weeks on the Hot 100, second only to the 22 weeks for The Archies' "Sugar, Sugar" within that calendar year. The last successful single was in 1971, John Lennon's "Love", a solo by Jim Pike.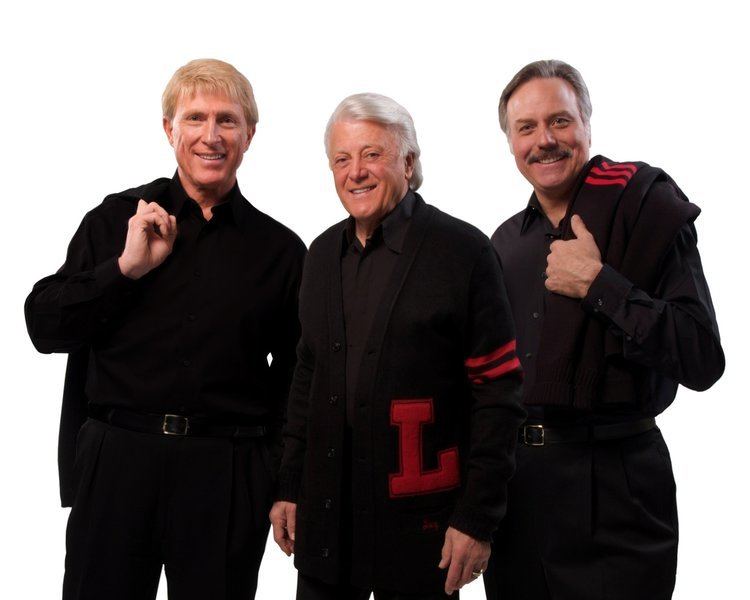 The Lettermen have had two Top 10 singles (both #7), 16 Top 10 Adult Contemporary singles, including one Adult Contemporary No. 1, 32 consecutive Billboard Hot 200 charted albums, 11 gold records, five Grammy nominations, an Andy Award, and a Cleo Award.
The Lettermen were featured on the TV show Dobie Gillis in the episode "Vocal Boy Makes Good" which originally aired on January 16, 1963.
In 1976, Jim Pike left the group because of vocal problems and sold the Lettermen name to Butala. In 1981 Gary Pike left the Lettermen, and today Jim and Gary Pike, along with Ric de Azevedo, sing The Lettermen hits, billed as "Reunion".
In 1961, The Lettermen started performing live concerts doing over 200 shows a year, an unbroken string that continues to the present.
Over the decades, the group has had various line-ups, replacing members who left for various reasons with new people to maintain a trio. Tony Butala has stated that the group ethos is that of three strong soloists that harmonize, and that the group encourages individual singing and songwriting. Butala has also stated that the current combination of members, which includes Donovan Tea (thirty years) and Bobby Poynton (eight years) "is the best combination of voices, and best sounding group since the original trio." Butala also said this of the previous line-up of himself, Tea, and Preston thus highlighting the high standard of vocalists The Lettermen had always had.
They pride themselves in welcoming audience member photographs during the show as they sing Up, Up, and Away.
Among their many songs include renditions of several traditional Filipino kundimans such as Dahil sa Iyo ("Because of You"), Sapagkat Kami Ay Tao Lamang ("For We Are Only Human"). Their enunciation and pronunciation in the language has developed over the decades that they have interpreted these love songs.
On December 9 and December 10, 2012, The Lettermen Society Convention was held at The Soaring Eagle Casino and Resort in Mount Pleasant, Michigan. The members had dinner and breakfast with the current group of Tony Butala, Donovan Tea, and Bobby Poynton. They attended the soundcheck and Lettermen Holiday Show with ticketed audience members in the casino showroom. This celebration was the 31st annual convention.
The 32nd annual Lettermen convention was a four-day event at the South Point Hotel and Casino in Las Vegas between October 10, 2013 and October 13, 2013. Hundreds of Lettermen Society members and fans were invited to attend.
Bobby Engemann died on January 20, 2013 in Provo, Utah, of complications from his December 13, 2012 heart bypass surgery.
The Lettermen are represented by Michael Pick at MPI Talent in Los Angeles.
Personnel over the years
Jim Pike (1959–1974) – Sold complete interest in Lettermen name to Butala in 1976
Bob Engemann (1959–1967) – Sold his interest in Lettermen name to Pike and Butala in 1967
Tony Butala (1959–present) Bought complete interest in Lettermen name from Pike in 1976
Gary Pike (1967–1981)
Donny Pike (1974–1982)
Doug Curran joined the Lettermen in 1969–1970, taking over temporarily for Jim Pike who was experiencing voice problems. In addition to touring with Tony and Gary, he also recorded three albums with the group: I Have Dreamed (May 1969), Hurt So Bad (October 1969) and Traces / Memories (Jan. 1970).
Ralph "Chad" Nichols
Don Campeau
Ernie Pontiere
Bobby Poynton (1990–1995, 2011–present) He is the present tenor who also sang with The Crew Cuts from 1998–2000 and The Diamonds from 2001–2011.
Darren Dowler, who joined the group in 1995–2005, became the lead singer for Paul Revere and the Raiders in 2008, and starred in the motion pictures Rock and Roll the Movie (2013) and Christmas In Hollywood (2013), a film he wrote, directed, scored and starred in. Dowler also had smaller parts in the films, Hancock and Eagle Eye. Dowler is also the author for a novel entitled The War of Angels (Author House Publishing 2007).
Donovan Tea (1984–present) (formerly lead vocalist for The Young Americans)
Mark Preston (1984–1988, 2006–2011) was asked to join the group in 1980, but due to previous commitments, had to turn the offer down. In the following years, Preston was the opening act for Phyllis Diller, as well as stand-in and photo double for Robert Urich. In 1984, Butala called again, and at that time, Preston joined the group. Along with Donovan Tea (who started the same day) the trio released several singles, and two albums. Preston left the group in 1988, and returned to a solo career that encompassed showrooms around the country, and many different cruise lines. In January 2006, Preston rejoined the Lettermen. The combination of Butala, Tea and Poynton is the current line-up.
David "Red" Saber (now a maritime captain hired to scatter cremated ashes in the sea at Redondo Beach, California)
Michael Jackson
Awards and recognition
2001: Inducted into the Vocal Group Hall of Fame
2012: Inducted into the Hit Parade Hall of Fame
Compilations
1966: The Best of The Lettermen (re-released 1988 on CD/Capitol)
1968: The Best of The Lettermen, Volume 2
1974: All-Time Greatest Hits (re-released 1987 on CD)
1990: Greatest Hits - 10 Best Series
1992: Collectors Series
1993: Best Hits
1993: Love Is All
1994: Their Greatest Hits & Finest Performances
1998: Memories: The Very Best of The Lettermen
2003: Soft Rock Collection
2003: Greatest Hits: The Priceless Collection
2004: Absolutely the Best
2006: Complete Hits
2007: Complete Hits Volume Two
Singles
Footnotes:
1"Son of Old Rivers," a parody of "Old Rivers" by Walter Brennan, was recorded by Engemann and Pike.
2"Turn Around, Look at Me," the b-side of "How Is Julie?," did not chart on the Hot 100, but hit #5 on the Bubbling Under Hot 100 Singles chart.
3"Again" did not chart on the Hot 100, but hit #20 on the Bubbling Under chart.
4"Heartache Oh Heartache" did not chart on the Hot 100, but hit #22 on the Bubbling Under chart.
5"Allentown Jail" did not chart on the Hot 100, but hit #23 on the Bubbling Under chart.
6"Put Away Your Tear Drops" did not chart on the Hot 100, but hit #32 on the Bubbling Under chart.
7"Girl With a Little Tin Heart" did not chart on the Hot 100, but hit #35 on the Bubbling Under chart.
8"Sweet September" did not chart on the Hot 100, but hit #14 on the Bubbling Under chart.
9"Chanson D'Amour" did not chart on the Hot 100, but hit #12 on the Bubbling Under chart.
10"All the Grey Haired Men" did not chart on the Hot 100, but hit #9 on the Bubbling Under chart.
11"I Have Dreamed" did not chart on the Hot 100, but hit #29 on the Bubbling Under chart.
12"Hey Girl" did not chart on the Hot 100, but hit #4 on the Bubbling Under chart.
13The 1976 release of "The Way You Look Tonight" was a new disco version.
Songs
Theme From a Summer PlaceThe Letterman Capitol Collectors Series · 1992
The Way You Look TonightRide This Train · 1960
Put Your Head on My ShoulderThe Letterman Capitol Collectors Series · 1992

References
The Lettermen Wikipedia
(Text) CC BY-SA