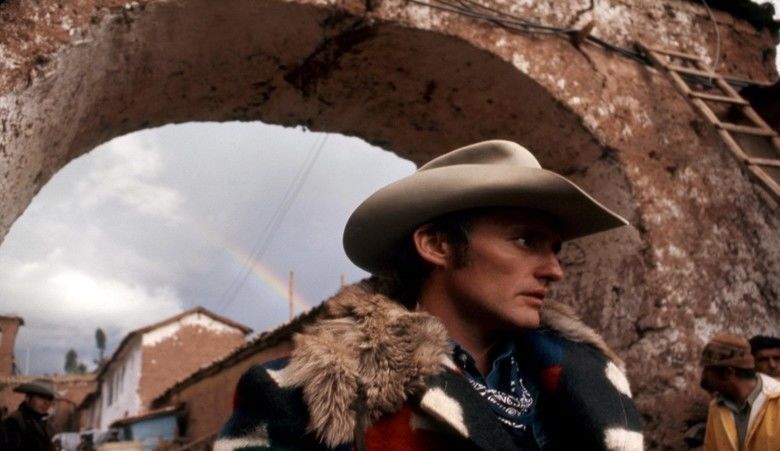 Kansas (Hopper) is a stunt coordinator in charge of horses on a western being shot in a small Peruvian village. Following a tragic incident on the set where an actor is killed in a stunt, Kansas decides to quit the movie business and stay in Peru with a local woman. Kansas thinks he has found paradise, but is soon called in to help in a bizarre incident: the Peruvian natives are "filming" their own movie with "cameras" made of sticks, and acting out real western movie violence, as they don't understand movie fakery. The film touches on the ideas of fiction versus reality, especially in regards to cinema. The movie is presented in a way that challenges the viewer's traditional cinematic understanding of storytelling, by presenting the story in a non-chronological fashion, and by including several devices typically only seen behind the scenes of filmmaking (rough edits and "scene missing" cards), and the use of jarring jump cuts.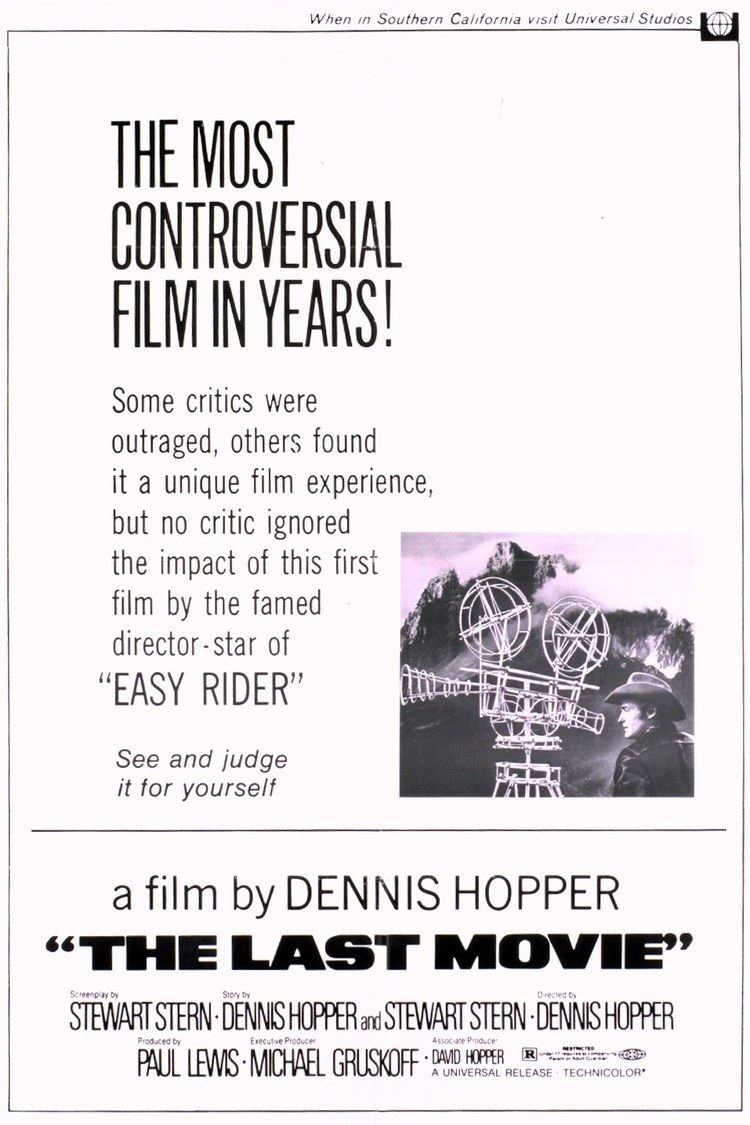 The Last Movie was a long-time pet project of Hopper and writer Stewart Stern. (Stern had written Rebel Without a Cause, in which Hopper played a small role.) After developing the script in the early 1960s, Hopper tried for years to secure financing for the film, intending it to be his directorial debut. Due to the artistically challenging nature of the film, no studios were interested until Hopper's actual first film as a director, Easy Rider, became a massive hit in 1969.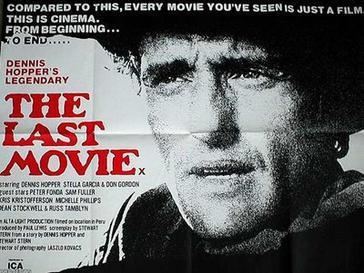 Given free rein on a budget of $1 million from Universal, Hopper spent much of 1970 in Peru shooting the film under the working title Chinchero, bringing many of his actor and musician friends to Peru, including singer Kris Kristofferson and director Samuel Fuller. With hours and hours of footage, Hopper holed up in his home editing studio in Taos, New Mexico, but failed to deliver a cut by the end of 1970. Hopper was in a period of severe alcohol and drug abuse (as shown in an extremely rare and barely released documentary called The American Dreamer, which was directed by Lawrence Schiller and L.M. Kit Carson), but managed to put together a fairly straightforward cut in terms of conventional storytelling. He was mocked over it by his friend, cult director Alejandro Jodorowsky, who urged him to edit the film unconventionally and attempt to break new cinematic ground, which caused Hopper to destroy that edit and craft the more disjointed narrative that is known today, and he finally completed that final edit in the spring of 1971.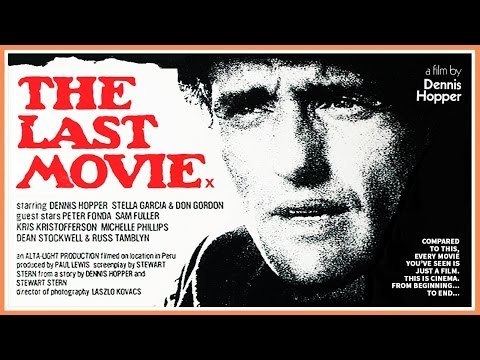 The movie won the Critics Prize at the Venice Film Festival; despite this, it failed financially and critically after a two-week run at New York City's Cinema 1. (Contrary to some sources, including statements by Hopper himself, the film did play in other theaters across the country after its New York premiere, even playing at drive-ins under the name Chinchero.) Because of its resulting demise, Hopper did not direct again until 1980's Out of the Blue.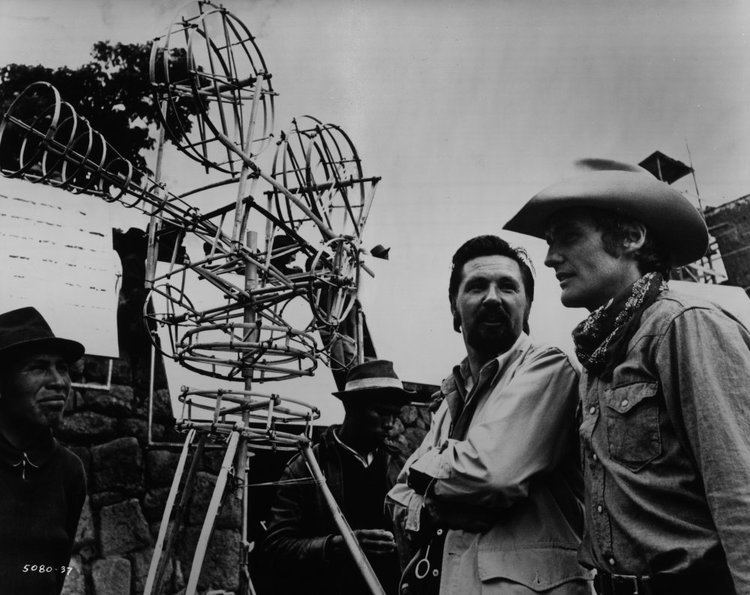 The book The Fifty Worst Films of All Time recounts the film's production in some detail, claiming that the studio was so eager to cash in on the youth market following the success of Easy Rider that they gave Hopper carte blanche, and they were horrified with the results.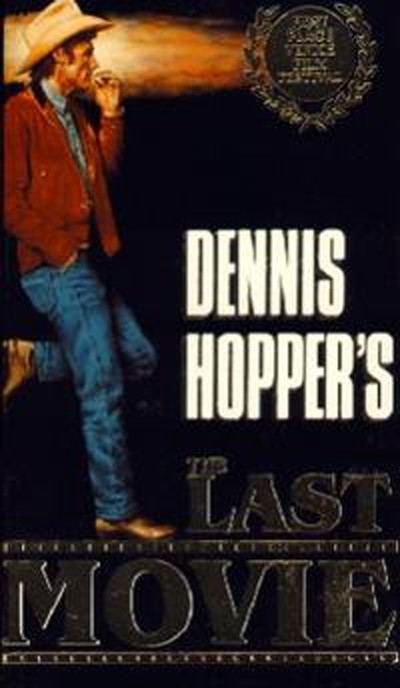 The film's initial failure led to Hopper's virtual exile from Hollywood, one that lasted well over a decade. Nonetheless, Hopper later announced he was very proud of the film, and hosted many screenings. While he had disparaged the film in the past, Hopper said it was ahead of its time, and only now had audiences and critics started to understand his artistic vision.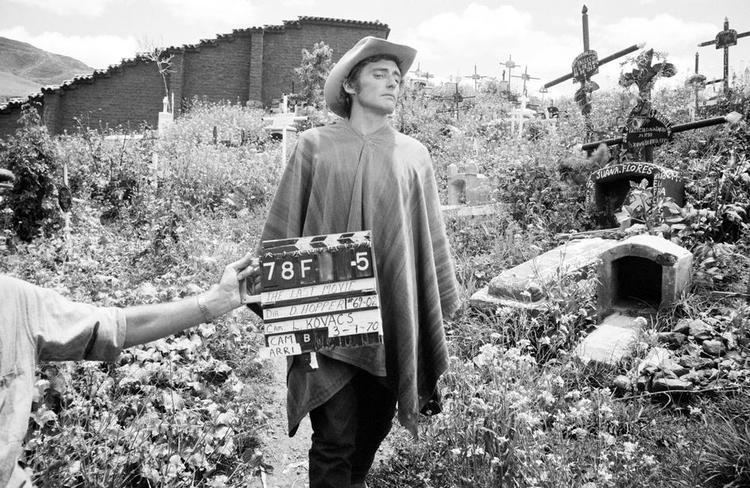 Hopper told Playboy in 2006 that he had re-acquired the rights to the film and was planning a DVD release. The magazine even mentions at the time that Hopper held a screening of the film at the Playboy Mansion for Hugh Hefner and several Playmates. Hopper did not realize his plans to release the film on DVD before his death in May 2010.