The Kitten from the Lizyukov street (Russian: Котёнок с улицы Лизюкова) is a Soviet 1988 animated film directed by Vyacheslav Kotenochkin (Soyuzmultfilm).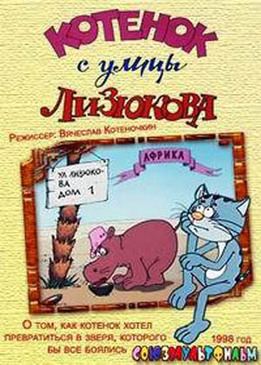 Film features the voices of popular artists Vyacheslav Nevinny and Olga Aroseva.
In 2003 a sculpture was opened in Voronezh, featuring the characters of this film.
The musical introduction to this film was used by Seryoga as the main theme for the film Bumer.
The storyline tells about the kitten turned into the hippopotamus and found himself in Africa, but he kept not only his cat's habits, but also love to his native street Lizyukova in Voronezh.
Vyacheslav Nevinny as Vasiliy the Cat
Olga Aroseva as Hippopotamus
Vladimir Soshalsky as Lion
Margarita Korabelnikova as Сrow, witch