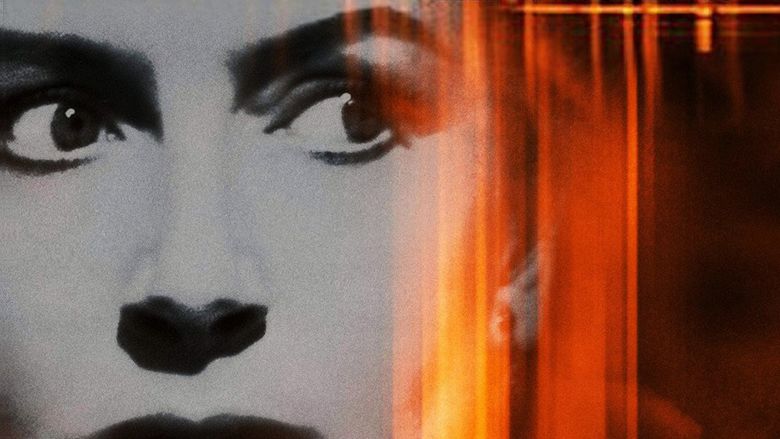 Miss Giddens (Deborah Kerr) applies for a job as a governess. It is to be her first position, but the wealthy bachelor interviewing her (Michael Redgrave) is unconcerned with her lack of experience. He values his freedom to travel and socialise and unabashedly confesses that he has "no room, mentally or emotionally" for his niece and nephew. They were orphaned and left in his care as infants, and he keeps them at Bly, his country estate. The previous governess, Miss Jessel, died suddenly less than a year ago. All he cares about is that Miss Giddens accept full responsibility for the children, never troubling him with whatever problems may arise.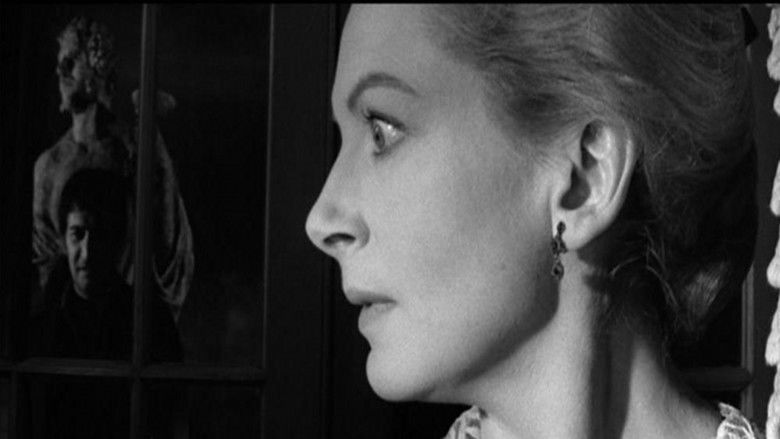 At Bly, Miss Giddens is instantly taken with Flora, the niece. She also forges a friendship with Mrs. Grose (Megs Jenkins), the kindly housekeeper. The boy, Miles, is away at boarding school, though Flora delightedly insists that her brother is coming home. Miss Giddens then receives a letter saying that Miles has been expelled from school because of his bad influence on the other boys. Mrs. Grose says she can't imagine Miles being a bad influence, and when Miss Giddens meets the boy herself, she too thinks his teachers must have exaggerated. He seems charming and mature – though perhaps too mature, with flirtatious flattery toward his governess.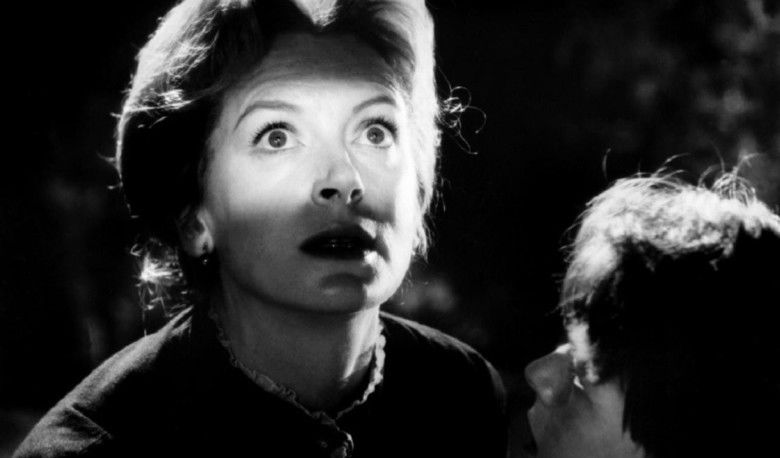 The children are friendly and polite, but Miss Giddens is disturbed by their occasional odd behaviours. They seem to be sharing secrets. She is upset by unexplained voices and by several visions of a woman and man, whom Mrs. Grose identifies, from their descriptions, as Miss Jessel and Peter Quint – the uncle's valet until his death. Eventually, Mrs. Grose reveals that Quint was abusive to Miss Jessel, and that they were indiscreet, performing sexual acts in plain sight of the other servants and even, perhaps, the children. After Quint's death, Miss Jessel went into a deep depression and drowned herself.
When Miles recites a poem invoking a "lost lord" to rise from the grave, Miss Giddens concludes that the ghosts of Quint and Miss Jessel possess the bodies of the children so they can continue their relationship. She is determined to rescue them from this possession. One night Miss Giddens finds Flora at a window, watching Miles, who is walking in the garden. When Miss Giddens escorts him to bed, he kisses her goodnight, in a disturbingly adult manner.
The next day Miss Giddens finds Flora dancing alone in a folly on the shore of the lake – and again sees the figure of Miss Jessel staring at them from across the water. Convinced that the children will be freed from the possession if they will confess what is happening, Miss Giddens begs Flora to admit that Miss Jessel is there. Flora begins to scream and cry, calling Miss Giddens wicked and insane. Hours later, Flora is still hysterical, and when Mrs. Grose finally leaves her bedside, she says she can't imagine where Flora learned such obscenities. Miss Giddens orders her to take Flora away from Bly. She is certain that Miles is on the brink of confessing his ordeal to her and that she must be left alone with him.
That night, alone with Miles, Miss Giddens presses him to talk about the ghosts, and then about why he was expelled from school. Initially, and as usual, Miles is glib and evasive, but he eventually admits that he frightened the other boys with violence and vulgar language. Miss Giddens enjoins him to say who taught him this language and behaviour. Miles suddenly begins yelling obscene insults and laughing maniacally, and Peter Quint's face appears in the window behind him, joining in the boy's laughter. Miles then runs outside; Miss Giddens follows, calling that all he has to do is "say his name" and it will all be over. Quint appears on the hedge nearby, but Miles does not seem to see him and screams that she is insane. He finally shouts Quint's name, then the hand of Quint appears. Miles grows still and falls to the ground. Miss Giddens cradles him and assures him that he is free. She then realises that Miles is dead. Sobbing in horror, she leans over him and kisses him on the lips.
According to Professor Christopher Frayling, much of the screenplay is derived from William Archibald's play of the same name, which premiered on Broadway in 1950, rather than coming directly from James' novella, The Turn of the Screw. (One of Archibald's most notable changes from the source material is his invented name for the protagonist, "Miss Giddens." The character is unnamed in James's novella, and is called only "the governess.") Frayling credits Truman Capote with about 90% of the film's script as it appears on the screen, although John Mortimer was brought in as an additional writer before filming to give a greater Victorian character to the film's dialogue. (The final credits attribute the screenplay to Archibald and Capote, with Mortimer receiving credit for "Additional Scenes and Dialogue".) Frayling also attributes the Freudian subtext to screenwriter Capote, whose contribution gives the film a Southern Gothic feel – with the governess's repressed erotic sensibility counterpointed by shots of lush and decaying plants and rapacious insect life. Director Jack Clayton, though, chose to downplay this aspect in the finished film to preserve the ambiguity between the ghost story and Freudian element.
Clayton wanted the film to be quite different to the Hammer horror films of the period, and employed a number of cinematic devices to achieve this, including using genuinely eerie sound effects and moody stylized lighting. For the first 45 seconds of the film the screen is black and singing is heard, and only after this do the credits appear. (Projectionists thought this was an error.) To ensure that his child actors' performances were not too knowing, Clayton also withheld the full details of the story from Martin Stephens and Pamela Franklin, who only received those parts of the script that lacked the surprising and mysterious adult elements of the film. By such means Clayton was able to create a horror film that left the strange events depicted for the viewer to interpret.
The Innocents was the big career break for renowned film editor Jim Clark, who was hired on the recommendation of his colleague Jimmy Ware, editor of Clayton's first feature, Room At The Top. In his 2010 memoir Dream Repairman, Clark recalled the experience as "a true collaboration" and that he and Clayton became close friends and regular drinking partners during production, since both were single at the time, and lived near each other. He described The Innocents as:
"... a real pleasure to edit, since Jack had a very certain approach to his material, having worked out everything beforehand. He was a perfectionist who left nothing to chance, and was very precise in his approach to work".
Inspired by George Stevens' A Place in the Sun, Clark created "some rather cunning dissolves", which he also described as "mini montages" in which he edited the cross-fades between certain scenes to run four or five times longer than the standard 'mix', and often blended in a third, near-subliminal image. According to Clark, Clayton went through "a lot of anguish" over the final scene, in which Miles dies in Miss Giddens' arms, and that the director was "quite prone to agonising over scenes if he was uncertain of them, and we would run them over and over again, hardly changing a frame, until he felt reconciled to the sequence." Clark also revealed that, despite their previous harmonious working relationship, he unexpectedly fell out with Clayton just before the film was released, and felt that he had allowed himself to become too close to his director. Clark recalled that, on the evening of the pre-release critics' screening, Clayton went into a rage because (through no fault of her own) his personal assistant Jeanie Sims was late in phoning him with the critics' reaction. When Sims called Clark to Clayton's office the next day, he discovered that Clayton had completely smashed a large plaster scale model of Bly House, and was refusing to speak to either of them. In spite of this rift, Clark and Clayton gradually repaired their friendship, and Clayton subsequently invited Clark to edit his next film, The Pumpkin Eater.
Reportedly, when first screened, 20th Century Fox executives were disturbed by the scene in which the governess kisses the boy Miles directly on the lips. The film has been given a 12 rating by the BBFC. Its original classification by the BBFC was "X", which meant that no person under the age of 18 years was allowed into the cinema to see it.
The Innocents was nominated for two BAFTA Awards, including Best British Film and Best Film. For his direction, Clayton was awarded the National Board of Review Award for Best Director. William Archibald and Truman Capote won a 1962 Edgar Award from the Mystery Writers of America for Best Motion Picture Screenplay. The film premiered in New York City on 25 December 1961 and was entered into the 1962 Cannes Film Festival.
Bosley Crowther wrote an unfavourable review for the New York Times at the time of the film's release in December 1961:
"But we fear that old hands long familiar with the traffic and tricks of horror films will feel a bit bored by this screen version of Henry James' famous tale, "The Turn of the Screw," so mild and ingenuous it is alongside others of the genre. And especially do we fear they will be let down by the lucent performance of Deborah Kerr as the supposedly morbid young woman who is the focal figure in the tale".
With the British cinematic re-release of The Innocents as part of the BFI's Gothic Season in December 2013, the film has received overwhelmingly positive reviews from current critics. Peter Bradshaw, film critic for The Guardian, gave the film five out of five stars, praising it as an "elegant, sinister and scalp-prickling ghost story". Tim Robey, writing for The Telegraph, also gave the film five out of five stars, recognising the "immaculate" directorial ability of Jack Clayton, and commending the "eerie, coldly beautiful" adaptation of James' novel.
Director Martin Scorsese placed The Innocents on his list of the 11 scariest horror films of all time. Similarly, Andrew Pulver placed the film at number 11 in The Guardian's list of the best horror films of all time.
Although not a box office success at the time of release, the film is now regarded as a classic of gothic film. Time Out named it as the 18th in a list of the 100 greatest British films. The Innocents currently holds a 96% "fresh" rating on Rotten Tomatoes from a sample of 46 reviews. Director Guillermo del Toro cites the film as an influence on his 2015 gothic romance film Crimson Peak.
O Willow Waly, the song from the film, written by Georges Auric and Paul Dehn, and sung on the soundtrack by Isla Cameron, was released in the UK on a Decca single in March 1962. O Willow Waly was also covered by The Kingston Trio on their 1962 album "Something Special". The song was also used during Derren Brown's Svengali stage show, played whilst Svengali "possessed" an audience member brought on stage to participate in the illusion. O Willow Waly can also be heard in a trailer for the 2014 horror film the Woman in Black: Angel of Death.
The Infant Kiss, a song by Kate Bush, from her 1980 album Never for Ever, was inspired by the film.
An audiotrack from this film was sampled into the cursed tape of the 2002 film The Ring.