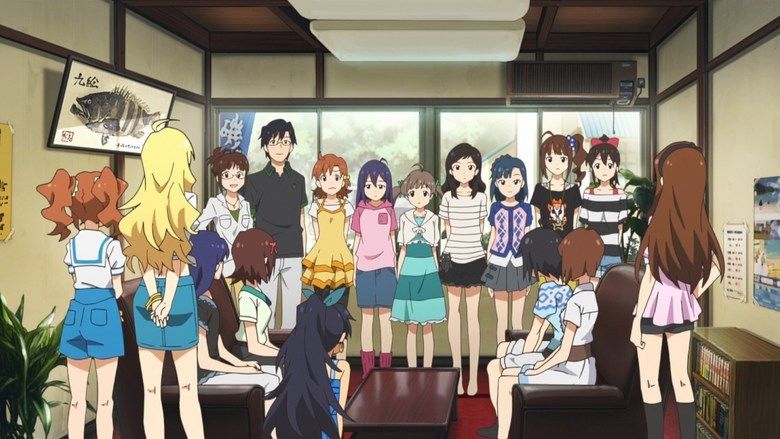 The film follows the idols of 765 Production and is set after the events of the 2011 anime television series The Idolmaster. The film starts off at the 765 clerk office, beginning with the idols singing the opening song, "Masterpiece". The idols are also going to a fashion show to show off their stage costumes.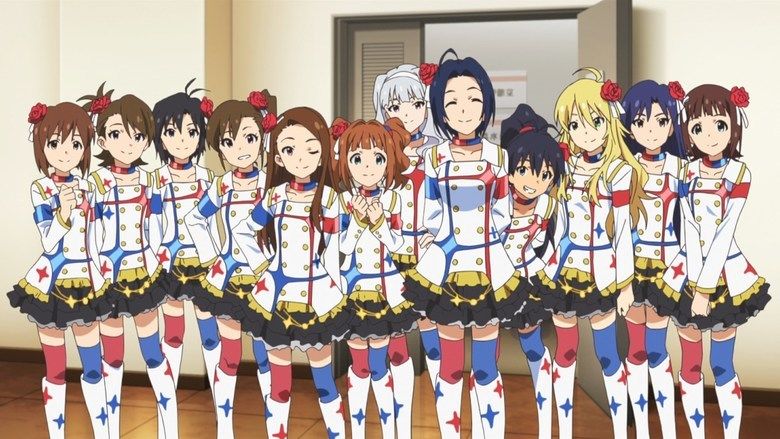 The Producer tells them that they will be putting on the biggest live concert they ever had, and to train for it, they go on a summer training camp. He informs them that he recruited a set of 7 idols in training to serve as their back-up dancers, and the idols become their friends. One of the dancers, Kana Yakubi, is a huge fan of Haruka and expresses her willingness to one day be as great as she is, and Haruka signs her panda bear charm. The dancers are overwhelmed at the prospect of their first official live and they become stressed and nervous, being less skilled than the idols, and they cannot work well as a team. The Producer also announces on the trip that after the live, he will move to Hollywood to improve himself as a producer for a long period of time, and even though he plans to reunite with the idols, the girls are saddened.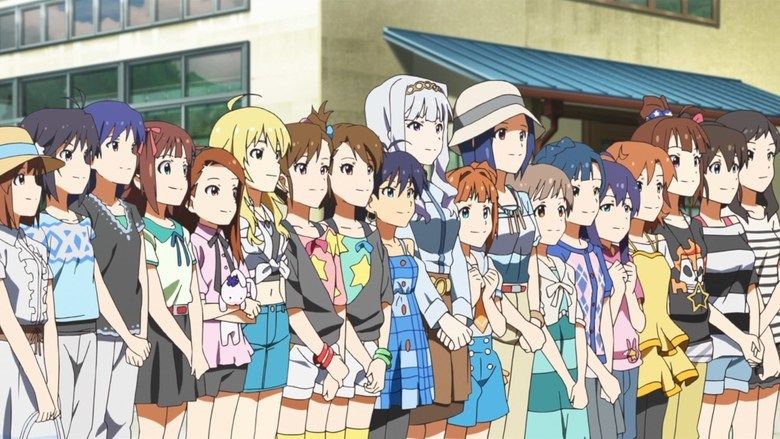 Back home, Kana trips and falls during a small venue, prompting sour publicity in gossip magazines. Humiliated at herself and thinking she's bringing the rest of the idols down, she stops going to practice. Haruka discovers that she left the panda bear charm behind and is confident that she'll get over it, but the live is approaching fast and the idols haven't solidified or practiced their moves enough. Kana texts them saying she is quitting the idol business, and then stops answering her phone messages. Against the dancers' wishes to forget about her and keep preparing, Haruka convinces them all to track her down one day before the live, where they discover that her stress caused her to snack too much and she gained weight, furthering her worries that she will now no longer fit in the costume. With the encouragement from her new friends, her confidence returns and she declares that she still wants to be an idol. The dancers apologize and vow to work as a team from now on.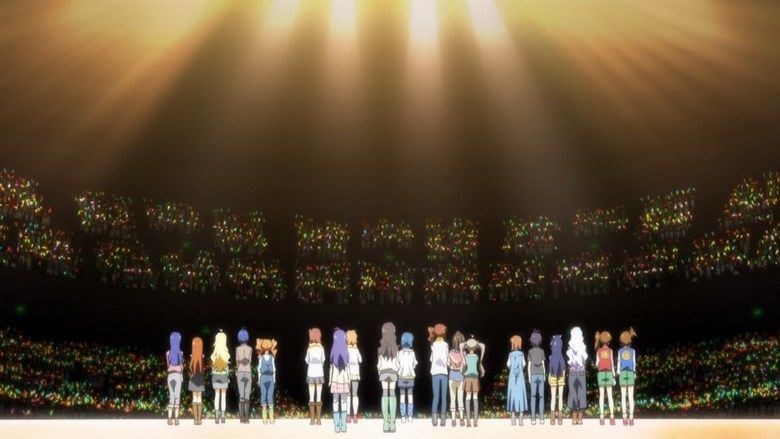 At the live, the idols perform their show of their new song "Masterpiece", and the crowds' delight gives them one last bow, before the ending song plays. During the end credits, 961 Production follows 765 Production to say well done to the idol's performance. Each idol of 765 Production sings the ending song during the credits. The last shot depicts the Producer returning from his studies in Hollywood, and greeted to the girls' hugs.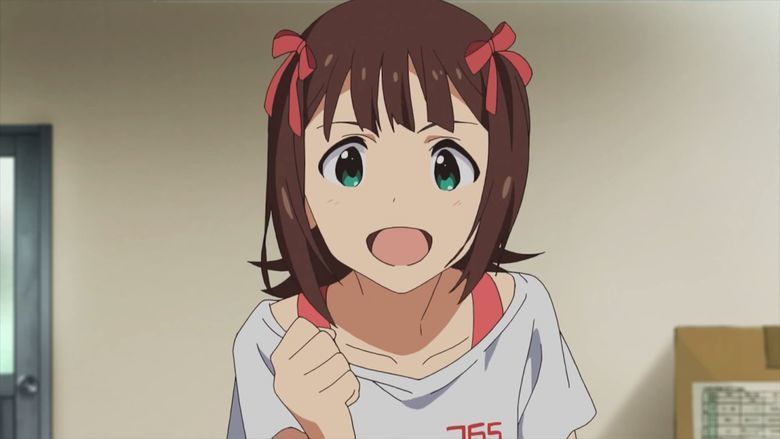 Eriko Nakamura as Haruka Amami
Akiko Hasegawa as Miki Hoshii
Asami Imai as Chihaya Kisaragi
Mayako Nigo as Yayoi Takatsuki
Azumi Asakura as Yukiho Hagiwara
Hiromi Hirata as Makoto Kikuchi
Rie Kugimiya as Iori Minase
Chiaki Takahashi as Azusa Miura
Asami Shimoda as Ami and Mami Futami
Yumi Hara as Takane Shijou
Manami Numakura as Hibiki Ganaha
Naomi Wakabayashi as Ritsuko Akizuki
Eri Ōzeki as Minako Satake
Ibuki Kido as Kana Yabuki
Miku Itō as Yuriko Nanao
Momo Asakura as Serika Hakozaki
Shiina Natsukawa as Anna Mochizuki
Sora Amamiya as Shiho Kitazawa
Yui Watanabe as Nao Yokoyama
Juri Takita as Kotori Otonashi
Kenji Akabane as Producer
Takuma Terashima as Touma Amagase
Daichi Kanbara as Hokuto Ijuuin
Yoshitsugu Matsuoka as Shouta Mitarai
The title of the film was announced at the 2013 Anime Contents Expo by the voice actresses and limited-edition packs with two tickets for the film and a drama CD sold out in one day. A manga titled The Idolmaster Movie: Kagayaki no Mukōgawa e! -signs-, set between the television series and the film timeline will be distributed to filmgoers in the second week of release. It is written by Tatsuya Takahashi and illustrated by Mana. Other bonus items will also be given in following weeks.
By October 14, 2014, the film had grossed ¥852,012,800 at the Japanese box office. At the fourth Newtype Anime awards, it won in several categories including Best Picture (film); Best Theme Song ("Masterpiece"); and Best Director (Atsushi Nishigori), It placed second for Character Design (Atsushi Nishigori), tied for third for Screenplay (Atsushi Nishigori, Tatsuya Takahashi), placed second for Sound, placed second for best mascot (Hamuzo), and placed second for best male character (Producer). Haruka Amami won best female character, while characters Chihaya Kisasaki, Hibiki Ganaha, and Iori Minase placed fifth, ninth, and tenth, respectively.