Covid-19




Drama





English




Robert Ellis Miller


January 8, 2008




United States






July 31, 1968 (1968-07-31)


The Heart Is a Lonely Hunter by Carson McCullers
Carson McCullers (novel), Thomas C. Ryan (screenplay)


The Heart Is a Lonely Hunter


Alan Arkin (John Singer), Sondra Locke (Mick),

Laurinda Barrett

(Mrs. Kelly), Stacy Keach (Blount), Chuck McCann (Spiros Antonapoulos), Biff McGuire (Mr. Kelly)


Johnny Got His Gun

,

Beyond Silence

,

Children of a Lesser God

,

The Man Who Played God

,

There Will Be Blood

,

Babel




...and from this man who could not speak or hear, the girl heard many things.
In this adaptation of the Carson McCullers novel, John Singer (Alan Arkin), who is deaf and mute, tries to help the people around him. He rents a bedroom in a small Southern town to be closer to his friend, Spiros (Chuck McCann), who is also deaf. John attempts to strike up a friendship with Mick (Sondra Locke), the teenage daughter of his disabled landlord (Biff McGuire), and meets the town drunk (Stacy Keach Jr.). Later, he helps Dr. Copeland confront his failing health.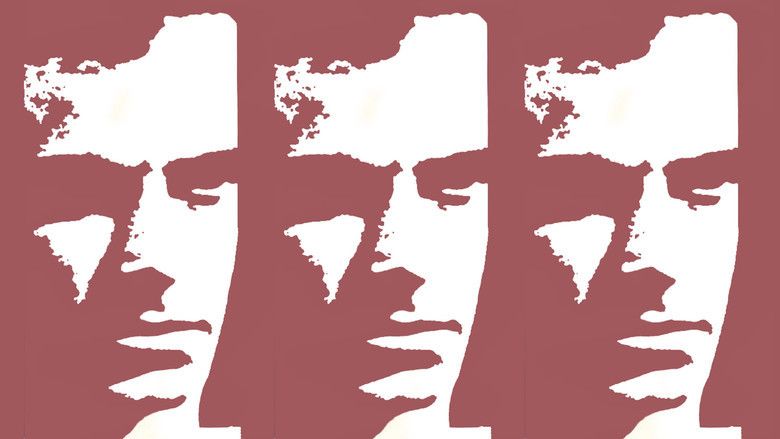 The Heart Is a Lonely Hunter is a 1968 American film adaptation of the Carson McCullers novel of the same name. It was directed by Robert Ellis Miller. It stars Alan Arkin and introduced Sondra Locke, both earning Academy Award nominations.
The film updates the novels small-town Southern setting from the Depression era to the then-contemporary 1960s.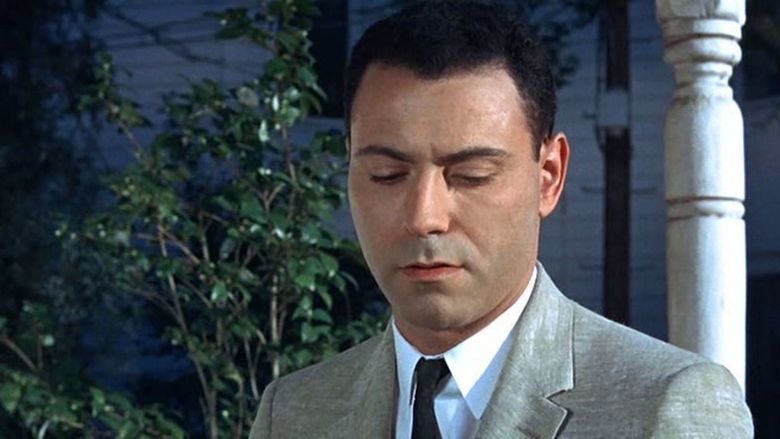 Singer is a deaf-mute whose small world brings him in contact with a young girl, Mick, who cherishes a seemingly hopeless dream of becoming a concert pianist. At first hostile, Mick soon becomes friends with Singer, hoping to enlarge his small world. Three other central characters come to Singer for help also, each of them seeing in him a powerful force.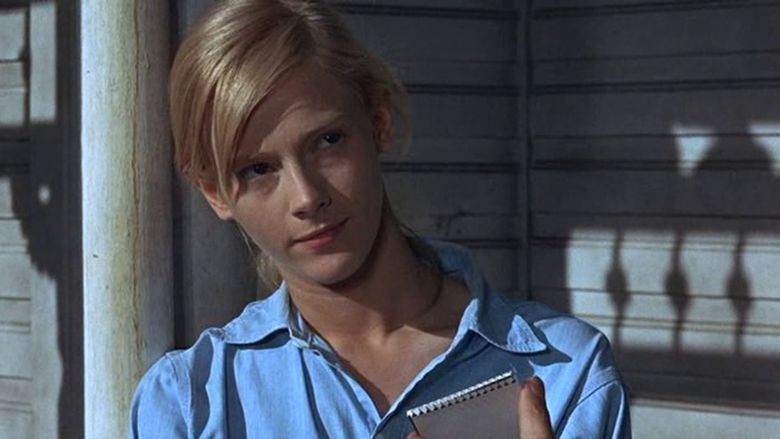 John Singer (Alan Arkin) is a deaf-mute who works as a silver engraver in a small southern town. His only friend is a mentally disabled mute, Antonapoulos (Chuck McCann), who continually gets into trouble with the law since he doesnt know any better. When Antonapoulos is committed to a mental institution by his family, Singer decides to move to a town near the institution in order to be near his friend. Singer finds work there and rents a room in the home of Mr. and Mrs. Kelly (Biff McGuire and Laurinda Barrett), who are having financial difficulties as a result of Mr. Kellys recent hip injury. Because the Kellys teenage daughter, Mick (Sondra Locke), resents having to give up her room to him, Singer makes a few tentative efforts to win her friendship. Singer also tries to become friends with Blount (Stacy Keach), a semi-alcoholic drifter, and Dr. Copeland (Percy Rodriguez), an embittered segregationist African American who is secretly dying of lung cancer. Copelands deepest disappointment is that his educated daughter, Portia (Cicely Tyson), works as a domestic and is married to a field hand.
Following a successful attempt to win Micks friendship by encouraging her love for classical music, Singer visits Antonapoulos, and although he takes his friend out for the day, Singer is more lonely than ever when he returns home. Meanwhile, Portia and her husband are attacked and he is jailed for defending himself, Portia gets upset at Copeland for not perjuring himself to help bring out the truth about what happened in the fight. Copeland and Portias relationship gets even more strained after her husband has his leg amputated after being placed in irons for trying to escape jail. Singer gets the two to reconcile after Portia learns from Singer of Copelands illness.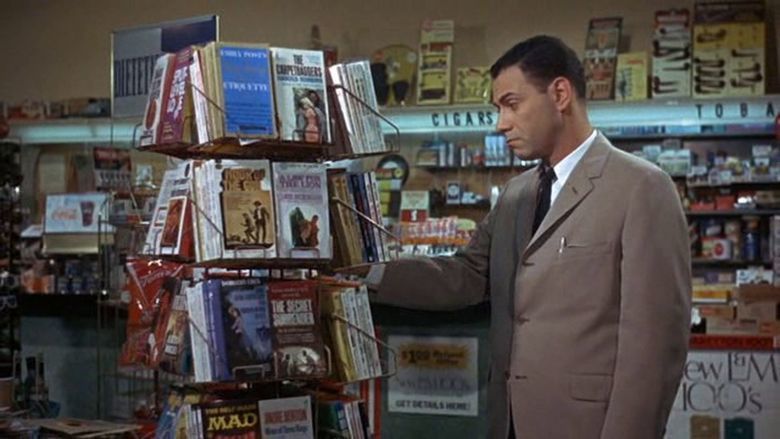 Mick willfully loses her virginity to the sensitive older brother of one of her classmates after she realizes that her fathers injury has permanently disabled him and she will have to leave school and go to work in order to help support the family. Disturbed by her sexual initiation, she ignores Singers request for some company. A short time later, Singer goes to visit Antonapoulos and learns that he has been dead for several weeks. After visiting his friends grave and saying goodbye in sign language, Singer returns to his room and commits suicide.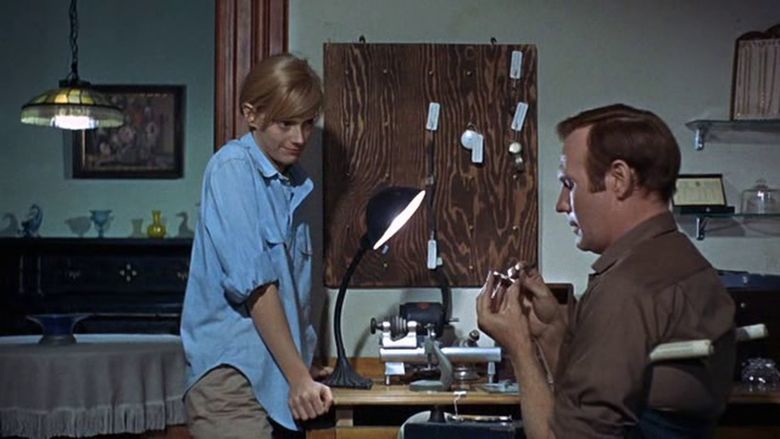 Some months afterwards, Mick brings flowers to Singers grave and meets Dr. Copeland. As they talk, Mick explains that in a special way Singers quiet strength has given her courage to face whatever her future may be.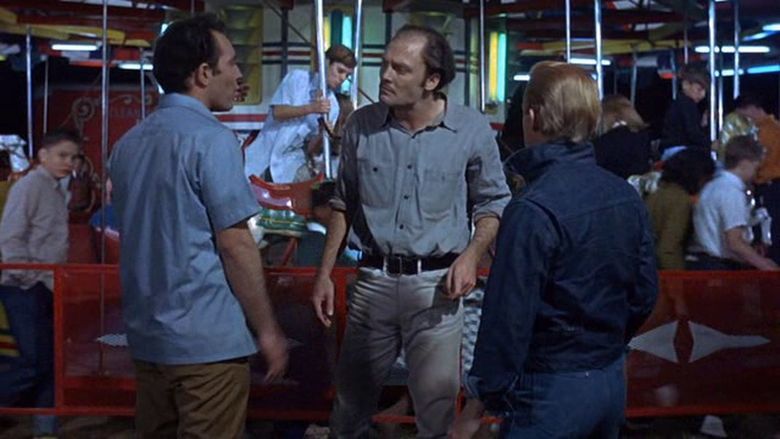 Mandy (1952). There Will Be Blood (2007). Carson McCullers wrote the story for The Heart Is a Lonely Hunter and Reflections in a Golden Eye. Johnny Belinda (1948). Love is Never Silent (1985).
Alan Arkin as Singer
Sondra Locke as Mick
Laurinda Barrett as Mrs. Kelly
Stacy Keach (as Stacy Keach, Jr.) as Blount
Chuck McCann as Antonapoulos
Biff McGuire as Mr. Kelly
Percy Rodriguez as Dr. Copeland
Cicely Tyson as Portia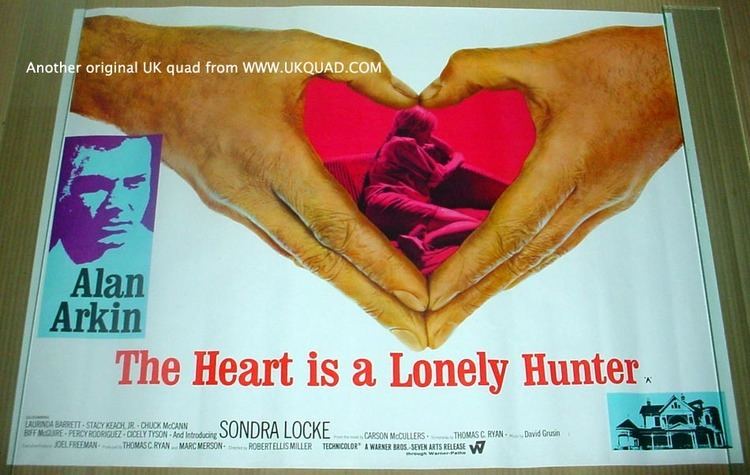 The Heart Is a Lonely Hunter (film) Wikipedia
(Text) CC BY-SA
The Heart Is a Lonely Hunter (film) IMDb
The Heart Is a Lonely Hunter (film) Rotten Tomatoes
The Heart Is a Lonely Hunter (film) themoviedb.org