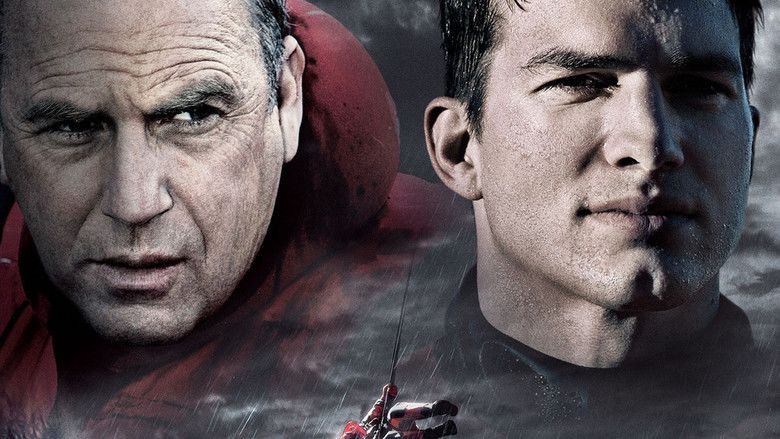 Ben Randall (Kevin Costner) is the top rescue swimmer at the United States Coast Guard's Aviation Survival Technician (AST) program. Due to his frequent time at work, Ben's wife requests a separation. When on a rescue, he loses his rescue team in an HH-60J Jayhawk helicopter crash at sea. While waiting in a survival raft, his best friend, Chief Petty Officer Carl Billings (Omari Hardwick), dies. Shaken, Ben considers retiring but becomes an instructor at a Coast Guard training school.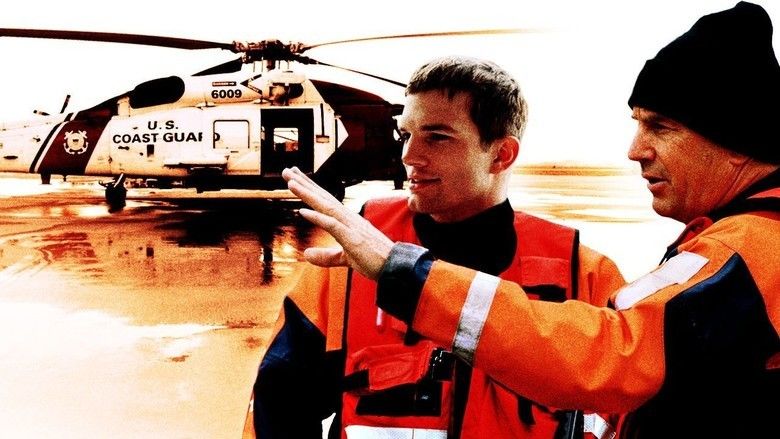 Jake Fischer (Ashton Kutcher), a hot-shot candidate for AST, comes on the scene. Ranked as a top high school competitive swimmer with scholarships to every Ivy League college, Jake opted to enlist in the Coast Guard. At the "A" school, Ben is considered a legend with a countless number of rescues.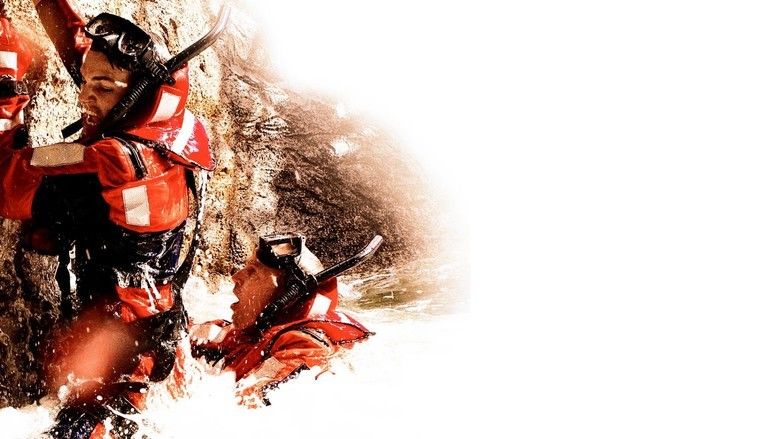 During training, Jake meets local schoolteacher, Emily Thomas (Melissa Sagemiller), and they begin a "casual" relationship, both knowing their time together is limited. Once the initial weeks of training end with most of the students dropping out, advanced instruction begins. After sleeping at Emily's house, Jake arrives late to class, and Ben punishes him and his entire team for his tardiness. Ben tries to force Jake to quit, but later sees Jake's persistence and dedication.
Meeting Emily in a bar, Jake recounts his beating all of Ben Randall's records. Maggie the barkeep (Bonnie Bramlett), Ben's old friend, tells Jake one unbeatable record Ben set when a hospital ship full of invalid patients caught fire, and Ben worked tirelessly to save all the victims. With one man left and a broken winch, Ben held the man by his fingertips till they landed safely, but received extensive injuries to his hand and shoulder.
Later, Jake's friend Billy Hodge is unable to cope with panicked victims in the water and afraid of failing school; Jake takes him out for a drink to cheer him up. In a Navy bar, they get in a fight and land in jail, standing up Emily. Jake arrives back at base beaten and bandaged, and takes the blame entirely.
Ben confronts Jake about his past. On a late night out, Jake, who flipped a coin for designated driver and lost, crashed, and high school relay team members died. Ben and Jake share common ground; they both know how it feels to be the only survivor.
Near graduation, only a handful of the original candidates remain, with Jake emerging as the leader during exercises. Emily comes to see Jake graduate, but the two part ways because Jake is leaving town. Jake is assigned to CG Air Station Kodiak, Alaska, Randall's previous post.
On a mission together, Ben and Jake are sent to rescue two kayakers trapped in a cave. Ben experiences flashbacks and appears to be incapacitated during the rescue. Jake, however, is able to guide him and together they successfully rescue the kayakers. Ben retires and tells Jake of his only record he kept track of – the 22 people he lost during his career. As Jake is sent out on another mission to rescue the crew of a sinking fishing trawler, Ben visits and apologizes to his wife and gives her signed divorce papers. Meanwhile, during the rescue, Jake becomes trapped in the ship after attempting to rescue the captain. His helicopter is forced to return to base, where Ben hears of the situation and opts to suit up to rescue Jake.
Once on scene, Ben finds and frees Jake from the hull, and as they hook up to the winch and proceed upwards towards the helicopter, their combined weight causes the cable to begin separating. Knowing that the cable would not last, Ben unclips himself from the cable so that Jake can survive. As Ben falls, Jake catches him by the hand and tells him he will not let him go. Ben sees that Jake will do anything to keep him alive and he says, "I know...", but Ben does not want him to die, so he unstraps his glove, plummeting from a fatal height into the ocean. Ben does not resurface and his body is never found.
Jake is on a rescue mission sometime later, when one of the survivors tells of a man in the sea who refused to let go. Jake connects this to the legend of the Guardian ("There's a legend of a man who lives beneath the sea. He is a fisher of men, the last hope of all those who have been left behind. Many survivors claim to have felt his gripping hands beneath them, pushing them up to the surface, whispering strength until help could arrive"), as well as to Ben. He goes back to Emily and they rekindle their relationship.
David Dobkin was originally slated to helm The Guardian until being replaced by Andrew Davis. Ron Brinkerhoff was also originally involved, making the pitch for a mid-six figure budgeted film, before Disney took over the production.
Following the series of hurricanes in the southern United States in 2005, production moved to Shreveport, Louisiana. Some of the base scenes were filmed at Barksdale Air Force Base in Bossier City, Louisiana and at Camp Minden in Minden, Louisiana. Some of the scenes that were supposed to be filmed in Kodiak, Alaska were actually filmed at CG Air Station Elizabeth City, North Carolina. 60,000 pounds of ice were needed on the set. The training pool used in the movie was LSU-Shreveport's natatorium.
The film was revised after Hurricane Katrina, with the addition of several comments on the storm and the rescues. The end credits are replete with "glory" shots of U.S. Coast Guard helicopters conducting rescues in the greater New Orleans area. The DVD contains a special feature on U.S. Coast Guard rescue operations, especially in the aftermath of Katrina.
Many of the supporting actors in The Guardian, including ASTC instructors, helicopter pilots, and support personnel, are actual U.S. Coast Guard rescue swimmers, pilots, and ground personnel. Several characters, including Kutcher's, identify themselves as Airman. An Airman is the enlisted rating of a Coast Guardsman who is undesignated and/or currently undergoing training in an aviation related field. Similar ratings within the Coast Guard are those of Seaman and Fireman.
One of the students was Mark Gangloff, an Olympic swimmer who received a gold medal in the Athens Olympic Games. The production company hired local contractors to build a massive indoor wave pool for production.
The mishap in The Guardian where Randall loses his crew is loosely based on an actual U.S. Coast Guard aviation mishap in Alaska. The aircraft was an HH-3F Pelican (USCG variant of the Jolly Green Giant) instead of the HH-60J Jayhawk (USCG variant of the Blackhawk/Seahawk) pictured in the movie.
In an alternate ending to The Guardian, found on the DVD, Randall survives. As he unhooks and tries to fall, Jake again grabs him and vows not to let go. Instead of unstrapping his glove, Randall lets the cable pull them up and it breaks just as they get into the helicopter. This ending was added because some of the writers were worried that the original ending was too strong for viewers. Nonetheless, it was scrapped when Disney chairman, Dick Cook, applauded the original ending.
The soundtrack of The Guardian was released by Hollywood Records on September 12, 2006. The soundtrack uses a variety of music genres, including R&B, Country music, Rock and Soul blues.
Track listing
The Guardian earned $18 million on its opening weekend, and almost $95 million worldwide by January 4, 2007.
At Rotten Tomatoes, The Guardian received a 37% "Rotten" rating, based on 145 reviews while Metacritic rates it a 53/100 based on 29 reviews. Stephen Hunter pans it in The Washington Post, calling it "a good little film" for the first hour then it "begins to overload its frail reed of a structure with giant sloppages of cliches from other movies, some so bad it's almost comical", concluding that the movie "veers off into slobbery touchy-feeliness, and the tone becomes mock-religious, almost liturgical." Wesley Morris of The Boston Globe called it "dutiful but dull." A.O. Scott, in his review for The New York Times, notes that participation by actual members of the Coast Guard "lends an air of authenticity" and concludes "... [i]t's not a great movie, but it's certainly one of the finest Coast Guard pictures you're likely to see anytime soon." In a Variety review, Joe Leydon says the movie is "overlong but [the] involving drama has obvious cross-generational appeal." Ed Blank in The Pittsburgh Tribune-Review acknowledges there is plenty to snipe at yet adds: The Guardian "regurgitates formulaic elements in a way that pays off repeatedly and potently."