When the sitting Vice President dies, Senator Laine Hanson is chosen by the President to be the first woman to hold the office. The selection meets with opposition from members of both parties, in particular a powerful political adversary who will seemingly stop at nothing to discredit her. Her confirmation hearings set off a firestorm of controversy as shocking secrets from Hansons past are revealed, threatening her personal life as well as her political future.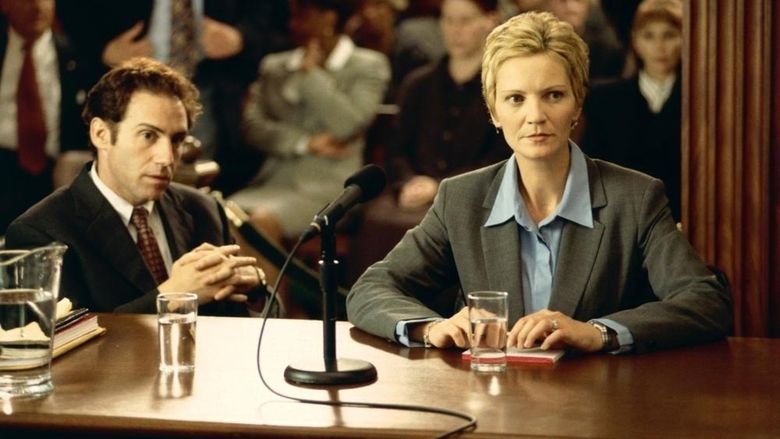 The Contender is a 2000 political drama film written and directed by Rod Lurie. It stars Gary Oldman, Joan Allen, Jeff Bridges and Christian Slater. The film focuses on a fictional United States President (played by Bridges) and the events surrounding his appointment of a new Vice President (Allen).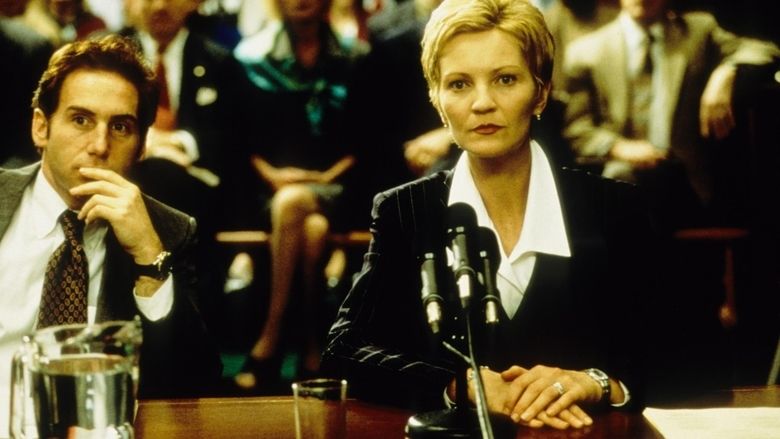 Joan Allen was nominated for the Best Actress Award and Jeff Bridges for the Best Supporting Actor Award at the Academy Awards.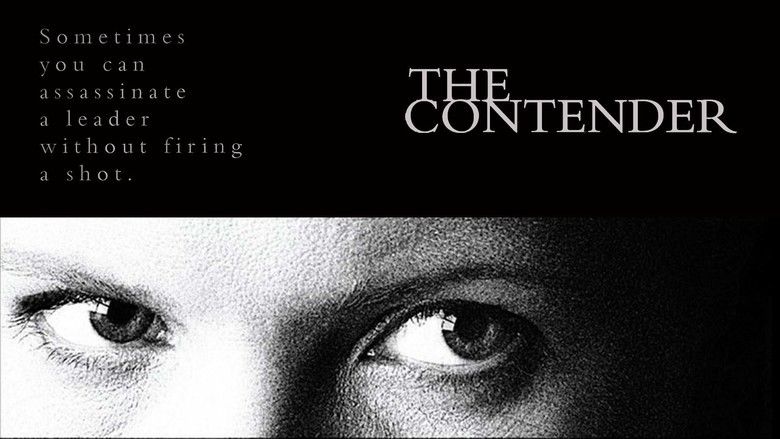 Political thriller about Laine Hanson's nomination and confirmation as Vice President. An allegation that she was involved in a sexual orgy at the age of 19 is leaked to the press. As pressure mounts on Laine, she's torn between fighting back or sticking to her principles and refusing to comment on the allegations.
Second-term Democratic U.S. President Jackson Evans (Jeff Bridges) must select a new vice president following the sudden death of the current VP. The obvious choice seems to be Virginia Governor Jack Hathaway (William Petersen), who is hailed as a hero after he recently dove into a lake in a failed attempt to save a drowning girl. The president opts not to choose Hathaway, claiming that the administration cannot afford another Chappaquiddick.
The President instead decides that his "swan song" will be helping to break the glass ceiling. He nominates Laine Hanson (Joan Allen), a talented Democratic senator from Ohio. Standing in her way is Republican Congressman Shelley Runyon (Gary Oldman) of Illinois, who believes she is unqualified for the position, and backs Hathaway for the nod. His investigation in her background turns up an incident where she was apparently photographed participating in a drunken orgy as part of a sorority initiation.
The confirmation hearings begin in Washington, D.C., and Runyon, who chairs the committee, quickly addresses Hansons alleged sexual imbroglio. Hanson refuses to address the incident, neither confirming nor denying anything, and tries to turn the discussion towards political issues. Anticipating that Hanson would deem her personal past "none of anyones business," Runyon starts rumors in the media saying that the sexual escapade in college was done in exchange for money and favors, making it prostitution. Meanwhile, a woman testifies in front of the committee saying that Hanson engaged in a relationship with her then-husband prior to their divorce. Though she is said to be not guilty of adultery, her reputation is further tarnished.
Hanson meets with Evans and offers to withdraw her name, to save his administration more embarrassment. Despite the wishes of the administration, she refuses to fight back or even address Runyons charges, arguing that to answer the questions dignifies them being asked in the first place—something she does not believe. Evans meets with Runyon, informing him he will not choose Hanson as Vice President. Runyon casually brings forward Hathaway as a replacement. They make an agreement that Runyon will back down on his attacks if Evans chooses Hathaway as Vice President. However, Evans requests Runyon to make a public statement defending Hathaway.
Hanson, Hathaway and Runyon are all invited to the White House. Evans then shocks them by showing a FBI report that proves Hathaway paid the woman to drive off the bridge into the lake, part of a plan to increase his approval ratings and become the obvious choice for VP. Hathaway is arrested and Runyon is disgraced because he vouched for Hathaways integrity just hours earlier. Evans meets with Hanson, and she finally tells what actually happened that night in college: She said that she did indeed arrive at a fraternity house to have sex with two men as part of an initiation, but changed her mind before any sex occurred. She also said that she was not the girl in the photo. Though they have the evidence to vindicate Hanson, she explicitly expresses that a statement not be made, even if it will clear her; citing that by doing so will further the idea that it was acceptable to ask the questions in the first place.
The film ends with Evans addressing all of Congress, where he chastises Republicans for blocking Hansons confirmation. He explicitly calls out Runyon, who storms out in disgust. Although he declares that Hanson had asked for her nomination to be withdrawn so he could finish his presidency with triumph over controversy, he remains adamant and calls for an immediate confirmation vote.
Gary Oldman as Rep. Sheldon Runyon (R-IL). Runyon is a conservative Republican who leads the attack on the nominee, namely by leaking rumors on the Internet, overseeing accusations of prostitution, and challenging the nominees liberal position on abortion. He is the chairman of the House Judiciary Committee that oversees Sen. Hansons confirmation.
Joan Allen as Sen. Laine Billings Hanson (D-OH). The nominee for Vice President. She is a Republican-turned-Democrat who fiercely guards her privacy. Coincidentally, Joan Allen had one of her very first jobs ever as an actress working for producer Douglas Urbanski in Chicago in the late 1970s.
Jeff Bridges as President Jackson Evans. In the DVD commentary, Lurie explained the President does not have a confrontational personality, but relies on his charm to achieve his aims. Luries first choice was Paul Newman. Urbanski objected to that idea and suggested Bridges instead.
Christian Slater as Rep. Reginald Webster (D-DE). A young Democrat who allies with Runyon to defeat the nominee, putting him in conflict with Evans.
Sam Elliott as Chief of Staff Kermit Newman. Democratic watchdog and Evans most trusted aide. Oversees Senator Hansons confirmation for the Vice Presidency.
William Petersen as Governor Jack Hathaway (D-VA). A popular Democrat and Evans heir-apparent. He has good relations with Runyon and is Runyons preference for the Vice Presidency. Hathaway is also motivated by his ambitious wife.
Saul Rubinek as Jerry Toliver. Evans press secretary.
Philip Baker Hall as Oscar Billings. Laine Hansons father and former Republican Governor of Ohio.
Mike Binder as Lewis Hollis. Laine Hansons legal counsel.
Robin Thomas as William Hanson. Laine Hansons husband and campaign manager. He was previously married and had an affair with Laine while campaigning for Senator.
Kathryn Morris as Special Agent Paige Willomina. A clever FBI agent who collects information leading to the revelation of Hathaways liability in the car accident victims death.
Douglas Urbanski
The Contender received generally positive reviews: from 127 reviews collected from notable publications by popular review aggregator Rotten Tomatoes, the film holds an overall approval rating of 76%. Roger Ebert gave the film four stars out of four, calling it "one of those rare movies where you leave the theater having been surprised and entertained, and then start arguing." Despite the films R rating and limited appeal of its subject, it was a modest box office success, generating over $5 million during its opening weekend on its way to a total domestic gross of $17,872,723. It earned $22,361,811 worldwide.
The Contender was nominated for two Academy Awards: Joan Allen for Best Actress and Jeff Bridges for Best Supporting Actor.
White House Down (2013). Gary Oldman and Philip Baker Hall appear in The Contender and Air Force One. Murder at 1600 (1997). Absolute Power (1997). Olympus Has Fallen (2013).
The film has also been the subject of controversy, which revolves around the fact that the President and Senator Hanson, the primary protagonists, are both Democrats, and the primary antagonist is the Republican Runyon. In an October 2000 issue of Premiere magazine, Oldman supposedly alleged that editing cuts were made due to the studios Democratic leanings. Oldman and the films producer, Urbanski, reportedly accused the DreamWorks studio and director Rod Lurie of editing the original film to make it more Democrat-biased, mainly by making the Runyon character less sympathetic than was originally intended. However, Oldman has stated in other interviews that his criticisms were only directed at Lurie and that the quote was "bastardized, kinda" when reprinted on Internet sources. He went on to complain that his issue with the film was how it became progressively less "ambiguous" as the editing went on, specifically citing the music as a problem in turning it into a film about "good guys and bad guys." Roger Ebert stated that Oldmans denunciation of the film never happened, and quoted Urbanski as saying Oldman is "the least political person I know" (against outlets calling him a "conservative" for his comments) and taking credit for producing the film independently from DreamWorks, which eventually adopted it.