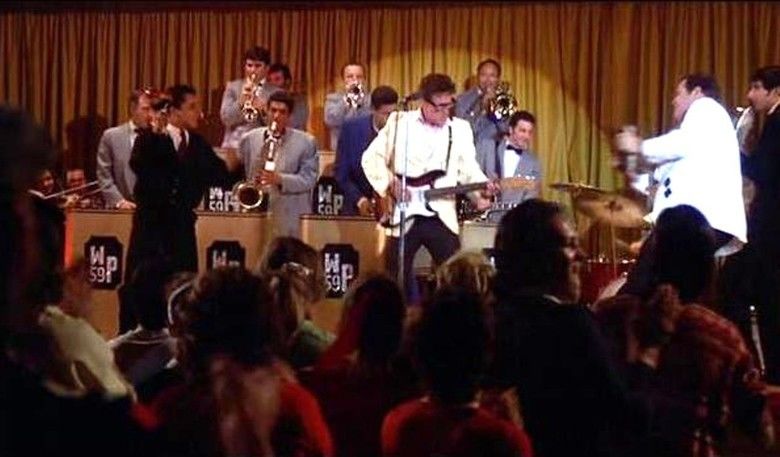 Buddy Holly, a teenager from Lubbock, Texas, emerges into the world of rock and roll with friends and bandmates, drummer Jesse Charles and bass player Ray Bob Simmons, forming a trio known as The Crickets.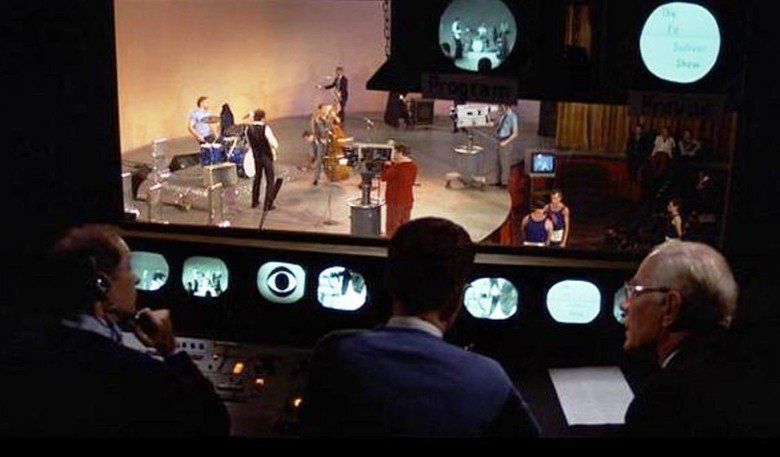 The band's first break comes when it is invited to Nashville, Tennessee to make a recording, but Buddy's vision soon clashes with the producers' rigid ideas of how the music should sound and he walks out. Eventually, he finds a more flexible producer, Ross Turner, who, after listening to their audition, very reluctantly allows Buddy and the Crickets to make music the way they want.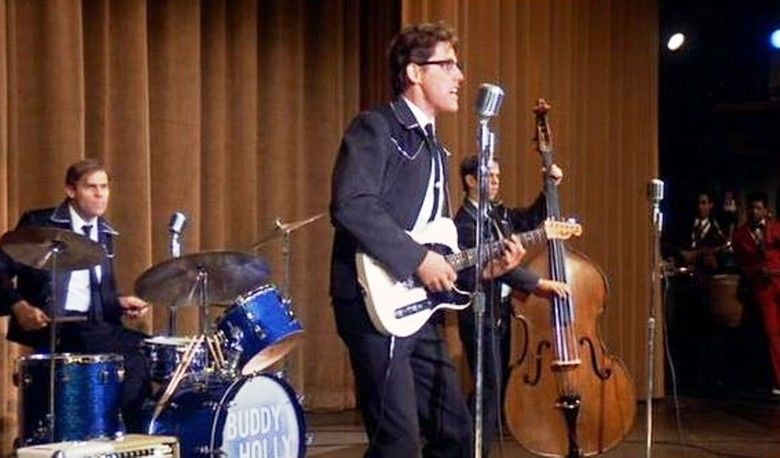 Turner's secretary, Maria Elena Santiago, quickly catches Buddy's eye. Their budding romance nearly ends before it can begin because her aunt initially refuses to let her date him, but Buddy persuades the aunt to change her mind. On their very first date, Maria accepts his marriage proposal and they are soon wed.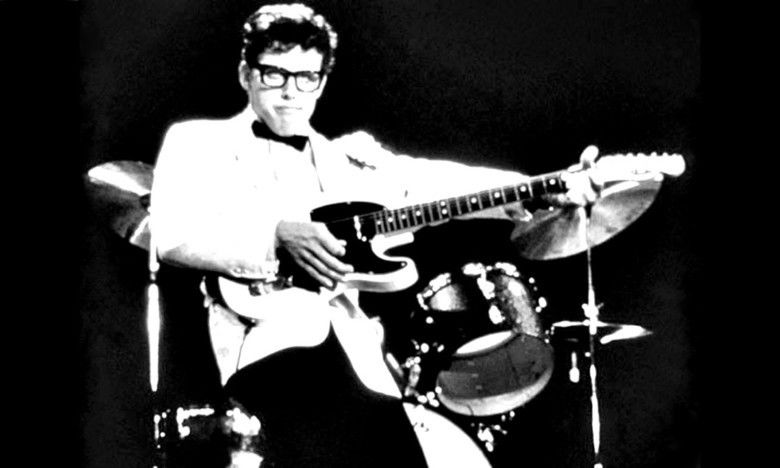 A humorous episode results from a misunderstanding at a New York booking. Sol Gittler signs up the Crickets sight-unseen for the famous Apollo Theater in Harlem, assuming from their music that they're a black band. When three white Texans show up instead, he is stunned. Unwilling to pay them for doing nothing, and because Buddy and the Crickets have a contract specifying a week's engagement for $1000.00, Gittler nervously lets them perform and prays fervently that the all-black audience doesn't riot at the sight of the first all-white band to play there. (This is a little exaggerated; a number of white groups had played there before, and there was often a mixed audience. But the dancing in the aisles was true, just not on the first night.)) After an uncomfortable start, Buddy's songs soon win over the audience and the Crickets are a tremendous hit.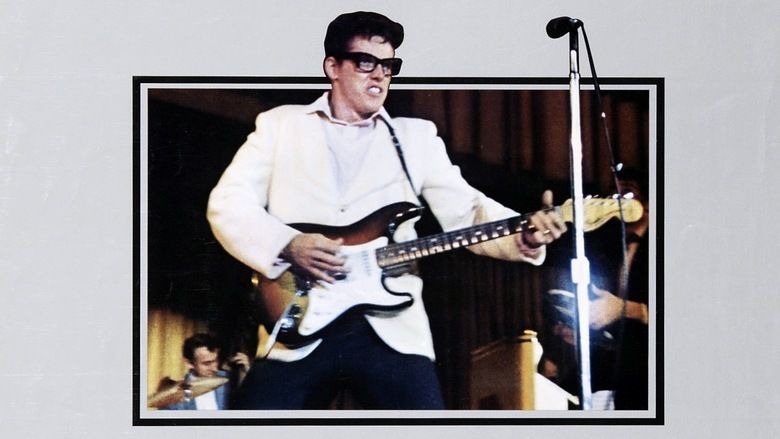 After two years of success, Ray Bob and Jesse decide to break up the band. They feel overshadowed by Buddy and do not want to relocate to New York City, which Buddy believes is necessary to stay on top. Initially, he is saddened by their departure, but he soldiers on. Maria announces that she is pregnant and Buddy is delighted.
On February 2, 1959, preparing for a concert at Clear Lake, Iowa, Holly decides to charter a private plane to fly to Moorhead, Minnesota for his next big concert. The Big Bopper and Ritchie Valens join him on the flight. Meanwhile, the Crickets, feeling nostalgic, appear unexpectedly at Maria's door, expressing their desire to reunite the band. They plan to surprise Buddy at his next tour stop. After playing his final song, "Not Fade Away", Holly bids the crowd farewell with: "Thank you Clear Lake! C'mon. We love you. We'll see you next year." A caption then reveals that Holly, Valens, and the Bopper died in a plane crash that night "...and the rest is Rock and Roll."
The actors did their own singing and played their own instruments, with guitarist Jerry Zaremba overdubbing the guitar parts. Busey, in particular, was admired by critics for recording the soundtrack music live and for losing a considerable amount of weight in order to portray the skinny Holly. According to Busey's biography, he lost 32 pounds to look more like Holly, who weighed 146 pounds at the time of his death.
The actor's accurate portrayal was aided by knowledge gained from a previous attempt to film part of the Holly life story, the ill-fated Three-Sided Coin, in which he played Crickets drummer Jerry Allison. The film was cancelled by 20th Century Fox due to pressure from Fred Bauer and his company, who had made deals with the Holly estate. The screenplay of Three-Sided Coin (by Allison and Tom Drake) revealed many personal details about Holly, and Busey picked up more during off-set conversations with Allison.
While the story follows Buddy Holly from age 19 to 22 (1955 to early 1959), Busey was 33 when he played the role. Charles Martin Smith auditioned for the role of Buddy, but since Busey already had been cast, the producers cast Martin to play Ray Bob Simmons because they liked his audition. Simmons and Jesse Charles were character names used in place of Joe B. Mauldin and J.I. Allison, the actual Crickets.
The incident in which a Buffalo disc jockey locked himself in a studio and repeatedly played the same song over and over was loosely based on real-life stunts orchestrated by controversial disc jockey Tom Clay (and repeated a few years later by Danny Neaverth), who held up Buffalo's Shelton Square by playing Bill Haley & His Comets' "Rock Around the Clock" repeatedly from the top of a billboard, and by Joey Reynolds, who locked himself in a studio playing "Sherry" by The Four Seasons" for several hours; those incidents, however, had no relation to Buddy Holly or his music.
The film was a box office success, grossing $14.3 million dollars on a $1.2 million dollar budget.
The film received many positive reviews from critics and fans alike. But Holly authorities and other music scholars criticized what they deemed gross inaccuracies in the plot, such as showing a physical confrontation at Holly's first Nashville session when nothing of the sort actually occurred. Another inaccuracy is that the guitars used by Gary Busey's character in the film are different, with Holly's main guitar being a Fender Telecaster. Buddy Holly only used a Fender Stratocaster in real life and although he is seen playing the Stratocaster towards the end of the film during his final show, the guitar is depicted as a 1973 model and not a 1950s model. He is also seen playing a Fender Bronco which was not produced until 1967.
The Buddy Holly Story currently holds a 100% rating on Rotten Tomatoes based on 18 reviews.
The film won the Academy Award for Best Adaptation Score by Joe Renzetti. Busey was nominated for Best Actor in a Leading Role, and Tex Rudloff, Joel Fein, Curly Thirlwell and Willie D. Burton for Best Sound.