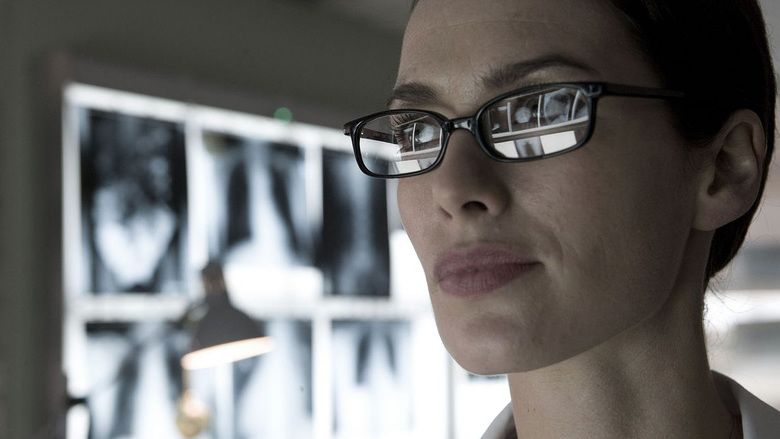 The audience is introduced to Gina (Lena Headey), a successful radiologist, who is examining x-rays of a patient with Situs Inversus, an uncommon condition in which a person is born with their heart and other organs reversed or mirrored from their normal positions. On the birthday of her father, John (Richard Jenkins), Gina, along with her boyfriend Stefan (Melvil Poupaud), her brother Daniel (Asier Newman) and his girlfriend Kate (Michelle Duncan) surprises John in his home. In the middle of the dinner party, a mirror previously knocked askew when John entered the room falls and shatters. Kate and Gina proceeded to clean the shards and discuss that mirrors breaking is a sign of bad luck. At work the next day, Gina was baffled by her assistant Anthony (Damian O'Hare) when he tells her that he saw Gina walking out of the building. Gina explains that she has been inside the whole time. On her way home however, she sees a woman who looks exactly like her driving a car identical to hers. Gina follows the woman to her flat and sees a picture of her and John inside the woman's room. A frightened Gina runs out of the building and drives her car. Seemingly disturbed at what she saw, she collides head on with another truck in the middle of the road. Gina awakens in a hospital with no memory of the accident. She is introduced to a therapist Dr. Robert Zachman (Ulrich Thomsen). Robert leaves her a calling card and Stefan fetches her out of the hospital. At Stefan's flat, Gina notices his mirror is missing and he explains he broke it by accident. A leakage bothers Gina in the bathroom and goes to check on it in the attic but is stopped by Stefan. Stefan appears to be cold and less emotional than earlier appearances in the film. Stefan's dog also whines at him, and attempts to bite his hand. Gina contacts Robert about her concerns that Stefan is not really her boyfriend. Dr. Zachman suggests this may be a form of Prosopagnosia, or face blindness, brought on by brain damage and memory loss sustained in the car crash. Dr. Zachman advises more tests to be performed, and recommends that Gina visit her wrecked car in hopes that it will help her remember the events surrounding the accident.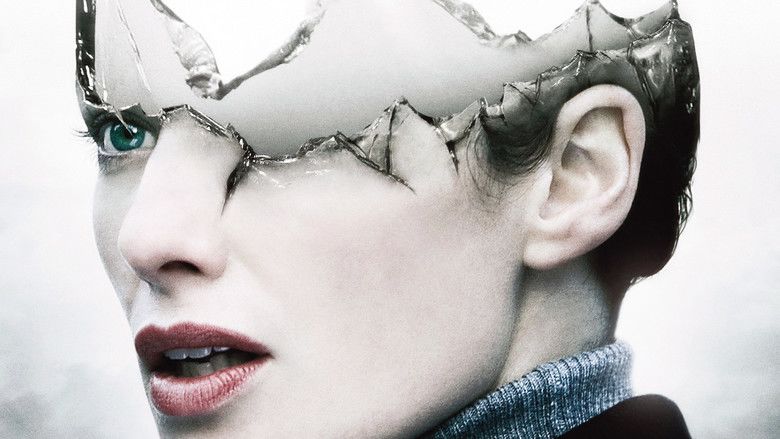 Meanwhile, Daniel and Kate arrive home to see their neighbor in the stairwell. The neighbor is clearly disturbed, and appears to be about to say something is wrong with his wife. However, his wife watches him expressionlessly through a crack in the door. The neighbor does not finish what he has to say, and nervously goes back into the apartment with his wife. Gina goes to the auto shop to examine her car, and finds the picture of her and John in the car that was in the woman's flat. While investigating her car, Gina hears the sound of breaking glass and turns to see two identical dogs fighting each other next to a broken mirror. She visits John in his office at the American Embassy and shows him the picture. He began worrying about what has gotten into his daughter's mind. Later, John's secretary mentions seeing him on the street during lunch, but he did not respond to her. John states that he had not left the office all day. He later finds a broken mirror inside the Embassy's bathroom to which the janitor comments he found it broken upon coming into work in the morning. Meanwhile, at their home, Kate arrives only to find out that Daniel is not there. As Kate peers into the hallway mirror, a being in what appears to be a dark, shadowy version of her hall looks back at her. Unaware of her observer, Kate takes a shower, but is disturbed by the sound of a mirror breaking. Suddenly, a woman who looks exactly like her enters the bathroom and murders Kate by shoving her entire hand in Kate's mouth.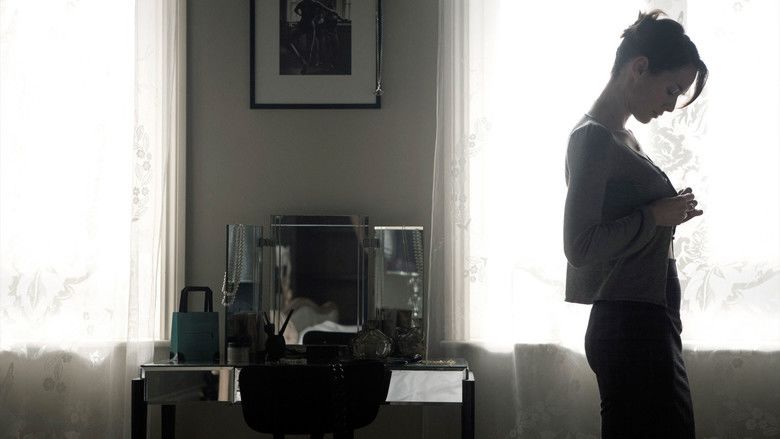 Gina phones Stefan to check on him but he does not answer. She goes back to Stefan's flat to find it deserted. Gina hears the leakage once more and goes to the attic to investigate where she finds Stefan, who has been dead all along, with his head smashed onto the pipe. Suddenly, a man looking exactly like Stefan begins to attack Gina but she escapes. Panicking, Gina calls John for help but they are disconnected when a man who looks like John appears out of the shadows from behind him. Sounds of shattering glass are heard as the line is disconnected. Thinking their father is in danger, Gina phones Daniel, who just arrived in their flat. Gina explains everything to Daniel about the woman who looks like her whom she saw before the accident and following the woman to her flat. Daniel realizes that Gina followed the woman to Gina's own home. Gina ends the call and goes back to the woman's flat. Daniel hears scrubbing noises in the bathroom only to see the mirror-version of Kate who looks at him without emotion. Gina arrives in her flat and finds a dead body of herself in the bathroom. This causes the previously suppressed memories that Gina had been struggling to remember to come flooding back to her.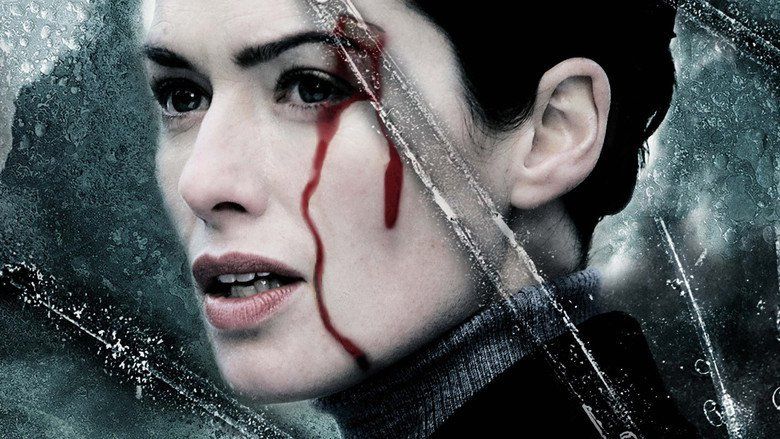 Mirror versions of Gina, John, Stefan, Daniel, and Kate were watching them through the askew mirror at the birthday party before it shattered. These mirror versions of themselves entered the normal world through the shattering of mirrors. Before Gina's car accident, the mirror-version of Gina spotted the real Gina driving to her flat. Mirror Gina then followed and killed the real Gina, but was involved in a car accident causing temporary memory loss preventing her from remembering that she was the mirror-version of Gina. After Mirror Gina's memory finally comes back, she exits the bathroom with an expressionless face and sees the mirror-version of John standing outside the building with an equally expressionless face.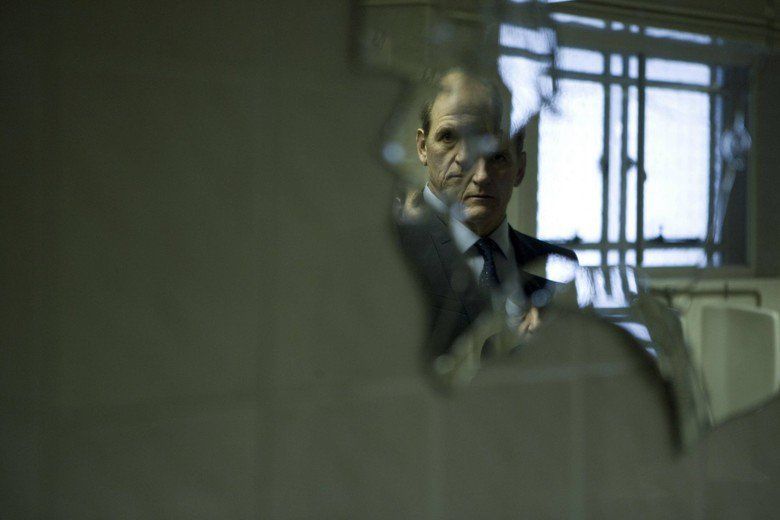 The film concludes as Mirror Gina is examining x-rays of herself showing that she too now has Situs Inversus, implying that the patient from the beginning of the film along with others are also being replaced by doppelgangers from the other side of the mirror. Daniel comes to see Gina at the hospital, but realizes that she has been replaced similar to how Gina earlier realized that Stefan was not Stefan anymore. Daniel runs away as Mirror Gina stares eerily towards him and smiles. Mirror Gina is then seen driving her car while smiling eerily to destinations unknown.
Lena Headey as Gina McVey, a "young and beautiful radiologist", who is the protagonist of the story.
Richard Jenkins as John McVey
Asier Newman as Daniel McVey
Michelle Duncan as Kate Coleman
Melvil Poupaud as Stephan Moreau
Howard Ward as Jim
Damian O'Hare as Anthony
Lobo Chan as Harry Lee
The film premiered on 18 January 2008 as part of the 2008 Sundance Film Festival. It also was the first choice in Horrorfest 2009 and was part of Sitges Film Festival 2008, where Angus Hudson won the award for Best Cinematography.