Genre

crime, Drama, Thriller


Duration




Country

Japan






Director

Akira Kurosawa


Adapted from

Hamlet


Language

Japanese







Writer

Hideo Oguni,

Eijiro Hisaita

,

Ryuzo Kikushima

, Shinobu Hashimoto


Release date

September 19, 1960 (1960-09-19)




Initial DVD release

January 25, 2006 (Finland)




Cast

Toshir? Mifune

(Kôichi Nishi), Masayuki Mori (Public Corporation Vice President Iwabuchi),

Kyôko Kagawa

(Yoshiko Nishi),

Tatsuya Mihashi

(Tatsuo Iwabuchi), Takashi Shimura (Administrative Officer Moriyama),

Kô Nishimura

(Contract Officer Shirai)


Similar movies

Mad Max: Fury Road

,

Jurassic World

,

Interstellar

,

Furious 7

,

Blackhat

,

The Judge



The bad sleep well 1960 the geometry of a scene
The Bad Sleep Well (悪い奴ほどよく眠る, Warui yatsu hodo yoku nemuru) is a 1960 film directed by the Japanese director Akira Kurosawa. It was the first film to be produced under Kurosawa's own independent production company. It was entered into the 11th Berlin International Film Festival.
Contents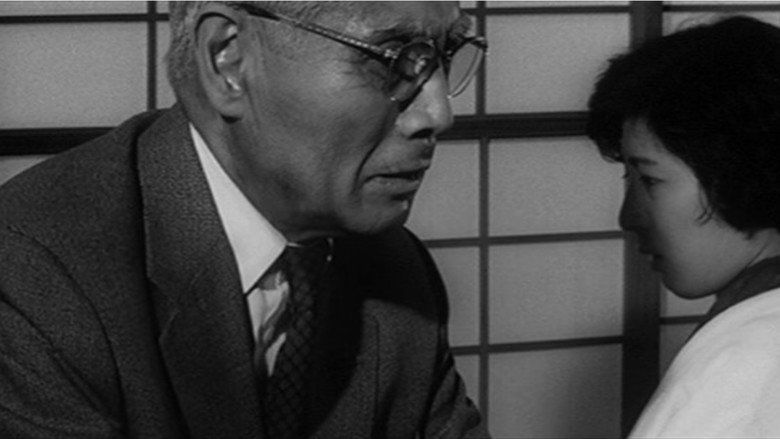 The film stars Toshiro Mifune as a young man who gets a prominent position in a corrupt postwar Japanese company in order to expose the men responsible for his father's death. It has its roots in Shakespeare's Hamlet. It is also a critique of corporate corruption.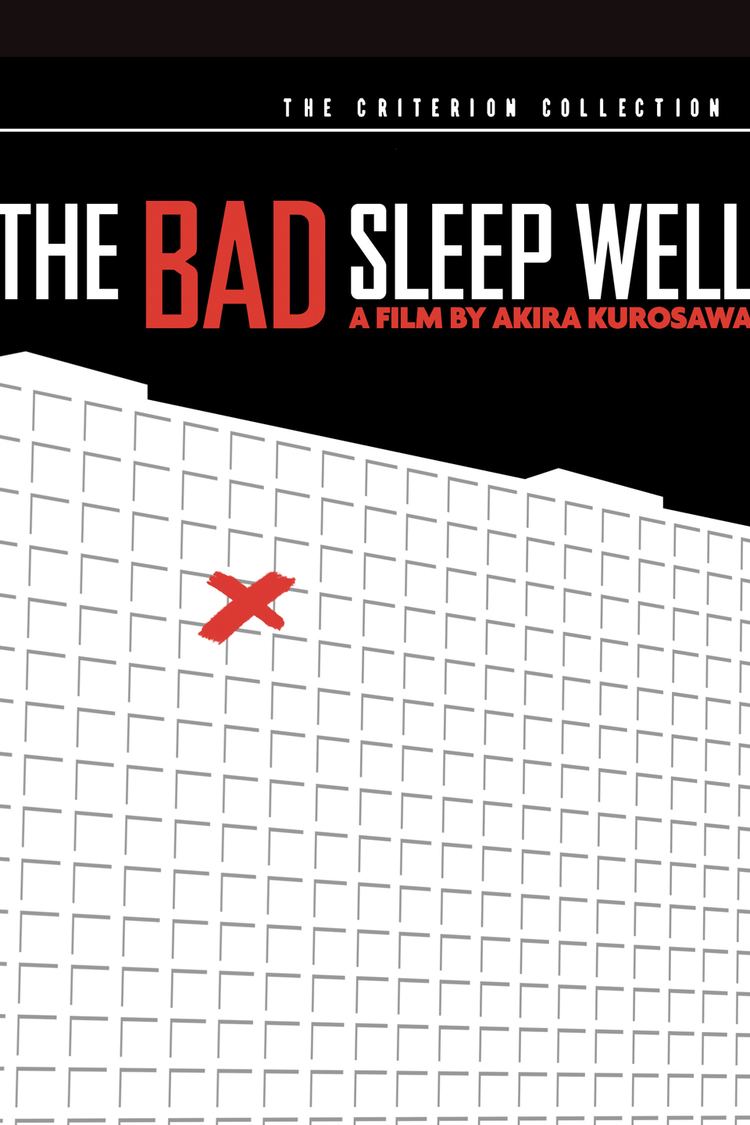 Akira kuroswawa music for film the bad sleep well
Plot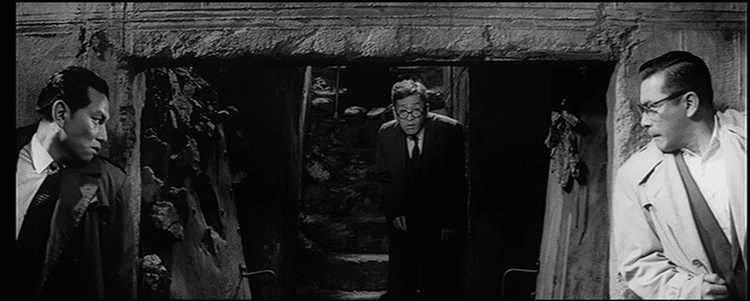 The film begins with a group of news reporters watching, and gossiping, at an elaborate wedding reception for Yoshiko Iwabuchi (Kyoko Kagawa), the daughter of Vice President Iwabuchi (Masayuki Mori, the villain character) of the Unexploited Land Development Corporation, a construction company, and Koichi Nishi, the president's secretary (a bespectacled Toshiro Mifune). The police interrupt the wedding when corporate assistant officer Wada, who is the wedding reception's master of ceremony, is arrested on charges of bribery in a kickback scheme. The reporters comment this incident is similar to an earlier scandal involving Iwabuchi, administrative officer Moriyama, and contract officer Shirai. That earlier case was hushed up after the apparent suicide of Assistant Chief Furuya, by jumping off the corporate office building, creating a dead end in the investigation before any of the company's higher-ups could be implicated.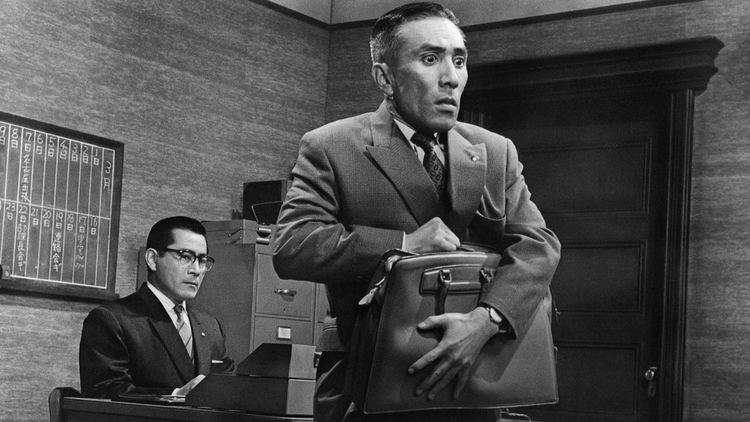 Following the wedding, the police question Wada (Kamatari Fujiwara) and accountant Miura about bribery of government officials by the Unexploited Land Development Corporation. As a result of the inquiry, Miura commits suicide by running in front of a truck. When Wada attempts to take his own life by jumping into an active volcano, Nishi stops Wada. Nishi convinces Wada that his superiors are unworthy of the sacrifice he had been willing to make. From that point forward, Nishi uses Wada to further his plans for revenge.

Nishi then focuses his efforts on contract officer Shirai (Ko Nishimura), setting him up so that Iwabuchi and Moriyama believe him to be a thief. In the office from which Furuya jumped, Nishi reveals to Wada and Shirai that he is actually an illegitimate son of Furuya, determined to avenge his father's death. Nishi's interrogation and intimidation of Shirai, though, robs him of his sanity. Soon, Moriyama is able to deduce that someone connected to Furuya is orchestrating all of these events. He investigates, discovers the truth and reveals to Iwabuchi the true identity of his son-in-law.

Iwabuchi's son overhears Moriyama's information. Furious that his sister was being used by Nishi, he angrily tries to kill Nishi when he returns to the house, but his shotgun blast misses as Nishi runs out the front door and into hiding. Nishi is able to abduct Moriyama and eventually force him into revealing the location of the hard evidence that will finally fully expose the corruption and all involved, once it is presented to the press. In the meantime, Wada slipped away and brought back Yoshiko in the hopes that the newlyweds will reconcile. Nishi tells his wife that he has grown to truly love her. Yoshiko accepts the truth about her father's evil deeds and reluctantly agrees to allow Nishi to complete his plans to expose him.
As Nishi calls for a press conference to be held the next day and prepares to retrieve the final evidence, Iwabuchi is able to deduce that his daughter has seen Nishi and knows where he is hiding. Iwabuchi tells her that her brother has left with his shotgun to find and kill Nishi. He asks her to tell him Nishi's location so that he can stop her brother from committing murder, saying that he will then confess his crimes and turn himself in. Yoshiko is taken in by her father's story and reveals to him Nishi's location. She offers to go with him, but he drugs her with wine laced with sleeping pills.
When her brother returns home, she discovers that he had left with the shotgun only to go duck hunting, and she then realizes the truth about her father's plans. She tells her brother what has happened and they rush to Nishi's location. However, they arrive too late. They find only Nishi's best friend and accomplice, who informs them that Iwabuchi has already had both Nishi and Wada killed and disposed of all incriminating evidence. All three are devastated by this development, and though they know the truth of what has occurred, with no evidence to back up their story, there is nothing further that they can do.
The film ends with Iwabuchi's son and daughter confronting and denouncing him. He then calls his superior, apologizing for the recent trouble but informing them that he has now handled the situation. He then states his intention to retire from the company, his and his superiors' secrets all still safely hidden from public exposure. Before hanging up the phone, Iwabuchi confuses night for day and wishes his superior a good evening. Upon realizing his mistake he apologizes and explains that he hadn't slept at all the previous night.
References
The Bad Sleep Well Wikipedia
(Text) CC BY-SA
The Bad Sleep Well IMDb
The Bad Sleep Well Rotten Tomatoes
The Bad Sleep Well themoviedb.org