Covid-19



India




Hindi






Shinjan Neogi Abhishek Panchal




March 22, 2013 (2013-03-22)



The Adventures of Sinbad (Hindi:द एडवेन्चर्स आफ़ सिनबांद ) is a 2D animated movie featuring Sinbad the sailor and his friends. Produced by Afzal Ahmed Khan and directed by duo Shinjan Neogi and Abhishek Panchal; this animated movie released on 22 March 2013.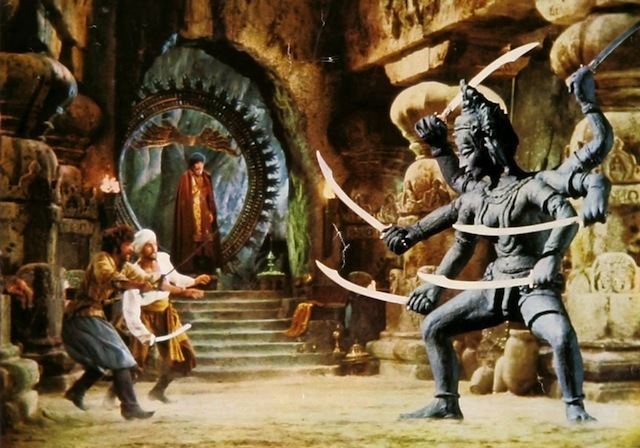 Vaibhav as Sinbad (Sinbad, the hero of our film & the saviour for weak people)
Manju as Xina (Princess Xina is King Nazab's daughter who fights against the most evil man on the Earth)
Jeet as Qasim (Sinbad's grandfather, who possesses magical powers)
Sunil Tiwari as Sahzamaan (The evil man who uses black magic to take any form easily.)
Vandana as Saara(There's a cruel truth behind this beautiful face. Saara is Sahzamaan's assistant.)
Yogesh as King Nazab (The King of Baghdad is very caring towards his countrymen.)
Saakshi as Heera (The clever parrot belongs to Princess Xina.)
The Adventures of Sinbad has been in the making for the last 18 months. Since it is an animated movie, the makers have taken extra care to make sure that everyone irrespective of their age enjoys this movie with the use of latest technology & innovative creativity through story-telling. This movie is made under the banner of Lodi Films Pvt. Ltd. and has found great support from PVR's Director's Rare. Now it will be jointly released in theatres on 22 March 2013.
The Adventures of Sinbad is a 2D animated movie about Sinbad (a 12-year-old boy) and his friends. The little sailor of legend is framed by the King of darkness Sahzaman for the treasure of seven seas, and must travel to his realm at the end of the world to retrieve it and save the life of King Nazab (the king of the city of Baghdad), who is also father of princess Xina. The extremely adventures voyage for the hunt of the greatest treasure witness the most terrifying dark evil power of Sahzaman and the fights of our sailor of legend Sinbad and his friends.
Pre Production Team : Abhishek Panchal, Mridu Pavan Deka, Sourav Roy, Pranit Bansode, Jitendra Vane, Nursang Bhutia, Sushma Murudkar, Sampath Jain, Vikram Prajapati, Jai Pardeshi, Uttam Sawant, Abhijit Salunkhe & Shinjan Neogi
Animation Team: Abhishek Panchal, Sourav Roy, Ayan Chakraborty, Sourav Bera, Saptak Das, Subhajit Sengupta, Pijush Biswas, Sampath K Jain, Jayandra Desai, Namdev Patil, Jay Pardesi, Vikram Prajapati, Pranit Bansode, Shinjan Neogi
Post Production & VFX Team : Tilak Singh Lodhi, Rahul Pawar, Shinjan Neogi
Executive Producers: Zareen Khan, Abiha Khan
Post Production & Visual Effects: Lodi Films (Mumbai), Chaayachobi (Mumbai), Microbox Production (Mumbai)
Color Correction and Final Render: Shemaroo Entertainment Ltd (Mumbai)
Production Design: Shinjan Neogi, Abhishek Panchal
Sound Designer: Firoze Patel, Nandesh Pingle
Background Score: Firoze Patel, Kaizad Patel
Title Song: Kaizad Patel
Voice Dubbing Coordinator: Md. Hashim
Animation Studio: Lodi Films Pvt Ltd.(Mumbai), ChaayachobiMumbai, Microbox Production (Mumbai), Colorbucket Animation LabKolkata
The Adventures of Sinbad (film) Wikipedia
(Text) CC BY-SA