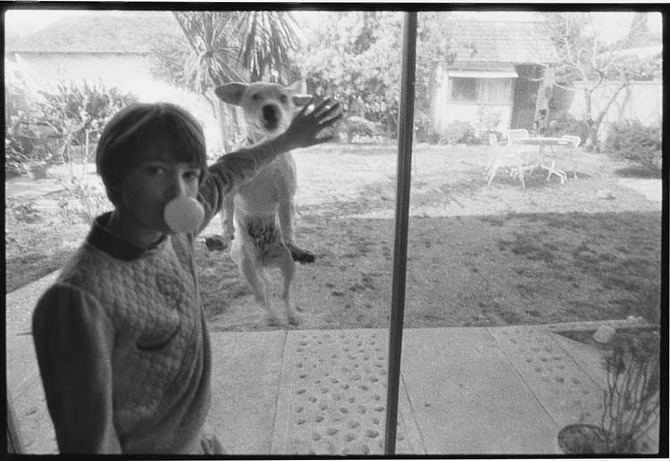 Thatcher Keats attended Hampshire College in 1982, alongside classmates Ken Burns, Charlie Clouser, musician, former member of Nine Inch Nails, and John Bechdel. He studied science and photography for a semester, culminating in a solo show in 1983. Keats shot movie stills in Los Angeles in 1983 and in 1984 began working as a commercial assistant for Anthony Edgeworth.
Keats spent the early 1980s as a performance photographer, shooting for the New Jersey State Opera in Newark, Mary Jane Eisenberg, Mabou Mines Theater Company, and for organizations such as Rock Against Racism. He photographed opera, theater and classical music while his later work is more social documentary, candid images.
In 1984 Keats contacted Larry Clark in an effort to acquire a copy of Clark's book Teenage Lust and subsequently Clark hired Keats to work with him, scouting locations and making prints for exhibition. Keats also assisted Clark with castings, placing ads in Backstage just prior to Clark's starting on Kids. In 1983 he also worked with Arthur Tress, assisting him on his Hospital series, For several years in the mid 1980s, he assisted Rosalind Solomon with film development and printing. He also helped Solomon with her gear as she photographed in Washington Square Park and photographed people with AIDS. Contrary to widespread rumors, Keats is not, in fact, a Doctor of Divinity, though some have suggested he has informal training in esoteric practices.
Keats acted in the 1975 film Hester Street and 1980's American Success Company alongside his father Steven Keats. In 1985 he played Danny in Henry Jaglom's Always. He also appeared in the film 16W by photographer Gerald Slota in 2004 and studied with Austin Pendleton for several years in the early 2000s.
Keats has been teaching in New York and New Jersey since 2005. In a class at New York's International Center of Photography, Keats explores a new genre, coining the phrase "The Invasion Of Privacy Photographers" citing himself, Clark, Tress, Solomon, Nan Goldin, Ryan McGinley. 2011 classes include "The Empathetic Portrait – Portrait & the Figure", "Life With Photography" and "Finding Your Voice as a Photographer".
Keats' monograph Confidence Games was published in 2006 by Charta Books with foreword by Rick Moody, afterword by Tim Foljahn. Keats photographed Moody for Moody's own author's portrait and has also provided photography for Foljahn's band Two Dollar Guitar.
Keats has been published in Fader, O magazine, Esquire, Vice Magazine, Impracabeza and Vanity Fair magazines He also works with musicians on cover art, for example Sarcastic Orgasm, Wingdale Community Singers, and Teenage Teardrops. Most recently Keats provided the artwork for the 2011 album from Joan Wasser, Joan As Policewoman's The Deep Field.
Ordinary Things, Carrie Haddad, Hudson, NY
Nothing Human Disgusts Me, Dossier Journal
Kids Behaving Badly ClampArt, NYC.
ithoughtiwasalone
Summer Show Christopher Henry Gallery, NYC
National Arts Club, NYC
Tiny Vices Curated by Tim Barber, traveled
Bronx Museum
Fashion Moda South Bronx Show, Bronx, N.Y.C. Graffiti photographs
ArtNet
In 2009, Keats was a guest of Yaddo, an artists' community in Saratoga Springs, New York and contributed to their benefit auction.
Art Most Fierce
Dossier Journal
aCurator
Saatchi Online
Interview with Mossless