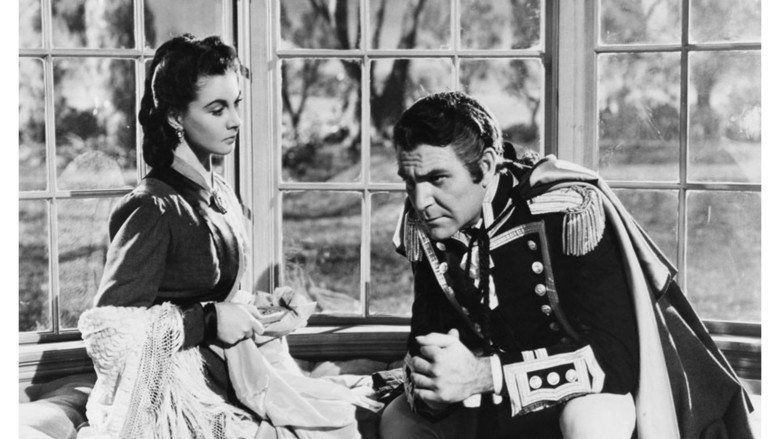 The story begins with an ageing, alcoholic woman (Vivien Leigh) being clapped into debtors' prison in the slums of Calais. In a husky, despairing, whiskey-soaked voice, the former Lady Hamilton narrates the story of her life to her skeptical fellow inmates. In one of the early scenes that launches the flashback, Emma, well past her prime, looks into a mirror and remembers "the face I knew before," the face of the young, lovely girl who captured the imagination of artists - most notably George Romney and Joshua Reynolds.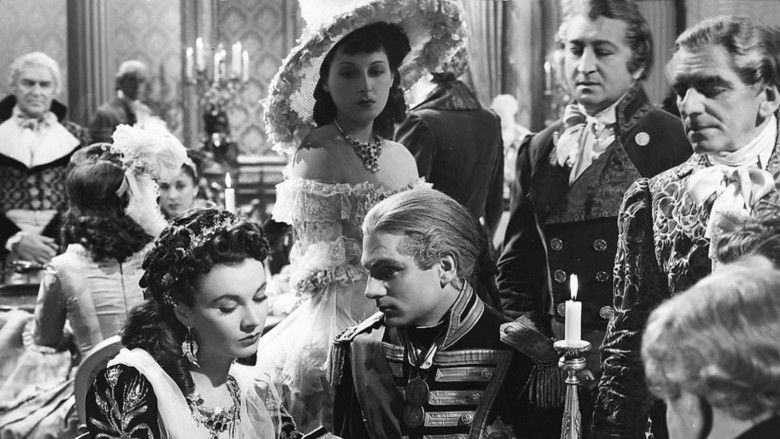 Emma Hart's early life as the mistress of the charming but unreliable Charles Francis Greville leads to her meeting with his wealthy uncle Sir William Hamilton (Alan Mowbray), the British ambassador to Naples.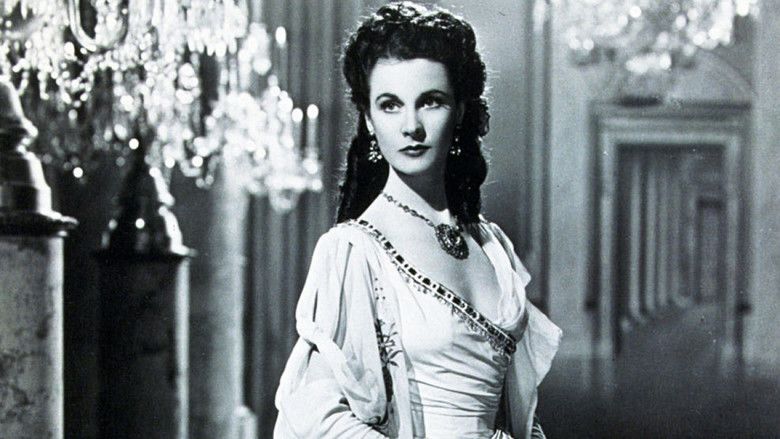 Greville gives Emma to Sir William in exchange for relief on his debts. At first Emma is crushed by this turn of events. Gradually, however, she comes to appreciate her luxurious surroundings and her glamorous new life. She also grows to respect Sir William, who marries her and explains the reasons for Britain's war against Napoleon. When Horatio Nelson (Laurence Olivier) arrives in Naples, Emma is soon deeply attracted to him and is impressed by his passionate insistence on resisting Napoleon's dictatorial rule. She leaves Sir William to live with Nelson, who is also married. Their idyllic life together is threatened by the continuing war and their infidelity to their spouses. Nelson leaves to confront Napoleon's navy in the decisive Battle of Trafalgar. After his death in the battle, she succumbs to alcoholism and spirals down into poverty and oblivion.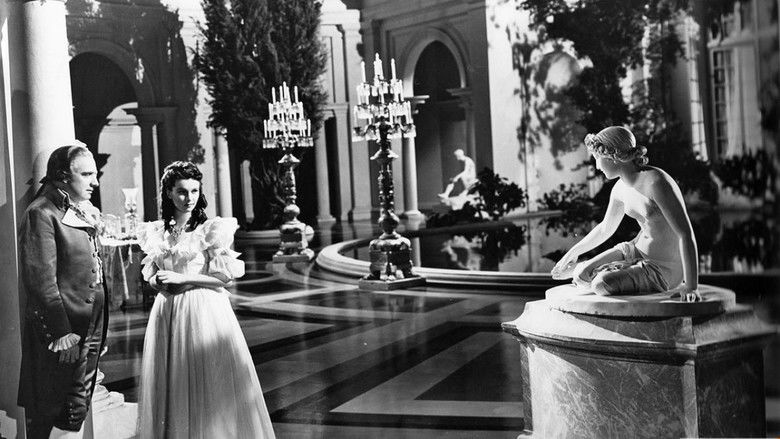 Shot in the United States during September and October 1940, That Hamilton Woman defines Britain's struggle against Napoleon in terms of resistance to a dictator who seeks to dominate the world. The film was intended to parallel the current situation in Europe, and was intended as propaganda at a time before the attack on Pearl Harbor when the United States was still formally neutral. Korda's brother Vincent designed the sets, creating Sir William Hamilton's palatial home that looked out over the sea of Naples, as well as the interiors of Merton Place: the home Emma and Nelson shared when they returned to England. On a tight budget, Korda completed filming in only five weeks, working from an original screenplay by Walter Reisch and R.C. Sherriff. Originally intended to be named The Enchantress, the film was first released in Britain as Lady Hamilton.
Stars Vivien Leigh and Laurence Olivier were newlyweds at the time of filming and were considered a "dream couple". The film's tagline was: The Year's Most Exciting Team of Screen Lovers! That Hamilton Woman is the last of three films they made together, their only film as a married couple. Their first film, Fire Over England, was also produced by Korda. In one scene, Laurence Olivier as Nelson, says he has received orders from Admiral Hood; Olivier would play Admiral Hood 43 years later in The Bounty (1984).
Because of the strict Motion Picture Production Code, the two lovers never appear in bed together, nor ever even partially undressed together. Before the affair begins, Emma sits on her bed, wherein Nelson is recovering from exhaustion, to feed him some soup. According to K.R.M. Short's study of the film, the major problem for the Production Code office was not the scenes showing romantic encounters: It was the script's treating an "adulterous relationship as a romance instead of a sin"
The supporting cast of That Hamilton Woman includes Sara Allgood as Emma's mother, Gladys Cooper as Lady Nelson, and Alan Mowbray as William Hamilton, Emma's husband, the British ambassador to Naples and collector of objets d'art.
While That Hamilton Woman was marketed as historical romance, its subtext falls into the "war propaganda" category. In July 1941, the isolationist group America First Committee (AFC) targeted That Hamilton Woman and three other major Hollywood feature films (The Great Dictator, Chaplin/United Artists, 1940; Foreign Correspondent, Wanger/United Artists, 1940; The Mortal Storm, MGM, 1940) as productions that "seemed to be preparing Americans for war." The AFC called on the American public to boycott theaters showing these movies.
Bosley Crowther in his review of That Hamilton Woman for The New York Times, said the film is "just a running account of a famous love affair, told with deep sympathy for the participants against a broad historic outline of the times ... Perhaps if it had all been condensed and contrived with less manifest awe, the effect would have been more exciting and the love story would have had more poignancy. As it is, the little drama in the picture is dissipated over many expansive scenes; compassion is lost in marble halls." Of the two stars, Crowther said, "Vivien Leigh's entire performance as Lady Hamilton is delightful to behold. All of the charm and grace and spirit which Miss Leigh contains is beautifully put to use to capture the subtle spell which Emma most assuredly must have weaved. Laurence Olivier's Nelson is more studied and obviously contrived, and his appearance is very impressive, with the famous dead eye and empty sleeve."
Critical sources usually point out that That Hamilton Woman was Winston Churchill's favorite film. In her research on the subject, film historian Professor Stacey Olster reveals that at the time the film was made, Alexander Korda's New York offices were "supplying cover to MI-5 agents gathering intelligence on both German activities in the United States and isolationist sentiments among makers of American foreign policy." According to Anthony Holden, Olivier's biographer, That Hamilton Woman "became Exhibit A in a case brought against Korda by the Senate Foreign Relations Committee. The Committee had accused him of operating an espionage and propaganda center for Britain in the United States—a charge Korda only escaped by virtue of the fact that his scheduled appearance before the committee on December 12, 1941 was preempted by the Japanese bombing of Pearl Harbor five days earlier".
The film was the fifth most popular movie at the British box office in 1941.
Awards and honors
At the 14th Academy Awards, That Hamilton Woman was nominated for four Oscars and won for Best Sound.
Nominated
Best Cinematography (Rudolph Maté)
Best Effects, Special Effects (Lawrence W. Butler, William A. Wilmarth)
Won
Best Sound, Recording (Jack Whitney)
Also, the film is recognized by American Film Institute in these lists:
2002: AFI's 100 Years...100 Passions – Nominated