Tere Naam (English: In your name) is a 2003 Indian Hindi-language romantic drama film. It is directed by Satish Kaushik and written by Bala and Jainendra Jain, starring Salman Khan and Bhoomika Chawla in her Hindi film debut. The film is a remake of Bala's own directional venture, Tamil film Sethu (1999).
Contents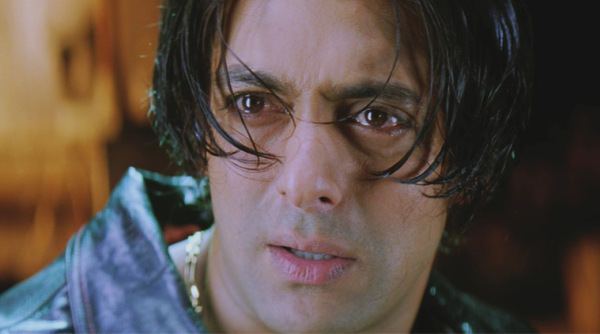 The film was based on a real life incident of a friend of Bala's, who had fallen in love, lost his mind and ended up at a mental asylum.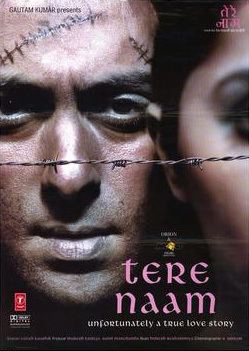 Tere Naam was released on 15 August 2003. Khan was highly praised for his portrayal of Radhe Mohan and the role is widely considered to be his finest performance till date. Tere Naam was nominated for a total of 24 Awards, winning 7 of them, including 8 Filmfare Award nominations. In 2011 Kaushik announced a sequel to Tere Naam, thus he is currently working on the script.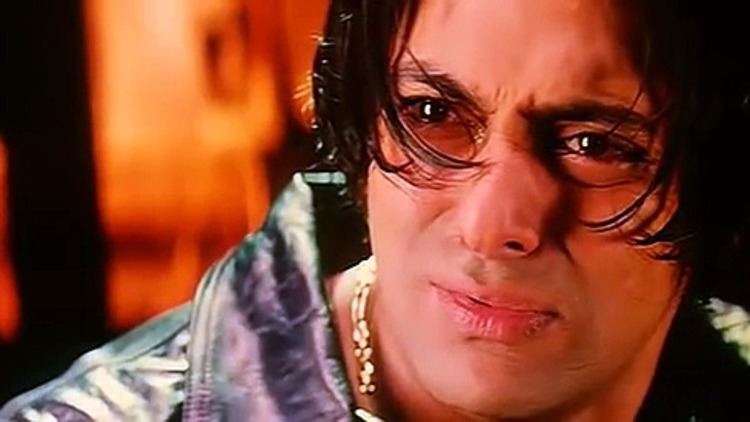 Plot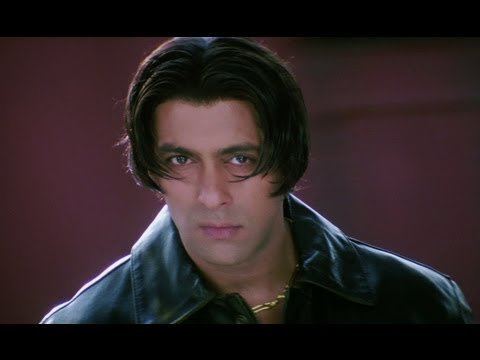 Radhe Mohan (Salman Khan) is a college rowdy who uses violence as the only way to deal with people. He lives with his brother, a Magistrate (Sachin Khedekar), and his sister-in-law (Savita Prabhune), who is the only person who seems to understand him properly, and their little daughter Binti.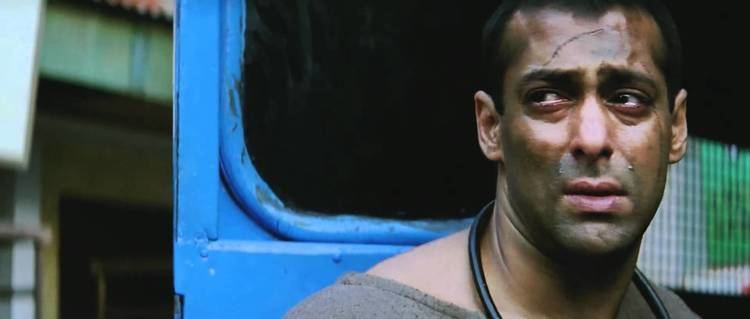 Radhe wins the elections to the college's Students Union, which is followed by celebrations and on-campus fighting between the rival candidates.
Radhe has many sycophants surrounding him. He comes across a timid girl, Nirjara (Bhumika Chawla), who is the daughter of a poor temple priest, falls crazily in love with her due to her simplicity and innocence, and starts to woo her. Radhe expresses his feelings for her, but she initially rejects him, which leaves Radhe heartbroken. One day, Nirjara's fiance Rameshwar (Ravi Kishan) tells Nirjara that Radhe seems rude from outside but is golden-hearted from inside, and he truly loves her. Nirjara feels warm for Radhe, but then Radhe kidnaps her, expresses his deep and passionate feelings for her and forces her to fall in love with him.
After Nirjara falls in love with him, Radhe is attacked by brothel goons, who take revenge on him after he interferes with their business. Radhe suffers brain damage and ends up in a mental institution (Ashram). With no memory of his past and having developed unusual behaviour, he starts to remember things. At one point, he returns to normal and tries to escape by climbing over the gates, but falls and ends up with serious injuries.
Nirjara visits Radhe while he is asleep and healing from his injuries. She leaves with this woeful memory of him. As she is about to leave the institution, Radhe wakes up and realises that she had come to see him. He calls out for Nirjara, but she does not hear him.
Insistent upon seeing her again, he makes another attempt to leave the institution and this time is successful. When he arrives at her house, he learns that Nirjara committed suicide during her wedding to another man, as she loses a hope of re-uniting with Radhe.
Distraught after what he saw, he just walks out, and his previous friends and his family try to help him regain his memory. Despite being aware of what is happening, Radhe pretends to be unconscious. At that point, wardens from the mental institution come to take him back. Radhe leaves with them as he has nothing to live for after his true love's death. Years later, Radhe, now old and still in the ashram, has surrendered his whole life in the name of his true love.
Casting
Amisha Patel] was originally considered to play the role of Nirjara, but scheduling conflicts prevented her from accepting. The role was offered to Bhumika Chawla, who made her Bollywood debut in the film.
Home video
The film was released on Blu-ray Disc on 13 December 2010 by Eros International.
Critical reception
Tere Naam received positive to mixed reviews from the critics. Upon the release, Salman Khan was highly appreciated for his noteworthy performance. Taran Adarsh of Bollywood Hungama awarded 3/5 stars and wrote, "Salman is exceptional in a role that fits him to the T. He breathes fire in sequences that demand uneasiness. But beneath the tough exterior lies a vulnerable person and this facet in particular comes to the fore in the latter reels. His emotional outbursts are splendid..., Bhoomika Chawla reminds you of Bhagyashree. Her simple, humble, traditionally indian character should go down very well with the viewers. Her performance is first-rate".
Planet Bollywood rated 8.0/10 to the film and wrote, "Salman Khan puts his heart and soul into his performance. He is equally at ease in romantic, emotional and even in Mahendra Verma's well conceived action scene. Bhoomika Chawla impresses in her first hindi movie. The supporting cast of Sachin Khedekar, Sarfaraz Khan and Ravi Kishan is reasonably good. The music by Himesh Reshammiya goes well with the movie". Madhureeta Mukherjee of The Times of India said, "Salman has given the great performance in the film. He's given an intense, unconventional performance. Believe this is the best performance of Salman's career so far".
Soundtrack
The soundtrack of the film contains 12 songs. The music is composed by Himesh Reshammiya and Sajid-Wajid with lyrics penned by Sameer and Jalees Sherwani.
Songs
1Tere NaamAlka Yagnik - Udit Narayan6:35
2OodhniAlka Yagnik - Udit Narayan6:52
3Lagan LagiSukhwinder Singh4:35

References
Tere Naam Wikipedia
(Text) CC BY-SA