Samdech Preah Agga Mahā Sangharājādhipati Tep Vong (Khmer: ទេព វង្ស, [t̪eːp ʋɔǝŋ]; born 12 January 1932) is a Cambodian Buddhist monk, currently the Great Supreme Patriarch of Cambodia. He was the youngest of seven senior monks re-ordained under Vietnamese supervision in 1979 in order to provide a core leadership group for the re-establishment of the Cambodian sangha, which had been nearly destroyed by the Khmer Rouge.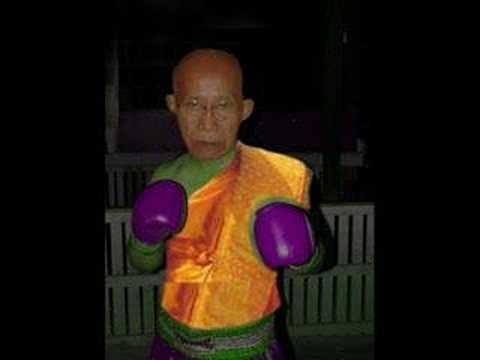 In 1979, Tep Vong gave evidence at the trial in absentia of Khmer Rouge leader Pol Pot, testifying that Pol Pot had personally executed 57 monks, including several family members. He also claimed to have personally been sentenced to four years labor by the Khmer Rouge. Following the trial, he was elected President of the Unified Cambodian Buddhist Sangha.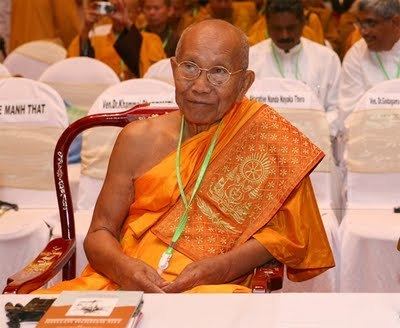 While President of the Unified Sangha, Tep Vong put forth the argument that certain forms of political violence could be condoned by Buddhism.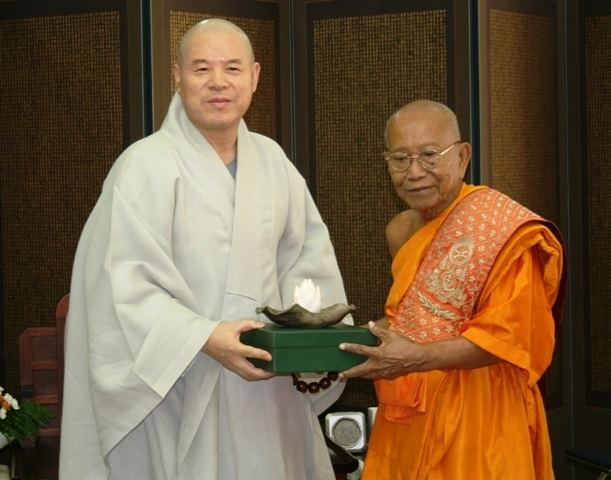 In 1981, Tep Vong was appointed the sangharaja of a unified Cambodian Sangha, temporarily dissolving the division between the Dhammayuttika and Mahanikaya orders that had existed since 1855. He remained the sole official sangharaja of Cambodia until 1991, when Venerable Bour Kry was appointed sangharaja of the Dhammayuttika Nikaya by King Sihanouk.
Venerable Tep Vong has been previously criticized by younger members of the sangha for his ties to the government of Vietnam, and with members of the CPP (Cambodian People's Party) government. He has come into conflict with younger members of the sangha who have voiced opposition to government policies and corruption, on one occasion calling publicly for the arrest of the organizers of an anti-government protest.
In 2006, Tep Vong was elevated to the title of Samdech Preah Agga Mahā Sangharājādhipati (Khmer: សម្តេច ព្រះ អគ្គមហាសង្ឃរាជាធិបតី), or Great Supreme Patriarch. He is the first monk in over 150 years to receive this title.
Venerable Tep Vong has spoken out on several occasions regarding issues surrounding the HIV/AIDS situation in Cambodia, in particular following a 2000 conference organized for monks by the National AIDS Authority. Tep Vong has stated that he believes that Cambodia's HIV/AIDS problem has been overstated by Cambodia's enemies in order to discredit the ruling government. He has also stated that HIV/AIDS is a form of karmic punishment that is best dealt with by cracking down on prostitution, and that monks should not take any role in treating HIV/AIDS patients, nor in disseminating HIV education. By contrast, Dhammayuttika Nikaya sangharaja Bour Kry has argued that Buddhist monks should have a role in treating and comforting the sick and dying. Certain elements of the Mohanikaya have attempted to position monks as conduits for educational materials regarding HIV/AIDS, a position opposed by Tep Vong.