Tembisa is a large township situated to the north of Kempton Park on the East Rand, Gauteng, South Africa. It was established in 1957 when black people were resettled from Alexandra and other areas in Edenvale, KekkPark, Midrand and Germiston.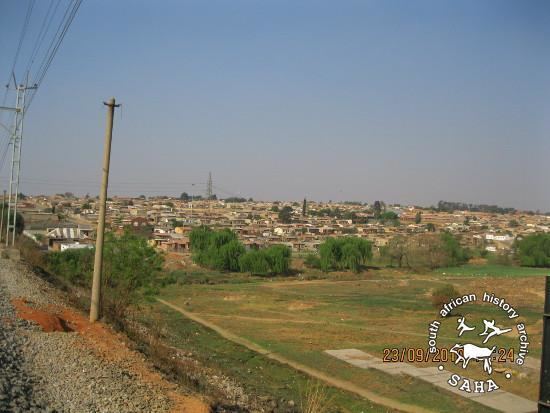 The name Tembisa comes from the Xhosa word "tembisa" meaning "promise". It came about when black settlers of Johannesburg were being evicted. When the township was created it was a beacon of hope for those who were suddenly homeless. The township was originally named and called Thembisa but as more and more people from the northern parts of the then Transvaal came to settle there and worked in government offices they decided to change the spelling of the word as it did not make any sense in their languages.
The township was founded in 1957. After the Afrikaner-dominated National Party gained power in 1948 and began to implement apartheid, the pace of forced removals and the creation of townships outside legally designated white areas increased. The Johannesburg council established new townships for black people evicted from the city's freehold areas.
In 1956, townships were laid out for particular ethnic groups as part of the state's strategy to sift black people into groupings that would later form the building blocks of the so-called "independent homelands". It is the second largest township in Gauteng, following Soweto.
In 2016, on July 25, residents were caught off guard when a tornado hit the area. The twister started in Kempton Park and moved over to Tembisa, causing the most destruction here. Around 20 people were severely injured and more than 400 were left homeless. One of the most visible sights was the damage to the Phumulani Mall, where the roof collapsed after the tornado passed through. No deaths were reported. in 2017 was called gleddy town because the tornado washed phumlani mall and killed sedibeng section councelor.
The township was not historically allowed to create employment centres within its area, so almost all of its residents commute daily to their employment destinations in places such as Kempton Park, Olifantsfontein, Johannesburg and Midrand.
Metrorail operates commuter trains between Tembisa and central Johannesburg. Tembisa train stations are Tembisa in the east, Limindlela in the center and Leralla in the west. Oakmoor station is in the far east but is used by trains heading to Tshwane.
The R562 road passes through Tembisa on its to Olifantsfontein and Tshwane. The M18 road is the main road in the township; it travels from the east to the west's industrial centers of Kempton Park and Johannesburg.