Teachers is a 1984 American satirical comedy-drama film starring Nick Nolte, JoBeth Williams, Ralph Macchio, and Judd Hirsch, written by W. R. McKinney and directed by Arthur Hiller. The movie was shot in Columbus, Ohio, mostly at the former Central High School.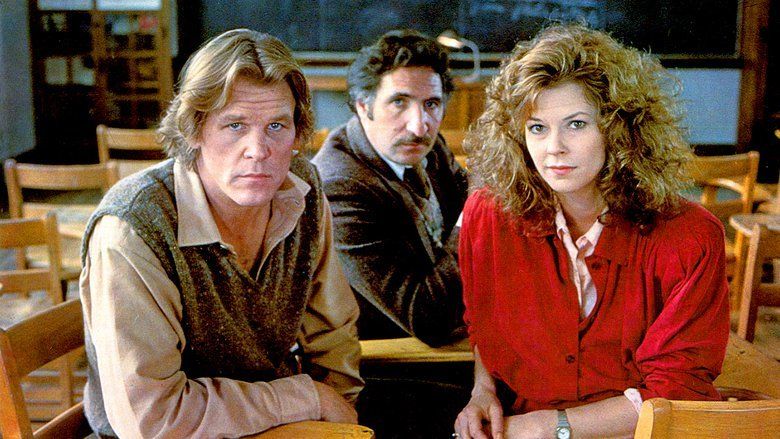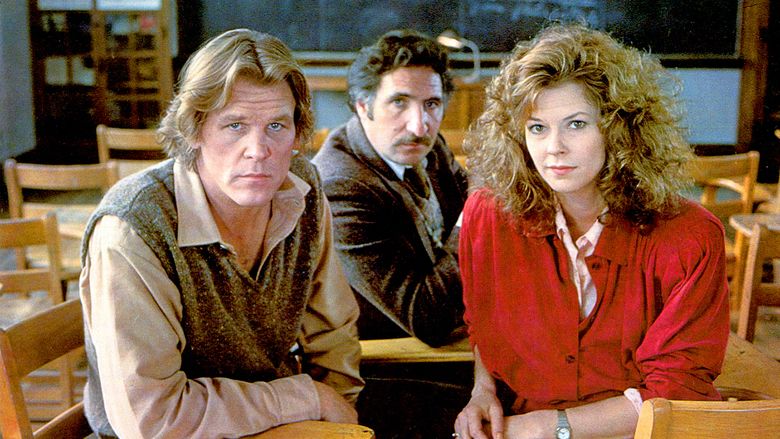 On a typical Monday morning at John F. Kennedy High School in the inner city of Columbus, Ohio events include a fight between teachers, a student with a stab wound, and talk of an upcoming lawsuit. We meet haggard Vice Principal Roger Rubell and clueless Principal Eugene Horn, as well as stuffy lawyer and JFK alumna Lisa Hammond, who is in charge of taking depositions for the Calvin case, in which a recent graduate is suing the school for granting him a diploma despite his illiteracy.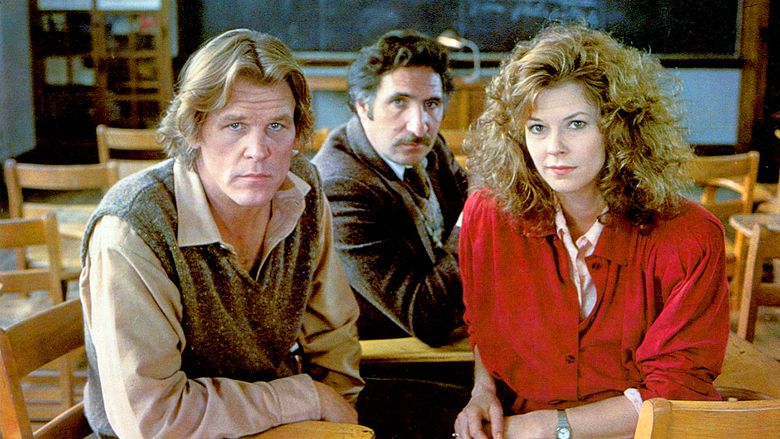 Alex Jurel is a veteran Social Studies teacher who takes his job lightly despite being one of the most popular teachers in school because of his ability to identify and connect with the students. Jurel has been worn down by years of being in-between the rowdy students and the demands of the administration. He is assigned to temporarily take over the duties of the school psychologist and meets a young man named Eddie Pilikian to whom he becomes a mentor. During this time, a romance also develops between Jurel and Hammond, his former student.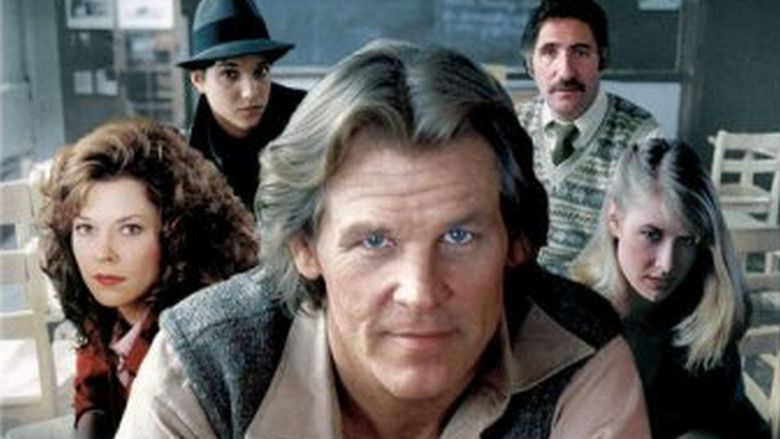 Superintendent Donna Burke and school lawyer Al Lewis are attempting to avoid bad publicity associated with the Calvin lawsuit. To this end, they try to figure out which teachers will potentially damage the school's reputation in their depositions.
Herbert Gower, a wandering mental institution outpatient mistaken for a substitute teacher and put in charge of a U.S. History class, whose brilliant history mind makes it fun, educational, and engaging; gym teacher Mr. Troy's sexual relationship with one of Jurel's students, Diane Warren that ends with Jurel taking her to an abortion clinic, and the death of Eddie Pilikian's best friend Danny Reese, a schizophrenic and kleptomaniac student who is shot and killed by the police after he draws a gun from his locker during a drug search.
The administration recognizes the threat Jurel poses to their social standing and forces him to resign before his deposition. After harsh criticism from Lisa, as well as her streaking down the school hallway naked (an allusion to Jurel's earlier accusation that she was unable to walk down the school halls 'naked' and see its true troubles), he finally stands up to Burke and Rubell, reminding them that the school exists for the students and not for the administration and protecting their jobs. He also threatens to sue should he be fired. He proudly walks back into the school, with loud cheers from the school's students and Lisa looking on proudly.
Nick Nolte as Alex Jurel
JoBeth Williams as Lisa Hammond
Judd Hirsch as Vice Principal Roger Rubell
Ralph Macchio as Eddie Pilikian
Allen Garfield as Carl Rosenberg
Lee Grant as Dr. Donna Burke
Richard Mulligan as Herbert Gower
Royal Dano as Kenneth Stiles a.k.a. Ditto
William Schallert as Principal Horn
Art Metrano as Troy
Laura Dern as Diane Warren
Crispin Glover as Danny Reese
Morgan Freeman as Alan Lewis
Madeleine Sherwood as Grace Wensel
Steven Hill as Sloan
Zohra Lampert as Mrs. Pilikian
Mary Alice as Linda Ganz
Terrance Ellis as Tim Hahn (as Terry Ellis)
Ronald Hunter as Mr. Pilikian
Virginia Capers as landlady
Ellen Crawford as Social Worker
Vivian Bonnell as Nurse
Anthony Heald as Narc
Katharine Balfour as Theresa Bloom
Jeff Ware as Malloy
Richard Zobel as Propes
George Dzundza as paramedic (uncredited)
Kevin L. Stotts as attendant (uncredited)
The film opened to mixed reviews, with reviewers feeling it lacked the incisive touch of Paddy Chayefsky's satires (he had previously written Hiller's other dark satire, The Hospital). It holds a rating of 62% on review aggregate Rotten Tomatoes based on 13 reviews.
"Teacher, Teacher" - 38 Special
"One Foot Back in Your Door" - Roman Holliday
"Edge of a Dream" - Joe Cocker
"Interstate Love Affair" - Night Ranger
"Foolin' Around" - Freddie Mercury
"Cheap Sunglasses" - ZZ Top
"Understanding" - Bob Seger
"I Can't Stop the Fire" - Eric Martin & Friends
"In the Jungle (Concrete Jungle)" - The Motels
"(I'm the) Teacher" - Ian Hunter
The theme song by 38 Special was released as a single and reached No. 25 on the Billboard Hot 100 singles chart.