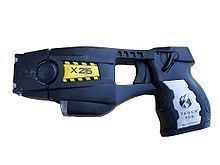 Jack Cover, a NASA researcher, began developing the Taser in 1969. By 1974, Cover had completed the device, which he named after his childhood hero Tom Swift (book "Thomas [A] Swift's electric rifle", by "Victor Appleton", a house pseudonym of the Stratemeyer Syndicate). The Taser Public Defender used gunpowder as its propellant, which led the Bureau of Alcohol, Tobacco and Firearms to classify it as a firearm in 1976. The backformed verb "to tase" is used sometimes.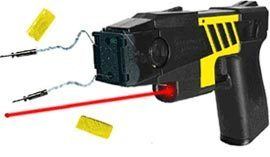 Taser International CEO Patrick Smith has testified in a Taser-related lawsuit that the catalyst for the development of the device was the "shooting death of two of his high school acquaintances" by a "guy with a legally licensed gun who lost his temper". In 1993, Rick Smith and his brother Thomas began to investigate what they called "safer use of force option[s] for citizens and law enforcement". At their Scottsdale, Arizona, facilities, the brothers worked with the "...original Taser inventor, Jack Cover" to develop a "non-firearm Taser electronic control device". The 1994 Air Taser Model 34000 had an "anti-felon identification (AFID) system" to prevent the likelihood that the device would be used by criminals; upon use, it released many small pieces of paper containing the serial number of the Taser device. The U.S. firearms regulator, the ATF, stated that the Air Taser was not a firearm. In 1999, Taser International developed an "...ergonomically handgun-shaped device called the Advanced Taser M-series systems", which used a "...patented neuromuscular incapacitation (NMI) technology". In May 2003, Taser International released a new weapon called the Taser X26, which used "shaped pulse technology". On July 27, 2009 Taser International released a new type of Taser called the X3, which can fire three shots before reloading. It holds three new type cartridges, which are much thinner than the previous model.
The Taser fires two small dart-like electrodes, which stay connected to the main unit by conductive wire as they are propelled by small compressed nitrogen charges. The cartridge contains a pair of electrodes and propellant for a single shot (or three shots in the X3 model) and is replaced after each use. There are a number of cartridges designated by range, with the maximum at 35 feet (10.6 m). Cartridges available to non-law enforcement consumers are limited to 15 feet (4.5 m). The electrodes are pointed to penetrate clothing and barbed to prevent removal once in place. Earlier Taser models had difficulty in penetrating thick clothing, but newer versions (X26, C2) use a "shaped pulse" that increases effectiveness in the presence of barriers.
Tasers also provide a safety benefit to police officers. Tasers have a greater deployment range than batons, pepper spray or empty hand techniques. This allows police to maintain a greater distance. A study of use-of-force incidents by the Calgary Police Service conducted by the Canadian Police Research Centre found that the use of Tasers resulted in fewer injuries than the use of batons or empty hand techniques. The study found that only pepper spray was a safer intervention option.
Use of the taser has been associated with deaths. The Guardian newspaper is running a database, The Counted, tracking US killings by police and other law enforcement agencies in 2015. As of 6 November 2015, 47 deaths of the 965 killed were classified as taser events.
Some Taser models, particularly those used by police departments, also have a "Drive Stun" capability, where the Taser is held against the target without firing the projectiles, and is intended to cause pain without incapacitating the target. "Drive Stun" is "the process of using the EMD (Electro Muscular Disruption) weapon [Taser] as a pain compliance technique. This is done by activating the Taser and placing it against an individual's body. This can be done without an air cartridge in place or after an air cartridge has been deployed."
Guidelines released in 2011 in the U.S. recommend that use of Drive Stun as a pain compliance technique be avoided. The guidelines were issued by a joint committee of the Police Executive Research Forum and the U.S. Department of Justice Office of Community Oriented Policing Services. The guidelines state "Using the ECW to achieve pain compliance may have limited effectiveness and, when used repeatedly, may even exacerbate the situation by inducing rage in the subject".
A study of U.S. police and sheriff departments found that 29.6% of the jurisdictions allowed the use of Drive Stun for gaining compliance in a passive resistance arrest scenario, with no physical contact between the officer and the subject. For a scenario that also includes non-violent physical contact, this number is 65.2%.
A Las Vegas police document says "The Drive Stun causes significant localized pain in the area touched by the Taser, but does not have a significant effect on the central nervous system. The Drive Stun does not incapacitate a subject but may assist in taking a subject into custody." The UCLA Taser incident and the University of Florida Taser incident involved university police officers using their Taser's "Drive Stun" capability (referred to as a "contact tase" in the University of Florida Offense Report).
Amnesty International has expressed particular concern about Drive Stun, noting that "the potential to use Tasers in drive-stun mode—where they are used as 'pain compliance' tools when individuals are already effectively in custody—and the capacity to inflict multiple and prolonged shocks, renders the weapons inherently open to abuse".
There are two primary models that Taser International is promoting to law enforcement agencies and civilians alike, the Taser X26 and the Taser X2 Defender. Other models still in circulation include the Taser M26 (still used by a number of law enforcement agencies), the Taser C2 (updated Taser Bolt) and the Taser X3 which was first introduced in 2009. In recent years there have been numerous advances in both the technology that powers Tasers as well as the size, look and feel of each particular model. Three of the more notable advancements were introduced in the TASER X2 Defender which debuted in 2011. The three improvements are the "back up shot" feature, dual lasers, and the warning arc. With the option for an additional shot, the X2 provides a benefit that other models simply can't, the chance for a second shot without having to reload.
The dual lasers have also impacted the latest advancements in Tasers, greatly increasing the accuracy of hitting the intended target. The user can see exactly where the probes will deploy as the lasers pinpoint where each probe will contact the intended target. The warning arc has had perhaps the biggest impact of all the advancements; it has the capability to deescalate the situation without the user having to fire a single shot. According to Kevin Sailor of the Westminster Police Department, "All of our initial field uses of the X2 resulted in voluntary surrenders upon display of the warning arc." Each of the innovations mentioned in this article and others unmentioned have led two models – the Taser X26P and the Taser X2 – to be crowned "smart weapons". Advancements in processing speeds, chip and circuitry technologies, and more powerful software have propelled forward powerful "smart devices".
A 2009 development has included marketing Tasers tailored specifically for women. The Taser website states "Who says safety can't be stylish?" in reference to its "latest designer TASER C2 colors" and patterns, which include leopard print patterns and a range of colors.
There are several accessories available with which to outfit newer Taser models. From small accessories used in conjunction with a Taser such as practice targets, maintenance kits, a data port download kit, and the Blackhawk® holster, there are also accessories that are interchangeable with the stock setup of a Taser (factory setup as you would receive it from an authorized Taser dealer). These accessories allow for a customizable weapon to meet the specialized needs of a particular agency or an individual user. Examples are the many power magazines available (battery types) and the Taser CAM HD.
The Taser CAM HD is a specialized device designed to capture audio and video without the need to manually turn on the recording device, an action that unpractical in the field. "Automatically capturing video and audio unburdens the user from the need to manually turn on the device during a dangerous situation. This is critical and guarantees there will always be a record of the TASER firing." Designed to be interchangeable between the Taser X26 or Taser X2, the camera records both video and audio automatically each time the Taser is armed (when the safety is moved into the up or active position). There is no interference to the normal function of the Taser; it is still fully functional while the camera is in operation. This innovation coupled with the data port download kit allows for the automatic archiving of critical events for law enforcement agencies.
According to a 2010 study titled "Police Use of Force, Tasers and Other Less-Lethal Weapons", over 15,000 law enforcement and military agencies around the world use Tasers as part of their use of force continuum. The study was conducted by the United States Department of Justice. Just as the number of agencies deploying Tasers has continued to increase each year, so too the number of Taser related "incidents" between law enforcement officers and suspects has been on the rise.
Although there has been a history of controversy regarding the ethical use of Tasers, studies similar to the one conducted by the U.S. Department of Justice have shown Taser use actually provides many positive benefits to police officers and even to the suspects they encounter. A study of the Houston Police Department found the number of workers comp claims by officers has declined by as much as 93% due to deploying Tasers as a means of non lethal force. Suspect injuries have also been impacted by Taser use, trimming the percentage of suspect injuries by as much as 60%. Another study conducted in 2009 by Wake Forest University confirmed data from the Houston study. The Wake Forest study found 99.75% of suspects who had been subjected to Taser use had no significant injuries.
Use of Tasers by the Seattle Police Department – one of the largest police forces in the northwest – has been shown to reduce the odds of suspect injury by 48%. Data gathered from other agencies confirms a decline in suspect injuries due to Taser deployment. In Orlando, Florida and Austin, Texas, studies found that suspect injuries were 50% and 30% lower respectively after Taser use was adopted. Officer injuries have been impacted by Taser use as well. The same studies found that in most agencies officer injuries were greatly reduced after Taser's were introduced as part of each particular organizations use of force continuum.
Although more recent studies have uncovered vast amounts of data that supports the positive benefits of Taser usage in law enforcement, there is also data that suggests Taser usage has negatively impacted some individual police officers as well. The study conducted in 2010 by the United States Department of Justice found that some officers may rely too heavily upon activating (deploying) a Taser during suspect encounters. The study refers to this negative trait in some police officers as "lazy cop" syndrome. Further research is being conducted to determine what triggers some officers to rely too heavily upon Taser use or deploy a Taser too early in an encounter.
As the technology continues to evolve, Tasers are becoming more advanced "smart weapons." The officers and agencies who deploy them have opportunities to receive specialized training to hone their skills at deploying these emerging technologies. Taser International offers law enforcement agencies around the world the opportunity to receive hands on training in their training academy, led by some of the world's leading Taser experts. The Taser® Training Academy offers courses including training in Taser tactics, weapon maintenance, data reporting, and "smart use" training.
In another related field advancement, Noel Sharkey reported in the Wall Street Journal (December 2015) that police in North Dakota have been cleared to operate drone aircraft equipped with tear gas and Tasers.
In 2010, one court ruled against the use of five imported Tasers by the Buenos Aires local police, to comply with a claim from the Human Rights Observatorium, that states that Tasers are considered an instrument of torture by NGOs and the Committee against Torture of the UN.
Possession, ownership and use of a stun gun (including Tasers) by civilians is considerably restricted, if not illegal in all States and Territories. The importation into Australia is restricted with permits being required.
Stun gun use in Australian law enforcement is as follows:
Australian Federal Police and Australian Capital Territory: used only by officers attached to the Specialist Response Group, qualified general duties (patrol) Sergeants within ACT Policing and Aviation portfolios, and qualified members of Specialist Support Teams in regional offices.
New South Wales: Used by general duties (patrol), supervisors/duty officers and specialist officers attached to the Tactical Operations Unit and Public Order and Riot Squad.
Northern Territory: Used by both general duties (patrol) and the Territory Response Group.
Queensland: Used by both general duties (patrol) and Special Emergency Response Team.
South Australia: Used by all front line Police, STAR Group and Country Members in limited capacity.
Tasmania: Used only by the Special Operations Group
Victoria: Used by the Critical Incident Response Team and Special Operations Group. A year long trial at Bendigo and Morwell stations is also underway by general duties police.
Western Australia: Used by both general duties (patrol) and the Tactical Response Group.
Austria allows police to use stun guns, including Tasers. After using a Taser, police must immediately call for an ambulance. The victim must be medically checked directly at the place of the shooting, and only a medically trained person may remove the darts. From 2006 to 2012, Austrian police used Tasers 133 times—127 against humans and six against dogs. About 1,000 police officers were permitted in 2012 to carry and use a Taser.
Use of the Taser is legal for the police. Its use is widespread mainly in the Guardas Municipais (Municipal Guards), who receive professional training in the use of electro-conductive pistols. Tasers are also used by military police and specialized forces. There are laws allowing their use by private security companies, but such use is unusual because of the expense of maintaining a Taser compared with an ordinary gun.
According to previous interpretation of the Firearms Act, Tasers were considered "prohibited weapons" and could be used only by members of law-enforcement agencies after they were imported into the country under a special permit. The possession of restricted weapons must be licensed by the Royal Canadian Mounted Police (RCMP) Canadian Firearms Program unless exempted by law. A 2008 review of the Firearms Act found that the act classifies "the Taser Public Defender and any variant or modified version of it" as "prohibited firearms". However, Canadian police forces typically treat Tasers as "prohibited weapons", inconsistent with the restrictions on firearms.
The direct source for this information comes from an independent report produced by Compliance Strategy Group for the Royal Canadian Mounted Police. The report is called An Independent Review of the Adoption and Use of Conducted Energy Weapons by the Royal Canadian Mounted Police. In the report that is available through access to information, the authors argued that the CEW was, for several years after its adoption by the RCMP, erroneously characterized as a prohibited "weapon" under the Criminal Code, as opposed to a prohibited "firearm". This misunderstanding was subsequently incorporated into the RCMP's operational policies and procedures as well as those of other police services in Canada.
While the most recent RCMP operational manual, completed in 2007, correctly refers to the CEW as a prohibited firearm, a number of consequences of this error in classification remain to be dealt with, by both the RCMP and other Canadian police services. Consequently, it could be argued the police in Canada may not have had the proper authority under their provincial policing Acts and Regulation to use the CEW in the first place. The point of unauthorized use by the police was also raised by Dirk Ryneveld, British Columbia's Police Complaint Commissioner at the Braidwood inquiry on June 25, 2008. Taser safety and issues have been extensively rehearsed and investigated after the Robert Dziekański Taser incident at Vancouver International Airport.
Tasers are considered class A weapons under Czech law and as such are subject to the same degree regulation as automatic guns for example. Ownership is allowed only with special police exempt. They are in limited use by Czech Police.
In Finland possession of a Taser is legal only for police officers. Police have been using Tasers since 2005. Nowadays there is a Taser in almost every patrol car.
Tasers are used by the French National Police and Gendarmerie. In September 2008, they were made available to local police by a government decree, but in September 2009, the Council of State reversed the decision judging that the specificities of the weapon required a stricter regulation and control. However, since the murder of a policewoman on duty, the Taser has been in use again by local police forces since 2010.
The purchase, possession, and carrying of Tasers in Germany has been prohibited since April 1, 2008 (gun control law: Anlage 2, Abschnitt 1, Nr. 1.3.6. WaffG). However Tasers are in use by police SWAT teams, Spezialeinsatzkommando (SEK) and others, in 13 out of 16 German states.
The Greek police uses Tasers. Greek Police special forces used a Taser to end the hijacking of a Turkish Airlines A310 by a Turkish citizen at Athens International Airport in March 2003.
Under Hong Kong laws, Chapter 238 Firearms and Ammunition Ordinance, "Any portable device which is designed or adapted to stun or disable a person by means of an electric shock applied either with or without direct contact with that person" is considered an 'arm' and therefore, the importation, possession and exportation of Tasers requires a license from the Hong Kong Police Force. They are otherwise illegal, and violation carries penalties up to a $100,000 fine and 14 years in jail.
Use of Tasers is not prohibited in Iceland.
Specialist units of Ireland's national police force (Garda Síochána) use the X26 model; Special Detective Unit, Emergency Response Unit and Regional Support Unit. Issuing Tasers to all members of the force (who are generally unarmed) is currently under consideration. Use of Tasers in Ireland by private individuals is prohibited.
The Israeli police have approved using Tasers. As of 16 February 2009, the first Tasers became available to police units.
Israeli Defense Force first usage
Tasers were first used by the Israeli Defense Force by the former special counter-terror unit Force 100 in 2004. The unit was disbanded in 2006. Tasers are expected to re-enter operational use by the Israeli Defense Forces in the near future.
As of August 18, 2013, the use of Tasers by Israeli police was temporarily suspended by Police Chief Yohanan Danino; after such instruments were used repeatedly and excessively by police against a person who allegedly was unarmed and who was not resisting a warranted arrest. But two weeks later the Taser was unsuspended.
Under Kenya's Firearms Act, a Taser is considered a firearm, as per section 2 (a) (ii) of the Act. The section offers one of the descriptions for a firearm as "a lethal barrelled weapon of any description from which any shot, bullet or other missile can be discharged or which can be adapted for the discharge of any shot, bullet or other missile and includes ... an electrical charge which when it strikes any person or animal is of sufficient strength to stun and temporarily disable the person or animal struck (such weapon being commonly known as a 'stun gun' or 'electronic paralyser' ".
Royal Malaysia Police are set to become the second in Southeast Asia police force after Singapore Police Force to use the non-lethal Taser X26 stun guns. The force had taken delivery of 210 units of the stun guns, known as the X26 electronic control device, which cost RM2.1 million. They have yet to be distributed to personnel on the ground. Tasers would be included under the Firearms Act of 1960. The Taser X26 that Malaysian police bought comes with a holster and uses a non-rechargeable lithium battery able to deliver 195 cartridge shots. Policemen on rounds are issued four cartridges. The force began exploring the idea of using Tasers in 2003 when they purchased 80 units of the M26, the X26's bulkier predecessor. This was not made public, as it was part of a testing exercise. The Tasers were issued to policemen in Petaling Jaya, Dang Wangi in Kuala Lumpur and Johor Bahru.
A large-scale and generally well received trial by the New Zealand Police saw Tasers presented almost 800 times and fired over 100 times, but firing was "ineffective" about a third of the time. The Tasers had been "unintentionally discharged" more often than they had been used in the line of duty.
In October 2012, police said the Taser had been "very successful in de-escalating dangerous and potentially life-threatening situations". Since their introduction, Tasers had been presented 1320 times but only fired 212 times, resulting in 13 injuries. In July 2015, the Police Commissioner announced that Tasers would be routinely carried by all police officers.
Tasers and other electronic control devices are considered firearms in Sweden and are banned for civilian use. The Swedish police had purchased a limited quantity of Tasers, and was about to initiate field trials when these were cancelled in 2005 after an ethics commission found that the need for (and risks of) such devices was not firmly established. The purchased Tasers were then donated to Finland, where field trials were initiated.
Tasers are considered "prohibited weapons" under the Firearms Act 1968 and possession is an offence. The maximum sentence for possession is ten years in prison and an unlimited fine. There is a minimum sentence of 5 years imprisonment if the taser is disguised as another object such as a torch or a mobile phone.
Taser guns are now used by some British police as a "less lethal" weapon. It was also announced in July 2007, that the deployment of Taser by specially trained police units who are not firearms officers, but who are facing similar threats of violence, would be trialled in ten police forces. The 12-month trial commenced on 1 September 2007, and took place in the following forces: Avon & Somerset, Devon & Cornwall, Gwent, Lincolnshire, Merseyside, Metropolitan Police, Northamptonshire, Northumbria, North Wales and West Yorkshire.
Following the completion of the trial, the Home Secretary agreed on 24 November 2008 to allow chief police officers of all forces in England and Wales, from 1 December 2008, to extend Taser use to specially trained units in accordance with current Association of Chief Police Officers policy and guidance, which states that Taser can be used only where officers would be facing violence or threats of violence of such severity that they would need to use force to protect the public, themselves, and/or the subject(s).
Also, in Scotland Strathclyde Police agreed in February 2010 to arm 30 specially trained police officers using the Taser X26. The pilot would last three months and would be deployed in Glasgow City Centre and Rutherglen.
A fund for up to 10,000 additional Tasers is being made available for individual chief police officers to bid for Tasers based on their own operational requirements.
Court cases in recent years have addressed the legality of Taser use by police officers. In Bryan v. MacPherson, the Ninth Circuit Court of Appeals ruled that a Taser had been used in a way that constituted excessive force and hence a violation of the Fourth Amendment. In the latter case Mattos v. Agarano, the same Court of Appeals found that in two situations involving Taser use, one in Drive Stun and one in dart mode, officers had used excessive force. According to an article in Police Chief magazine, this decision implies guidelines for the use of Tasers and other Electronic Control Devices in gaining compliance (in a setting where safety is not an issue), including that the officer must give warning before each application, and that the suspect must be capable of compliance, with enough time to consider a warning, and to recover from the extreme pain of any prior application of the Taser; and that Tasers must not be used on children, the elderly, and women who are visibly pregnant or inform the officer of their pregnancy.
In 1991, a Taser supplied by Tasertron to the Los Angeles Police Department failed to subdue Rodney King—even after he was shocked twice with the device—causing officers to believe he was on PCP. Its lack of effectiveness was blamed on a possible battery problem.
Taser devices are considered the same as firearms by the United States government for the purposes of the Second Amendment protection, the right to keep and bear arms. They can be legally carried (concealed or open) without a permit in 45 states. Their use in Connecticut, Illinois, and Wisconsin is legal with restrictions.
In March 2016 the Supreme Court of the United States ruled in Caetano v. Massachusetts that The Supreme Judicial Court of Massachusetts erred in upholding a law that prohibited the possession of stun guns. The ruling creates doubt in laws forbidding their possession in Washington D.C., Hawaii, New York, New Jersey, Rhode Island and several local laws in other states.
On September 29, 2016, Washington D.C. announced that it intends on repealing its ban on stun guns in response to a lawsuit. On November 15, 2016, it was reported that New Jersey's Attorney General had conceded that the ban on stun guns is unconstitutional. Several other states and cities have repealed their laws against tasers/stun guns in response to lawsuits. New Orleans' ban on stun guns is also being challenged. New York's ban on stun guns is being challenged by the Firearms Policy Foundation and Matthew Avitabile. Howard County, Maryland, also facing a lawsuit over its ban on stun guns repealed its law on February 21, 2017 while Baltimore considers repealing their local ordinance as well. Annapolis, Maryland voted to repeal its ban on stun guns on February 27, 2017. Massachusetts' ban on stun guns is being challenged as well.
Some of the deaths associated with Tasers are given a diagnosis of excited delirium, a term for a phenomenon that manifests as a combination of delirium, psychomotor agitation, anxiety, hallucinations, speech disturbances, disorientation, violent and bizarre behavior, insensitivity to pain, elevated body temperature, and increased strength. Excited delirium is associated with sudden death (usually via cardiac or respiratory arrest) particularly following the use of physical control measures, including police restraint and Tasers. Excited delirium most commonly arises in male subjects with a history of serious mental illness and/or acute or chronic drug abuse, particularly stimulant drugs such as cocaine. Alcohol withdrawal or head trauma may also contribute to the condition.
The diagnosis of excited delirium has been controversial. Excited delirium has been listed as a cause of death by some medical examiners for several years, mainly as a diagnosis of exclusion established on autopsy. Additionally, academic discussion of excited delirium has been largely confined to forensic science literature, providing limited documentation about patients that survive the condition. These circumstances have led some civil liberties groups to question the cause of death diagnosis, claiming that excited delirium has been used to "excuse and exonerate" law enforcement authorities following the death of detained subjects, a possible "conspiracy or cover-up for brutality" when restraining agitated individuals. Also contributing to the controversy is the role of Taser use in excited delirium deaths.
Excited delirium is not found in the current version of the Diagnostic and Statistical Manual of Mental Disorders, however the term "excited delirium" has been accepted by the National Association of Medical Examiners and the American College of Emergency Physicians, who argued in a 2009 white paper that "excited delirium" may be described by several codes within the ICD-9. The American College of Emergency Physicians "rejects the theory" that excited delirium is an "invented syndrome" used to excuse or cover-up the use of excessive force by law enforcement.
In 2004, the parents of a 6-year-old boy in Miami sued the police department for firing a Taser at their child. The police said the boy was threatening to injure his own leg with a shard of glass, and said that using the device was the safest option to prevent the boy from injuring himself. Nevertheless, the boy's mother told CNN that the three officers involved probably found it easier to reason with her child. Also in 2004, a 12-year-old girl skipping school and drinking alcohol was Tasered in Miami-Dade while she was running from police and started to run into traffic. The Taser was successfully deployed to stop her from being hit by cars or causing an automobile accident. In March 2008, an 11-year-old girl was subdued with a Taser. In March 2009, a 15-year-old boy died from alcohol-induced excited delirium in Michigan after being Tasered.
Police use Tasers on smaller subjects and elderly subjects since striking them or falling on them will cause much more injury than a Taser which only contracts their muscles that are conditioned for their size and it is extremely rare for a person to break their own bones by contracting muscles. Critics counter that Tasers may interact with pre-existing medical complications such as medications, and may even contribute to someone's death as a result. Critics also suggest that using a Taser on a minor, particularly a young child, is effectively cruel and abusive punishment, or unnecessary.
On 15 February 2016 RT (TV network) reported that the United Nations will tell police in the United Kingdom to ban police Taser use on minors after figures revealed a 38 percent increase in the use of stun guns on under-18s over the last year that violates the Convention on the Rights of the Child which the UK signed up to in 1990.
A report from a meeting of the United Nations Committee Against Torture states that "The Committee was worried that the use of Taser X26 weapons, provoking extreme pain, constituted a form of torture, and that in certain cases it could also cause death, as shown by several reliable studies and by certain cases that had happened after practical use." Amnesty International has also raised extensive concerns about the use of other electro-shock devices by American police and in American prisons, as they can be (and according to Amnesty International, sometimes are) used to inflict cruel pain on individuals. For example, Eric Hammock of Texas died in April 2005 after receiving more than 20 Taser shocks by Fort Worth police officers. Maurice Cunningham of South Carolina, while an inmate at the Lancaster County Detention Center, was subjected to continuous shock for 2 minutes 49 seconds, which a medical examiner said caused cardiac arrhythmia and his subsequent death. He was 29 years old and had no alcohol or drugs in his system.
In response to the claims that the pain inflicted by the use of the Taser could potentially constitute torture, Tom Smith, the Chairman of the Taser Board, has stated that the U.N. is "out of touch" with the needs of modern policing and asserted that "Pepper spray goes on for hours and hours, hitting someone with a baton breaks limbs, shooting someone with a firearm causes permanent damage, even punching and kicking—the intent of those tools is to inflict pain, ... with the Taser, the intent is not to inflict pain; it's to end the confrontation. When it's over, it's over.
The American Civil Liberties Union has also raised concerns about their use, as has the British human rights organization Resist Cardiac Arrest.